The Fusion Series is all about valves. It's Erica's premium offering of Eurorack modules and is dripping with extreme saturation and deep gooey darkness. The Fusion System II contains just six modules, but together they form a single 104HP row of impressive-looking modular potential. Their physical presence is imposing, with design and layout that is engagingly symmetrical, delightfully ordered and manages to look somehow bigger and bolder than the Eurorack format it follows. For this review, we were sent the Fusion VCF3, the Fusion Modulator and the Fusion VCA-Waveshaper-Ringmod.
The Fusion VCF3 is quite a different animal from the earlier VCF2, which had three inputs into a selectable 24dB/12dB low-pass filter with a CV-controllable cutoff, resonance and a mix output. The valve in the middle of the module was designed to drive the audio signal. It had plenty of Erica Synths' character and quirkiness in the feedback loops and pushing of resonance. In the VCF3, by contrast, we find a pair of valves, we find vactrols and an uncharacteristic softness. Where we perhaps expect to find grit and drive, we discover sweetness and nuance that makes for a versatile and rewarding filter that can easily become an instrument in itself.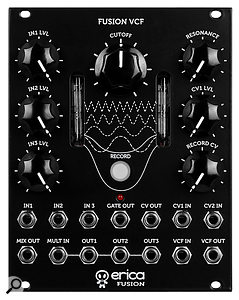 Fusion VCF3. Size: 20HP. +12V 81mA, -12V 76mA.There are some elements carried over from the previous version. The VCF3 has the same three-input design with a clean mix output along with the filtered output. But from there on in it's very different. The pentode valves are not there to offer overdrive or fatten up the sound: they act as transimpedance amplifiers and form the resistance part of the filter circuit along with the vactrols to control the cutoff. It's this unusual design that gives the VCF3 its character.
The control system also has a life of its own. You can't fail to notice the big Record button in...
You are reading one of the locked Subscriber-only articles from our latest 5 issues.
You've read 20% of this article for free, so to continue reading...
Buy & Download this Single Article in PDF format

£1.00 GBP

$1.49 USD


For less than the price of a coffee, buy now and immediately download to your computer or smartphone.

Buy & Download the Full Issue PDF
Our 'full SOS magazine' for smartphone/tablet/computer. More info...

Published August 2020