Extinct Audio's excellent BM9 ribbon mic is now joined by a stereo version, and a ruggedised edition designed for loud sources. We put them to the test.
Stewart Tavener is probably the UK's leading specialist in restoring ribbon microphones, and launched Extinct Audio to bring to market his own designs. The first of these, reviewed in SOS April 2018, is the BM9 'Viking', a modern homage to the classic Bang & Olufsen BM3; and a very fine microphone it is, too! The BM9 has been a well-deserved hit, as the list of users on the Extinct Audio website will show, and Stewart has now followed it up with several new and related products.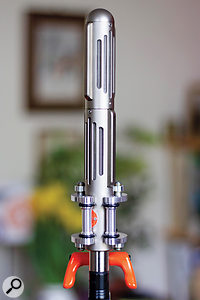 The stereo BMx2, in Extinct Audio's Fenrir shockmount.Photo: Adam WatsonAmong these launches are two new microphones derived from the BM9 design. These are the stereo BMx2 'Valkyr', designed for Blumlein and M-S recording, and the Black Ops, a ruggedised ribbon mic intended for close-up use in loud environments. Also new, and available as standard with the BMx2, is the impressive Fenrir standmount, while those of us who already own pairs of BM9s can now buy a plastic widget that allows two of them to be mated to form a stereo mic. As before, all of the important microphone components are hand-made in the United Kingdom, including the ribbon motors and transformers.
By creating a stereo version of the BM9, Stewart is following faithfully in B&O's footsteps. Many an orchestral recital was recorded back in the day with the original BM5 stereo mic, an icon of '60s design.
The B&O stereo mics had a couple of features that were supposed to make them more versatile: the mutual angle of the two capsules could be adjusted anywhere between zero and 180 degrees, and the top capsule was an optional extra, allowing you to buy a mono BM6 and convert it to a stereo BM5...
You are reading one of the locked Subscriber-only articles from our latest 5 issues.
You've read 20% of this article for free, so to continue reading...
Option 1: Buy and download this single SOS article in Adobe PDF format
For less than the price of a coffee shop drink, buy this article now and immediately download the PDF file to your computer or smartphone.
Single article PDFs look identical to the printed magazine layouts (but exclude advertisements).
Note: Some shorter articles don't always have a PDF version.
Option 2: Buy a great value DIGITAL subscription (or Print+Digital) and open ALL web articles & Full Issue PDFs instantly!
It opens ALL premium web articles, plus our Tablet edition App, and now includes your monthly FREE Full Issue PDF download (worth

£3.99

$5.99

each).
Or contact our Subs staff to discuss an upgrade price to add Digital access to your existing Print subscription.
Option 3: Buy & Download TODAY the Full Issue PDF
From January 2018 edition, we began selling a FULL ISSUE PDF 'replica magazine' for the cost of a handful of single PDF articles. More info...
Try these FREE sample FULL ISSUE PDFs on us!