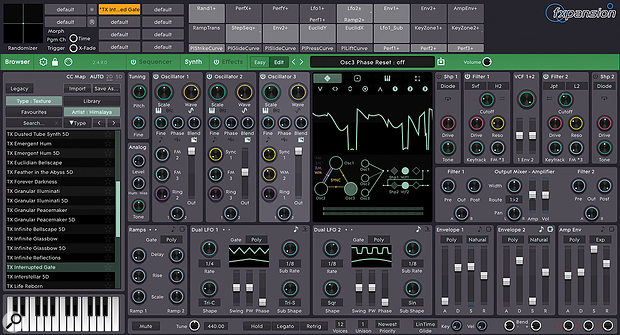 FXpansion's new soft synth boasts sensational sound and an almost unhealthy level of modulation.
Cypher2 is a new flagship synth from FXpansion, the software company acquired by ROLI a couple of years ago. Perhaps predictably then, Cypher2 has first-class support for MPE (MIDI Polyphonic Expression), though it works fine whether or not you have an MPE-capable controller (or an MPE-capable DAW). Without MPE, you lose some expression options.
The synth is analogue-modelled, with three oscillators and two filters per voice, plus a raft of modulation features including mathematical operators and a distinctive mod matrix feature called TransMod. It can also randomise and 'morph' presets. There's a built-in arpeggiator, and four step sequencers (three dedicated to modulation).
Cypher2 is almost, but not quite, a single-page synth. There's a subsidiary page for the step sequencers, and one for the effects, but everything else is on the main page and easily accessible. The visual design is mostly flat, apart from some slight skeuomorphisms (a knurled finish on the knobs and slight shadowing on the faders). I found these a little distracting — they make the interface look busy — and usability is not helped by the rather skinny font used for the controls and menus. Although the panel layout has a modular appearance, all modules are fixed: Cypher2 is all about modulation, not modularity.
The window layout has a green 'menu bar' positioned part-way down. Above it is the TransMod system and edit buffers, while below are the synthesizer panels, a preset browser (with keyboard), and a central multi‑mode visual display (the 'scope/visualiser'). Buttons in the menu bar bring up the separate pages for sequencers or effects, while the preset browser and TransMod area stay in place. (The browser can be hidden, shrinking the window width considerably.)
The scope displays audio signals in some situations, while in others it shows preset wave shapes (such as for the LFOs). It can also display envelope shapes, filter cutoffs and signal routings.
Some visual assistance for Cypher2's fiendishly powerful oscillator modulation.Enough of appearances: what about audio? The signal flow is roughly top-left to bottom-right, starting at the three oscillators and ending at the amplitude...
You are reading one of the locked Subscriber-only articles from our latest 5 issues.
You've only read 20% of this article, so to continue reading...
Option 1: Buy and download this single SOS article in Adobe PDF format
Buy this article now and immediately download the PDF file to your computer.
Single article PDFs look identical to the printed magazine layouts (but exclude advertisements).
Note: Some shorter articles don't always have a PDF version.
Option 2: Buy the Full Issue PDF **NEW**
From January 2018 edition, it is possible to buy a FULL ISSUE PDF 'replica magazine' for the cost of a handful of single PDF articles, and instantly download it. More info...
Option 3: Buy a DIGITAL subscription and open ALL web articles instantly!
It opens ALL web articles, the Tablet edition, plus Full Issue PDF download...
Or contact our Subs staff to discuss an upgrade price to add Digital access to your existing Print subscription.