Microphone Preamplifier & Equaliser
Golden Age's new Premier series of Neve‑inspired devices get even closer to the real thing.
Back in 2009, Golden Age Project were one of the first companies to bring an affordable yet decent‑quality take on Neve's 1073 preamp to market. They tweaked that design slightly over the years, and offered variations on the theme — the smaller Jr version, for example, and versions with 'big name' transformers — and also released a companion EQ, among other bits of hardware inspired by classic studio gear. Regular readers will know that they also make some impressive mics. I've always been impressed by the bang for buck that GA Project gear offers: generally, it sounds very good, even if it meets its price point by using unbranded components and taking a somewhat utilitarian approach to the metalwork and aesthetics.
A few years ago, Bo Medin, the man behind Golden Age, decided to launch a sister brand, Golden Age Premier, which would be priced slightly higher and allow him to cut fewer corners while still delivering great value for money. This range definitely looks and feels more like 'the real thing' and, again, has always sounded great to me.
For review here is the latest pair of GA Premier devices, the Pre‑73 Jr Premier and the EQ‑73 Premier, and I'll award no prizes for guessing that these look once again to vintage Neve designs for their inspiration.
The Pre‑73 may be narrow but it's deep enough to accommodate large Carnhill input and output transformers and other through‑hole components.A 1U quarter‑rack‑width device, you can fit four of the Pre‑73 Jrs cheek‑by‑jowl in a 19‑inch rack space and, as with other GA devices, there are threaded holes on the baseplate and rackmounting kits available should you wish to do that. It can, if you prefer, sit on a desktop, though there are no stick‑on rubber feet so you'll have to provide your own. The Pre‑73 Jr may be narrow, but the metal case is about 10 inches, or 25.5cm (excluding protruding controls/connectors), to provide plenty of space for the circuitry, which uses through‑hole components throughout — something I like, since in years to come this should make maintenance and repair easy. It's reassuringly weighty too, in no small part due to the mu‑metal‑shielded input transformer and a large output transformer, both made in the UK by Carnhill.
The Pre‑73 Jr accepts mic‑level signals via cables terminating in TRS or XLR, courtesy of a Zwee‑branded combi socket on the rear, and can accept instrument sources through a high‑impedance DI input (TS jack socket) on the front. In this design, the combi connector's XLR and jack inputs are connected in parallel, which means that when you activate phantom power this will be present on both parts of the connector. It's low current and you can of course keep phantom switched off, so the risk of problems isn't great. But it's enough that I'd think twice about connecting line‑level gear to this input.
The balanced line‑level XLR output on the rear is duplicated on a TRS jack, for cabling convenience. Also present is
The preamp and EQ can be connected to insert the latter in the preamp's unbalanced signal path, before the output transformer, but the EQ can also be configured for use as a balanced line‑level processor.an unbalanced TRS insert point intended specifically for use with the EQ, whose circuitry it patches unbalanced into the mic pre's internal signal path — an arrangement that mimics the way they'd be linked on the consoles from which these designs are derived. There's a power inlet with on/off button, and a 24V AC‑AC wall‑wart is supplied; GA also offer a half‑rack‑width supply that can power four devices.
On the front, in addition to the DI input jack, are two toggle switches, two knobs and three buttons. One button selects between the mic and instrument inputs, another engages phantom power, and the last inverts the signal polarity. The small three‑position metal toggles cater for a high‑pass filter (40 or 150 Hz at 6dB/oct, or off), and Air (a 30kHz shelving boost of +3dB, +6dB, or off). That just leaves the gain controls and, in the 1073 tradition, one is a switch with 5dB gain increments (+20 to +70 dB), while the other is a trim pot for fine adjustment.
The Pre‑73 Jr Premier is, on the whole, a lovely preamp, and when paired with my voice on my usual AKG C414 B‑ULS mic it delivered that familiar warm and rich‑sounding result I've come to expect from this Neve‑ish sort of preamp, with a little added thickness at the low end. With less sensitive dynamics, it was also handy, since the 1073‑style design offers bags of clean gain. The switchable settings make matching two preamps easy, and mean you never experience any of the 'gain bunching' that you sometimes do with cheaper pot‑based designs. The high‑pass filter's gentle slope makes it as useful for tonal shaping and countering proximity effect bass boost as for removing rumble, while the Air effect lifts HF details much further down the spectrum than the 30kHz frequency might imply. It'd be good if Golden Age could find a way to prevent phantom power appearing on the combi connector's TRS input (a separate TRS input or Neutrik Combo, perhaps?). Also, the metering is minimal, with a single LED for level indication — but GA offer more fully featured versions of this preamp, so that's not really fair criticism!
Golden Age have added switchable I/O balancing to their EQ, so you can choose to insert it into the preamp or use it as a balanced line‑level processor.
The three‑band EQ is also firmly in 1073 territory, though with some different frequency choices and an important addition which increases this EQ's versatility.
I've mentioned already that the EQ is intended to be inserted into the preamp's internal unbalanced signal path, and that's the typical arrangement for 1073‑style EQs, since it puts the EQ between the input and output transformers. In this design, though, Golden Age have added switchable balancing, which is a great feature — it means that you can choose either to insert it into the preamp and make use of those transformers — a suitable TRS cable is provided — or to use it standalone as a balanced line‑level processor. The balancing is electronic, courtesy of Burr Brown ICs, and sounds transparent to my ears. It's worth noting that some other GA units with input and output transformers, such as their Comp‑54 MkII compressor, also have an insert point that allows the EQ to be patched in. A tiny criticism is that, as the EQ's insert/line switch is on the rear, if connecting this EQ to a patchbay you'll need to commit to one configuration or the other. There's not much spare room on the front, though, and for most users it will be a set‑and‑forget thing.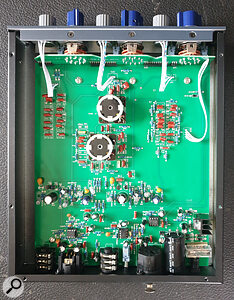 The mid band of the EQ‑73 is based on a pair of Carnhill inductors.The EQ bands are labelled LF, MF and HF. The outer two are shelves and the middle one a proportional‑Q bell, its peak becoming narrower the more you cut/boost. Each band can be bypassed with a button, but there's no global bypass and when the unit is switched off no signal is passed — so to A/B compare the unprocessed source with the EQ'd version, you have to press three buttons. If that bothers you, check out the 'senior' version of this preamp, which has an EQ in/out button.
The LF band offers the following frequencies: 20, 33, 55, 100, 175 and 300 Hz. For the mid band, which uses two Carnhill inductors, it's 240, 350, 500, or 700 Hz; or 1, 1.6, 2.4, 3.2, 4, 7 or 10 kHz. The HF band can be set to 6, 10, 12, 16, 20 or 24 kHz. There's no HPF, since the idea is that the preamp would take care of that side of things.
With no EQ being applied, the review unit seemed to nudge the source just a shade in favour of the high end, from about 500Hz up. I'm not sure if that's by accident or design, and it's easy to dial in a flat line if you want to, but it means this EQ tends to be subtly flattering the moment you patch it in. It's then simply a case of choosing frequencies, boosting and cutting, and occasionally bypassing a band to sanity‑check your settings. It's not one for surgical moves, but tonal shaping doesn't really get more intuitive than this and it all sounds seriously smooth and elegant. The sonic quality is great too, with vanishingly little audible noise and few of those annoying clicks with which some devices reward your switch‑turning and button‑pressing.
In short, then, this is a classy console‑style EQ, and paired with the Pre‑73 Jr (or the more feature‑laden Pre‑73), it would make a lovely DAW front end. That you can also use it with line‑level sources, with no need for a separate preamp, is a wonderful bonus, and makes the price yet more attractive than it already was.
Pros
Both devices offer a distinctly Neve‑ish sound.
Good build quality inside and out.
EQ can be used standalone or as preamp insert.
Cons
Beware phantom power on combo socket's TRS input.
Summary
Sounding just as big, smooth, warm and effortless as you'd hope, these Premier devices could combine to create a lovely front end for any DAW, but it's great that the EQ can also be used standalone.
Information
Pre‑73 Jr £340, EQ‑73 £389. Prices include VAT.
Runway Pro Audio +44 (0)7591 153 006.
Pre 73 Jr $449 & EQ73 $499.99.
Rad Distribution +1 845 378 1189.