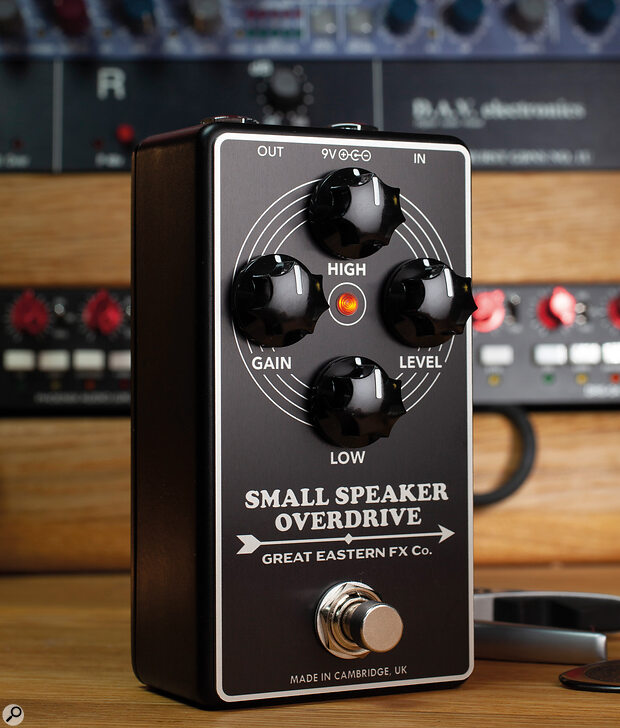 Can a pedal really replicate the classic studio sound of a tweed‑era Champ?
The use of small, low‑wattage tube amps in the studio for recording initially arose out of attempts to reduce spill into the mics on other instruments, but it created an unplanned beneficial side‑effect. Small, low‑wattage tube combos tend to have small speakers, such as the 10‑inch of a Princeton and the eight‑inch driver found in all the classic versions of Fender's Champ model, and small speakers in small enclosures simply have less low bass. When close‑miked to generate a bit of proximity effect, this results in a sound that still has a satisfyingly full lower midrange, but without the sound being so big that it masks anything else in the mix. Anyone who has ever mixed a pop or rock recording involving more than three instruments will have experienced how much excess bass you can filter out of guitar tracks recorded with big cabinets, without doing them any 'damage' at all.
But it isn't just about having less bass: there's a dynamic and spectral character to a single‑ended, low‑power tube amp driven hard and a small speaker trying to keep up that makes for a particularly responsive and expressive guitar sound. If you don't have a classic tweed Champ in your studio, however, new UK‑based pedal makers Great Eastern FX Co have an alternative in the form of their Small Speaker Overdrive pedal. The Small Speaker Overdrive isn't an 'amp‑in‑box' that you might use as a DI solution, however: it is fundamentally a conventional overdrive pedal, to use, ideally, with a nice‑sounding tube amp or digital modeller.
The Small Speaker Overdrive uses a discrete transistor circuit housed in a standard, single‑footswitch enclosure. Controls are Gain and Level, plus High and Low EQ bands. Top‑mounted jacks will be welcomed by those who like to mount their pedals very close together, and between them lies the input for the required external 9V DC supply; there's no battery option. It's not that the very neat and tidy board is absolutely stuffed, but the 3P3T switch which handles both the hard‑wire bypass and the LED status switching is mounted low in the enclosure, where some makers site a battery, and the connectors occupy the space at the top. In the era of so many 'mini' pedals all requiring the use of an external PSU, I don't think the absence of a battery option can be viewed as a limitation.
To get the best out of the Small Speaker Overdrive it needs to be first in any pedal chain, with no active‑bypass or buffered pedal placed before it. Connected directly, it exhibits much of the interactivity of a good fuzz pedal. Setting the Gain high and turning down the guitar's volume control, and with the High control centred and the Low about a quarter on, there's a wide sweet spot of nicely 'bracketed' guitar midrange that really represents what this sound is about. It's a perfect partner for the 2 and 4 positions on a Strat — instant Clapton 'Layla' — and sweet with a Tele: very responsive to touch and volume control settings. Maxing the Gain with humbuckers, you lose the 'chime' and things start to get 'splatty', not unlike a Champ on 10 but with less noise, although I think the best of this pedal lies in its more subtle tones.
These controls really don't have any unusable positions, which means you can usually find what you are looking for when partnered with amps big or small, clean or dirty.
Like any overdrive pedal, the Small Speaker Overdrive's performance is partly determined by the amp it is driving, but these controls really don't have any unusable positions, which means you can usually find what you are looking for when partnered with amps big or small, clean or dirty.
"Serious. Fun." it says on the box, and it is. Although in saying that I am acutely aware there are quite a lot of actual small amps you could buy for less than the cost of this pedal. But 'small' on its own is not the point: they won't be Class‑A tube amps, and they won't sound like this.
The world may be awash with subtly different flavours of distortion pedals, mostly trying to make your guitar sound 'bigger', but it is good to see that there's still scope for a bit of original thinking. I hope we'll see some more slightly alternative pedals from this small independent maker in the near future.
There are some good audio examples to be heard at www.greateasternfx.com, but I wanted to make a clip of my own showing what I love most about this pedal. Take a listen...
This is a Strat's neck and middle pickups together — a combo that normally gets a bit 'woofy' into any sort of distortion — with the guitar volume down at about four, pedal Drive at 75 percent, and Low backed off to about 25 percent. It's very touch sensitive: from glassy chime to edgy just with varying pick/finger attack. Dave Lockwood
Summary
Though a bit specialised, the Small Speaker Overdrive does something special — sometimes it's the difference between 'nearly there' and 'just right' in a recorded guitar sound.