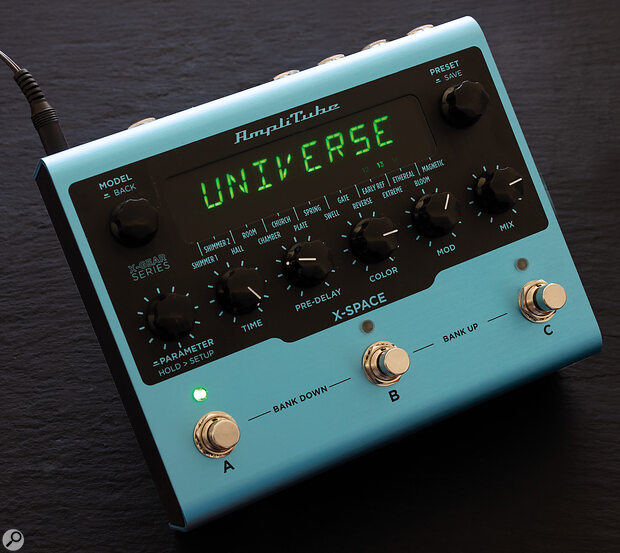 With both a hardware pedal and a plug‑in version included, this classy‑sounding reverb offers more options than most.
While some companies strive to emulate hardware in software, Italy‑based IK Multimedia are doing just the opposite with their X‑Gear range, which expands on the technology underpinning their AmpliTube amp and effects emulation software and puts it into physical, DSP‑powered pedals designed for live performance. Currently the range comprises the X‑Drive, the X‑Vibe, the X‑Time and now, reviewed here, the X‑Space, which as the name suggests is designed to create reverb‑based effects. IK tell us that the DSP platform has an open architecture to allow for future updates, and I suspect that all the pedals in this range share the same DSP platform but run different software and firmware.
Built into a durable, blue, anodised aluminium case and offering true stereo operation, the X‑Space hosts 16 new reverb effects, as well as an amp/cab simulator section with a choice of five (or no) impulse responses, which means you can DI the pedal into a PA system if that's the way you prefer to work. The IR settings are global and include a Bass option as well as four guitar amp/speaker IRs.
The pedal's audio credentials are impressive. It boasts 24‑bit, 192kHz converters, a 5Hz to 24kHz frequency response and a 112dB dynamic range, while the dry signal path remains analogue, which will please the purists. There are options to configure the pedal for true (hard‑wired) or soft (buffered) bypass in the setup menu, and you can set the pedal to allow reverb tails to fade naturally when bypassing or changing patches. Speaking of which, the pedal comes with 50 factory presets already included, but it can store up to 300.
There are stereo ins and outs on quarter‑inch jacks but any permutation of mono or stereo inputs and outputs can be used, as required. Power comes from an included 9V adaptor and an expression pedal/switch input jack opens up the possibility of real‑time control for any pedal parameter. There's also a USB port, and this can be used not only when running the librarian software on a computer (see box) or for firmware updates, but also as a stereo audio recording interface for your DAW. There's also a comprehensive MIDI implementation, with full‑size five‑pin MIDI in and out connectors, including provision for control over IK's AmpliTube 5. MIDI could...
You are reading one of the locked Subscriber-only articles from our latest 5 issues.
You've read some of this article for free, so to continue reading...
Log in - if you have a Subscription you bought from SOS.

Buy & Download this Single Article in PDF format

£1.00 GBP

$1.49 USD


For less than the price of a coffee, buy now and immediately download to your computer or smartphone.

Buy & Download the Full Issue PDF
Our 'full SOS magazine' for smartphone/tablet/computer. More info...

RECORDING TECHNOLOGY: Basics & Beyond
Claim your FREE 170-page digital publication
from the makers of Sound On Sound — CLICK HERE