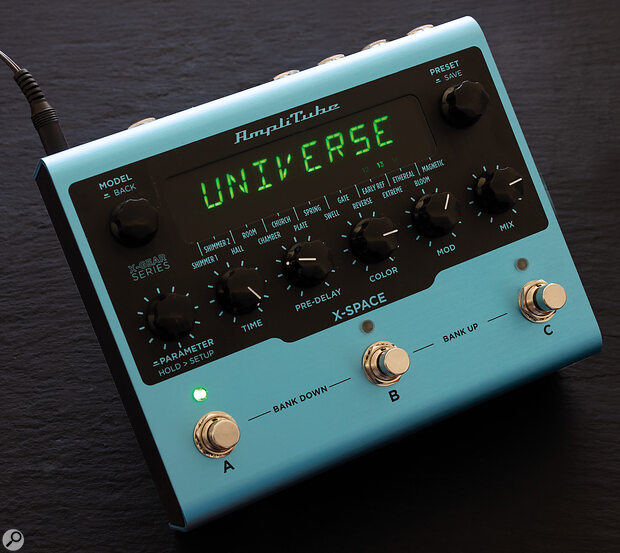 With both a hardware pedal and a plug‑in version included, this classy‑sounding reverb offers more options than most.
While some companies strive to emulate hardware in software, Italy‑based IK Multimedia are doing just the opposite with their X‑Gear range, which expands on the technology underpinning their AmpliTube amp and effects emulation software and puts it into physical, DSP‑powered pedals designed for live performance. Currently the range comprises the X‑Drive, the X‑Vibe, the X‑Time and now, reviewed here, the X‑Space, which as the name suggests is designed to create reverb‑based effects. IK tell us that the DSP platform has an open architecture to allow for future updates, and I suspect that all the pedals in this range share the same DSP platform but run different software and firmware.
Built into a durable, blue, anodised aluminium case and offering true stereo operation, the X‑Space hosts 16 new reverb effects, as well as an amp/cab simulator section with a choice of five (or no) impulse responses, which means you can DI the pedal into a PA system if that's the way you prefer to work. The IR settings are global and include a Bass option as well as four guitar amp/speaker IRs.
The pedal's audio credentials are impressive. It boasts 24‑bit, 192kHz converters, a 5Hz to 24kHz frequency response and a 112dB dynamic range, while the dry signal path remains analogue, which will please the purists. There are options to configure the pedal for true (hard‑wired) or soft (buffered) bypass in the setup menu, and you can set the pedal to allow reverb tails to fade naturally when bypassing or changing patches. Speaking of which, the pedal comes with 50 factory presets already included, but it can store up to 300.
There are stereo ins and outs on quarter‑inch jacks but any permutation of mono or stereo inputs and outputs can be used, as required. Power comes from an included 9V adaptor and an expression pedal/switch input jack opens up the possibility of real‑time control for any pedal parameter. There's also a USB port, and this can be used not only when running the librarian software on a computer (see box) or for firmware updates, but also as a stereo audio recording interface for your DAW. There's also a comprehensive MIDI implementation, with full‑size five‑pin MIDI in and out connectors, including provision for control over IK's AmpliTube 5. MIDI could also be useful if you have other X‑series pedals in the chain, as you could use the first one as a master and then get them all to change to the appropriate presets when you change the first.
The X‑Space can be used with mono or stereo sources and destinations.
The X‑Space's top panel is laid out in a very clear way, so as to make setting up your own effects largely intuitive. The reverb algorithm types are printed below the large LED display, which also displays corresponding algorithm numbers along the bottom, and to adjust the sound there are six knobs below the display, five of which access the most important parameters: Time, Pre‑delay (of up to 1000ms), Color (reverb tonality), Mod and Mix. The Parameter knob on the left adjusts deeper patch parameters such as shimmer pitch, reverb size and so on, and is also used to access Global setup parameters. (The precise parameters available depend on which reverb model is currently running.) Two further turn‑and‑press encoders, Preset and Model, are used for accessing and saving presets and for selecting the effect type or model. Presets can be saved to any location and can be named.
Used in pairs, the footswitches may be used to switch up or down between preset banks. Alternatively, they can be used individually to select one of the three presets in each bank. Above each switch, an indicator LED lights green if a preset is active or amber if the preset has been edited, and all blink amber after changing banks. The footswitches are also used to activate bypass or can be held down to access the X‑Mode, which brings in an extended sustain effect for the reverb tail. If new notes are played after activating X‑Mode, their reverb is added to the sustain. If no lights show the pedal is bypassed.
If all you need a reverb pedal for is convincing springs and plates, this one is probably on the wrong side of overkill.
In the Model section, there are 16 reverb types. These include the familiar Room, Hall, Plate, Chamber and Spring types, of course, but you also get a Church, an early reflections Ambience patch, Gated reverb, Reverse reverb, and a host of special types that include modulation and/or filtering. Then there are two types of Shimmer reverb, plus Bloom, Magnetic, Etherial, Extreme and Swell.
Shimmer typically pitch‑shifts the reverb tail up by an octave, but here you get two shifted voices that can each go up or down by up to an octave, in quarter semitone steps. The gated and pseudo‑reverse reverb effects are also well‑established, though some of the other options may be less familiar. Bloom, for example, allows the reverb tail to swell after the initial note, while Magnetic incorporates some very 'floaty' modulation. Swell is similar to Bloom, though appears to act more like an extreme ducking reverb, as the reverb tail only builds up when the original sound decays. Etherial is a modulated plate reverb, and Extreme is another plate reverb but this time with a pulsing phaser effect modulating the tail. The quality of the effects is top‑notch and while they may sound much more 'wide screen' in stereo, they all sound great in mono too, so work fine if patching the pedal into a guitar amp.
The X‑Space can give you a good spring or plate reverb emulation to use with your guitar — but if all you need a reverb pedal for is convincing springs and plates, this one is probably on the wrong side of overkill! If, instead, you're one of those people who likes to get much more creative with your effects, it really comes into its own. It offers some lovely variations that will attract not only those who are into creating ambient music, but also EDM and soundtrack composers. The shimmer reverbs, which I use a lot, are as good as any I've heard elsewhere, while some of the modulated reverb options range from huge‑sounding and dramatic to super‑relaxing, adding mystery and texture to whatever sound you feed in.
Although we tend to think of pedals as being the province of guitar players, this one can sound wonderful on just about any sound source, from piano to vocals. Then there's the X‑Mode sustaining effect, which is a welcome addition for live performance. Getting a virtual version to run inside AmpliTube is just more icing on an already tasty cake.
A software version of X‑Space, which runs in IK's AmpliTube software, is included in the price.
Separate librarian software allows transfer of presets between AmpliTube and the pedal.As well as the pedal you receive a software version of X‑Space. It's hosted by IK's popular AmpliTube software, which can run either as a standalone app or as a DAW plug‑in. It offers exactly the same effects and capabilities as the hardware and you don't need to own the full version of AmpliTube to use it; X‑Space can be hosted in the free AmpliTube CS.
Once the pedal has been registered, you can also download the free X‑Gear Librarian software, and this makes it possible to move presets between any X‑Gear pedals and AmpliTube. To save a new preset for the pedal within AmpliTube, you click on the small triangular arrow on the right‑hand side of the display window of the pedal GUI, select Save As, and then name it and select where you want it stored. If you then switch to the X‑Gear Librarian, set to use the same folder, you'll find your saved preset easily and can transfer it over to the pedal. Not only is this a convenient way to manage your presets, but it means those who like to use plug‑ins while writing in the studio can export precisely the same effects as they used in their production to the pedal, for use in their live shows.
Pros
Wide range of reverb effects, both conventional and creative.
Easy to use.
Excellent audio quality.
Works as a USB audio interface.
Amp/speaker Impulse Responses onboard.
AmpliTube‑hosted plug‑in version included.
Summary
This hugely flexible reverb pedal is up there with the best of them and having a software version included for use in AmpliTube is a genuine bonus.