Portable Active PA Speaker
The Eon range of portable powered speakers evolves further, with new styling, improved output, and more besides.
If you're in the habit of visiting live performance venues of any kind, the chances are you will have happened upon JBL Eon speakers in one form or another, as they have been a popular choice and have been riding high in the best‑sellers list for a number of years. The latest update to the range is a completely new family of models, all boasting JBL's latest lightweight, high‑performance drivers, together with powerful integral Crown amplifiers, as well as plenty of the necessary on‑board signal processing in the active versions.
With so many Eon speakers in use, the company must have got quite a lot right with the original design and price point and, although I have never owned any myself, I was very interested to see what the current flagship model — the Eon 515XT — has to offer.
The 515XT sits at the head of the Eon 500 range, which consists of three different two‑way, full‑range speakers and a subwoofer. The full‑range boxes offer a choice of either 10‑ or 15‑inch woofers, and also a choice of power rating up to 625 Watts in the case of the 515XT, while the 518S subwoofer has 500W internal amp power and an 18-inch driver.
First impressions are positive in the look and feel department — I like the black colour (they call it 'black granite' which is a fair description) much more than the grey, moulded finish of the early Eons, and I also like the cabinet shape a lot more, as it's a neater and altogether more businesslike package.
The build quality appears to be up to JBL's usual high standard, with all fixings and fastenings tight and secure. I didn't detect any rattles or creaks from the cabinet or its contents. The moulded parts are made from polypropylene, and the steel grille has a black powder-coat finish, with a black cloth backing that looks good and offers moisture protection.
The Eon 515XT can rest on its side as shown here, serving as a stage monitor, or even a backline.Although 'the sound' is nearly everything, there are other things to consider when looking at portable live-sound speakers. One has to lift them, carry them, pack them and transport them, hopefully over a period of some years (see 'Carrying & Mounting' box). The physical qualities that make a speaker a joy to live with are not things that can be simply adjusted after purchase; they need to be right at the design stage.
The Eon 515XTs score very highly for their light weight and friendly profile (with no sharp edges to damage your hands on), and are simplicity itself to get up and running, as you'll soon find out.
I've never been a fan of rounded speaker cabinets, as they have to be packed more carefully than their squarer counterparts when loading gear into a van. The Eons don't really stack together, since they have a curved top, but that's presumably designed to keep the overall cabinet relatively compact, while having enough internal volume to deliver the required performance. I must admit that the looks are a vast aesthetic improvement over the original Eons.
If looks really matter to you, it shouldn't be too hard to keep these moulded cabinets looking pretty. The poly finish can be scratched and scuffed, but it's much easier to disguise than a chip out of a wooden cab or a grimy and torn 'carpet' covering, as the surface colour of the 515XT goes all the way through the material. I did have a little accident with one of the Eons, and it collected a bit of a scrape to its top edge, but a little bit of fine abrasive paper cleaned it up in a few seconds. Let's hope they don't notice…
The lightweight Eon 515XT has great handles rather than plain and simple cutaways, making it easy to carry around for long periods of time.
When it comes to portable live-sound work, I'm a big fan of self‑powered PA speakers, mainly because they're simple and quick to set up and all corrective signal processing is taken care of within the box. The main disadvantage always used to be (as far as I was concerned) the significant weight of the cabinets, caused by the incorporated power amps and input boards. Getting the things onto stands that were sturdy enough to cope was often a two‑person job, especially in the case of any model capable of a decent output level.
Recent advances in driver and amplifier technology allow hardware to be capable of much greater performance with significantly lower overall weight. The Eon 515XT is just such a speaker, with power and portability in abundance. When I first unpacked the speakers, it was a real surprise to find out just how little they weigh — I can lift one of these by the top handle with one finger, from floor to shoulder height, with no trouble at all.
In order to keep weight down and offer plenty of live performance capability, there's nothing like a combination of neodymium magnet drivers and switching power amps. The Eon range is very well equipped with both. The low-frequency unit is a very light 'Differential Drive' design, which makes use of two independent voice coils acting in concert, a design that results in very high efficiency. The more efficient the driver design, the more electrical input power at the coil is converted to acoustic output (which is good) and the less power is wasted as heat (again, good). The result is a higher sound level and greater reliability.
The 2414H neodymium compression driver, which handles everything above the crossover frequency of 1.7kHz, uses a 1.5‑inch diaphragm with a one‑inch exit. The horn guide gives a nominal 100‑degree‑wide high‑frequency dispersion which should be good for most venues that use either a single speaker or one each side of the performance area. The power amplifiers are rated at 525W and 100W for the low-frequency and high‑frequency sections respectively, while the amp is a Class‑D design by Crown, another highly‑respected name from the Harman stable. Acoustic output is quoted as a maximum SPL of 132dB, and the extended frequency response goes right down to 42Hz at the ‑3dB point. This impressive statistic is courtesy of the 15-inch woofer, DSP and cab design.
Rather than simply bolting in new drivers and bigger amps to produce an upgraded product, the designers have optimised amplifier performance and revised the gain structure to achieve a 3dB increase in maximum SPL, and have also re‑voiced the speakers to improve the overall balance across the frequency spectrum. In the original press release, JBL refer back to the recent development of the PRX600 series of active speakers, stating that this process contributed to the design of the Eon 515XT. Having tried (and been seriously impressed by) the PRX615M, I very much like the idea of this pedigree.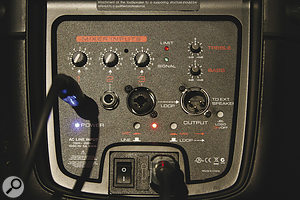 The rear panel hosts the inputs and a basic mixer. Note the safely recessed push‑button switches for selected controls.The rear panel is simple and neat, and although straightforward in nature, it's very useful for coping with different types of inputs and also provides a little bit of extra user control. The 'main' input (number three, as it happens) is a Combi‑XLR socket, which can accommodate a standard jack plug too, and offers the option of line or microphone sensitivity settings by means of a push‑button switch. I particularly like the bright-red warning LED that accompanies the 'mic' setting, as getting this wrong can produce a frighteningly high output. Using the direct mic input, one 515XT and a microphone gives you an instant high‑quality 600W PA and a spare hand to carry something else with. Inputs one and two, meanwhile, are balanced or unbalanced jack inputs.
In addition to the three separate level controls that form the mixer, there is a two‑band EQ that affects the signal being fed to the internal amps, and can also be switched into the output mix path. The output XLR can be fed with a direct loop from the XLR input or the whole three‑channel mix (post‑EQ), and is labelled 'to ext speaker', which in this case means another self‑powered speaker, not a passive extension cabinet.
All the selector switches are recessed below the panel surface, even when they're in the 'up' position. It's simply not possible to accidentally press them unless you have fingers slightly thinner than a biro tip. A small feature, perhaps, but very sensible one. In terms of other operating indicators, there's a power LED, a 'signal present' LED and a red LED that warns you when the input signal is high enough to be within 2dB of clipping. There's even a little switch to turn the front JBL logo on or off, which might well be something you'd want to do at certain events where it might be distracting, such as small theatre productions.
I was able to take the Eon 515XTs out on a few occasions and use them for background jazz, carnival announcements, music playback, loud pub rock and also as backline for piano and bass. Having just described the rear-panel functions, it's obvious that the 515XT is easy to use, and with its frequency range and power rating you can throw it at any reasonable situation.
At the jazz gig the speakers needed to sound sweet and smooth (which they did), and I appreciated the lack of noise they produce when idling. At the outdoor carnival event they needed to produce a lot of output (which they also did), and the full‑bodied clarity was very good for speech announcements. I ran them with and without subs, and I have to say that I needn't really have bothered taking the subs along, as the 515XTs are capable of producing a very big bottom end on their own. They delivered a respectable amount of bass even though they were mounted high above the ground.
The loud pub rock test was spread over two gigs with the same band, firstly in a room which can only be described as the sound engineer's version of the underworld — small, shiny, parallel surfaces everywhere, and a massively loud drum kit. The most acoustically absorbent thing in the place was my chicken and stuffing sandwich, which wasn't scheduled to be around for the whole evening. The second event was in a much different acoustic environment with an actual carpet, curtains, chairs and quite a lot of humans.
I usually try to avoid using the clichéd phrase 'cut through the mix', but in this instance that's exactly what the Eons did for the vocalist: they sliced through everything in their path and I was able to get a big, clear vocal above a very loud rock band, all without seeing even a flicker from the limit LED, or feeling the heat sink fins getting much above warm.
I found time to play about with the Eons back at home, including using them as the piano and bass backline for a rehearsal. The Yamaha piano we were using only has a stereo mini‑jack output, and it was useful to have inputs one and two able to take the left and right signals and mix them to mono. The 515XT worked very well and didn't suffer from that boxy, unrealistic sound you often get when putting a grand piano voice through a combo amplifier. It sounded even better with the church organ voice, throwing out loads of depth. I tried one EON with a bass plugged straight in, and it sounded nice and tight, coping very well with the low B‑string, even the bass EQ on full.
As I was getting ready to pack the Eons ready for shipping back, I remembered that I had not actually seen the limit light come on at any stage, so I rigged them up to my test desk and let them have a big input just to make sure that they would really clip. I can report that it is possible to get the limit LEDs and associated limiter to activate, but it would have been better to try this outdoors, standing behind the speakers and wearing earplugs.
The Eon 515XT represents a significant step forward in the development of a very portable, well‑balanced and flexible self‑powered loudspeaker. In terms of portability, it's hard to see how anyone could make anything in this format any lighter or easier to handle, especially when you consider that it's capable of putting out such high levels. If JBL invent an even lighter driver, they're going to have to start putting lead weights in the cabs to stop them blowing away. The 515XT isn't a very small speaker, but it's pleasingly compact for a 15-inch design, and it's the sort of unit you could use for virtually any event of modest size. It can also double up as a backline speaker or powerful stage monitor, making it a versatile choice.
Other available self‑powered, 15-inch, two‑way speakers include HK Audio's Pro15A Premium PR:O active PA speakers, Turbosound's Milan M15 active PA speakers, the db Technologies Opera Digital 605D and the Electrovoice ELX 115P, all of which offer similar features in the same price bracket. If you're willing to pay more, the Mackie HD1521 (£1054$1249 per speaker including VAT) has sweepable EQ settings and more power.
As far as I'm concerned, portable live sound speakers do need good handles. The Eon 515XT is extremely well endowed in this respect, having three recessed, generously proportioned handles, one on each side and one on top. The top handle is indeed (big cheer) a full handle, complete with proper rubberised grip bar, not one of those space‑saving slots that can give your fingers a nasty bite on occasion. The handles double as stabilisers when the cabinet is on its side being used as a stage monitor or firing up into a seating rake, allowing the speaker to sit nicely at 45 degrees when required. I also found out that the 515XT will sit on its side facing directly forward, because the handle design acts like a large foot; I used it like this as a backline piano amp, as it fitted perfectly underneath the keyboard stand.
Standard M10 flying points are provided for professional install applications (the threaded holes are concealed beneath the handle end‑caps, which can be prised out), and the proper eye‑bolts are available from authorised dealers. For ordinary portable use, the speakers would either stand on top of other cabinets or be mounted on stands or poles. Good non‑slip feet are provided for the former method, but you have to watch out for the cabinets moving around, due to their ultra‑light weight. The standard 36mm sockets used for the latter method come with small clamp-screws rather than the common handwheel bolts, but they are more than adequate for the task. Also, because the whole units are physically well‑balanced front to back, they don't need to be tightened very much to keep the speaker firmly in place.
Pros
Very light and easy to handle.
Very powerful, with a well‑balanced sound.
Flexible input section: can even be used as an instrument amplifier or stand-alone PA.
Summary
JBL's Eon 515XT is an excellent evolution of the Eon line, packing a huge amount of volume and clarity into a lightweight and convenient package. A built-in mixer and EQ helps things along nicely, and it's great to see proper carrying handles on the unit too. A great all‑round active speaker.
information
£685 per speaker including VAT.
Sound Technology +44 (0)1462 480000.
$699 each.
Harman +1 818 894 8850.