Timeless: Sam Smith sings into a Neumann U67.
Classic equipment doesn't have to be old and unreliable. Many famous studio microphones are still current products, and some have been in continuous production for over 50 years. Buy new and you get a mic in showroom condition, with a manufacturer's warranty and no worries about whether it's still performing to spec. These are products that have endured for a reason — and here's our pick of the best!
By the dawn of the 1960s, it was clear that Neumann's U47 was on the way out. Supplies of its unique VF14 valve had run out, and with fashions in recording technique changing, sales were being lost to mics like the Sony C37 that were specifically designed with close‑miking in mind. Neumann's response was an instant classic. Introducing the KK67 capsule and the equally iconic wedge‑shaped headbasket, the U67 proved itself an incredibly versatile studio all‑rounder. It later became a sought‑after vintage item, and inspired numerous copies and homages, but in 2018, Neumann reissued the real thing. The current U67 is an exact recreation of the original, using the same capsule, valve and transformer, and remains one of the most desirable studio mics around.
More than 50 years after its introduction, the Shure SM57 is still the best‑selling studio mic in the world.
In 1939, designer Ben Bauer revolutionised microphone technology by creating a moving‑coil capsule with a cardioid polar pattern. Shure steadily developed this Unidyne technology and, in 1968, introduced the model that, half a century later, still sells more than any other professional mic. Compact, tough and affordable, the SM57 is the closest thing the world has to a universal microphone. Many engineers put them up almost without thinking on guitar cabinets and snare drums, but its crisp presence boost can help pretty much any source cut through the mix.
Compact, tough and affordable, the SM57 is the closest thing the world has to a universal microphone.
BBC engineers rig a Decca Tree of DPA 4006 mics at the Royal Albert Hall.
The 4006 has the unusual distinction of being older than the company that makes it! Introduced in 1982, it was developed by Brüel & Kjaer and initially marketed as a measurement mic. However, its ruler‑flat frequency response and near‑perfect omnidirectional pickup pattern soon made it a favourite among classical recording engineers. Always a modular system, its versatility was enhanced even further by the introduction of accessories such as grids to tailor the frequency response for near, free and diffuse‑field operation. When B&K decided to concentrate on other markets in 1992, former employees Morten Stove and Ole Brosted Sorensen set up Danish Pro Audio to take on B&K's pro audio products. The rest, as they say, is history.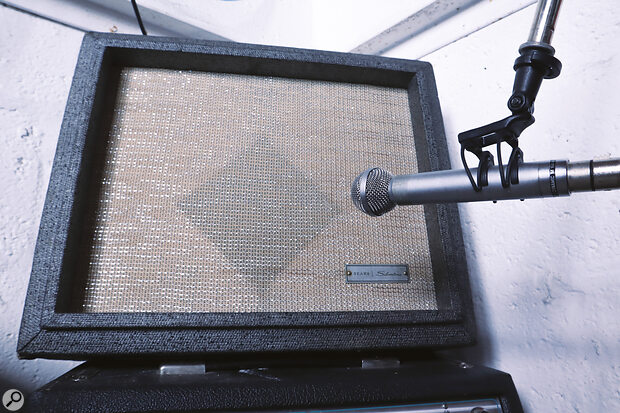 In vintage silver or modern black, the Beyer M160 is many engineers' first choice for amp miking.
Beyer's ribbon mics seem to have been around as long as there have been professional studios. Designed to be used as a pair for Mid‑Sides recording, the M130 and M160 have several unusual characteristics. More akin size‑wise to 'pencil mics' than to the classic RCA or Coles ribbons, they compensate for the ensuing short ribbon length by having two ribbons mounted directly above one another, thus doubling the effective area of the ribbon. These are not corrugated in the conventional 'zigzag' fashion, but longitudinally, making their behaviour more piston‑like. And the hypercardioid M160 is one of few ribbon mics that doesn't have a figure‑8 pickup pattern. Renowned as the mic that captured John Bonham's drum kit on 'When The Levee Breaks', it remains a hugely popular choice for drum overheads, guitar amps and general‑purpose close‑miking.
Milab VIP‑50.We're used to thinking of capacitor mic diaphragms as circular, but they don't have to be. Swedish inventor Rune Rosander realised that a rectangular shape has several benefits, especially when it comes to minimising obnoxious resonant peaks.
The first mics to use his novel capsule were released in 1959, and the design has been further developed both under the original Pearl brand and the breakaway Milab name. The two are now reunited, and alongside newer products, continue to offer the classic VIP‑50.
Introduced back in 1985, this multi‑pattern mic was a breakthrough product that won praise from the likes of Bruce Swedien, and remains a top‑class performer.
The Coles 4038 is perhaps the oldest mic design you can still buy new, and an undisputed classic.
Out of all the pro audio products on the market today, the Coles 4038 has almost certainly been in continuous production the longest. Designed by the British Broadcasting Corporation as a smaller, lighter replacement for the Marconi Type A, it made its debut in 1953. Since then, all that's changed are names: the mic was originally designated the PGS, and until the late '60s was manufactured by Standard Telegraph & Cables. The mic itself remains unchanged, even down to the non‑standard output socket, and is often considered the ne plus ultra of ribbon mics. Famed for the enormous weight and substance that it can bring to even the weediest source, the 4038 is a classic choice for drum overheads, brass, piano and guitar amps.
Few mics are as distinctive visually as Sennheiser's MD421, a high‑quality moving‑coil dynamic model that celebrated its 60th birthday in 2020. With its unique rectangular grille, tapering body and idiosyncratic clip, the 421 is a familiar sight in studios around the world. It's the go‑to close mic for toms, a popular choice on bass drums, and often to be found in front of guitar and bass cabinets.
One of the enduring classics in Beyer's range is this elegant moving‑coil dynamic, introduced in 1962. Its tightly controlled hypercardioid pickup pattern makes it a perfect choice wherever there's spill to be avoided. The vocal microphone of choice for Phil Collins, it's also a widespread favourite for percussive sources such as bass drum, thanks to its meaty low end, capacity to endure high sound pressure levels and punchy transient response.
From left: Sennheiser MD421, Beyerdynamic M88TG, Shure SM7B and Electro‑Voice RE20. The combined age of these ubiquitous moving‑coil dynamics is over 200 years!
Shure describe the SM7 as an attempt to see how good their Unidyne capsule could be made to sound without restriction on cost or size. Most of those who've used one will agree that the answer is "pretty damn good". A smoother and more 'hi‑fi' alternative to the SM57, the SM7 is renowned for its ability to cope with anything, from mounting inside bass drums to the loudest 4x12. It's also become a first‑choice vocal microphone, especially for spoken word and for aggressive rock and metal singers, and was famously used to record Michael Jackson's vocals on Thriller.
Proximity effect, or 'bass tip‑up' is a fact of life with directional microphones. The low‑frequency response of a cardioid or figure‑8 mic is exaggerated for sounds originating close to the mic, a phenomenon which often leads to boomy and uneven recordings. In 1954, Electro‑Voice patented an ingenious design which used multiple ports along the length of the mic's body to minimise proximity effect. Numerous EV models have employed this Variable‑D technology, but the best‑known is the classic and still current RE20, introduced back in 1969. A high‑quality moving‑coil dynamic with a smooth sound and extended frequency response, the RE20 is at home in front of any source, and is widely used on vocals, drums, guitar and bass amps, and brass instruments.
Intentionally unobtrusive: the PZM30D is the current iteration of Crown's popular boundary microphone.
In 1978, Ed Long and Ron Wickersham had the idea of making a virtue out of an acoustic problem. The closer a mic is to a boundary such as a wall or floor, the more the reflection off that surface interacts with the wanted sound, causing comb filtering. But what if the mic were actually placed at the boundary? Then the direct and reflected waves would be coincident and in phase, giving a pure uncoloured sound and a 6dB gain boost into the bargain. Their idea was quickly licensed by Crown, who still own the Pressure Zone Microphone trademark. Not glamorous but incredibly useful (and now marketed by Crown's sister company AKG), the current PZM30D offers discreet, reflection‑free pickup for drum kits, pianos, ensembles on stage and much more.
The Neumann U87 is renowned as a mic that works on anything.
The solid‑state successor to the U67 retained that mic's distinctive looks, and used an almost identical capsule. It too quickly became an 'industry standard', and there can be few serious studios that have never owned at least one U87. Neumann revised the design in 1985, eliminating the now‑redundant battery compartment and raising the capsule polarisation voltage to improve signal‑to‑noise ratio, and the U87Ai has been a staple of their catalogue ever since.
Rarely seen in the West, the Sanken CU41 is nevertheless an extremely high‑quality mic with a long and distinguished career.
Although they perhaps don't enjoy the same high profile as the Neumanns or AKGs of this world, Sanken are one of the longest established microphone manufacturers in existence. They are responsible for a number of interesting innovations, including the use of titanium as a diaphragm material.
The cardioid CU41, introduced in 1982, employed another Sanken technological breakthrough: the use of two coincident capsules to create a frequency response that is flat even 90 degrees off axis. The CU41 is still a current product, albeit not available in Europe as it isn't RoHS‑compliant, and the same principle is used in other models such as the CU44X. Western engineers who are in the know often regard their Sanken mics as something of a secret weapon.
The ST450 MkII is the flagship of the current Soundfield range.
When it appeared in the late 1970s, the Soundfield microphone was ahead of its time. So much so, in fact, that some of the advantages of the Ambisonics format invented by Michael Gerzon and Peter Craven are only now becoming apparent. First developed in conjunction with Calrec, ownership of the Soundfield technology has changed several times, and now rests in the safe hands of Rode. They've drawn on that heritage to produce the impressive and affordable NT‑SF1, but also continue to offer the flagship ST450 — a direct descendant of Gerzon and Craven's pioneering invention. With its ability to implement any coincident mono, stereo or surround array after the fact, it still has good claim to be the world's most versatile mic. Equally at home in front of orchestras and drum kits or on a boom pole for field recording, the Soundfield was the vocal mic of choice for Stock, Aitken and Waterman!
Hip to be square: the Sennheiser MD441 is instantly recognisable!
Frequently cited as the best moving‑coil dynamic mic ever made, the MD441 was introduced in 1966 and has been a fixture in Sennheiser's catalogue since then. With its very accurate supercardioid pickup pattern and a frequency response that extends to 20kHz, the MD441 is as versatile as any high‑quality capacitor mic, and is often preferred in the same roles thanks to its smooth, deep sound.
Vintage valve goodness in 2021: Microtech Gefell's CMV563 was reissued in 2013 and is still available new.
When the Cold War separated Georg Neumann from his workshop in the town of Gefell, Neumann founded his eponymous company in West Berlin. The Gefell plant continued to develop and produce microphones, and was eventually renamed Microtech Gefell. Alongside many innovations, Microtech Gefell continue to produce classic capsules. Many of their large‑diaphragm mics use the same M7 capsule employed in early Neumann U47s, and they recently went one better and reintroduced the CMV563. This 1956 design was, in turn, an adaptation of the pre‑war Neumann CMV3A 'bottle mic', and featured the same range of interchangeable capsules using a 'bayonet' fitting. If you're searching for the classic German valve mic vocal sound, you won't get much closer to it than this!
Royer's SF12 probably did more than any other model to kickstart the current renaissance of ribbon mics.
The SF12 was introduced to the world at large by Royer Labs in the late '90s, but the basic design is much older. Some time in the 1980s, inventor Bob Speiden encountered an old BM5 stereo ribbon mic made by Danish hi‑fi company Bang & Olufsen. Impressed with its quality and unable to find anything similar on the market at the time, he set about modernising the design, and began selling his creation as the SF12 — so‑called because it was the 12th in a series of "Speiden's Follies"!
Word of mouth soon created more demand than Speiden could meet for this elegant mic, with its rich, natural sound quality, and he licensed the design to Royer Labs. It remains a stereo microphone against which others are judged, and is joined in Royer's line‑up by several other models that are also influenced by B&O designs.