Guitar Cabinet Emulation Plug‑in
Melda's novel approach to cab emulation frees you from the confines of convolution.
Analogue cab emulators tend to be based on fairly simplistic filtering, and most digital ones now usually rely on impulse responses (IRs). While the latter method is accurate, it isn't versatile — each IR is basically a 'snapshot' of one cab/mic setup, so the room for adjustment is limited. But Melda's MCabinet adopts a different approach that aims to give you the best of both worlds. Essentially, it's a very detailed filter based on a statistical analysis of real cabinets. MCabinet works in VST, AAX and AU hosts, and the licence file allows activation on multiple machines. It offers up to 16x upsampling, and both M‑S and surround support.
A large library of cabinet profiles (mono and stereo) helps to get you started, and simple controls allow you to adjust the character of the current profile; an informative display shows the frequency response and the results of any adjustments. The basic controls can effect broad-strokes tonal changes, such as making the cabinet brighter or darker. There's also a Max Latency control that sets the maximum time by which the profile can delay the main note transient (real cabinets exhibit frequency-dependent delay). Flattening smooths the detailed variations in the EQ curve, and Tilt drops the lows and brings up the highs (or vice versa) using a single control. (Smoothing can be applied to the individual Profile, and separately to the overall output.)
MCabinet has the ability to analyse third-party IRs and create a profile from them. In fact, it can analyse not only individual IRs, but also a folder of them, calculating an average on which to base the profile.
If you have an eye for detail, there are also numerous advanced controls that let you fine-tune the filters in a number of ways. Not all of the advanced controls have obvious functions, so for in-depth use, do read the help files and check some of Melda's online video tutorials.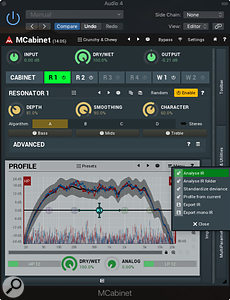 Here you can see the Resonator screen, and the software in the process of analysing an impulse response.The more approachable advanced features include four tweakable resonators and two stereo wideners. The resonators play a key role in creating an authentic cabinet sound, adding detail to the tonal signature, including with time-domain artifacts that give the speaker its 'growl' or 'snarl'. They work well, though go too far and they sound metallic and atonal — less good for cab emulation but perhaps the foundation for some interesting effects on some sources? Each resonator can be loaded with one of four algorithms, and as well as a menu of presets there's a randomiser option for each resonator.
There's also a useful four-band dynamic EQ that can operate at multiple harmonics, set by a user control. As it can boost or cut, you can use it to add more edge to louder notes, for example, or remove harsh frequencies when playing harder.
The factory presets include numerous guitar- and bass-style cabinets, special effects (such as small speakers and radios), and some electric-to-acoustic guitar transformations. But while MCabinet is aimed primarily at guitar and bass, the emulations can be useful in shaping keyboard sounds too. There's plenty of creative scope.
Perhaps most intriguingly, MCabinet has the ability to analyse third-party IRs and create a profile from them. In fact, it can analyse not only individual IRs, but also a folder of them, calculating an average on which to base the profile. Profiles can also be exported as WAV-format IRs to be used in third-party convolution processors, so MCabinet also has applications as an IR editor. I tested this by importing a Celestion IR, which MCabinet managed to replicate very closely indeed. After tweaking the resonators and filters to get the IR sounding closer to what I wanted, I exported it and loaded it into Logic's Space Designer convolution plug‑in set to 100-percent wet. It worked perfectly.
In short, then, Melda's MCabinet produces convincing speaker cabinet sounds that are very easy to adjust to taste, and which can be pushed well beyond the norm, if that's what you want. Detail geeks will also find plenty to play with in the advanced features. Purists may find some aspects of the performance less 'authentic' than can be achieved using conventional impulse responses, but the subjective results get very close and the degree of adjustability much greater.
Summary
MCabinet is an intriguing alternative to traditional cabinet emulation, the main advantage being how easily results can be be adjusted to taste.