Digital Audio Workstation [Win PC]
Pyramix might be the new kid on the block, as far as audio recording and editing are concerned, but that hasn't stopped it proving a very serious rival to Pro Tools and other established DAWs.
Sophisticated multitrack audio editing using a computer-based system is part and parcel of today's post-production process, almost regardless of the end product. Whether we are talking about stereo or surround-sound music production, CD and SACD/DVD-A mastering, radio or TV post-production, film editing and dubbing, or games soundtrack production, all will use some form of Digital Audio Workstation (DAW) for the audio assembly, editing or mixing — either throughout the entire process, or to perform certain parts of it.
The range of DAWs available on the market is vast: some are rather simple but cost-effective, others are extremely complex and very expensive. Some employ bespoke DSP and interface hardware while others are far more generic, and many are optimised for specific types of application while some are flexible and configurable enough to be used in a very wide range of production environments. Probably the best known example of the latter is the ubiquitous Pro Tools, but there are plenty of other worthy systems in widespread use, such as the AMS-Neve Audiofile SC, Fairlight Dream, Sequoia, and SADiE, to name just a few. One of the latest products to enter this highly competitive market comes from Switzerland: Merging Technologies' Pyramix.
The Pyramix platform is a relative latecomer to the market, at least compared to many of its well known competitors, but that has given the manufacturer the opportunity to observe the way both the industry and the technology are developing. The result is a product engineered afresh and from a clear viewpoint, rather than being the outcome of a series of evolutionary and often convoluted developments and diversions. To that end, Pyramix does some things very differently from its peers, while in others it presents the very best of all their design attributes, working practices and ergonomics.
The first thing to explain is that, like most other high-end DAWs, there are several different versions of Pyramix. At the time of writing there are four basic options: Pyramix Native, Pyramix Native Media Bundle, Pyramix LE and Pyramix Virtual Studio Core, with prices ranging from under £500 for the simplest Native system through to about £12,000 for a top-of-the-range, fully loaded DSD-capable VS system. A typical well specified audio-for-video post-production Virtual Studio system would cost under £8,000 and a CD-mastering setup is about £5,500 — the exact prices depending on the specific software and hardware options installed.
The versatility of the Pyramix DAW can be ably demonstrated by considering a small number of high-profile Pyramix installations in and around London, all of which I have seen in action. For example, the mastering suites at the Strongroom Studios use Pyramix systems in concert with DCS converters for CD and SACD mastering. Twickenham Film Studios have established an entirely digital signal path for the production of film soundtracks, combining high-end digital consoles with a total of 12 Pyramix systems, which are used for all the track laying and dubbing of feature films that pass through the facility. The BBC is another Pyramix user, now employing several Pyramix systems configured for multitrack recording duties in its London TV studios and on outside broadcasts.
The Pyramix software is compiled to run only on PCs under Windows NT and XP operating systems — and there is no prospect of a Mac version, so Apple diehards should turn the page now to avoid further disappointment! The Pyramix LE and range-topping Virtual Studio (VS) systems run on a PC platform incorporating dedicated hardware DSP cards, and this review was carried out on a well specified VS system running the version 4.3 software with the latest SP2 update. As has been hinted at earlier, the core VS system can be expanded and customised with numerous hardware and software options to fine-tune the features of the complete system to suit various applications, such as audio mastering, audio-for-video post, and so on.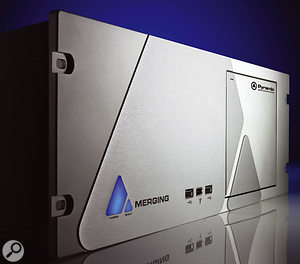 Although Pyramix systems can be configured using any suitably specified PC, most buyers opt for Merging's own rackmounting design.
The Pyramix Native version is a software-only configuration that uses the host computer's own microprocessor to perform the audio DSP, and as such it is limited in its functionality compared to the full VS version. However, the form and functionality of the program is identical for the Native and VS systems. The two versions look and work identically, and projects created with Pyramix Native are fully compatible with the Virtual Studio system, and vice versa. Machines running Pyramix Native and Pyramix VS can even be connected on the same standard Ethernet network to enable the direct interchange of raw audio (and video) media, as well as entire projects. Indeed, many facilities houses employ the cost-effective Pyramix Native version for pre-production and track-laying work, networked with full Virtual Studio machines to handle the final mixdowns and large project compilations.
The Native software is protected and authorised with a USB dongle, whereas the VS system only runs if the bespoke hardware DSP cards are installed in the computer. The Native version has limited functionality compared to the VS system, providing only stereo audio in and out, with sample rates up to 48kHz. It is also restricted to four playback channels in the mixer, but all editing and audio manipulation is performed in real time (no rendering) with the same 32-bit floating-point maths as the full version. In addition to a small but functional range of built-in signal-processing tools such as equalisers and dynamics, Pyramix Native is fully compatible with Direct X and VST plug-ins, and the software supports PMF (Pyramix native file format), WAV, BWF, AIFF, SD2, OMF and CD Image audio file formats as standard.
The Native Media Bundle option extends this feature set with double the number of mixer playback channels (eight), more elaborate signal-processing facilities, mastering-quality metering including a phase correlator and audio vectorscope, and sophisticated tools to support CD mastering, video playback and MIDI synchronisation, the last using Merging's own very clever Virtual Transport technology.
The Pyramix Native and Media Bundle software can be used with a variety of soundcards — basically, any model will work that is fully compatible with the Windows Direct Sound and Direct Capture format, and supplied with WDM drivers. However, Merging recommend four specific interfaces: the RME Fireface 800, Echo Indigo, MOTU 828 and Yellowtec PUC.
The Pyramix LE version is supplied as standard with the Mykineros hardware (see below), and provides much the same facilities as the Native Media Bundle but with double the number of mixing channels again (16). However, the real power of the hardware is only realised by moving up to the full Virtual Studio system which brings a wealth of additional facilities and flexibility — not the least of which are up to 64 inputs and outputs with corresponding mixer functionality, plus built-in timecode generation and external clock reference capability, allowing the system to be integrated into more sophisticated digital and video-based environments.
The processing heart of the Pyramix LE and Virtual Studio systems is the Mykerinos DSP hardware board, which plugs into a standard PCI card slot. This Mykerinos board uses a Philips Trimedia VLIW processor — a DSP chip originally designed for high-speed video signal processing — which is capable of handling 128 simultaneous channels (64 inputs and 64 outputs) of 24-bit digital audio. Each card provides a stereo analogue monitoring output as standard, with an internal link buss which connects to various optional daughter cards that provide the standard analogue and digital I/O interfaces.
As mentioned above, the DSP uses 32-bit floating-point maths and can accommodate all sample rates up to 192kHz. Systems equipped with multiple Mykerinos cards (which must be installed in adjacent PCI slots) can also be configured to support the SACD (Super Audio CD) data format (DSD) with an additional software option. When suitably equipped, Pyramix can also carry out multitrack DSD recording and editing, currently providing up to eight tracks, although there are plans to support 24 tracks in a future software update. Pyramix also supports the DXD format which is growing in popularity as a high-resolution stepping stone for DSD production, with linear PCM files running with 32-bit resolution and a 352.8kHz sample rate.
The Pyramix LE and VS systems are based around the Mykerinos DSP card.
Although it is hard to see why such a powerful system would ever be required, a single Pyramix system can include up to eight Mykerinos cards — assuming you can find a PC motherboard with sufficient PCI slots. The DSPs are linked together using a dedicated 128-channel internal data buss, hooked up with ribbon connectors on the top of each DSP card. As already mentioned, the signal I/O is accommodated with a range of daughter cards which plug directly to the Mykerinos boards. Currently, daughter cards are available to provide ADAT, AES, S/PDIF, TDIF, MADI and even good old-fashioned balanced analogue interfaces, and multiple cards can be connected to provide the required number of channels and types of interface.
For post-production applications, both longitudinal (LTC) and vertical interval (VITC) timecode can be read and generated by the Mykerinos board, and a Sony 9-pin machine control interface is also included. Another key feature of the Mykerinos board is a very-low-jitter internal clock system, which can also be slaved to external video or digital clock references.
Although this is perhaps less obvious, a very important element of the system is the graphics board. Most Pyramix systems are equipped with a high-quality dual-head graphics card as standard — as with most complex DAWs, spreading the various component windows over two screens makes it a lot easier to see what is going on and operate the system more efficiently. However, for working in the sound-for-picture domain a separate video capture/playback card is usually specified too, to allow the synchronised internal video playback to be routed to a third screen. Ideally, where integral video playback is required, a dual-processor motherboard would be specified as well, simply to enhance the overall system performance when shifting large amounts of video data around. On the review model, the video clips related to various demonstration dubbing projects pre-loaded on the system were replayed over a sub-window sitting on the main playlist screen — and it frequently got in the way!
Thanks to the standard PCI format of the various hardware DSP and interface cards, the Mykerinos system hardware can be fitted in any suitable PC chassis. However, Merging supply the vast majority of systems as fully warranted turnkey packages installed within a very nice custom-engineered rackmounting chassis. These rack cases contain a number of fans and are too noisy to be located in a quiet control room, but some attention has been paid to the noise level, and many systems are a lot worse!
In the early days of magnetic tape recorders, there were many variations between manufacturers concerning spool directions, tape widths, capstan speeds and even the physical arrangement of transport controls. Yet after many years, a standardised set of formats and configurations emerged, and most machines shared a common arrangement of operating controls. Consequently, studio engineers could load and operate tape machines made by Tascam, Studer, Otari, ATR and other manufacturers with complete confidence.
In the early days of the computer DAW, different manufacturers likewise often had radically different approaches, and no two machines looked remotely similar, let alone shared common tools or working practices. However, after a decade of evolution and convergence, the same kind of conformation that eventually applied to reel-to-reel recorders is finally becoming evident for computer DAWs too. While there will always be some detailed differences in the specific arrangement of tools, buttons, screens and menus, it is clear that the main facilities and features, operating practices and even the look of the displays of many different DAW products are converging into a form which makes it far easier for users to transfer their expectations, experience and craft skills from one manufacturer's machine to another. This is particularly important in the professional environment as the workforce is increasingly freelance, moving from facility to facility — and thus using different manufacturers' equipment — as the work requires.
Merging Technologies are obviously very aware of this and, like many other DAW systems, the keyboard shortcuts assigned to Pyramix 's various operational functions can be fully customised to suit personal preferences and operating techniques. To make operating Pyramix even easier and faster for users more familiar with other DAW systems, three factory presets are also included, which will instantly reconfigure the keyboard shortcuts to exactly the same arrangements used on standard Pro Tools, Sonic Solutions and SADiE DAW systems. As a long-time user of SADiE, I found this feature invaluable: it enabled me to get to work straight away on Pyramix, using all my familiar keystrokes to perform the main editing functions. Furthermore, being able to translate my editing experience and skills so quickly and easily inspired confidence in, and respect for, the system.
Having said that, most of Pyramix 's operation is pretty intuitive anyway, and anyone with a basic understanding of audio editing and production will quickly be able to find their way around the system, using the default Pyramix shortcuts and tools. The various windows are all clearly laid out and most of the function buttons are marked with obvious legends or icons — and the pop-up help can always be used to remind the user of the function of a specific button if the mouse pointer is allowed to hover over it, of course.
Another point in the system's favour is that the overall look of the Pyramix graphical interface is pleasantly understated and simple. The screen colours are generally fairly muted greys — apart from the audio clips, which can be highlighted with bright colours to help identify different kinds of clip — which makes it a lot more comfortable to stare at for hours at a time. A quick health and safety reminder might be apposite here, though: regular screen breaks are essential. Move about, relax those shoulders, refocus the eyes, and stretch those back muscles regularly!