Scale Detection & Generation Plug‑in
Scaler 2 will look familiar to existing users, but there are lots of new features to be found in the GUI.
Scaler 2 is just the thing to get you out of a songwriting rut.
A little music theory can be really useful in the compositional stage of a project, and those who have not passed Music Theory 101 might find a bit of software assistance to be invaluable!
I reviewed the original version of Scaler in SOS December 2018 — www.soundonsound.com/reviews/plugin-boutique-scaler — and, as the core features and much of the UI remain intact in v2, my main focus here will be on the significant new features and refinements. However, a brief overview might be helpful.
Scaler is built around an extensive knowledge base of chords, scales and harmony. The UI provides access to this via three broad zones: the upper 'detection' zone shows chords that are identified in incoming MIDI; the middle zone shows either the scale/chord combinations that best match those detected above, or a scale/chord combination from one of Scaler's many presets; and the lower zone lets you experiment with chord sequences.
For auditioning, you can trigger even complex chords with a single MIDI key, monitoring via a very usable selection of internal sounds or any virtual instrument in your DAW. Some MIDI keys are mapped to specific chords, but the rest of the note range can be used for melody creation alongside your triggered chords, and the notes can be constrained to fit the selected key/scale (ensuring no duff notes). Whether just as simple block chords, or as a 'performance' you create from the mapped chords and scale-corrected melodic key range, the MIDI can be copied to a DAW track for any further manipulation and playback via a virtual instrument of your choice.
So, what new features does v2 bring to bear on your exploration of which chords might or might not work in your composition? Scaler v1 already installed multiple plug‑in versions to cater for the routing options of different DAWs and plug‑in formats, but an impressive new version caters for a new audio detection feature. Yes, Scaler can now attempt to detect chords/scales from audio, not just MIDI. On the whole, this works pretty well when used with a single instrument (keys or guitar, for example). It's perhaps not as foolproof as the MIDI detection process, which is no surprise, but it's a great addition nonetheless.
There are some extensive additions to the Songs and Artists chord-set presets, too. These were always a good source of inspiration for new musical ideas, and the extra options have plenty to offer for both songwriting and media music applications.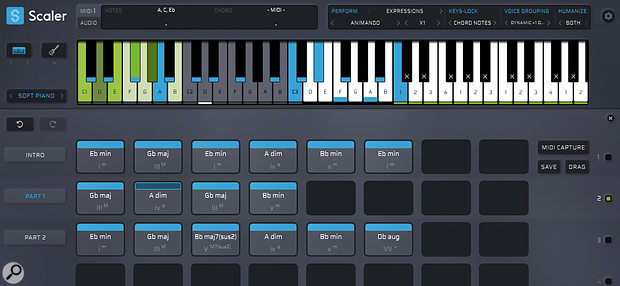 Pad mode allows you to keyswitch between multiple Patterns (chord sequences) to experiment with your overall song structure.
Also useful are the improvements in the lower zone, where it's now much easier to create multiple chord Patterns (sequences) in a single Scaler instance. This allows you, for example, to develop full intro, verse, bridge, chorus and outro sections. This section of the UI can now be expanded to a 'pad' view, showing your multiple Patterns in a single screen. When in this mode, you can switch between Patterns via keyswitches, making it easy to experiment with different song/composition structures without leaving Scaler.
When it comes to 'performing' with your chosen chords/scale combination, Scaler 2 is much improved in a number of ways. For example, there are now additional chord voicing and chord variation options in the central section of the interface, providing you with a range of different flavours and/or chord-substitution suggestions.
Wonderfully, if you engage the Edit mode in the lower 'Pattern' section, the performance options can be specified on a per-chord basis.
The highlight, though, is the new Perform panel. There are lots of useful features, including a substantial collection of performances, phrases and rhythms. In essence, when you trigger a chord via a MIDI key, the performance presets provide unique playback patterns — for example, arpeggios or rhythmic triggering of the full chord. The panel includes humanise options for velocity and timing, and a voice-grouping feature, which essentially provides various chord-voicing options. For example, the 'dynamic' option provides you with a bass note and automatically identifies inversions of each chord, to keep their fingering close to the scale tonic. Other options provide 'grouping' to force chord playback into particular octave/note ranges, which is useful when composing for instruments with a limited note range (some orchestral instruments, for example).
The Perform panel brings a whole new dimension to triggering your selected chords.Wonderfully, if you engage the Edit mode in the lower 'Pattern' section, the performance options can be specified on a per-chord basis. You have control over the octave, timing and performance details that will be applied when you trigger that chord. When you then hit the MIDI Capture button, all these details are included in MIDI data that can be dragged to a DAW track.
Finally, Scaler's Key-Lock options, which allow you to play harmonically correct melodies in the upper regions of the MIDI note range, has two new choices: Chord Notes and Chord Extensions. These map just the chord tones, or the chord tones and some additional notes, to the upper section of the keyboard and provide further, 'duff-note-free' melody possibilities.
Version 2 improves the options for saving Scaler presets to, making it easier to copy a complete configuration to other instances of the plug‑in, and to other projects. Even better are the new 'sync' options, that allow selected settings to be synchronised between different instances. For instance, you might have three instances of Scaler controlling piano, strings and brass instruments, all configured with different performance settings for the same underlying chord sequence. However, if you edit the chord sequence for a specific pattern (ie. song section) in one instance, rather than have to make the same edits in all instances, you can 'sync' the changes between the various plug‑in instances; it makes for a much slicker workflow.
Playback performance controls can be applied on a per-chord basis via the Edit screen.
Another highlight is the modulation system, which I've found very impressive. Accessed via the Modulation button in the central section, this allows you to explore all sorts of possibilities for modulating between keys, and offers advice on which chords might form a good pathway to do that. Modulation can be achieved in a number of different modes. For example, starting from your current key in the default Progression mode, you can select a destination key via the Circle Of Fifths graphic. Scaler will show your current chord progression transposed to the new key, and provide a series of chords (sometimes with multiple options) that provide a pathway from one key to the other.
The Modulation screen provides some very helpful insights if you want to build key changes into your songs or compositions.
Progression mode is great for simple key changes when you're songwriting, but the other modulation modes are well worth exploring in other situations. For example, the Mediants option could be very cool for media/film composers. It encourages you to explore creative routes between chords that lie outside the currently selected key and can suggest some really interesting chord changes/sequences that those without a music theory PhD might not find by semi-random experimentation alone. It's very clever stuff.
Scaler was already an extremely useful utility plug‑in, but Scaler 2 takes the experience to another level. The audio detection is certainly a useful addition but, for me, the absolute highlights are the new performance options and the impressive modulation system. The first of these gives Scaler a touch of the 'performer' element found in Toontrack's EZkeys. Not only do you get help with your chord selections and melody writing, but you now also get some interesting and expressive performances of them. The modulation options might be something that really only interest the more musically adventurous songwriter or composer, but they can also encourage those with a somewhat sketchy grasp of music theory to explore what's possible.
Scaler 2 is a bit of a triumph, and at this price, whether you're buying new or upgrading, it's an absolute steal for those wanting to expand their compositional toolkit.
Pros
A music-theory assistant in a plug‑in.
Excellent new performance and key modulation options.
New audio-detection facility.
Cracking value for money.
Summary
This highly impressive update to Scaler boasts some excellent performance options and expanded music-theory support for composers. It's also an absolute bargain.
information
Scaler 2 £43.73; upgrade from Scaler 1 £16.96. Prices include VAT.
Scaler 2 $59; upgrade from Scaler 1 $29.