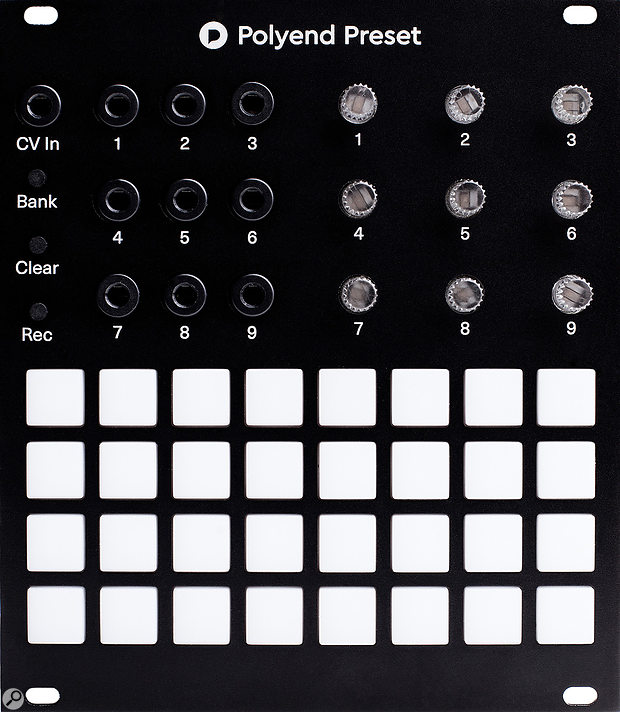 Polyend Preset: 22HP. +12V 170mA, -12V 11mA.
The Polyend Preset offers a tantalising promise: presets in your modular. Its full title is 'Preset Recaller & Sequencer' and, whilst there is some truth in there, it's also a little misleading. What the Preset definitely is is a lot of fun.
The nature of modular synthesis means that preset recall, at least in the computerised sense we've all become used to, is impossible. There are dozens, if not hundreds of parameters in the average modular system, none of which are aware of each other or connected to a central 'brain' which can control them. The Preset introduces such a brain, albeit in a small way, allowing you to save and recall up to nine control voltages. These CVs can be stored in up to 1024 'presets' (32 banks of 32). Nine CVs is certainly not going to cover a whole modular setup, but it is enough to do some dramatic automation, or quickly recall particular modules for a live performance. Add to that sequencing of presets, recording of CV inputs and the ability to morph from one preset to another over time, and you have a very compelling module.
Packed into its black 22HP interface are 32 buttons for recalling banks and presets, nine CV output sockets,...
You are reading one of the locked Subscriber-only articles from our latest 5 issues.
You've read 20% of this article for free, so to continue reading...
Buy & Download this Single Article in PDF format

£1.00 GBP

$1.49 USD


For less than the price of a coffee, buy now and immediately download to your computer or smartphone.

Buy & Download the Full Issue PDF
Our 'full SOS magazine' for smartphone/tablet/computer. More info...

Published June 2020