USB Audio & MIDI Interface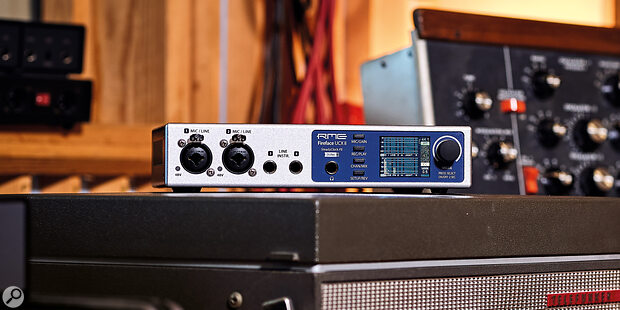 The UCX II packs 25 years' interface design experience into half a rack space.
Throughout their 25‑year history, RME have championed a consistent design philosophy. They have maintained a relentless focus on driver quality, reliability and product longevity. They've also been quick to embrace new technologies and protocols, but only when there's a clear benefit to the user. If you bought your RME interface in the early years of this century, there's a good chance that it is supported today. And if you buy a new RME interface now, you're benefiting from two decades of development that have produced an extremely mature product ecosystem.
The latest fruit of this development is the Fireface UCX II. This supersedes the long‑established Fireface UCX, which was reviewed back in SOS February 2012. However, it's perhaps better understood as the little brother of the Fireface UFX II and UFX+ than as a direct descendant of the UCX. Like the UFX II, the UCX II is not only a USB 2.0 audio interface for Mac OS, Windows and iOS; it's also an extremely well‑featured digital mixer that can operate with no computer attached, with full control possible from the front panel. And it's a multitrack recorder, writing interleaved multichannel WAV files to an attached USB drive using RME's established DURec system.
Likewise, although the UCX II retains the compact 1U half‑rack form factor of the original UCX, its layout owes more to the UFX II. Happily, this means that in place of the UCX's primitive two‑character LED, there's now a small but colourful and detailed TFT panel that can display detailed meters for all I/O simultaneously, as well as text‑based menus. This is a big improvement that, among other things, makes possible the UCX II's full standalone operation capability.
Front‑panel socketry comprises two Neutrik Combo XLR/jack sockets, accommodating mic‑ and line‑level signals, plus two further quarter‑inch inputs that can accept line‑level signals or act as high‑impedance inputs for electric guitars. There's also a single quarter‑inch headphone output.
On the rear panel, you'll find four further quarter‑inch line inputs and six line outputs, plus a locking socket for the external PSU and a comprehensive array of digital I/O. There are 5‑pin DIN sockets for MIDI In and Out, plus a pair of optical sockets for ADAT Lightpipe, supporting eight inputs and outputs at base sample rates (and switchable to carry stereo S/PDIF if needed). A single BNC connector can act as a word‑clock input or output, and a supplied flying cable allows stereo XLR AES3 and phono S/PDIF to be accessed via a nine‑pin D‑Sub. When RME describe the UCX II as offering "40 channels", therefore, they mean that it has a total of 20 inputs and 20 outputs.
The UCX II's rear panel also has two USB sockets, in the older A and B formats rather than the current Type C. RME's Matthias Carstens explained that there's no technical advantage to using the newer socket, and that in his experience it is less reliable. The Type B socket is used to make the connection to the host computer; cables are included to connect to either a Type A or C socket. The UCX's own Type A socket has two purposes. It can either be used to connect RME's ARC USB remote control, or to attach a USB drive for direct recording.
The original UCX was a dual‑format interface that could connect either via USB or FireWire. The latter format is now effectively superseded by Thunderbolt, but RME haven't bestowed a Thunderbolt socket on the UCX II. This seems to me a sensible enough decision: building in the necessary chipsets and connectors...
You are reading one of the locked Subscriber-only articles from our latest 5 issues.
You've read some of this article for free, so to continue reading...
Log in - if you have a Subscription you bought from SOS.

Buy & Download this Single Article in PDF format

£1.00 GBP

$1.49 USD


For less than the price of a coffee, buy now and immediately download to your computer or smartphone.

Buy & Download the Full Issue PDF
Our 'full SOS magazine' for smartphone/tablet/computer. More info...

RECORDING TECHNOLOGY: Basics & Beyond
Claim your FREE 170-page digital publication
from the makers of Sound On Sound — CLICK HERE