Recent sample CD releases
Elastik Player
This new library from Ueberschall pumps some new life into one of their legacy product concepts: Groove Shadows. The original Groove Shadows CD sample library contained a selection of abstract rhythmic textures designed to be used as layers to support your main drum programming, rather than standing on their own. Two groups of Groove Shadows were targeted at more foreground and background use, and a selection of different common tempos was provided to suit different projects. I found the background layers, in particular, really useful in my own music, but it was a little tedious having to match up a Groove Shadow to a different tempo; something like Recycle was a necessity.
In line with many manufacturers, Ueberschall have recently been packaging their sample-based products into self-contained virtual instruments, partly in response to the widespread use of computer-based sequencing for music-making, but primarily, I imagine, to combat piracy — the proprietary library format is a single, large, difficult-to-download file with built-in challenge-and-response copy protection. However, where many developers have gone for an OEM front-end such as Kontakt Player, Ueberschall have come up with their own Elastik Player, which is Mac and PC compatible and comes in AU, RTAS, VST and stand-alone flavours.
We've not reviewed this player in detail in SOS before, so here's the deal. The little buttons along the bottom of the interface window correspond to six octaves of MIDI notes (C1 to B6), into which samples can be loaded. Each key can have separate settings for volume and pan; output pair (of which the instrument has eight); playback tempo and pitch; start and end point (which are also the loop points); loop and reverse playback modes; envelope attack and release; and filtering.
Pitch and tempo changes are carried out via the usual granular-style code, with Tonal, Drum, Solo1, and Solo2 processing varieties to suit different audio material. While by no means class-leading, this processing is still pretty usable for small pitch and tempo changes, especially when you're working with abstract electronic material, as in Groove Shadow Elastik. The tempo of any sample can be snapped to your sequencer's current setting, but the instrument doesn't actually synchronise with sequencer playback, so won't follow tempo changes. The filtering is very flexible, offering high-pass, low-pass, band-pass and notch responses with variable cutoff and resonance, as well as slopes of up to a ferocious 72dB per octave.
Sample start and end points are manipulated via the circular Loop Eye, which displays the complete waveform in a circle for easier real-time loop manipulation, and there's a Snap field that lets you quantise the point positions. Five additional 'Grain' Snap options automatically select a very small slice of the audio to produce obviously granular textures as you move the selection around the Loop Eye's circumference. An automatic slicing routine is also available, which chops up a loop according to the Snap setting and distributes the fragments to a region of adjacent MIDI notes, whereupon you can use an appropriate chromatic scale of notes to recreate the original playback and then adjust the sequence to rearrange the loop to taste.
You can control up to eight parameters in real-time (volume and pan; envelope attack and release; reverse playback on/off; filter cutoff and resonance; and the sample's loop position), and a MIDI Learn function makes it very easy to set up controller assignments. Every parameter of the instrument can be saved as a preset, and it is also possible to bounce down any selection of samples or slices as separate WAV files.
To be honest, I actually found Elastik Player a bit tedious to use. There's some fun to be had dragging the Loop Eye's loop region around in real time, and the per-sample envelope and filter parameters let you set up some interesting effects with sliced samples, but it quickly became annoying that there was no way to see an overview of these parameters across all the samples. For most normal music-making tasks I couldn't help feeling that I preferred working with simple REX files — they track your song's tempo changes and you get much more processing and editing power within most sequencers these days than within Elastik's interface. You can access extra per-sample processing using Elastik's individual outputs, but I find it much easier to just drag audio slices between tracks, where you can quickly see what audio is going to what processing.
The one saving grace is that you can export samples or slices from Elastik Player as WAVs, and this quickly became my preferred way of working. In this context, Elastik Player can take on the role of a simple but flexible auditioning tool, where its pitch- and beat-matching tools make the task of finding the perfect Groove Shadow extremely quick and easy.
But enough about the format; what about this sample library? You get more than 430 different presets in Groove Shadow Elastik, each providing a mixed loop, as well as (typically) four isolated layers — effectively a construction kit — and a handful of the most characteristic one-shot samples for adding quick programming touches. This is an enormous amount of material, going far beyond the scope of the original Groove Shadows CD, and the carefully deconstructed elements work in tandem with Elastik Player's beat-slicing routine to offer phenomenal flexibility when it comes to fitting the samples around pre-existing arrangements — which is the raison d'être here, after all. The only thing I pined for were some quick 'loop menu' presets, placing only the mixed loops on adjacent keys for auditioning purposes.
Stylistically, the sounds themselves seem more general-purpose than in the original dance-oriented library, but without losing the lovely 'found-sound' ambience and programming restraint that really make the concept work. To cut a long story short, I'm glad to report that Groove Shadow Elastik is bigger, better, and lots more useable than its Audio CD forebear, and I don't hesitate to give it five stars — I'll certainly be using it to death! Mike Senior
£69 including VAT.
Time + Space +44 (0)1837 55200.
www.timespace.comwww.ueberschall.com
REX 2 & Stylus RMX
There are several things about Nine Volt Audio's Textural Rex loop library that could lead veteran sample-browsers to pass it over: for example, the low price, the very compact 500MB file size and the rather groan-inducing cover graphic. But, to update the old adage, you shouldn't judge a slimline DVD case by its cover, and this title is well worth investigating.
A total of 541 loops is provided, comprising several musical variations on 82 different synth ideas (called Suites), almost all of which include a strong pitched element (often a melodic riff of some sort). All the variations within a Suite share the same file-name prefix, and a suffix indicating the primary pitches used, which significantly speeds up the process of finding what you need. Although tempos nominally range from 75 to 130bpm, the REX 2 format means you have more flexibility than that.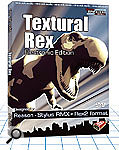 Synth-loop libraries may be about as rare as three-leaf clover, but Nine Volt Audio have taken the right approach to making their product stand out. Firstly, they've kept the arrangement of each loop fairly sparse, so you can exert a lot of control over the musical content of the loop with selective slice re-ordering and pitch-shifting. With fewer notes, the spotlight inevitably shines on the quality of the sound design, which is, fortunately, worthy of the limelight. Notes don't just 'happen' — they appear, evolve, mutate and dodge out of sight in an organic and pleasingly rough-edged manner. These are the kinds of sounds that really come into their own when pulverised with compression, and they should keep your audience listening on those occasions when you drop out the rest of the backing track. As a little bonus feature, 19 pairs of the loops can be combined to form mini construction kits, which gives you an easy-as-pie route to arrangement variety.
The sonic range is fairly tightly contained, but is sufficiently generic to find its way into almost any style comfortable with a tinge of electronica. Within this, though, there's a fair bit of dynamic and textural contrast, from delicate hummingbirds to enormous growling predators. A lot of the sounds play to the strengths of the slice-based format, with stepped synth-parameter changes and intricate tempo-sync'ed delays, but where many other libraries effectively restrict themselves to straight grid-based rhythmic patterns, I was pleased to find some tastefully swung programming here, as well as consistently musical phrasing and lots of bar-to-bar momentum — both of which are by no means straightforward to achieve electronically.
My main concern is that, although solidly musical and usable, Textural Rex doesn't quite succeed in becoming much more than the sum of its parts. At this price it's good value, especially if you like the sound of the on-line MP3 demo, but there's neither quite enough material to make it a bulk bargain, nor quite enough absolutely killer stuff to elevate it to must-have status. Mike Senior
£45 including VAT.
Time + Space +44 (0)1837 55200.
www.timespace.comwww.ninevoltaudio.com
Kontakt 2 Player
If the patch names within The Elements are anything to go by, the folks at Sample Logic have a pretty good sense of humour — 'Hells Panties' and 'Vista Crashed Again' are good examples, but there are also plenty of patch names that reference their inspiration, including a number that are clearly suggestive of the types of sounds used by Sean Callery in his music for the hit TV series '24'. Sample Logic's development team also seem industrious — The Elements contains over 13GB of sample data (supplied on four DVD-ROMs) spread across some 1,700 instruments and loops. These are all presented to the user via NI's Kontakt 2 Player front-end, so AU, VST, DXi, RTAS and stand-alone modes are all supported.
The material is organised into six categories; Ambience, Bass, Harmony, Impacts, Melody and Rhythm. The documentation suggests that these categories comprise the six key elements (hence the title of the library) that can be used to construct a composition. While most of the material forms instrument patches, there are also plenty of loops, and these are tempo-matched to the project and mapped across the keyboard for pitch adjustment.
Despite the large number of patches, navigation is easy. The titles give a good guide as to the contents of the various 'elements'. For example, the 450-plus Ambience patches are dominated by soundscape-style materials. While some of these are pads, the patches also cross over into sound-design territory and there are also tempo-sync'ed beds. On the whole, the moods are dark and disturbing rather than relaxing — a comment that applies equally to patches in the other 'elements'. There is little here by way of straight, traditional instruments — even those based on strings or guitars have generally been processed — but the various choir/vocal patches are an exception. They appear in both the Melody and Harmony sections and contain some very atmospheric choir pads, as well as a small number of nice 'world' vocal phrases. The Impacts category is also worth a mention. This consists of nearly 400 'hits' covering a huge range of styles and textures, from musical ear-candy through to some great sound-design material.
The Elements will probably appeal more to media composers than those looking to construct their next top 10 single. That's not to say there isn't material here that could work in a song-based composition — there are some great synth arpeggios and bass sounds that would tick that particular box — but this library really excels for dark or dramatic underscore and sound design. Given the volume of material, it also represents excellent value for money. For film and TV composers looking for a large bundle of sound that doesn't require them to spend a large bundle of cash, The Elements is an ideal solution. John Walden
£169 including VAT.
Time + Space +44 (0)1837 55200.
www.timespace.comwww.samplelogic.com