WAV, REX 2 & Apple Loops
The Sonivox brand may be unfamiliar to some SOS readers but it is the new banner for the well-regarded Sonic Implants sample products. SOS has reviewed a number of the company's earlier releases, including the Complete Symphonic Collection, which clearly impressed Dave Stewart back in April 2006. One of the company's more recent projects is the Loop Line series. Essentially, this is a collection of multi-format loop libraries supplied on DVD-ROM and concentrating on drum loops. The world, of course, is not short of drum loop libraries, so I tested the first four libraries in the Loop Line series — Analogue Kits, World Beats, Dirty Drums and Bent Circuits — to see if they have what it takes to stand out from the crowd.
Analogue Kits provides nearly 900 loops (replicated in each of the formats) and, as the majority of them are four and eight bars in length, the 24-bit, 44.kHz Acidised WAV files that I auditioned come in at nearly 2GB of sample data. This collection is based entirely around loops generated from a classic Simmons drum synth, with original tempos ranging from 95 to 169 bpm. While the Simmons sound source will undoubtedly allow you to recreate a nice '80s vibe, should you so wish, the performances are not all fixed in that era and I was surprised at how contemporary many of these loops seemed. This is helped by the very punchy sound — crank up the volume and your speakers will really begin to pump; the kick drums on many of the loops sound really impressive. Usefully, for song construction, the loops are organised into 28 sub-folders, and each contains a collection of related loops with enough variation to let you construct a complete drum track. In most cases, more than a dozen loops are included, but in some this number exceeds 40, including subtle loop variations and fills. With the addition of some analogue-style synth sounds, Analogue Kits would be just the ticket for an authentic '80s masterpiece. However, with a little crunchy processing the loops could easily be made to fall into something like Nine Inch Nails territory.
World Beats follows the same basic format, although on this occasion there are nearly 500 loops (approximately 1GB of sample data) that are organised into 17 sub-folders. As might be expected, given the title, this collection is dominated by percussion instruments rather than standard drum kits. That said, the range of styles covered is quite wide, with various Latin rhythms, Indian ragas, Calypso and Swing all represented. If anything, this diversity is perhaps the only real criticism one might level at World Beats — unlike Analogue Kits (which is more tightly focused), it perhaps tries to cover too many styles and therefore doesn't cover any of them in great detail. What cannot be criticised, however, is the sonic quality, as the loops sound wonderful. If there is something that fits your needs here in terms of style, then World Beats will certainly sound the part.
As might be expected, Dirty Drums provides a collection of processed acoustic and electronic drum loops. Again, nearly 500 loops are spread across over 20 sub-folders, with each sub-folder containing a series of stylistically related loops. There is nothing too revolutionary in terms of the processing applied — space echo, distortion and filter sweeping abound — but both the performances and the processing are well executed and, usefully, in a good number of the folders, unprocessed versions of the loops are also provided. These loops would work in a range of dance and electronica styles and, if you need a quick solution as an alternative to creating your own processing options, there is plenty to inspire here.
If you're looking for something a little more extreme, Bent Circuits may be more up your street. The sound sources used here include drums, but there are also loops built around sounds taken from a range of other sources, including synths and various electronic toys: bleeps and bloops abound! The 450-plus loops are complemented by a small number of single hits and other miscellaneous weird sounds, and the loop tempos go from a modest 120bpm up to an injury-inducing 220bpm. In terms of styles, the content would work well with some hip-hop, although the more up-tempo material is obviously intended for electro, jungle or hardcore techno. Folder tiles such as Mayhem, Tubeamp Breakcore and SevenEight Jungle give a clear indication that we are in musical areas that some might find quite challenging! However, for those working in these styles of music production, Bent Circuits has plenty to offer.
Given the multi-format support and the volume of material contained in each collection, the Loop Line series offers a decent bang for the buck. Sonically, they are also very good and I'd have no problems using any of this material in a commercial context. For my personal taste, Analogue Kits is the highlight of these initial releases and this would get five stars — it is well focused and provides a lot of content. World Beats, Dirty Drums and Bent Circuits perhaps stand out less clearly from the current multitude of drum loop libraries, but they are still very creditable collections and each is worthy of a four-star rating. I could imagine busy media composers lapping up all these libraries and putting them to very good use. John Walden
£59.95 each including VAT.
Time + Space +44 (0)1837 55200.
www.timespace.com www.sonivoxmi.com
Audio, WAV, Apple Loops, REX 2, Reason NNXT, EXS24, Halion & Kontakt
This new 1.8GB multi-format collection from Sample Magic mines a similar 80-100bpm chill-out vein to that of Smokers Delight/Relight, but substituting some of the smokiness for a kind of shady, Latin beach after-party vibe, with maybe a hint of slicked-back Ocean's 11-style caper plot. Some phrase libraries try to give you a good, solid set of samples to cater for a wide variety of situations, especially where you need to plug holes in pre-existing arrangements. Sunset Sessions does the opposite, focusing its 1.8GB multi-format selection more on providing sparks of inspiration than bread-and-butter usability.
The backbone of the library is provided by the drum loops, which are a case in point. On the one hand, there's a lot of really interesting programming and a pleasingly hungover production which immediately bring a half-dozen potential backing-track ideas to the mind's ear. On the other hand, the sheer amount of character most of the loops have would make it pretty difficult to fit any of them within an existing arrangement — some rather OTT effects processing, for example, will rather hem you in at the mix.
The style is also pretty eclectic, taking in Latin instruments and rhythms; the subs and crusty delays of Dub; some genre-bending elements of glitchy electro; the occasional tight disco beat; and lots of laid-back hip-hop vinyl atmosphere. Although this makes the loops feel like a bit of a mixed bag, they all have lots of great background detail going on — there always seems to be something lurking slightly menacingly in the shadows. The samples groove along pretty well in the main, but I did occasionally feel that some got a bit stuck in the mud, so you might have to put some work in with REX 2 file slices if a specific loop doesn't turn over smoothly enough for you.
The lovely meaty upright basses, full of the kind of string character that really cuts through a mix, are a highlight. Again, certainly not a first stop for constructing a part to order, but top-notch for sowing the seed of a track built from scratch. The DI'd electric basses are also quite good, but not quite in the same league.
The trombone loops are nice, with a mellow and easy-going playing style which is quite difficult to find elsewhere, but the dry and fairly functional flute riffs didn't really set my acoustic foam alight, despite the odd cool flutter-tongue and overblown section. The percussion folders have some treats in them, going outside the safety zone of shakers, tambourines, bongos and congas to take in triangle, guiro and talking drum. However, the appealingly off-the-wall sonics of these (and odd clunky edit and background buzz) compromise usability somewhat.
Funny edits don't help the underwhelming acoustic piano files either, with the attack transients of a number of loops truncated, but the Rhodes licks and loops sound lovely, with the odd nice punchy riff to lift the style's typical 'Anyone know what bar we've got to?' chordal ambiguity. Rounding out the library are some scattergun 'lost in a stompbox warehouse' guitars and synth pads/riffs, which, fun though they are, most of us will probably lose down the back of the sofa before getting round to using.
Overall, I'd say that the parts of Sunset Sessions that are truly inspirational are worth the outlay, but the edginess and patchiness of the collection as a whole mean you'll have to put in some work to get the best out of it. Mike Senior
£59.95 including VAT.
Time + Space +44(0)1837 55200
www.timespace.com www.samplemagic.com
AIFF, WAV, REX & Apple Loops
When the reggaeton boat reached the UK shores from Puerto Rica in mid-2005, it was raining, as usual. Daddy Yankee hopped off the boat and delivered a single, 'Gasolina', to the British masses, then left, mumbling (it's rumoured) "I hate this rain, man". The ship sailed, in search of warmer climes.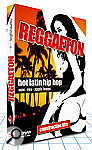 And that's all the UK really got of reggaeton, at least in the mainstream. Underground, however, club ceilings were dripping with sweat, as reggaeton revellers shook their booties into the early hours and shouted "duro!" at the appropriate times. Overseas, the craze was (and still is) even bigger. You'll hear reggaeton bangers blasting out of beach huts on the Costas, and in its homeland of Latin America it's bread and butter stuff for 'the youth'. Put simply, reggaeton is raw: the beats are distorted, and lyrics — delivered in a similar way to rap and hip hop — are at best promiscuous; at worst, near illegal. As a result, it's one of the most energetic, fired-up genres I've heard.
But programming reggaeton rhythms and phrases in software is quite different to sequencing other genres of music, and to succeed you have to take on a different attitude. As a result, many people find it difficult, and this is where Big Fish Audio's Reggaeton sample library can come to the rescue.
On the library's single DVD there are 40 construction kits, which have been written and recorded by songwriter and producer Josquin des Pres. Each kit typically contains three or four different drum loops, as well as bass, guitar, synth and other instrument samples. There are individual hits for each drum instrument, plus loops of the solo instruments. The file ordering and naming conventions are sensible, with construction kit number, tempo and key in the folder title, and logically titled files.
In terms of sound, I found the samples on Reggaeton to be a little tame; they don't leap out at you and shout in your face or wave their arms around, as reggaeton samples should. Therefore, to get the required energy into their tracks, users will need to do some serious processing. But this isn't necessarily a negative point. The loops and hits in the library are clean enough to enable you to compress, distort and excite to taste. Of course, a lot of the energy will come from the rapper, so you'll need to bear that in mind when planning your next Spanish chart-topper. To conclude, Reggaeton will give you the required rhythms, bass lines and quirky sounds to form a good foundation on which to build a reggaeton track, plus some ideas on where to go from there. The rest is up to you... Chris Mayes-Wright
£55 including VAT.
Time + Space +44 (0)1837 55200
www.timespace.com www.bigfishaudio.com