Wav/REX2/Audio CD/CD-ROM
Disco House Sessions is a further addition to the Loopmasters Origin series. As with other libraries in the series, the loops are provided in Acid ised WAV (900 files) and Stylus RMX compatible REX2 (440 loops) formats. Also included are 18 instrument patches for the NNXT, Halion, Kontakt, EXS24 and SFZ software samplers. In total, the CD-ROM contains 630MB of sample data, and a separate audio CD is also included for auditioning purposes.
In common with the other Origin libraries, the WAV files are organised into folders based on instrument type, rather than as song construction kits. The 300+ drum loops are divided into sub-folders based on original recording tempo, which ranges from 110 to 128 bpm. Most of the loops are full-kit-based and the titles of the individual files specify whether the material is of the disco or house variety. The disco loops dominate and, while they could easily work within a contemporary dance track, there is a very 1970s flavour. The house loops also have a distinctly disco feel and the key difference is often the sounds used — many of the house loops feature much bigger kick-drum sounds, for example. Usefully, there is a smaller number of percussion loops and a separate folder of drum fills is also provided, so a complete drum track could easily be constructed. Nearly 300 single-hit drum samples are also included, so you can roll your own loops if required.
The rest of the collection is dominated by loops and one-shot files, covering bass, guitar, keys, brass, sax, vocal and some effected/filtered samples. These are a bit of a mixed bag. For example, there are some excellent guitar loops, very funky and classic disco in style, that would suit anything from a Starsky And Hutch soundtrack to a Jamiroquai-style number. Equally, many of the bass, keys (mostly piano and Rhodes) and brass loops are very useable, while the pre-processed loops in the Filter folder are instantly gratifying (even if it would be easy enough to apply your own processing to the unfiltered samples). Some of the Disco Hitz samples are also great, but others seem rather truncated and would be more useful if they had been allowed to fade more naturally. The Sax Riffs folder is also a bit of a disappointment: unlike the rest of the loop material, these loops did not appear to have been fully Acid ised.
I'm not sure there is anything remarkably new in Disco House Sessions but the samples are well recorded and played. They are also good fun to use, and I'd have no problem placing them in commercial projects. If you need to add a disco vibe to your dance tracks (think of Madonna's Confessions On A Dance Floor), Loopmasters Disco House Sessions provides a very cost-effective starting point. John Walden
Acid ised WAV and Stylus RMX formats with audio CD, £39.95 including VAT.
Time + Space +44 (0)1837 55200.
www.timespace.comwww.loopmasters.com
Expansion pack For Synthogy Ivory
This is the first expansion pack for the acclaimed Ivory piano plug-in, reviewed by Paul Wiffen back in March 2005 (www.soundonsound.com/sos/mar05/ articles/synthogyivory.htm). Paul was effusive in praise for the plug-in, with its multitude of available tweaks to help you get the sound just so. This 19GB Italian Grand expansion adds a further piano to the current Bosendorfer, Steinway and Yamaha grands. It is based on a rather rarer instrument, the 10ft Fazioli F308. Paul said that Synthogy have "gone where no virtual piano has gone before," and this is the first dedicated Fazioli library that I can think of!
Founded in 1981, Fazioli are a very young piano maker, yet they have quickly gained a world-class reputation. Rather than setting out to imitate known brands, they chose to create a new sound, which has become popular amongst many established concert pianists, particularly in Europe and, interestingly, also with the jazz fraternity. The sampled F308 instrument resides in the SUNY (State University of New York) Purchase concert hall. It does indeed sound different and I loved playing it, especially for jazz. In comparison with the other Ivory pianos, the Italian Grand has a mellower tone, without the strident edge of the Steinway and Yamaha, whilst not quite reaching the butch body of the Bösendorfer. The una Corda samples are well recorded too, adding yet another layer of intimacy to what is already a wonderfully rounded sound. It works just as well in larger works as it does in solo, being present without overpowering other instruments.
Whether you require the dulcet tone of this piano is entirely up to you — after all, there is no such thing as the 'perfect' piano: it's all down to style, genre and how you personally play, not to mention the playing response of your controller. Given its unique status, it is a shame that this is only offered as an expansion pack, as someone who was interested in just the Fazioli would have to first buy the full version of Ivory, greatly adding to the cost. It also still frustrates me somewhat that the Ivory plug-in has no progress bar — you never know quite how long a patch is going to take to load, or whether your computer has fallen off its log: a simple thing, but annoying all the same. Fortunately, though, the new Instrument Browser makes choosing and switching patches less of a chore than the old list.
In all, this is an excellent expansion at a very reasonable price. Synthogy are to be applauded for producing yet another great library, especially given the esoteric nature of the instrument, and (much to my excitement) for enquiring of registered customers what they would like to hear next: Bechstein and Bluthner grands please — oh, and perhaps a Challen upright! Hilgrove Kenrick
Synthogy Ivory Expansion £79 including VAT.
Time + Space +44 (0)1837 55200.
www.timespace.comwww.synthogy.com
Elastik Instrument
Ueberschall claim Hip Hop Underground is 'the word's finest Hip Hop library'. That's rather a bold statement to make on the DVD cover, but the scope of the library goes some way towards justifying such a claim. It contains an impressive 2.2GB of data comprising 140 construction kits, respective single hits and hundreds of additional drum samples. Ueberschall's Elastik loop player is also included, and is the primary way of accessing the samples.
Installation of the Elastik Engine is pretty straightforward. Activating the two 'soundbanks' requires a 'challenge & response' process that takes the user through Ueberschall's web site. Following the prompt email response and authorisation, Elastik can run as stand-alone software or within a sequencer. It offers basic editing options, sample playback and synchronisation to the host programme, but the highlights are the flexible time-stretching algorithms, effective keyboard mapping and the 'Loopeye' display, offering speedy processing, modification and intuitive graphical representation respectively.
On loading and playing back the 'construction kits', my initial sonic impressions were somewhat mixed. Many of the 'full mix' loops sound slightly 'crunched' — probably the result of aggressive mastering. This is less noticeable on individual loops, where the same headroom is taken up by sparser content, and sounds perfectly fine on single elements. Musically speaking, the ideas are predominantly focused on the darker/experimental side of hip-hop, rather than the contemporary crossover aesthetic (more C-Rayz Walz, or early Mobb Deep, than 50 Cent or Chamillionaire). 'Construction singles' are also provided in separate folders (still following the helpful naming scheme) but these are limited to just drum and percussion hits.
The sound quality of the construction kits and singles is professional enough, but there seems to be an overall lack of analogue depth, implying an 'inside-the-box' production approach. Though this might be limiting for users looking to bring distinct analogue character to their own computer productions, the picture is very different when it comes to the 'drum and percussion singles' samples. These are impressive in sonic depth, punch and sample variation. In fact, this extensive set is arguably the hip-hop producer's ultimate resource for single drum hits, covering everything from 'classic' to 'new school', 'dirty' to 'clean' and 'natural' to 'electro' in kicks, snares, claps, hi-hats, rides, shakers and crash cymbals.
It is no secret that hip-hop producers will entertain the notion of using drum hits within drum machines or software samplers and Ueberschall have usefully provided a 'bouncing' option from within the Elastik loop player, thus opening up the content to unlimited use. Hip Hop Underground is a useful tool for the contemporary urban producer, especially because of the quality of the extra drum samples. The main construction kits might not provide the necessary chart-topping hooks, but seamless looping and playback functionality will certainly spark some creativity. Stereo Mike
VST, Audio Unit, RTAS, standalone Elastik loop player instrument, £69 including VAT.
Time + Space +44 (0)1837 55200.
www.timespace.comwww.ueberschall.com
Kontakt 2 Instrument
Bela D Media have settled on the new ethos of 'Authentic, Advanced, Affordable', with the launch of this new library. The first in a series of ethnic sample collections, Anthology Volume 1 is dedicated to Celtic Wind, covering the usual flute suspects, through reedy accordions and a concertina to the more esoteric Bombarde and Celtiberic War Horn, via both Highland and Uilleann Pipes.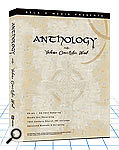 Authentic? Very much so. Respected European session player Eduardo Tarilonte came onboard to oversee (and sometimes play on) this library. There are multiple layers, plenty of articulations and everything from key clicks to bag noise captured in 24-bit glory. Packaged into a Kontakt 2 format (with Giga to follow if they can find a way to replicate the complex scripting), Celtic Wind comes complete with its own instrument graphics. More importantly, the sounds are top notch, with no glaring noise or excess hiss.
Advanced? Yes — but not in the traditional sense. Bela D Media have decided not to enter the "I've got more samples than you" contest. In fact, the entire library comprises only 15 separate patches, including left-hand and right-hand patches for instruments like the accordion. Instead, the laudable goal has been to make every single sample count, by making the patches endlessly flexible and their full capabilities easily accessible. Keyswitches and a well-designed custom patch window within the Kontakt 2 interface make tweaking a cinch, with the crucial controls falling easily to hand.
The reason for including so few patches becomes clear the instant you load one: perhaps Bela D Media should have added an extra word to the alliteration — 'Accessible' — as it's really the scripting that raises a well-recorded library to another level entirely. The closest comparison I can draw is with the VSL VI libraries, with their own custom player. You load the instrument you want and then keyswitches and controllers can change articulations on the fly (if the cunning scripting hasn't already done it for you through speed, legato or other detection routines). Much of this is thanks to the Kontakt 2 platform, but it is a refreshing change to have it all sorted for you on day one, allowing you play straight away, rather than spend valuable composing time tweaking MIDI and scripting.
Affordable? Definitely. The nine instruments with 15 patches each are great value at this price — even before you consider the excellent impulse response for the Church of the Redeemer that comes as part of the package.
Normally, seeing this price tag would make me run a mile, in fear of nasty sampling processes, a lack of articulations and limited layers, but in this case it represents incredible value for money. For me, the VSL comparison holds true, and if Celtic wind instruments are what you're after, you should look no further, as Bela D Media have done it again. Hilgrove Kenrick
Kontakt 2 Instrument DVD-ROM £105 including VAT.
Time + Space +44 (0)1837 55200.
www.timespace.comwww.beladmedia.com