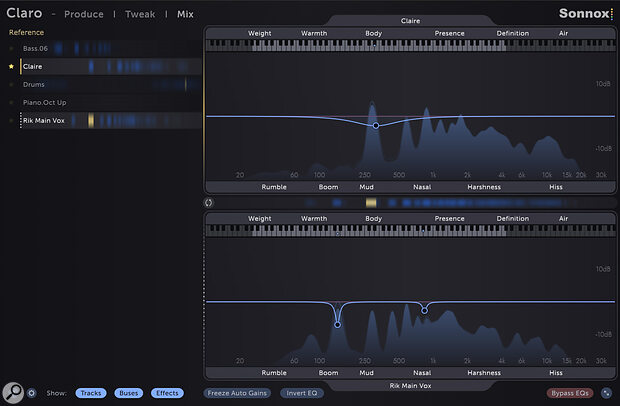 The advanced Mix view, where you can see potential clashes between different sources and operate on both in a single window.
This powerful new EQ plug-in aims to encourage you to make better mix decisions.
It can be hard to imagine what features might persuade someone to make the leap from their usual EQ to a new one but with their latest plug‑in Claro, Sonnox have met this challenge head‑on. They claim that Claro can not only replace your favourite EQ but could even lead you to changing how you approach EQing. It attempts to encourage a staged approach in which you start with broad, musical strokes, before moving through different stages of more forensic processing.
To this end, the plug‑in has three different views, which I'll take you through individually before offering my overall thoughts at the end. Claro supports MacOS (10.8 and higher) and Windows (7 and up) DAWs which can host Audio Unit, VST3 or Pro Tools AAX Native plug‑Ins, and is authorised by iLok, to your machine, the Cloud or an iLok 2 or 3 dongle, as you prefer.
First up is the Produce view, which has been designed to encourage you to work in broad strokes. Much like a typical analogue console EQ, it offers low, mid and high bands, each of which can be cut or boosted. While it's possible to dig a little deeper in this section — you can change the frequency range of each band, for example, or work on the Mid and Sides signals — the other views are there for more detailed work.
Produce View is recommended as your first 'stage' of EQing, where you make broad adjustments to a source's tone.
The idea is to encourage you to work in a quick, instinctive way and explore what a source might have to offer you tonally, and visual cues are thus kept to a minimum. There are plenty of useful features, though. While some experienced engineers may cringe a little at the descriptive words used to guide you ('mud', 'boxy' and so on), many self‑recording musicians and aspiring producers will welcome them, I'm sure, and a keyboard display means you can think in terms of musical notes just as easily as in frequencies or words. A 'heat map' indicates energy distribution across the frequency spectrum, offering a helpful visual clue...
You are reading one of the locked Subscriber-only articles from our latest 5 issues.
You've read some of this article for free, so to continue reading...
Log in - if you have a Subscription you bought from SOS.

Buy & Download this Single Article in PDF format

£1.00 GBP

$1.49 USD


For less than the price of a coffee, buy now and immediately download to your computer or smartphone.

Buy & Download the Full Issue PDF
Our 'full SOS magazine' for smartphone/tablet/computer. More info...

RECORDING TECHNOLOGY: Basics & Beyond
Claim your FREE 170-page digital publication
from the makers of Sound On Sound — CLICK HERE