Non-linear Video Editor For Windows
Sony's latest entry-level NLE has plenty of editing power to help you cut your music videos quickly, and for very little cash.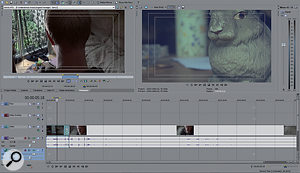 Vegas Movie Studio displays audio tracks in much the same way as a DAW, which is one advantage it has over most NLEs.
Some of Sony Creative Software's professional range of media-editing software may well be familiar to SOS readers. Their high-end products include Sound Forge Pro for wave editing and the Vegas Pro NLE (Non Linear Editor) for video editing, but they also make cut-down versions of both for the enthusiast. The cut-down video-editing package we're looking at here is Vegas Movie Studio HD, which is available as four different packages, all of which are surprisingly full featured.
Like most NLEs, VMS is designed to edit video clips in a similar manner to the way a DAW is used to edit audio. All of the standard NLE features, such as the timeline, media pool, clip trimmer and an effects browser, are present and correct.
Since we reviewed Vegas Movie Studio 9 in Sound On Sound May 2010, the software's limitation on the number of tracks has jumped from four audio and four video tracks to a maximum of 10 of each. To put that track limit in perspective, I've handled some pretty large promotional video projects in the past, and though I've often used more than four tracks of audio or video, I can't recall ever having used more than 10 of each.
Since this is an update, what's new? Well, as Sony are pushing stereoscopic '3D' at the moment, this latest iteration of VMS is capable of 3D editing, and the boxed Platinum version comes complete with a pair of red and cyan 3D glasses. This is certainly less of an investment than an expensive 3D monitor, though the colour will look a little odd. If you're like me, and aren't too keen on stereoscopic video at the moment, you can at least wear these complimentary specs as a retro accessory.
Sony have included a new 'titles and text' plug-in for adding animated words to your video creation. This is more useful than you might think, especially for putting simple information at the start and end of a music video, such as release dates, band URL and so on. There are also transport controls on the footage trimmer, which is a nice touch.
Support for 24p, 50p and 60p projects has been included, and the new Enhanced Video Plug-in architecture allows the use of many new plug-in video effects. Render options have been improved too, allowing output of more formats at custom settings.
If you're new to NLEs, VMS has some brilliant tutorials to help you along. You can either select 'Show Me How Tutorials' from the new Project dialogue screen, or you can click 'Show Me How' on the top menu bar at any time and pick a tutorial, or a process you're confused about.
These tutorials are better than most, since they're interactive and take place right there as you work. A glowing marquee floats about, directing your attention to the appropriate part of the interface, and you're encouraged to run through the process. The 'Suite' version of the software also comes with a tutorial DVD.
Both audio and video effects are handled as a plug-in chain, which is really useful. Here you can see a secondary colour corrector: proof that NLEs needn't be expensive to offer powerful effects.
There's something of an odd issue in the world of video at the moment: most consumer cameras record HD video in highly compressed and complex-to-decode formats called H264 or AVCHD. Despite the cameras being pretty cheap, the computer power required to edit such footage costs far more. For this reason, the big players in the NLE game have attempted to make their video playback engines more efficient, enabling less powerful computers to play back and edit this footage without re-rendering to a less complex format.
When it comes to editable formats, VMS handles most things you throw at it with aplomb, provided you have a powerful enough computer. The real-time editing of complex codecs is impressive, and my main edit system silently coped with multi-layered full-resolution edits and real-time effects quite happily.
In truth, though, it was no surprise that my main system could handle these codecs (given its high spec), so I decided to give the engine a good push by installing VMS on my dual-core Intel MacBook Pro running Windows 7 32-bit. As if that weren't enough, I decided to throw in some 1080/50p footage from Sony's latest DSC HX9V. This footage is incredibly compressed and contains twice the normal number of whole frames per second, meaning that real-time editing tends to require considerable processor and memory resources.
Real-time playback of this footage was only occasionally juddery on the laptop at a working resolution of quarter size, although playback did drop about half of the frames as soon as I tried to apply a real-time non-destructive effect. In short, VMS contains a very impressive video engine, but do bear in mind that your editing system could always do with a bit more power.
I'm a firm believer in capturing good performances with good camera-work and composition, so I'm never too fussed about transitions beyond dip to black, dip to white and cross dissolve, all of which can be useful in moderation. Some effects, such as colour correction (think of it as visual EQ), are essential, though, and the included plug-ins function perfectly. There are too many effects to mention here, but most outlandish effects you can think of are covered.
Audio is easy to handle in VMS compared to many other NLEs, as Vegas used to be a DAW in a much early iteration. Audio quality is limited to 48kHz, 16-bit, but this isn't that problematic for most projects.
Audio tracks run horizontally in the same manner as video tracks, but thankfully have volume sliders, panners, and even record-arm buttons on the tracks. This is just as logical and useful as it sounds, but for some reason you won't find it in any other NLE that I've come across, other than Vegas.
VST and Direct X effects are fully supported, and are dealt with in a similar manner to that of Sound Forge, using a plug-in chain. Again, this trounces the clunky audio implementation of most NLEs, some of which throw away the interface of an audio plug-in and reduce it to a list of raw figures (I'm looking at you, Premiere Pro).
Other audio-editing bonuses in VMS include Red Book CD mastering, ASIO support, and built-in Elastique time-stretching from the Platinum version upwards, plus Sound Forge Audio Studio in the Production Suite bundle.
I must admit that using VMS in anger made me re-evaluate some of the snobbish opinions I'd developed about how NLEs should work, after having spent a long time using high-end suites like Adobe Production Premium. The video playback engine really is impressive, and allows real-time working in HD resolution with a large number of common codecs.
There's quite a high degree of control going on just behind the scenes in Movie Studio HD, and although you often have to get past a simplified screen to find it, the fact that it's there is great. In fact, nearly every time I thought there was some kind of limitation in place, I found a menu box that allowed me to do things at a power-user level. Despite knowing what I was doing, the basic menus didn't bother me, plus if I were new to NLEs I'd appreciate the simplification, since raw text-boxes full of jargon can be confusing.
If you're looking for specific high-end features such as 32-bit processing and advanced post-production, you probably won't have read this far in the review: you'll know exactly what you want and where to get it. But if you're looking for software to edit your music promos, download a 30-day trial of VMS and give it a go. Considering the retail price, VMS has got plenty going for it, and when you consider some of the discounted prices, it's an absolute bargain. Highly recommended for the audio producer in the market for an NLE.  
Sony's web site features a comparison table so you can see if you need the features offered by VMS' Platinum version (£60$95), or, indeed, the Platinum Production Suite (£80$125), which includes a cut-down version of Sound Forge. The Platinum Visual Effects Suite (£122$195) tops the range off, providing compositing and post-production tools.
For simple editing tasks, you're not really missing much from Vegas Pro (£499$679), with only the 32-bit processing engine really setting the high-end package apart from Movie Studio in terms of final output quality. In video applications, such processing allows greater headroom when colour correcting, resulting in a smoother gradient between shades and less aggressive clipping of highlights.
Pros
Very low price for plenty of features.
Improved real-time video-playback engine.
Audio support is familiar and powerful.
Supports VST and Direct X plug-ins.
Supports 24p, plus double rates like 50p.
Pro pack includes version of Sound Forge.
Cons
No 32-bit visual processing.
Summary
Sony's Vegas Movie Studio software continues to provide exceptional value for money, offering most of the features you need to create a great promo. It also benefits from much more elegant handling of audio than most NLEs, something that, when coupled with Sound Forge Audio Studio 10 in the Studio bundle, makes this a formidable editing package for the price.
information
Vegas Movie Studio 11 (basic), £35 boxed/£30 download; Platinum, £65/£60; Platinum Production Suite (bundle), £85/£80; Platinum Visual Effects Suite £127/122. Prices include VAT.
SCV London +44 (0)208 418 1470.
Vegas Movie Studio 11 (basic), $49 boxed/$45 download; Platinum, $99/$95; Platinum Production Suite (bundle), $129/$125; Platinum Visual Effects Suite $199/$195.
Sony Creative Software +1 800 577 6642
Test Spec.
Desktop PC with Intel i7 quad-core 3.3GHz CPU and 24GB 1600MHz RAM, running Windows 7 64-bit; MacBook Pro with Intel Core 2 Duo 2.4GHz CPU and 4GB 667MHz RAM, running Windows 7 32-bit.