Non-linear Video Editor For Windows
Sony's latest entry-level NLE has plenty of editing power to help you cut your music videos quickly, and for very little cash.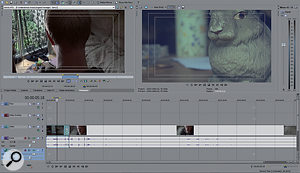 Vegas Movie Studio displays audio tracks in much the same way as a DAW, which is one advantage it has over most NLEs.
Some of Sony Creative Software's professional range of media-editing software may well be familiar to SOS readers. Their high-end products include Sound Forge Pro for wave editing and the Vegas Pro NLE (Non Linear Editor) for video editing, but they also make cut-down versions of both for the enthusiast. The cut-down video-editing package we're looking at here is Vegas Movie Studio HD, which is available as four different packages, all of which are surprisingly full featured.
Like most NLEs, VMS is designed to edit video clips in a similar manner to the way a DAW is used to edit audio. All of the standard NLE features,...
You are reading one of the locked subscriber-only articles from our latest 5 issues.
You've only read 10% of this article, so to continue reading...
Option 1: Buy and download this single SOS article in Adobe PDF format
Buy this article now and immediately download the PDF file to your computer.
Single article PDFs look identical to the printed magazine layouts (but exclude advertisements).
Note: Some shorter articles don't always have a PDF version.
Option 2: Buy the Full Issue PDF **NEW**
From the January 2018 edition onwards, it is possible to buy a Full Issue PDF 'replica magazine' (with adverts) for the price of a handful of single PDF articles, and instantly download it. More info...
Option 3: Buy a Digital subscription from our shopstore
A Digital sub can be bought from our online Shop

Store

and used immediately, or contact our Subs staff to discuss an upgrade price to add Digital access to your existing Print subscription.