Rating: **** 4/5 Stars
Spitfire Audio's large Abbey Road One: Orchestral Foundations project features a 91‑piece orchestra recorded in a studio so staggeringly famous it now has its own shop and charges for guided tours. After releasing this 60GB extravaganza in 2020 Spitfire began issuing supplementary 'film scoring selections' recorded at the same time as the main collection. These affordable mini‑libraries provide users with the immediately recognisable and colourful instrumental combinations frequently heard in classic movie scores.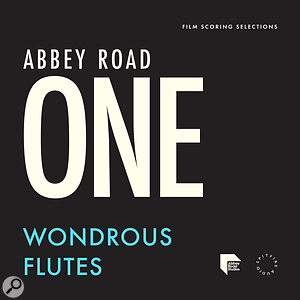 Taking their place alongside Legendary Low Strings and Sparkling Woodwinds (see SOS June 2021) are Grand Brass, Wondrous Flutes and Vibrant Reeds (rock those adjectives!). All include true legato performances and feature instruments played in octaves — by contrast, the main library has no legatos and is unison throughout. The selections offer a near‑identical set of articulations and were recorded from 10 mic positions, with two additional stereo mixes created by Simon Rhodes.
Grand Brass combines the library's excellent four French horns with a solo tuba adding weight in the lower octave. The four main artics are sustain, legato (great for slow‑paced regal themes) short, emphatic, tightly played staccatos and tenutos lasting around half a second. In addition there are crescendo swells of three different lengths. There's more — exit the tuba and enter 10 cello players, who join the horns in a unison sound which is the epitome of noble romanticism (think Gustav Holst's Jupiter and John Williams' superhero themes). This majestic ensemble excels at grandiose chordal passages and soaring legato melody lines — it plays only two artics, but both are superb.
Orchestral textures don't come much more classic than Wondrous Flutes, a textbook pairing of two flutes with piccolo doubling an octave higher. Super‑clean performances, pristine sound and exquisite tuning give the piping high‑register deliveries a superior edge, with incisive staccatos and bright‑sounding marcatos sounding delightful. As reported by innumerable happy users, the mordents are a treat — played in a choice of four intervals, these little dancing three‑note figures are great fun and a tremendous resource for gestural cartoon‑ish phrases.
Vibrant Reeds repeats the trick, this time underpinning two oboes with two lower‑octave clarinets. While this evokes the folksy atmosphere of the opening Shrovetide Fair scene of Stravinsky's Petrushka, the section's exotic, pure‑sounding octaves will lend themselves to any setting. So‑called 'vibrant' patches see a cor anglais joining the clarinets in the lower octave, introducing a slight chorusing and making the sound thicker and more complex. The reedy quintet then smashes it with a stellar set of mordents which can be used to create amazing, swirling arpeggio‑like effects. Brilliant.
Clocking in at under 10GB apiece, these pre‑orchestrated, easy to use mini‑libraries provide users with instant orchestral colour for less than 50 quid a pop, a welcome price tag in these dodgy economic times.
£49 each.
$49 each.