At the heart of most modern studios is a computer running a Digital Audio Workstation, or DAW. The choice of DAWs available has increased significantly over the last few years, but if you're new to the field it's still hard to know which one will suit you best. Here's a selection of the most popular packages, to help you decide.
SADiE 6
SADiE, or 'Studio Audio Disk Editor', is commonly used for mastering, as well as radio and TV production. It's a Windows-only DAW, and it doesn't have any MIDI functionality — but it is widely known as one of the most powerful and intuitive audio editors available. SADiE is available in a range of versions, including the Radio Producer and Mastering suites.
Review: /sos/jan11/articles/sadie-6.htm
Steinberg Cubase 6
Cubase has a lineage going back to Notator, a MIDI-only sequencer for the Atari. Consequently, its MIDI-editing functionality is very mature, and it has some unique MIDI-related features, such as the Note Expression automation system. That said, it's been a highly capable audio editor for many years now too, and has advanced facilities for multitrack audio editing, pitch correction and more.
Review: /sos/apr11/articles/cubase-6.htm
Apple Logic Pro 9
Apple's Logic Pro DAW is extremely popular with Mac users (it hasn't been available for Windows since Apple bought its original developers, Emagic). Logic includes some powerful software synthesizers and samplers, a large suite of plug-ins, and several gigabytes of optional audio content, such as samples and loops. Both the program and extra content are available to buy and download from Apple's App Store.
Review: /sos/oct09/articles/logic9.htm
Cakewalk Sonar X1
Cakewalk's PC-only Sonar has been around for over 10 years, and as such is a mature platform, with a highly evolved set of audio and MIDI recording and editing tools to rival any of its competitors. Perhaps its biggest selling point today is the vast array of soft-synths and plug-in processors included in the full version.
Review: /sos/apr11/articles/sonar-x1.htm
Propellerhead Reason 6
This synth-oriented sequencer has long been a favourite of dance-music producers. Its interface, with its virtual racks and cables, is heavily inspired by classic synth and sampler hardware of the '80s and '90s. The latest version also incorporates the functionality of Propellerhead's audio platform Record, including an SSL-inspired mixer.
Review: /sos/nov11/articles/reason-6.htm
Ableton Live 8
Ableton Live is unique among the main DAWs, in that it is optimised for live performance. It therefore has an immediacy that users appreciate, as well as powerful loop-slicing, tempo-sync'ing and time-stretching abilities. And, crucially, for a piece of software intended for use on stage, it is known for being very stable.
Review: /sos/jun09/articles/live8.htm
MOTU Digital Performer 7
Popular with film and TV composers, MOTU's Digital Performer has many features relating to video sync'ing. It's also got comprehensive audio and MIDI editing abilities, and the latest version includes several guitar-related plug-ins, too. It's presently Mac-only, but the newly announced version 8 (pictured), which should be available later this year, promises to be compatible with Windows machines too.
Review: /sos/mar10/articles/dp7.htm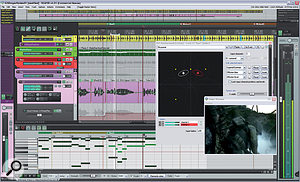 Cockos Reaper 4
A newcomer to the DAW game, Cockos' Reaper has become extremely popular in a short space of time, thanks partly to its relatively low cost, but also to its ease of use and impressive feature set. It's available with licences for either personal or professional use (hence the two prices), and its development team are constantly releasing updates to address bugs and add new features.
Review: /sos/oct11/articles/reaper-4.htm
Presonus Studio One v2
Another newcomer to the market, Presonus' Studio One employs extensive drag-and-drop functionality, making it very approachable for novices. Version 2, released last year, incorporates video support and essential mastering facilities, and has Celemony's Melodyne pitch-correction software built in.
Review: /sos/dec11/articles/studio-one-v2.htm
Avid Pro Tools 10
Probably the best-known DAW, Pro Tools has traditionally been focused on audio editing, where many believe its strength still lies. MIDI features have been added over the years, though, so that it's now also a highly capable MIDI and soft-synth platform. It can work with any audio interface, or it can be bought as part of Avid's own high-end HDX DSP system.
Review: /sos/mar12/articles/pt-10.htm