USB Controller For Mac & PC
Steinberg's CC121 controller is, as you might expect, designed to work seamlessly with their DAW software — so is this the perfect companion to Cubase and Nuendo?
MIDI Controllers provide the missing link between hardware mixing desks and software interfaces, and now come in many sizes and shapes to suit different users, from multi‑channel monsters worthy of an appearance in Star Trek, to the now almost obligatory clutch of knobs found on even the smallest of music keyboards. Sitting neatly in the middle is the single‑channel controller, which needn't take up much space on your desk. As its name suggests, it provides a set of controls dedicated to one channel of your sequencer's virtual mixing desk, but you can step from channel to channel at will.
This is the format chosen by Steinberg for their new USB‑powered CC121 controller, which features an elegant but rugged all‑metal case (72 x 185 x 284mm), a total of 15 rotary encoders, 30 mostly illuminated push-buttons, and a single 100mm long‑throw motorised fader. Like the MR816 series audio interfaces reviewed in the November 2008 issue of SOS, it also features what Steinberg call 'Advanced Integration' with Cubase and Nuendo 4 applications.
The CC1221 front panel is divided into three. On the left is the Channel section, which mirrors the main controls found on every Cubase and Nuendo channel, namely, fader, pan, and buttons for mute, solo, automation read and write, monitoring, record enable, edit channel, and edit instrument — all of which have identical markings to their software mixer counterparts.
There are two further buttons to step through the available channels, and as you'd expect, all the current settings, including the fader position, update as you step between channels. The buttons also light up when active, as they do on the Cubase mixer, which makes their functions even easier to remember.
The central EQ section goes further than most single‑channel controllers, by offering dedicated controls for each aspect of the Cubase four‑band EQ. There are global EQ Type and All Bypass buttons, and then for each band there's an on/off button and rotary knobs for Q, frequency and gain. This provides superb control for those who use the built‑in Cubase EQ, and while Steinberg must be aware that some users abandoned their harsh‑sounding 'pre‑Cubase VST 5' EQ some years ago in favour of third-party EQ plug‑ins, no doubt they are hoping this will persuade them to try the Cubase 4.5 EQ, which does sound far better. There's a known bug that prevents the EQ controls from working on Rewire channels, although Steinberg are hoping to resolve this quickly.
Below the EQ controls are eight transport buttons mirroring those in Cubase and Nuendo (Stop, Play, Record, Cycle, Forward, Rewind, Previous and Next). I did miss having dedicated 'jump to left or right locator' buttons, which I use an awful lot, but you can't please everyone!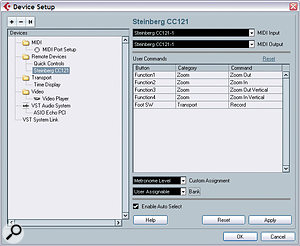 You can select user‑assignable functions for the CC121's rotary encoder and four buttons, plus a footswitch (not supplied), in the Device Setup window, although the current option list is a little limited in scope.
The right-hand section of the CC121 takes us into new territory, with some user‑assignable controls. The AI knob section comprises a multi‑function rotary encoder with two associated buttons, that together perform a variety of tasks. All you have to do is hover your mouse over the desired parameter and move the AI knob to automatically update its value. Novation offer something similar with the Speed Dial knob of their Nocturn and Remote controllers, but Steinberg's 'point and control' implementation is the slickest I've seen to date.
It's more convenient than having to click the mouse button each time, and working two‑handed (one on the AI knob and the other on the mouse) you can perform a lot of precise changes without ever taking your eyes off the screen. However, if you want to continue tweaking without bothering to look at the screen, you can click on the CC121 Lock button next to the AI knob and it will remember the current parameter. The second AI button transforms the AI knob into a jog wheel, and this time the Lock button lets you continue moving the song pointer in either direction at any speed you set, by spinning the knob.
Above the AI knob there's a single rotary encoder (which doubles as a button) and four buttons that can be assigned to various functions. You'll find the CC121 listed in the Devices menu of Cubase and Nuendo, and here you can select different preset modes for the buttons. These are Studio Control (when the buttons switch between up to four studio cue mixes, the knob alters their level and the knob button activates or deactivates them), Monitor Control (with similar controls to switch between up to four sets of monitor speakers) and User Assignable.
The last employs the Device Setup window to assign one of various display zoom parameters to each button, and a much wider selection of functions for a footswitch that you can plug in on the rear panel. You can also select one of just four Custom assignments for the knob. These are Main mix, Metronome, Control Room Volume or Control Room Phones levels.
This all worked well, but frankly I was a little disappointed with all but the footswitch selection options, since I was fully expecting to be able to allocate almost any Cubase or Nuendo function of my choice to each control, as you can with Key Commands. Still, these choices are under software control, so Steinberg could easily make more options available to users with an update.
The CC121 is provided with USB MIDI and Cubase and Nuendo 'Extension' drivers for Mac OS X, Windows XP and Windows Vista, and I experienced no issues when installing them on my Windows XP PC. The supplied USB cable is 1.5 metres long, and Steinberg state in the manual that this is the longest recommended, although some people are apparently using five-metre cables successfully.
The CC121's controls may seem quite familiar, mirroring, as they do, many of the most commonly used functions in Cubase and Nuendo.
I can honestly say that, having using a variety of MIDI controllers over the years, ranging from those on MIDI keyboards through to generic devices such as Evolution's UC33 and more sophisticated models such as Steinberg's own Houston multi‑channel controller, the CC121 is by far the simplest and easiest to use that I've experienced. It simply worked first time, and I scarcely had to glance at the manual.
With my niggly hat on (the velvet one with the feathers [He's not kidding — Ed]) I'd prefer a 'hold to repeat' option for the channel select buttons, which on complex projects sometimes require dozens of presses to move between tracks (I often found it quicker to use the mouse). That aside, I found that the fader provides precise control, with a rapid, yet smooth response, and is quiet when you move it with your finger, although, as usual, the motor does make a little mechanical noise when tracking the automation. The buttons also offer a light but positive action, with none of the rocking or sticking problems that beset lesser products, while the rotary encoders are smooth and precise.
The encoders currently provide a single plus‑or‑minus parameter update with a single click (as they should for finest control), and coarser changes if you spin them faster. I found this provided smooth control for parameters with up to 128 positions, such as pan, EQ gain and Q. However, for wider‑ranging parameters, such as EQ Frequency, this scaling prevented me from performing real‑time sweeps, which either crawled along in 1Hz increments or shot way past the intended value.
Since the likelihood of anyone needing to adjust EQ frequency in 1Hz increments is remote, I think this scaling should be altered to match that of the AI knob, which, when allocated to the same EQ frequency, let me record smooth automated sweeps with ease.
In fact, I really like the AI knob, but there's a significant caveat — it relies on the new magic inherent in the VST3 specification, and thus only works with VST3‑compatible controls, which currently means those of the Cubase and Nuendo mixers plus a couple of dozen bundled plug‑ins and VST Instruments, and, of course, the DSP effects of Steinberg's MR816 audio interfaces. For various reasons, very few third-party developers have yet updated their products to VST3 format (VirSyn's Martrix Vocoder is one of the few), and the AI Knob will simply ignore their controls. I suspect that the CC121 may encourage some developers to upgrade their products, but also that many users will be discouraged from buying the CC121 until those upgrades appear — and many older products may, of course, never be updated.
Steinberg's CC121 is a tricky product to sum up. It's been specifically targeted at Cubase and Nuendo 4 users, but, unlike its Advanced Integration partners, the MR816 audio interfaces, it won't work at all with other sequencers — although apparently Steinberg do plan to make it compatible with the next version of their Wavelab digital audio editing software.
The 16 rotary controls and six buttons of its EQ section are also dedicated to Cubase and Nuendo's built‑in four‑band EQ and can't be used to control third-party EQ plug‑ins. More seriously, for many prospective purchasers, its assignable controls only work with VST3 plug‑ins and instruments, and not with the vast majority of existing third-party plug‑ins and instruments. Despite its more professional build quality and greater number of controls, it also faces stiff competition from a couple of significantly cheaper competitors (see the 'Alternatives' box).
Designing a single‑channel controller is a delicate balancing act. If you provide too many user‑assignable controls it can end up being difficult to set up and to remember what each one does; if, on the other hand, you provide lots of dedicated controls everyone will prefer a slightly different combination. Steinberg have concentrated on making the CC121 feel professional and yet really easy to use, and have succeeded admirably in both departments. It's simplicity itself to install and operate, offers smooth fader travel, positive‑clicking buttons and light yet smooth rotaries, and it works beautifully with VST3 controls. It may have some limitations, but if you're a Cubase or Nuendo 4 user who routinely uses their integral EQ and bundled plug‑ins and instruments, the CC121 should be extremely appealing.
If you're looking for a single‑channel MIDI controller with a motorised fader, one obvious competitor for the CC121 is the Presonus Faderport (reviewed in the June 2007 issue of SOS), which provides a useful complement of long‑throw fader, basic pan, mute, solo and record functions, and transport controls — but no jog wheel or assignable encoder features. It is also compatible with many other sequencers, such as Digital Performer, Logic, Pro Tools and Sonar, and costs around a third of the price of the CC121.
Frontier Design's AlphaTrack is probably closer in spec, due to its three assignable rotary encoders and jog strip. Once again, this works with many other sequencers, and although its case is plastic it's still only about half the price of the CC121. However, neither option offers any of the CC121's dedicated Cubase EQ controls, colour‑coded illuminated buttons, AI Knob functionality, or rugged metal build quality.
The central feature of a single‑channel fader-based controller is, of course, the fader itself. For the CC121 Steinberg have employed a professional motorised unit with a long 100mm throw (as used in Yamaha's professional digital mixing consoles), which provides precise control, as well as instant visual feedback of the current fader position when switching between channels or following automation moves.
As with the Presonus Faderport (see the 'Alternatives box) the 5W of power required to drive this fader's motor exceeds the 2.5W available from a USB port, so if you want the fader to follow your channel settings and automated moves you must plug in the supplied wall‑wart PSU. Once you unplug the CC121 from the mains, you simply lose the fader motor and therefore the read-automation position updating, but you can still move the fader manually to write automation at any time.
Pros
Excellent build quality, with smooth, motorised 100mm fader and colour‑coded illuminated buttons.
Incredibly easy to install, and intuitive to use.
Comprehensive channel and four‑band EQ controls.
Point and control AI knob for VST3 parameters.
Small enough to fit alongside a computer keyboard on your desk.
Cons
Only works with Cubase 4.5 and Nuendo 4.2.
AI Knob won't work with VST 2.4 or earlier plug‑ins and instruments.
EQ controls only work with built‑in Cubase and Nuendo EQ.
Few assignable buttons and encoders, with currently limited parameter choices.
Relatively expensive.
Summary
Steinberg's CC121 may not appeal to all Cubase or Nuendo users, but if you want an incredibly easy-to-use controller offering comprehensive control over channel, EQ and VST3 parameters, it's a hard one to beat.
information
£313 including VAT.
Steinberg +49 40 4223 6115.
$499.
Yamaha Corporation +1 714 522 9011.
Test Spec
Steinberg CC121 Extension 1.0.1, Yamaha USB MIDI Driver 2.2.2, Cubase 4.5.2.274.
PC with Intel Conroe E6600 2.4GHz dual‑core processor, 2GB RAM, Windows XP with Service Pack 3.