Music Production Software
Cubase celebrates a milestone birthday with an update that makes almost every aspect of the program slicker and easier to use.
It's amazing to think that Cubase turns 30 in 2019. With such a long career behind it, it is naturally a very mature, feature-rich application. It has also built up a huge and very loyal user base, ranging from home-based hobbyists to the upper echelons of the music‑producing world. And to support all these varied users, Steinberg continue to offer Cubase in three flavours — Elements, Artist and Pro — ensuring there is something to suit all budgets and upgrade pathways for those with growing ambitions.
As now seems to be the Steinberg norm, the end of the calendar year sees a new Cubase update and version 10 is now with us. SOS has given plenty of coverage to the core Cubase feature set over the years, both in reviews and in many Cubase workshop columns. This feature set remains intact, so I'll simply focus here on the new elements introduced in Cubase Pro 10. Steinberg's website has a handy comparison chart that outlines which of these new features are included in the more accessible Artist and Elements versions.
Almost every dialogue box — including the Export Audio Mixdown dialogue shown here — has been refined in Cubase 10.On first start, there are some obvious cosmetic changes in the new version. Cubase 10 now offers support for high-resolution (HiDPI) displays, so things ought to appear crisper on a Retina or 4k monitor. To exploit this, and to bring some workflow streamlining, the interface has gone through numerous detailed changes, and these are apparent whatever monitor resolution you are using. The look is slightly darker overall, with light-on-dark tool icons throughout, as typified by the main Project window toolbar.
Many windows and dialogue boxes have undergone redesigns; there are too many changes to list here, but at the same time, none of them are drastic enough to be disorientating for existing users. The Export Audio Mixdown panel is a typical example: though there are only minor changes in the actual functionality, it has been reorganised and made easier to navigate, while features you don't use regularly can easily be folded away.
Like many of the stock plug-ins, Stereo Delay has received a welcome makeover.Many of the stock plug-ins have also been given a makeover, continuing a process that has been ongoing over the last few update cycles. The results are much slicker in appearance, and also make the controls more logical in use.
Other examples of 'cosmetic but practical' improvement include, for example, the Colorize Palette and the Add Track dialogues, both of which can now be kept open as floating windows. This sounds like a minor change, but actually makes these tools much easier to use: you can now colour-code your whole project without needing to continually return to the main menus, and rapidly add all the tracks/track types required in a new project to get you started. The functionality of this second dialogue has also been enhanced so, for example, if you're creating a new audio track and you assign it to an as-yet unassigned hardware input, that input is automatically added to your Audio Connections configuration; you don't have to do this as a separate operation.
Both the Add Track and Colorize dialogues can now stay open as floating panels: a small change, but a very useful workflow enhancement.
The Project window's Right Zone now includes drag and drop for VST effects selection, and options for showing image icons for third-party plug-ins.Another obvious cosmetic/practical enhancement is in the Media tab of the Project window's Right Zone. You now have the option to drag and drop VST effects as well as VST instruments into your project. In addition, you can also capture an image of the user interface of any third-party plug-in (once the plug-in is open, there is a small camera icon located next to the plug-in's preset browser) so that you see a visual representation of the plug-in within the Media tab browser. Very neat!
As indicated above, these are just examples of the sort of small-but-worthwhile changes made throughout the program that enhance both its appearance and usability. Worth noting, however, is that because of the extensive GUI changes, any user-defined colour schemes or Project and MixConsole window layouts are not carried forward into Cubase 10. These can, of course, be recreated in version 10, and although this will be irritating for some, it is at least a one-time task. Overall I think Steinberg have done good job of further refining the appearance of Cubase.
Audio pitch correction is now a near-universal studio tool, and for me, Celemony's Melodyne has always been unrivalled in the degree of forensic control it allows you to apply to your pitch curve. Unrivalled until now, that is — because, in VariAudio 3 within Cubase Pro 10, Steinberg have really upped the ante, both in terms of the degree of control and the ease with which the different pitch editing tools can be accessed. No, it doesn't offer Melodyne's polyphonic pitch‑correction options, but for working with monophonic melodic lines such as vocals, VariAudio 3 is a very impressive upgrade.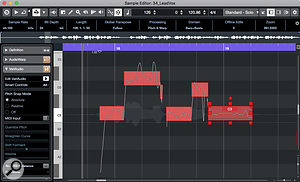 The comprehensive VariAudio 3 Smart Tools collection makes for super-efficient pitch-correction.Once you have enabled VariAudio on an audio clip, and Cubase has done its pitch analysis, your individual pitch segments now appear with up to 11 different 'smart' controls arranged around the currently selected segment (you can toggle on the display of...
You are reading one of the locked subscriber-only articles from our latest 5 issues.
You've only read 20% of this article, so to continue reading...
Option 1: Buy and download this single SOS article in Adobe PDF format
Buy this article now and immediately download the PDF file to your computer.
Single article PDFs look identical to the printed magazine layouts (but exclude advertisements).
Note: Some shorter articles don't always have a PDF version.
Option 2: Buy the Full Issue PDF **NEW**
From the January 2018 edition onwards, it is possible to buy a FULL ISSUE PDF 'replica magazine' (with adverts) for the price of a handful of single PDF articles, and instantly download it. More info...
Option 3: Buy a Digital subscription and open ALL web articles instantly!
A DIGITAL sub can be bought from our online Shop

Store

and used immediately. It opens ALL web articles, the tablet edition, plus Full Issue PDF download... or contact our Subs staff to discuss an upgrade price to add Digital access to your existing Print subscription.