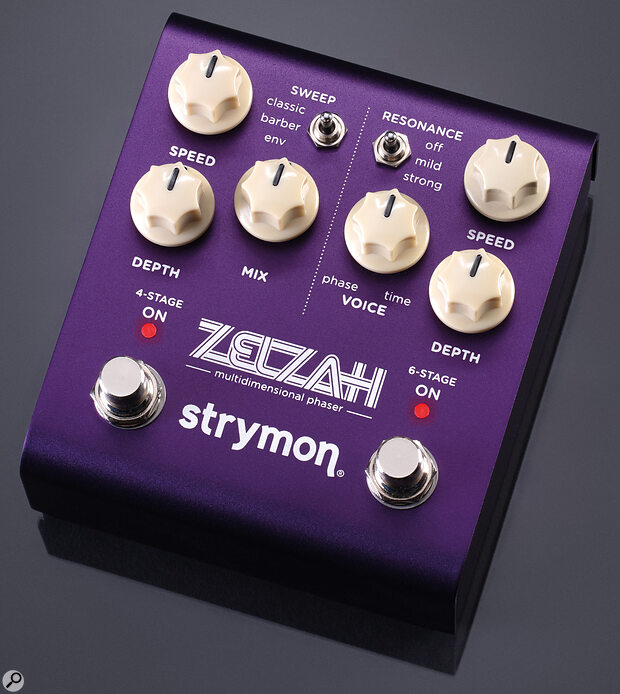 The Zelzah will take you to places conventional phasers can only dream of...
The Zelzah is described as a 'multidimensional phaser', and at its heart are two separate phasers, one with six stages and the other with four. Each has its own control set and stomp switch, so can be switched on/off individually, but if used in tandem you have a choice of three different routing configurations. This already makes it more versatile than a typical phaser, and due to its ability to deliver wonderful chorus, flanging and almost rotary‑style effects too, it's perhaps better thought of as a multi‑modulation effect.
As on Strymon's other more compact pedals, the Zelzah has a single TRS input jack, which caters for unbalanced mono or stereo inputs, and separate left and right output jacks; a small selector switch above the input sets the unit for mono or stereo input sources. It can be set to work with instrument or line‑level signals, and to true or buffered bypass. It's a digital pedal, with 24‑bit/96kHz conversion and 32‑bit floating‑point processing, and it requires a 300mA or higher 9V DC centre‑negative external supply. With the brilliantly clean sound we've come to expect from Strymon, stereo analogue I/O, a MIDI/expression input and configurable routing, it has the potential to be a great tool for producers and performers alike. So let's take a closer look.
The four‑stage phaser has Speed, Depth and Mix controls and caters for traditional effects, courtesy of three Sweep modes. Classic mode does what it says on the tin: this is a classic four‑stage phaser sound with a touch of 'vintage', its movement governed by a single warped‑triangle LFO. Barber Sweep, another familiar sound, creates the impression of the 'swoosh' continually rising or falling in one direction. The third mode, Envelope, is interesting: the effect becomes influenced by the dynamics of your playing, and behaves rather like a filter envelope. The Mix control is a welcome feature, as it can be used to achieve different things depending on which Sweep mode is engaged. When set to Classic, for example, the Mix control can be used to dial in everything from a subtle phaser to a full‑on vibrato effect, whereas in Envelope mode higher Mix settings result in pitch modulation. This was really useful used on a guitar in the studio, when I just wanted a small amount of movement implied by the phaser without a fully 'washed out' effect.
The six‑stage side of the pedal also has Speed and Depth knobs, but in place of the other side's Mix control this one features an innovative control called Voice. This adjusts over 30 different parameters in the pedal simultaneously, and can take you pretty quickly to a wide range of different results. Turning the control anticlockwise from the central 12 o'clock position delivers interesting effects, but all very...
You are reading one of the locked Subscriber-only articles from our latest 5 issues.
You've read some of this article for free, so to continue reading...
✅ Log in - if you have a Subscription you bought from SOS.

Buy & Download this Single Article in PDF format

£1.00 GBP

$1.49 USD


For less than the price of a coffee, buy now and immediately download to your computer or smartphone.

Buy & Download the Full Issue PDF
Our 'full SOS magazine' for smartphone/tablet/computer. More info...

RECORDING TECHNOLOGY: Basics & Beyond
Claim your FREE 170-page digital publication
from the makers of Sound On Sound — CLICK HERE