If you like playing the odd game, but still want quality audio when writing music, Martin Walker believes the Turtle Beach Montego could provide the best of both worlds.
Despite the large number of professional soundcards appearing over the last year, there is still great demand for good, audio‑quality cards that remain compatible with DOS‑based games, and which don't break the bank. Turtle Beach have been producing high‑quality soundcards for years. Their new Montego A3D Xstream has 64‑voice wavetable synthesis (using 4Mb of your system RAM), 18‑bit converters, Aureal 3D positional sound, DOS game compatibility, a Waveblaster‑compatible daughterboard socket, and (at some point in the future) an optional S/PDIF interface. In the light of this specification, £120 seems a small price to pay, especially as the Montego is a PCI card which also claims to be an Audio Accelerator.
This last aspect is intriguing, and derives from the fact that there is extra hardware on the card that bypasses the normal DirectSound drivers of DirectX 5.0, thus lowering CPU overhead. There are 16 hardware‑based sample‑rate converters for processing multiple streams of audio, along with 16 hardware digital mixers. Because of this extra hardware, the Montego can offer full‑duplex recording (for simultaneous recording and playback) with independent sample rates. If an application uses multitrack audio, and would normally carry out the mixing using DirectSound, then CPU overhead with the Montego installed should be significantly lower. This applies to any application that comes with DirectX 5.0, such as Sonic Foundry's Acid (see review starting on page 176). However, contrary to some rumours, this form of audio acceleration will not help people running DirectX plug‑in effects.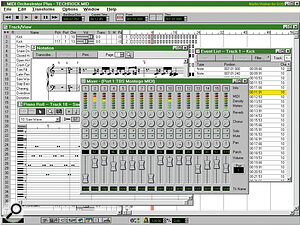 Included in the bundle is MIDI Orchestrator Plus, a comprehensive MIDI sequencing package which includes piano roll, notation, event list, and even SysEx editing.
In common with most other PCI soundcards, the Montego is petite (scarcely five inches long), and no‑one should have any problems installing it. The circuit board features the Aureal Semiconductor AU8820 single chip PCI audio accelerator, and although there are other, cheaper soundcards that use it, Turtle Beach have also included the SigmaTel STAC9701T chip, which provides high‑quality 18‑bit converters. There is also a standard Waveblaster daughterboard connector, and three more connectors for attaching the audio output from a CD‑ROM drive (lead supplied), modem audio, and auxiliary (for anything else left over). The final connector on the card is labelled S/PDIF interface. The planned add‑on board (priced at around £80) provides both digital in and out, although details of its release date are a bit hazy at the moment.
On the backplate is a 15‑way 'D'‑type joystick/MIDI socket which provides an MPU401 compatible 1‑in/1‑out MIDI interface, and three 3.5mm jack sockets for mono mic in, stereo line in, and stereo line out. These are incorrectly labelled in the manual, which caused some head‑scratching when I first tried to record. Thankfully the card markings are correct. There are no jumpers to set: you simply plug it in and re‑boot. Windows 95 discovered the new hardware, and asked for the drivers, which are to be found on the Montego Applications CD‑ROM. Drivers are also provided for Windows 3.1 and NT 4.0. Having installed the new drivers, Windows 95 wanted to restart again. On the second re‑boot, it installed joystick drivers and the Soundblaster emulation, and then launched automatically into the setup.exe file on the CD‑ROM. This first checks your PC for the existence of DirectX 5.0 or later, and then installs all the supplied applications.
Looking round your hard drive after any consumer soundcard has finished its installation can be an eye‑opener. Apart from a huge number of new files and folders, you also tend to find things in unexpected places. In the case of the Montego, I discovered a new icon on my Taskbar (the Voyetra System Tray) which launches a Turtle Beach mixer, as well as accessing eight other applications. A further icon had appeared in the Control Panel for the Vortex Control Panel, which changes the many new hardware options now at your disposal.
The intriguingly named Vortex Control Panel is a standard item for all A3D soundcards, and provides various choices for the A3D Audio, MIDI for DOS games, Wavetable mode and effects, as well as various 3D demos.
A variety of software is installed from the Montego Applications CD‑ROM. Audiostation is the familiar rackmounting suite of mixer, MIDI player, WAV player, and CD player. Audioview is a useful little WAV editor, complete with basic effects, while Music Games provides three arcade‑style educational teasers — Musiquiz, Note Blaster, and Rhythm Master.
MIDI Orchestrator is a MIDI sequencer that is particularly easy to use, being laid out like an analogue mixer (see above). For more advanced users, MIDI Orchestrator Plus is also available, and this has event, piano roll and notation windows. Grid Jam is a fun auto‑accompaniment program where you select a musical style (anything from hip‑hop to waltz) and then a five‑piece band plays along while you change key and play solos over the top from a MIDI keyboard. Finally, there is a demo of Digital Orchestrator Pro (with the save function disabled), which adds audio recording to the features of the Plus version. The full version will be £99.
The Aureal 3D Positional Audio is well demonstrated by the included demos. In this one, you can move about in a simulated 3D environment, while several bees fly around a hive, to the accompaniment of birdsong and running water.
As always, I started by listening to existing WAV files, to judge playback quality through the D‑A converters. The Montego sounded good with a variety of material: compared with the AWE64 Gold, it had slightly more clarity when listening to small details in the mix. I could certainly hear a tone at ‑90dB level, but it was when comparing output noise levels that the Montego really scored, being subjectively a full 10dB or more quieter than the AWE64 Gold. This shows the advantage of having 18‑bit converters.
The A‑D side of any soundcard is just as important for a musician, since this is what determines the quality of your recordings. But here I had a few problems. After sorting out the confusion over the mic and line inputs mentioned earlier, I recorded some music, some test tones, and then carried out my normal measurements for noise. Although the recordings were quiet and clean, the measured background noise levels were higher than I expected at ‑83dB RMS. I could also hear spurious low‑level whistles. On examining the noise spectrum, I discovered a clutch of lines at about 2, 3, 6, and 9kHz rising above the otherwise well‑behaved noise floor. Suspecting this to be caused by interference from some other card in my PC, I removed my AWE64 Gold, and also tried re‑installing the Montego in another PCI slot, but this did not improve matters. This is just the sort of thing that can happen to any soundcard in a PC — it probably won't happen in yours. Despite this, however, recordings were subjectively clean, and the manufacturer's claim of ‑92dB is still quite believable.
The Aureal 3D Positional Sound is very good, and allows sounds to be placed on all sides, above and below. You can select either speaker or headphone mode (preferred) using the Vortex Control Panel. The supplied demos show this off to good advantage, with vehicles and bees careering about in 3D landscapes. To my ears, the sounds certainly moved way beyond the normal left and right positions, but the rear sounds weren't very convincing in either speakers or headphones. Apparently many games are already A3D‑enabled (including Battlezone from Activision, which is included on a separate CD‑ROM), and an up‑to‑date list can be found on the Turtle Beach web site. However, unlike the blanket stereo‑width enhancement of many lesser 3D soundcard systems, A3D is not something that you just switch on or off. Apart from the A3D Player demo, which allows you to change the playback position of any two WAV files, there is seemingly no way for the user to access this feature from other software, which is a shame.
The games support will appeal to many people, since Soundblaster emulation is provided (traditionally an ISA‑only feature). You can direct MIDI output from any game running in a DOS window to any Windows 95 MIDI device (using the Vortex Control Panel), as well as running Soundblaster emulation in real‑mode DOS. You can also disable the DirectSound Hardware Accelerator for games that don't check available hardware properly — the more processor‑intensive DirectSound drivers of DirectX 5.0 will then be used. Having hardware acceleration could give you a system improvement of 3 to 4 percent when running games.
If you need a card that will do most things well without breaking the bank, this ought to be on your shortlist.
The Vortex Control Panel has three switchable Wavetable modes: 32‑Voice Pro quality takes the lowest CPU overhead, 64‑Voice Game quality provides more voices, but with increased CPU overhead, and 64‑Voice Pro quality takes the highest overhead of all. Both 64‑voice modes use 32 software voices added to the 32 hardware ones. The Wavetable sounds themselves were very good, but in the interests of equality, I played a wide variety of dance, rock, and classical GM files side by side on the Montego, AWE64 Gold, and DB50XG daughterboard. I loaded up the 4Mb GM SoundFont for the AWE64, to make the fairest comparison. The DB50XG nearly always sounded best (although, if you like these sounds, you can always plug this into the Montego anyway), but it was a close‑run thing between the AWE64 and Montego. Overall, I think the Montego won, with punchier drums and more modern sounds.
Wavetable Reverb and Chorus are also available from the Control Panel — there is an Effects On switch, and an individual slider to control each level, although strangely some effect is still present even with these pulled right down. The chorus was quite subtle, but enriched the overall sound well, without swamping it. The reverb was surprisingly good, although there is only one sound — a hall effect with a long pre‑delay.
I did discover that if you changed Wavetable modes while playing back MIDI files several other effects appeared (large room, small room, slapback and echo), but this appeared to be a bug, since when you stopped and restarted the music, the hall effect reappeared. Still, it shows that a future driver set could possibly provide more effect options.
Most people will judge the background noise levels by turning up the speakers with no music playing. This is indeed very quiet, but the secret here is that some sort of noise gate has been implemented (Turtle Beach call it auto‑muting). You will therefore hear a faint halo of noise when playing music, but it will be cut off when the final note decays. As long as you are careful to keep levels high, this is a useful feature, but can still sometimes be noticeable during quiet passages of music.
The Montego will appeal to many people who want games compatibility, without sacrificing good quality sound. The majority of modern games now tend to use 3D digitised sound rather than MIDI (especially now that PCI cards are replacing ISA ones, which increases the possible number of digital audio streams). However, musicians still need good‑quality MIDI sounds, and the Montego doesn't disappoint in this department. The 3D sound is good, but can't currently be accessed by the user, although many games are A3D‑enabled.
There is little quality competition at £120, particularly when narrowing the search to PCI cards. Creative Labs are poised to release the Soundblaster Live with a similar specification to the Montego, but launch details of this are still hazy at present. Ironically, one competitor is Turtle Beach's own Daytona PCI (now £89), although this only has 16‑bit converters and 32‑voice polyphony.
Turtle Beach have pitched this model at just the right level and it is already selling in large numbers. When the Montego S/PDIF interface eventually arrives (bringing the combined price to just under £200), it will be a very tempting bundle. If you need a card that will do most things well without breaking the bank, this ought to be on your shortlist.
A‑D/D‑A converters: 18‑bit.
Signal‑to‑noise ratio: >92dBA.
Total Harmonic Distortion: <0.005%.
Stereo Crosstalk: 100Hz (‑89dB); 1kHz (‑90dB); 10kHz (‑87dB).
Frequency Response: 20Hz to 20kHz (+/‑1dB).
Sampling Rates: up to 48kHz in 1Hz steps.
Synthesizer: 64 voices (32 hardware + 32 hardware‑accelerated).
Wavetable: 4Mb in PCsystem RAM.
Onboard MIDI effects: Reverb and Chorus.
Audio Processor: Hardware enhanced full‑duplex for simultaneous record/playback at full bandwidth with independent record/playback rate.
Pros
Good MIDI wavetable sounds, with up to 64 voices available.
Hardware acceleration and Soundblaster compatibility is ideal for games use.
Promise of optional S/PDIF In and Out expansion.
Cons
Auto‑muting can be noticeable with quiet music.
No user access to A3D sounds.
No fully functional MIDI + Audio software included.
Summary
The start of a new wave of low‑cost PCI soundcards which prove that musicians and games players needn't spend a lot of money to get good quality sound.