Virtual Drum Instrument Suite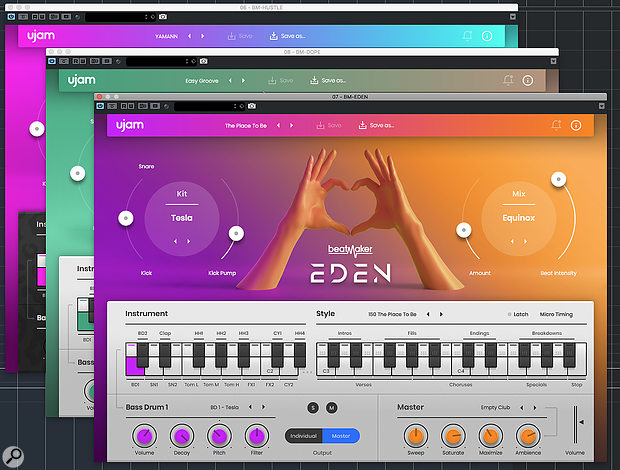 All three Beatmaker 2 titles share a common underlying engine and UI.
If you are looking for a source of instant drum parts for your latest electronic music production, UJAM's Beatmaker 2 collection might be just what you need.
The UJAM team includes some of the original designers of Steinberg's Virtual Guitarist and Groove Agent. Over the last few years, they have been bringing those virtual instrument concepts up to date, releasing a series of software guitarists, bassists and drummers. I've looked at a number of these instruments for SOS over the last year or so, and always been impressed by the balance UJAM have struck between ease of use, features, sound and price.
Among the instruments in the UJAM catalogue is a trio of electronic 'drummers' called Hustle, Dope and Eden, all of which have recently been updated to version 2. Available for Mac OS and Windows in all the usual formats, each caters for a different set of musical genres, but they share an underlying engine and the version 2 iteration brings some significant new features. So, whether it's EDM, hip-hop, trap or a related genre, can Beatmaker 2 help you get your groove on?
Like UJAM's virtual acoustic drummers Solid, Phat and Heavy (reviewed in the January 2020 issue of SOS), the Beatmaker 2 titles are built around three key elements. These are: a set of sample-based drum sounds — in this case, from electronic rather than acoustic sources; a collection of style-based preset patterns with easy triggering to jam out a full performance; and a user interface that, at least on the surface, emphasises efficient workflow rather than more detailed editing of sounds or performances.
As we shall see, one of the improvements in version 2 of UJAM's engine is that more detailed editing is now catered for. Even so, if you have already mastered an advanced drum sampler such as NI's Battery, Beatmaker 2 might not be for you. But if you are more focused on getting polished, compete, drum performances organised as efficiently as possible, read on!
The UIs for each of the three Beatmaker 2 variants have plenty in common. There's a topmost strip, which provides access to the global presets; these combine a kit, some mix settings and a collection of preset patterns. Below this, the colourful upper half of the UI allows you to pick a kit preset and adjust some macro-level parameters that control the kit's sound and pick (and adjust) a mix processing preset. Finally, the lower half of the UI provides a visual cue for the MIDI mapping, both for triggering the individual drum sounds so you can play your own patterns if you wish, and the various intro, verse, fill, chorus, ending, breakdown and 'special' patterns within the currently selected style preset. This section also provides a Latch option, plus access to the Micro Timing panel and, at the bottom, controls to customise both the individual drum sounds and the processing applied to the master output.
Although they share an underlying engine and UI, each of the three Beatmaker 2 titles is pitched at very different musical contexts.
The three instruments naturally have their own sets of drum sounds and patterns, but they also offer different macro controls for kit and mix tweaking. For example, in Eden, the kit macro controls allow you to quickly adjust the balance between snare and kick as well as the amount of 'kick pump' (a compression-based effect). Within Dope, by contrast, the latter parameter is replaced by a Vinyl Drive control more suited to Dope's intended hip-hop/rap sound palette. In addition, both Dope and Hustle offer a quantise option within the Micro Timing panel, while Eden provides a Swing adjustment.
There are 10 genre-specific drum kits within each title and you can mix and match between the various kits.
Whether it's from experience with other UJAM instruments, or with Steinberg's original Groove Agent, Beatmaker 2's pattern triggering will be familiar to many and is incredibly easy to use. Once you have tweaked the drum sounds to your taste, you can jam out a performance by simply triggering a sequence of the currently loaded patterns. Constructing a complete drum performance this way is about as easy as it gets. Don't knock the simplicity, though; the results can be very good. Those who are upgrading from version 1 should also find these version 2 titles 100 percent backwards-compatible, with existing projects able to be played back without any problems.
The number of global presets has been considerably expanded in each title, reflecting the increased kit/pattern count.Beatmaker version 2 doubles the number of preset kits in each title to 10, with a similar hike in the number of preset patterns. You can also mix and match sounds from the 10 kits within each instrument, as well as customising the individual sounds using the lower-left Volume, Decay, Pitch and Filter controls. The samples behind the various kits are solid and punchy. Also new is the Master section with its simple Filter sweep control, Saturation, Maximise and Ambience adjustment. Yes, it's a compact sound-shaping control set, but still provides very useful versatility.
For those who do require more control over the actual drum sounds, UJAM have added two further new features that allow you to exercise that control. However, rather than undermine their KISS design philosophy, UJAM have implemented these features in such a way that they are accessed in the host DAW.
First, you can now assign any drum sound to an individual output, bypassing Beatmaker 2's Master section, and process it with whatever tools you have available in your DAW's own mixer. Second, you can now also drag and drop Beatmaker 2 patterns onto a MIDI track of your DAW. These can then be edited as standard MIDI data and played back with Beatmaker or, of course, layered or replaced with another drum instrument. If you love the playability of Beatmaker 2 but want access to additional or alternative drum sounds, that's now easily achieved. These new features all seem to work very smoothly.
Individual outputs can now be assigned to each drum sound, allowing additional processing to be applied in your DAW's mixer if required.
Of course, the biggest difference between the three titles concerns the musical genres they each target. Although they share an underlying engine and UI, each of the three Beatmaker 2 titles is pitched at very different musical contexts. For Dope, it's hip-hop and rap, while Eden is aimed at EDM and rave, and Hustle is intended for trap and grime. These differences manifest themselves both through the drum sounds and the playing styles contained within the pattern sets.
For example, some of the kits within Dope have a TR-series drum-machine vibe that, combined with some of the pattern sets and mix presets, can easily put you into classic '90s hip-hop territory. In contrast, Eden has those big kick drum sounds, crisp snares and clacky claps set alongside patterns that shout four-on-the-floor. Hustle's trap/grime flavour is enhanced by the inclusion in every kit of a bass sound that can be sat alongside the kick drum. The unique feature of Hustle's Kit section controls the tuning of this bass sound. And, as all the key controls offer a MIDI Learn capability, if you want to vary this pitch in real time, that's easily achieved.
Patterns can now be dragged and dropped from Beatmaker 2 into your DAW, either for editing or playback using a different VST instrument.
Whilst expanding the sample content and the suite of preset drum patterns in these new Beatmaker 2 titles, UJAM have retained the streamlined workflow that underlies their entire product range. The expanded and new features are all welcome additions which give the user more flexibility, both within the instruments themselves and also in being able to take the patterns and the sounds out into their host DAWs for more extensive editing or sound-shaping. Hustle, Dope and Eden remain, however, supremely easy to work with, providing a means of generating very strong electronic drum parts with a minimum of fuss.
Their key design features undoubtedly point all three Beatmaker titles at specific potential user groups. I suspect that's perhaps not existing superstar hip-hop, EDM or trap producers, who might like to dig a little deeper in creating their drum sounds and beats. However, if drum editing and programming is not your thing, and you just want a super-solid drum track to build the rest of your production on, or you need results fast (and many media composers might sit in this group), Hustle, Eden and Dope could be just the thing within their individual styles. Given what's on offer, they are also very accessibly priced. And, with a 30-day free trial available for each title, you can also try before you buy. As long as you are in UJAM's target demographic, Beatmaker 2 could be a bit of a hit.
Pros
Version 2 plug-ins add many useful new features, but remain easy to use.
Solid sounds and cool patterns.
Competitively priced.
Cons
Perhaps more suited to beginner and intermediate rather than expert producers.
Summary
UJAM have added plenty of new content and features to this second iteration of the Beatmaker concept, but have also managed to retain the streamlined workflow that is a key attraction.
information
Hustle, Dope & Eden €69 each; various bundles also available. Prices include VAT.
Hustle, Dope & Eden $69 each; various bundles also available.
Test Spec
Apple iMac with 3.5GHz Intel Core i7 CPU and 32GB RAM, running Mac OS 10.13.6, Soundcraft Signature 12 interface.
Tested with Steinberg Cubase Pro 10.5.10.