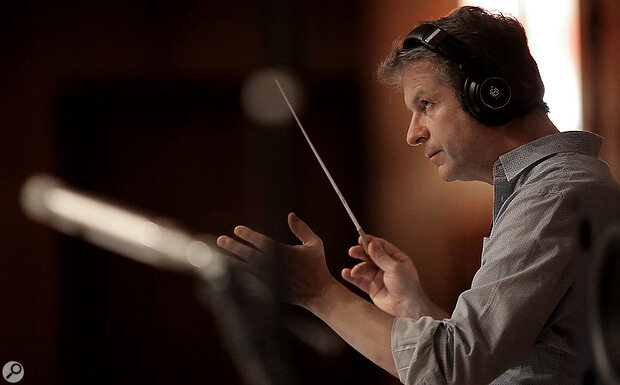 The Viennese maestros go intergalactic with their full-scale orchestra range.
Taking advantage of the large scoring stage which lies at the heart of their creative operation, Vienna Symphonic Library have pulled out all the stops for their latest project. The Big Bang Orchestra series features a massive 70-piece orchestra, six percussionists and 48 singers performing effects, textures, hits, chords, clusters, arpeggios, runs, riffs, rhythmic patterns and single-note multisamples, all recorded from multiple mic positions in VSL's historic Synchron Stage. Designed for maximum impact with minimal effort, these pre-orchestrated starter editions are available at entry-level prices, an incentive for new users to embark on a personal exploration of the Vienna musical universe.
It's one thing to record an orchestra in separate sections, quite another to capture the whole shooting match in one pass. With the latter approach you experience the sonic shock wave of a large musical ensemble letting rip in the same space, which can rival the noise of a jet engine — strings, brass and woodwinds interacting in a complex, intense and sometimes overpowering live mix. This uproarious racket can be heard in full effect in BBO: hence the series' name, and its marketing slogan, 'Have a Blast!'
BBO's 70 musicians perform live in the historic Vienna Synchron Stage.
The libraries' musical content was composed and orchestrated by Johannes Vogel and performed by the Synchron Stage Orchestra, an elite squad of instrumentalists and singers hand picked from world-class Viennese orchestras. At the time of writing the series comprises eight themed collections, with more to come: all run exclusively on VSL's free Synchron Player, but are not compatible with the company's older Vienna Instruments player. In this review we'll take a look at each BBO library with a view to giving an overview of the series.
You experience the sonic shock wave of a large musical ensemble letting rip in the same space, which can rival the noise of a jet engine.
BBO Free Basics (1.5GB) contains classic articulations played live by all 70 orchestral players. Instruments are blended across a playing range of A#1-D6, but since all notes incorporate multiple octaves you actually hear the orchestra's full seven-octave span, from a thunderous low A#0 up to a tinnitus-inducing D7. The low end is positively stentorian: on hearing the rasping bass trombones and low strings rattling my music room windows, my partner remarked, "It sounds like ready-made film music — really big, as if something amazingly momentous is about to happen." I guess that means these samples tick the requisite 'cinematic' box.
A smallish menu of presets includes three dynamic looped sustains and dramatic short-note stabs, which double as an optional marcato attack layer. The long notes are surprisingly versatile: a great timbre for loud, majestic fanfares, they also sound beautifully solemn and sonorous when played quietly and sparsely in the mid-range. In addition, there are tremendous swells and fast chromatic octave runs to a short accented target note, performed in six keys. All good riotous fun, delivered with gusto and attitude.
This library would be a good first step for anyone wanting to start a collection of full-orchestra performance samples. Though available as a free download, a ViennaKey USB protection device (which can be used to store all your VSL licenses) is also required.
The BBO Free Basics library features the 70-piece Synchron Stage Orchestra playing a set of essential articulations.
Named after the nearest major galaxy to the Milky Way, Andromeda (11GB) expands the menu of essential styles and adds close mic positions. New articulations include climactic crescendo swells (played longer than those in Free Basics), trills (which sound like a swarm of gigantic locusts when played by a whole orchestra), and earth-shaking massed tremolos. In a similar agitated vein are fast note repetitions played in a choice of three tempos, which generate a sense of hectic rhythmic excitement despite their lack of a pronounced pulse.
If you need a scary motif of the 'shark approaching!' variety, there are some terrific semitone falls — classic Jaws fodder when played in the bass, and decidedly psychotic at the high end. For less troubling scenarios, Andromeda offers its own freshly recorded set of long and short notes, very nicely played and well tuned. The shorts work well in rhythm passages, while the stately sustains combine instant gravitas with some volcanic tutti bass notes.
This library provides optional marcato attacks and a separate piccolo layer for all artics. I'm glad the piccolo is an optional extra as its piercing, ultra-high-pitched shriek gets tiresome quite quickly! Long-time VSL users will be pleased to see the company's trademark sforzato and sforzatissimo attacks included in the artics menu, along with expressive 'soft low brass' and 'soft swell' performances. All styles are performed by the entire orchestra and available within a single preset via an elaborate keyswitch system.
Were it not for the series' galactic theme, one might assume Black Eye owed its name to the enormous punch of some of its contents, in particular its grandiose orchestral hits. These offer some unusual variations on a familiar theme: built-in octave shifts spread the impact of the 'flam hits', while the 'delayed' style has the lower register parts sounding slightly later than the high instruments. But if you simply want the no-nonsense wallop of a straight orchestra hit, the 'graced' version provided here does the trick.
The phrase samples include a nicely voiced set of staccato chord stabs and some fantastic tutti octave runs. Brilliantly played in a choice of major and melodic minor scales, the runs are performed across the entire A#1-D5 range, so in most cases the same scale can be played in four different octaves. 'Rips', a quick triplet run up or down to a sustained target note, are also excellent, and have both mystery and comedy potential.
Standout effects phrases include the massive sforzando attack of 'echoes' and the chaotic swirling of the octave trills, the latter exciting in the high register. The slow 'microtuning' patch also sounds fantastically menacing in the low end, especially when smeared over a fistful of adjacent semitones. 'Seagull arpeggios' (a valiant attempt to double spooky harmonic-series string arpeggios with wind instruments) are arguably less successful, but I daresay imaginative composers will find a use for them.
As ever, atonal clusters are a great horror-film sonority. I liked the 'cluster to root' artic, in which a discordant pile of pitches collapses satisfyingly into a single note sustain, and admired the marcato 'Clusters B' sample mapped on D#5. This blaring, screaming voicing would be a fitting end to the bonkers symphonies you've all no doubt been cooking up in the lockdown period. All in all, this substantial 11GB collection is a great source of inspirational orchestral textures.
By far the largest BBO library, Capricorn (42.6GB) brings you ready-to-play four-bar orchestral phrases, enabling users to unleash full-scale symphonic riffs with one key press. A grand total of 24 phrases are divided into main, low and high patches, selectable on the fly via keyswitches. Played in a choice of three tempos at two dynamics and chromatically mapped for use in all keys, these looped ostinato patterns repeat seamlessly for as long as you hold down a key, and sync accurately to a click.
Capricorn provides ready-to-play, energetic orchestral phrases played at three tempos. A built-in time-stretching feature lets you change the tempo to fit your arrangement.
The riffs centre on the key note and often feature simple minor-key phrases. Highlights include 'Main riff 1' (pumping, repeated single eighth notes played with a 3+2+3 accent pattern) and 'Low riff 1', the same idea played as 3+3+2. 'Main riff 5' is another powerful eighth-note ostinato with a vaguely Arabic flavour, the galloping 'Main riff 6' has a historical-drama vibe (think jousting matches, Battle of Agincourt and Robin Hood: Men In Tights), while 'High riff 3' is a stirring, triumphal fanfare-like triplet motif for all occasions.
A comprehensive keyswitch system allows you to select tempo, release type (one of which adds an automatic final note to the riff), and eight variants each of the main, low and high riffs. The uppermost C6-C7 zone plays a combination of the selected low and high riffs, either of which can be muted with a 'tacet' keyswitch.
These energetic patterns have great propulsive feel and a distinct rock sensibility. Most would make good action and adventure cues, while some have a dramatic classical vibe. I was pleased to see a full score of the contents provided in the user account 'Tutorials' section, which is a great educational aid for students of orchestration.
Composers looking for the ultimate 'big bang' will likely head for BBO's percussion section. To that end, Dorado (13.7GB) provides a six-player percussion ensemble performing essential articulations. The group was recorded live with pairs of players in spaced left, centre and right positions, creating a panoramic soundscape; all performances were played at five dynamics with hard and soft beaters in a generous range of techniques displayed in an on-screen 'key info' chart.
A mouth-watering collection of instruments was trotted out for this project: the battling 'Monster Drums' combines two large taikos, two orchestral bass drums and two surdos, 'Thunder Toms' raises the roof with six differently sized concert toms, while three sets of piatti cymbals make an enormous splash in the 'Super Crashes' patch. Add a crisp snare ensemble, suspended cymbal crescendo rolls and the ominous, hellish clang of tam tam gongs, plate bells and anvil, and you have all the ingredients for the big, combative 'cinematic' percussion sound beloved of today's media composers.
It's not all epic: Indian mridangam, log drum and temple block create a more intimate world-music atmosphere in 'Special Drums', and 'Small Metal' features a child-friendly mix of triangles, jingle rings and cymbals. Quiet hits reveal some wonderful subtle, resonant sonorities which would shine in more delicate musical settings. The library also features some transformative processed mixes: 'voltage shot' brings to mind the classic 1980s gated snare effect, 'low boom' and 'low explosions' are ideal low-frequency signals for the surround 'sub' channel, and when applied to crash cymbals, 'phaser shot' sounds like the opening of a psychedelic concept album.
Imbued with a classy hall acoustic, these big, resonant hits sound like orchestral percussion should, a welcome alternative to the controlled studio sound of VSL's earlier libraries.
If you fancy adding percussion parts to Capricorn's symphonic riffs, Eridanus provides a ready-made solution. Composed by the versatile Johannes Vogel, these driving patterns exactly match the rhythms of the Capricorn set, and can also be used alone to energise any arrangement that requires propulsive orchestral percussion.
Featuring the combined force of up to six percussionists playing together, the 6.4GB phrase library replicates the playing positions and tempos used in Dorado. Main and low riffs are played on large taikos, bass drum and concert toms, while the high riffs (played in a choice of sticks and brushes) feature an unusual, exotic-sounding blend of small tom, cymbals, snare drum, congas and bongos. Single hits are also provided so you can add an emphatic 'bonk' to a pattern at any point!
Layering 'Main riff 3' with the corresponding Capricorn phrase produces instant film music: a triplet-based orchestral figure reminiscent of Ravel's 'Bolero', underpinned by big, booming drums played with a 12/8 feel (think John Williams' Superman theme). Contrasting with the low drums' warlike thunder is the less identifiable hand-drum-like timbre of the high riffs. Played with impressive precision, their tight, urgent performances include some great brush patterns.
Burning bright in BBO's night sky, Fornax contains a unique set of sounds created by blending tuned percussion with three grand pianos. These instruments (a Steinway D-274, Bösendorfer Imperial and Yamaha CFX) are not the sort you might find in the back room of a pub: they're collectively worth more than most people's houses, so getting all three for less than a hundred quid could be considered quite a bargain!
The 'Drums and Pianos' preset pits these expensive concert grands against a large taiko drum, timpani and a 36-inch bass drum to deliver thumping, dimly clangourous straight notes, dramatic crescendo rolls and some devastating, enormous-sounding cluster hits. For more subtle settings, the 'Big Timpani' soft beater performances add a gentle percussive kick, while the bass notes of 'Low Bells and Pianos' (which mixes the chimes of tubular and plate bells with the pianos' grumbling low octaves) would work a treat in a film music cue.
Though its tuned gongs hail from Burma, 'High Gongs' evokes the jingling timbre of Balinese gamelan by adding triangles and a suspended cymbal. I found that muting the cymbal's spot mics creates a lighter, more delicate and pretty sound. 'High Bells' is also very pleasant, an ear-catching chime which adds Eastern spice to the formal tones of European tuned percussion. You could use this patch to trace an orchestral top line, or even add to a pop chorus.
While this 17.4GB library's distinctive character stems largely from its high-range instruments, the heavier drums and timpani presets should appeal to those operating within 'cinematic' norms. For that style, the 'Spooky Melodies' and 'Doomsday' mixer presets add explosive aggression to the large drums, while some lovely ethereal effects are also available if you want to sprinkle fairy dust on the bell chimes.
The first leg of VSL's alphabetical stroll through the cosmos fetches up on Jupiter's largest moon. The first BBO library to contain true legato recordings (the brilliant interval-specific technique invented by VSL back in the day, now an industry standard), Ganymede features a mixed-voice choir of 48 singers divided equally into sopranos, altos, tenors and basses. The four sections were recorded individually and also together in real-time 'tutti' performances.
I had a great time playing the 'stacked' patches, which seamlessly map the sections over a full C2-D6 range suitable for two-handed playing. The looped three-dynamic sustains are blessed with immaculate tuning and sung in a plain style free of operatic 'wobble', so you can use them for any kind of music without fear of culture clashes. I also liked the graceful dynamic rise and fall of the 'espressivo' performances; by contrast, the loud, emphatic attack of the sforzato articulation is ideally suited to epic, big-screen productions.
This being an entry-level title, there's no 'word-building' feature. Latin phrases are also mercifully absent (I think if I hear another sampled choir piously intoning 'Sanctus', I'll go crazy — wake me up when they start including rude football chants). On the vowel front, these guys simply sing 'ah', a lyric few could take issue with.
The tutti effects contain some great material: dense, atonal clusters corresponding to those in Black Eye, cluster chords which slowly build up from low to high voices and vice versa, histrionic glissando slides and dynamic 'hah' and 'hooh' shouts performed from a sinister whisper to an exhilarating roar. This excellent 7.8GB library also includes sustained tutti major and minor chords in a full two-octave voicing, creating a triumphal and majestic effect.
As I write, news comes down the wire that Sir Richard Branson's Virgin Orbit rocket has failed on its debut flight. Ho hum. The report adds, "The history of rocketry shows that maiden outings very often encounter technical problems." Over in mainland Europe, some space explorers are enjoying better fortune. As SOS's newly appointed rocket correspondent, I'm pleased to report that VSL's debut venture into the far reaches of the musical cosmos has so far succeeded admirably, and looks set to give its buyers an exciting and fruitful voyage. Commencing countdown...
Of all the mega-sized orchestral collections out there, I've yet to find one (present company excepted) that provides a full symphonic contingent of strings, brass and woodwinds playing together live. That makes the Big Bang Orchestra's Free Basics, Andromeda, Black Eye and Capricorn collections unique, and given the scale of the project, it's remarkable that VSL are giving away the first title and selling the others at affordable prices.
Concentrating on titles in the lower price range, an alternative to BBO Dorado would be Red Room Audio's Saga Acoustic Trailer Percussion, recorded from two mic positions. For standalone orchestral percussion patterns, Cinesamples Deep Percussion Beds 1 has a similar stylistic slant to BBO Eridanus and offers more phrases, but only one stereo miking. No other sound library matches the pianos-plus-perc instrumentation of BBO Fornax, but affordable alternatives to the BBO Ganymede choir exist in the shape of Soniccouture's All Saints Choir and Soundiron's Requiem Light.
The Vienna Synchron Player's 'Dimension Tree' is a flexible switching system which shows all the available playing styles for an instrument. Coloured keys on the GUI keyboard correspond to the colour-coded 'dimension' slots. Note that the currently selected keyswitches (in this case, A0 and C1) are displayed with a darker colour.
The Synchron Player's large suite of effects includes a convolution reverb based on VSL's MIR Pro technology, delay, rotary speaker, distortion, low- and high-pass filters and a powerful compressor. Shown here are the multiband EQ section (top) and the mixer 'power pan' control, which allows you to adjust stereo width as well as L‑R balance.Designed to handle surround-sound formats up to 9.1, VSL's Synchron Player takes over where the stereo Vienna Instruments player software leaves off. The latter's matrix switching system has been replaced by the 'Dimension Tree', a series of switches arranged in columns. Each column contains a number of colour-coded slots displaying the name of a musical 'dimension' (ie. playing style or patch name): the same colours are shown on the interface's keyboard, making it easy to learn keyswitch layouts.
Patches can be layered or crossfaded by clicking on the 'stack' icon at the top right of the dimension column. Other facilities include a resizable screen, a great collection of built-in effects (including an algorithmic reverb), and a non-destructive time-stretching feature, which lets you automatically sync riffs to your host tempo.
In other good news, the software now works standalone on your desktop as well as a plug‑in in your DAW. What's not to like?
Pros
The first four titles feature a 70-piece orchestra recorded with all musicians playing together.
Dorado and Eridanus put the 'bang' in 'big bang', while Fornax offers unique tuned percussion colours.
Ganymede adds a flexible SATB choir of 48 singers.
The libraries collectively cover a comprehensive range of articulations, textures, effects and phrases.
Everything was recorded from multiple mic positions in a state-of-the-art soundstage.
Cons
Fails to answer the question, 'What was there before the Big Bang?'
Summary
Vienna Big Bang Orchestra pushes the boat out with a massive 70-piece orchestra, a choir and six percussionists letting rip in a series of themed libraries. Recorded in a historic soundstage from 10 mic positions, this extensive range of ready-to-play, pre-orchestrated performances and textures takes the strain out of creating dramatic scores. Practical and affordable for beginners, BBO also has plenty to offer pro users.
information
BBO Andromeda €130, BBO Black Eye €110, BBO Capricorn €95, BBO Dorado €95, BBO Eridanus €75, BBO Fornax €95, BBO Ganymede €160. Prices include VAT.
BBO Andromeda €130, BBO Black Eye €110, BBO Capricorn €95, BBO Dorado €95, BBO Eridanus €75, BBO Fornax €95, BBO Ganymede €160.