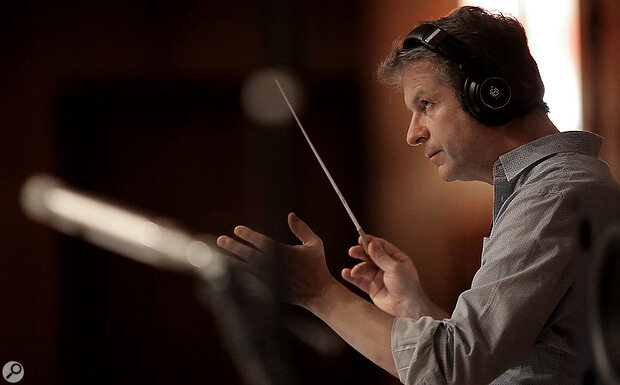 The Viennese maestros go intergalactic with their full-scale orchestra range.
Taking advantage of the large scoring stage which lies at the heart of their creative operation, Vienna Symphonic Library have pulled out all the stops for their latest project. The Big Bang Orchestra series features a massive 70-piece orchestra, six percussionists and 48 singers performing effects, textures, hits, chords, clusters, arpeggios, runs, riffs, rhythmic patterns and single-note multisamples, all recorded from multiple mic positions in VSL's historic Synchron Stage. Designed for maximum impact with minimal effort, these pre-orchestrated starter editions are available at entry-level prices, an incentive for new users to embark on a personal exploration of the Vienna musical universe.
It's one thing to record an orchestra in separate sections, quite another to capture the whole shooting match in one pass. With the latter approach you experience the sonic shock wave of a large musical ensemble letting rip in the same space, which can rival the noise of a jet engine — strings, brass and woodwinds interacting in a complex, intense and sometimes overpowering live mix. This uproarious racket can be heard in full effect in BBO: hence the series' name, and its marketing slogan, 'Have a Blast!'
BBO's 70 musicians perform live in the historic Vienna Synchron Stage.
The libraries' musical content was composed and orchestrated by Johannes Vogel and performed by the Synchron Stage Orchestra, an elite squad of instrumentalists and singers hand picked from world-class Viennese orchestras. At the time of writing the series comprises eight themed collections, with more to come: all run exclusively on VSL's free Synchron Player, but are not compatible with the company's older Vienna Instruments player. In this review we'll take a look at each BBO library with a view to giving an overview of the series.
You experience the sonic shock wave of a large musical ensemble letting rip in the same space, which can rival the noise of a jet engine.
BBO Free Basics (1.5GB) contains classic articulations played live by all 70 orchestral players. Instruments are blended across a playing range of A#1-D6, but since all notes incorporate multiple octaves you actually hear the orchestra's full seven-octave span, from a thunderous low A#0 up to a tinnitus-inducing D7. The low end is positively stentorian: on hearing the rasping bass trombones and low strings rattling my music room windows, my partner remarked, "It sounds like ready-made film music — really big, as if something amazingly momentous is about to happen." I guess that means these samples tick the requisite 'cinematic' box.
A smallish menu of presets includes three dynamic looped sustains and dramatic short-note stabs, which double as an optional marcato attack layer. The long notes are surprisingly versatile: a great timbre for loud, majestic fanfares, they also sound beautifully solemn and sonorous when played quietly and sparsely in the mid-range. In addition, there are tremendous swells and fast chromatic octave runs to a short accented target note, performed in six keys. All good riotous fun, delivered with gusto and attitude.
This library would be a good first step for anyone wanting to start a collection of full-orchestra performance samples. Though available as a free download, a ViennaKey USB protection device (which can be used to store all your VSL licenses) is also required.
The BBO Free Basics library features the 70-piece Synchron Stage Orchestra playing a set of essential articulations.
Named after the nearest major galaxy to the Milky Way, Andromeda (11GB) expands the menu of essential styles and adds close mic positions. New articulations include climactic crescendo swells (played longer than those in Free...
You are reading one of the locked Subscriber-only articles from our latest 5 issues.
You've read 20% of this article for free, so to continue reading...
Buy & Download this Single Article in PDF format

£1.00 GBP

$1.49 USD


For less than the price of a coffee, buy now and immediately download to your computer or smartphone.

Buy & Download the Full Issue PDF
Our 'full SOS magazine' for smartphone/tablet/computer. More info...