Understanding What's Important To You
In an ideal world, we'd monitor what's being recorded through our recording software. The problem is that getting the data into and out of the computer takes time, and if it takes too much time, there's an audible lag between playing a note and hearing it on headphones or speakers.
The total time taken for a signal to travel through a recording system, from source to monitor system, is known as the round-trip latency. Some people are more sensitive to latency than others, but once it gets much above 10 milliseconds, most will notice it. Interfaces are supposed to report their latency to the host computer, but many do not do so accurately. Latency is adjusted using a setting called buffer size. The lower the buffer size, the lower the latency — and the greater the demand on the computer's Central Processing Unit.
For any given buffer size, some interfaces will perform better than others, both in terms of the CPU load and of the actual latency they deliver. Thunderbolt and PCIe interfaces often outperform USB interfaces here, but another important factor is the driver software that handles data transfer between interface and computer.
Most Windows music software uses the ASIO (Audio Streaming Input Output) protocol to communicate with the audio interface. As this is a third-party standard, you'll always need to install a driver before you can use your interface.Many USB interfaces are 'class compliant', and can use the Apple driver built into the Mac OS operating system. This is good enough for most purposes, but interfaces that employ custom driver software usually perform even better. This includes some USB interfaces, and all Thunderbolt and PCIe models.
On Windows, recording software uses the ASIO driver format developed by Steinberg. This isn't part of Windows, so you'll always need to install a driver, and the quality of these is quite variable. Many manufacturers of USB interfaces license third-party driver software from developers such as Thesycon, whilst other manufacturers (such as RME) code their own drivers. The latter usually offer better performance, but the situation is complex and it isn't always easy to tell what driver a given interface actually uses.
For more detail and for rigorous measurements of low-latency performance on Windows computers, a visit to Vin Curigliano's DAWbench.com website is essential.
In general, low-latency performance is better today than 10 years ago. But even with the best drivers, a round-trip latency of under 5ms can be hard to achieve, especially on USB interfaces. For this reason, many audio interfaces build in a mixer which allows us to hear input signals without waiting for them to pass through the computer and recording software.
Small interfaces sometimes implement direct monitoring using a simple balance control, which allows some of the input signal to be directly fed into your headphones and monitors.On some small 'desktop' interfaces, this mixer is controlled using a simple knob that adjusts a balance between the direct input signal and the playback signal from your DAW recording software. Where more than a couple of inputs and outputs are concerned, though, manufacturers build in a digital mixer controlled from software.
Manufacturers take varied approaches to the design of digital mixers and the software that controls them. Some build in very powerful and complex mixers with endless routing options. Others concentrate on simplicity and ease of use, offering just enough functionality to cater for typical use cases. Yet others build in not only mixing features but also plug‑in equalisers, compressors, reverbs and other signal processors. Digital mixers in interfaces can sometimes be controlled remotely from tablets and phones, and even sometimes within recording software by the same manufacturer.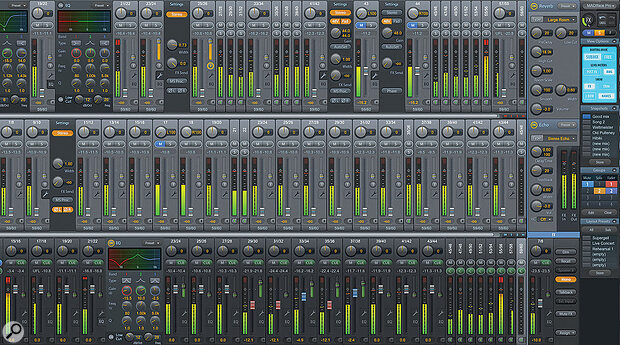 Larger interfaces often include sophisticated DSP mixing features, which are controlled from dedicated Mac OS and Windows programs.
Which of these approaches suits you is a matter of personal taste, but be aware that all of them can be implemented well or badly, and it pays to do some research. Read SOS reviews and check user forums online before parting with your cash. This is an aspect of interface design that's easily overlooked, but it will affect your day-to-day experience with the product like nothing else.
If you don't have other rackmount equipment, you may well find that a desktop interface is more convenient.
Besides the core features I've already described, there are other features that vary between audio interfaces. If you're still struggling to choose, perhaps these considerations will help to tip the balance:
Small interfaces can often be 'bus powered' through the USB or Thunderbolt cable, and some offer no alternative. Bus powering is convenient and makes the interface more portable, but can limit performance. For example, bus-powered interfaces often cannot drive headphones as loud as mains-powered rivals.
Some mains-powered interfaces require an external power supply unit. This can be inconvenient, and a lost or damaged PSU will put your studio out of action until it can be replaced.
Larger interfaces almost always adhere to the 19-inch rackmount format, but smaller ones come in many shapes and sizes, so ergonomic differences might affect your decision. If you are going to use your interface in a rack, do you want all the sockets on the back?
Level meters provide indispensable information about the amplitude of signals going in and out of your interface. This information is always available in software, but most interfaces also provide hardware meters too. If the reassurance and immediacy of good hardware metering is important to you, be aware that the functionality on offer is very variable, ranging from a single LED on some interfaces to highly configurable, colour touchscreen displays on others.
Some interfaces include MIDI In and Out ports for digital control of synthesizers.
Clear, comprehensive metering can be a big plus for some users.
Finally, always remember that an audio interface requires committed support from the manufacturer, for instance by providing driver updates. Some manufacturers have a better track record than others when it comes to providing this support, especially for discontinued models. Choose right, and your interface should last you through many OS and computer upgrades!
All manufacturers publish technical data about their products. Unfortunately, this often leaves out important measurements such as low-latency performance, but specifications can still be useful in deciding which model is right for us.
In some respects, the technical performance of modern audio interfaces is so good as to be a non-issue. For instance, all of them have a flat frequency response throughout the audible range, so won't audibly change the timbre of sounds going in or out. Many also offer a dynamic range of at least 110dB on both inputs and outputs, which is far more than is needed to capture any real-world signal. So an even higher dynamic range figure, for example, is perhaps best treated as a sign that the manufacturer knows what they're doing, rather than something that will directly benefit our recordings.
Specifications that make a real difference include gain range and maximum input level for mic preamps. The larger the gain range, the wider the range of input signal levels that can be accommodated. The maximum input level gives you a reference point for that versatility. If this is high — say, +23dBu — you'll know that you can safely record drums and other loud sources without fear of clipping. But unless the gain range is also high, it might be a struggle to get a respectable signal level on quiet sources, such as speech recorded with a dynamic mic. There is quite a lot of variation between interfaces, so it's worth thinking about what applications really matter to you. (Gain range is sometimes defined using maximum and minimum values, in which case you can calculate the range by subtracting the minimum from the maximum. If, for example, the minimum gain is -5dB and the maximum is +55dB, the total gain range is 60dB.)
If you record quiet sources, you want to be able to do so without adding unwanted noise. All mic preamps introduce some noise into the signal path, but some perform better than others in this respect. The key measurement here is Equivalent Input Noise or EIN. Look for the largest negative number and be aware that A‑weighted figures look better than unweighted ones. The very best preamps manage about -129dB unweighted, which equates to around -132dB A‑weighted.
On the output side, maximum output level for line outputs can be important if you want to connect your interface to old-school studio hardware. Most professional outboard is aligned for a maximum level of +20 or +24 dBu, but not all interfaces can generate this. This can mean that the outboard won't deliver optimum performance, and in extreme cases, you might struggle to get a hardware compressor to do anything if you can't feed it a strong enough level from your interface!
The built-in headphone outputs on audio interfaces also vary in sensitivity, and some can drive headphones louder than others. Unfortunately, this is a specification that is often presented in different ways or not at all, making it quite hard to compare rival products.
Four main connection protocols are in widespread use for connecting audio interfaces to Macs and PCs, though Ethernet is less relevant to project studios at present. I've summed up the main pros and cons of each in this table.
Connector
Pros
Cons
USB

Affordable and simple to use.
Future-proof.
Available on all computers.

Low-latency performance can be indifferent.
Interfaces generally can't be used in multiples.

Thunderbolt

Usually offers very fast low-latency performance.
Easy to use.
Often permits interfaces to be used in multiples.

Not universal on Windows computers.
More expensive than USB.
Thunderbolt cables are costly and rarely included with compatible audio interfaces.

PCIe

Generally offers the best low-latency performance.
Often permits a choice of converters.

Not available on laptops.
Typically a high-end professional option.

Ethernet

Extremely flexible, especially in multiroom installations.
Allows very long cable runs.
Multiple computers can share access to system.

Complex and can be hard to set up.
Low latency requires a dedicated Ethernet card in the computer.
Several rival, incompatible, standards.
Some manufacturers offer very similar interfaces with both Thunderbolt and USB connectivity.