Small Venue Sound Systems: A Buyer's Guide
Looking to start a new live music night? We tell you what you'll need and how to use it.
With Covid restrictions starting to ease, many pubs, bars and cafés will be looking to tempt customers back in after a dismal winter, and one of the best ways to do that is to host live music. Even though many of these places aren't really kitted out for 'proper' concerts, smaller‑scale open‑mic nights can be held in even the smallest of venues, and offer an excellent way to increase footfall on what would otherwise be a quiet weeknight.
So, now seems an excellent time to explore what kind of equipment a pub, café or similar venue might need to start up an open‑mic night, and also to offer some advice on how to set up a live‑music environment in a space that's not necessarily designed for it.
Before we worry about equipment, let's consider what kind of act you'll be dealing with. In my experience, the vast majority of open‑mic performers are solo singer‑guitarists, followed by duos (sometimes two singer‑guitarists, sometimes one singer and one guitarist, or something in between), followed by singing keyboardists and sometimes the odd trio, perhaps adding a fiddler, banjo player or cajonist to the usual duet line‑up.
You'll notice I've not mentioned drum kits; that's because 'full‑size' bands tend to take too long to set up to work in the quickfire format that an open‑mic night presents. It's not worth spending half an hour miking up a band for a 15‑minute set, and besides, bands tend to book 'proper' gigs at dedicated venues, whereas less experienced solo and duo artists have more to gain from the impromptu, informal nature of an open‑mic night.
We're not dealing with enormous channel counts then, or cavernous spaces, and nor are we aiming for ear‑splitting SPLs. So what kind of PA system should you consider?
A couple of decades ago, you'd have expected to build up a rig in modular fashion: you'd have an analogue mixer for your artists to plug into, which in turn would be connected to a power amp and then your main speakers. If you had stage monitors, you'd need a separate amp for those as well, and then you might also have a graphic EQ for both the mains and monitors, and possibly an effects unit if you want some vocal reverb and delay. That option is still available, but thankfully there's a huge range of cheaper and more user‑friendly alternatives about now!
Active PA speakers with lightweight and efficient Class‑D amplification built in are a common sight at open‑mic nights, and for very good reasons: they're convenient, easily transportable and don't require you to wheel out a massive amp rack. They also usually have a couple of inputs and a rudimentary mixer built into them, which can get you out of a tight spot if your mixer fails. Good examples of the type of speaker I'm talking about are JBL's long‑running EON series, Mackie's SRM range, numerous RCF models, Yamaha's DSR and DXR speakers, the PreSonus AIR series, Alto's TX speakers and Yorkville's YXL range, among many others. The technology that goes into portable, lightweight active PA speakers is very mature, and even the highly affordable models like DV's Fame series will be more than capable of doing the job.
As to how many you need, that depends on the space. You may be able to get away with just one for front‑of‑house in a smaller room, but you might benefit from two in a larger area. In either case, though, with a traditional 'box' PA, you may also need some kind of stage monitor — I'll discuss monitoring options a little later on.
Alternatively, you can opt for one of the growing crop of mini line‑array systems. For reasons too complicated to explain in full here (our 2006 feature on 'Line Arrays Explained' is the place to go for that), these behave quite differently to traditional 'box' speakers, in ways that can be extremely useful in live sound. First, they 'beam' sound much more widely than traditional speakers do, while having relatively restricted dispersion vertically — which, given that your audience will likely be arrayed at more or less ground level, rather than stacked on top of each other, is a much better use of energy than throwing sound at the floor and ceiling. Secondly, and perhaps most importantly, they're much more resistant to feedback than 'box' speakers are. So much so, in fact, that you can often get away with placing a line‑array‑type speaker behind a vocal mic — which means your performers won't need a separate monitor.
Another advantage these sorts of systems have is that they take up very little space, even discounting the fact that you can save space by not having a separate stage monitor. That's something that the owners of small cafés, and pub‑restaurants where dining tables make up a big chunk of income, will really appreciate.
Compact line arrays have come down in price significantly over the last few years, with affordable options including LD Systems' Maui 11 2G, Fame Audio's Everest Sled, the SubZero SZPA, the Bose F1 and Yamaha's Stagepas 1K.
Some of the more upmarket line arrays, like this Electro-Voice Evolve 50M, even incorporate a fully-featured digital mixer, which can be controlled remotely via WiFi.Like many traditional speakers, most of those have a basic analogue mixer built in, but some column‑style systems, such as the JBL PRX One, Mackie SRM‑Flex and Electro‑Voice Evolve, go even further, by building in a digital mixer that can be controlled via WiFi, allowing you to adjust things like levels, EQ and effects from an iPad or Android tablet.
At the premium end of the market, you could also consider systems from Bose, HK Audio and Fohhn.
Once you've got some speakers, assuming you've not bought one of the high‑tech models with a mixer built in, you'll need a separate mixer to plug your mics, acoustic guitars, mandolins, hurdy‑gurdys and whatnot into. Personally, I'm a fan of a good old‑fashioned analogue desk. You always know where you are with one, there are no hidden features or functions to trip you up (it's no good spending five minutes trying to figure out why you can't hear anything if the set is only 10 minutes long), and there's something reassuring about an analogue fader in what can be a feedback‑prone environment (DI'ed acoustic instruments plus PA speakers in a small room mean you need to watch your levels carefully).
You can't beat a simple analogue mixer (like this Yamaha MG12) for instant familiarity and ease of use.You probably won't need a huge number of inputs: half a dozen mic channels should be plenty for almost any situation an open‑mic night can throw at you. However, it might be wise to choose a mixer that has either a stereo mini‑jack input or a Bluetooth input, for playing back music between sets, as well as a few line inputs to accommodate keyboards, looping pedals and the like. You might also want to look for a mixer with a high‑impedance (often labelled 'Hi‑Z' or simply 'instrument') channel or two, which could save you the expense of buying a separate DI box.
Suitable analogue desks abound, with the main contenders including Soundcraft (the Notepad, EFX and Signature series), Mackie (the Mix and ProFX models), Yamaha's MG series and Allen & Heath's ZED and MixWizard models. If you wanted to push the budget a little further, you could go for one of the recent crop of analogue mixers that's capable of capturing multitrack recordings — which you can offer to mix for your performers, or use to promote your open‑mic night online.
If you like the idea of making multitrack recordings but don't want want to go digital, Korg's SoundLink mixers and Tascam's Model range offer multitrack recording in an analogue console.The Korg SoundLink mixers, Tascam's Model 16 and 24 and the new Mackie Onyx range are all capable of recording each of their input channels individually, to either a USB drive or SD card. For small events in pubs and the like, I really appreciate how discreetly you can make recordings on those desks — lugging a laptop and interface around is not only inconvenient, but it trebles (or more) the number of points of failure, and a screen with a DAW on it also has a way of distracting both the audience and the performers themselves.
Whether you go for a recording mixer or not, it's worth picking one that has a built‑in effects section. For many open‑mic acts you'll be able to get away with a completely dry sound — no‑one expects to hear Sistine Chapel acoustics in the Dog & Duck — but a hint of reverb, especially on quiet, intimate singers, and on DI'd acoustic instruments, can really elevate things.
Tascam Model 16.
Despite being digital, PreSonus' StudioLive series of desks have been designed to work much like their analogue counterparts.Of course, if you want the bells and whistles of multitrack recording and built‑in effects — plus many more besides — then the obvious place to look is a digital mixer, and if you're happy to forego the immediacy of an analogue fader, there's no reason not to go digital. Indeed, PreSonus' established StudioLive range was specifically conceived to combine the benefits of digital with the immediacy and familiarity of analogue. The design mostly sticks to the 'one fader per channel' paradigm, meaning there's minimal risk of you getting lost in an aux returns page while some poor guitarist is feeding back like a banshee, but you still get built‑in effects, motorised faders, graphic EQs on mains and monitors, and, on the newer Series III models, direct‑to‑SD multitrack recording.
However, even the smaller StudioLive 32SC is still pretty big, and with its dozen outputs and networking capabilities, it's a bit of a sledgehammer in the context of an open‑mic night. A more appropriate, and certainly cheaper, option if you need faders might be Zoom's LiveTrak L8 or L12. While they doesn't have motorised faders or audio networking, they're both compact and lightweight, but still capable of making multitrack recordings sans computer, and storing and recalling presets. Other similar options which include faders are RCF's M20X, Behringer's Flow 8 and the StudioMaster DigiLive 16.
Zoom's LiveTrak series of digital mixers offer multitrack recording straight to SD card.
If you can live without faders, your digital options open up considerably. For starters, there are some very capable digital mixers that use a touchscreen interface rather than physical controls, and are all the more compact for it — notably QSC's highly regarded TouchMix range, and Behringer's strikingly similar X18.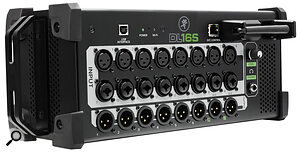 Some digital mixers, such as this Mackie DL16S, have no controls at all and are designed to be driven entirely by a phone or tablet, whereas others, like QSC's TouchMix models, offer some local 'backup' control from an integrated touchscreen.
All of the digital mixers I've mentioned here have remote control functionality, whereby you can adjust mixes, EQ, effects settings and recording using a smartphone or tablet connected via WiFi. In the context of larger gigs, that kind of funcionality tends to be put to use in letting artists set up personal monitor mixes, or having a systems engineer wander freely around the arena to tune their delay stacks. Neither of those are likely to apply in your local open‑mic night, but the concept does beg the question: if you can do everything using a smartphone, why have a control surface at all? Especially when you consider that every table with a mixing desk on it is a table the café owner or pub landlord can't fill with paying customers?
If the idea of strolling around with a tablet like Geordie LaForge on the engineering deck appeals, and you trust yourself to fully charge your smart device before every gig, you could plump for one of the many rackmount or stagebox‑format digital mixers on offer.
Many of the manufacturers listed here have made remote‑control‑only versions of their mixers, which have all the same I/O, DSP and recording features, but are obviously rather cheaper because they've omitted expensive components like encoders and motorised faders — take the 'R' (for Rackmount) versions of PreSonus' StudioLive mixers, for example, the similarly shrunken‑down Zoom LiveTrak L‑20R, and Behringer's X Air mixers.
RCF's M18 performs a similar trick, but adds guitar and bass amp modelling to the mix, while Mackie's DL series comprises both stagebox‑ and rackmount‑format digital mixers, with the DL1608 incorporating an iPad dock that both charges your iPad and provides a direct (non‑WiFi) connection.
Soundcraft's UI series are another affordable option, while at the pricier end, Yamaha's TF‑Rack and Allen & Heath's Qu‑Pac dispense with the faders, but keep a kind of 'centre section' screen and rotary encoders, which allow you to take control of a show even if your router has a fit or your tablet has an unfortunate encounter with a pint of dry‑hopped American lager.
Assuming you've not chosen one of the mini line arrays I mentioned earlier, your artists are going to need some way of hearing themselves while they perform. The traditional solution is a stage wedge, and in a typical small open‑mic venue, you'll probably only need the one, even for a two‑ or three‑piece band. Indeed, the 8‑ or 10‑inch models in the Yamaha, Mackie, JBL, Fame Audio, RCF and PreSonus ranges I listed earlier would be more than up to the task, especially given that they're built into angled cabinets that let you point them upwards when you lay them sideways on the floor.
Floor wedges do take up space, however, and if you're in a particularly cramped environment you might want to go for one of the mini mic‑stand‑mounted options, like the Galaxy Audio PA6S or Mackie's SRM150. These are small and light enough to attach to a microphone stand, and fire sound straight at the singer.
Unlike conventional stage wedges, which you'd normally feed from one of your mixer auxes so that you can set up an independent monitor mix, these speakers have their own mic inputs (two on both models), with volume controls for each, and a 'thru' output that passes the microphone signal onto your front‑of‑house mixer. The advantage with this approach is that the singer can adjust their monitoring volume themselves, which gives you one less thing to worry about.
These two speakers do differ in terms of features, though. The Galaxy Audio model has two mic inputs with a separate 'thru' output for each, meaning two singers can share the monitor, with independent levels, while still giving you control over their relative levels in the main mix. The Mackie can also accommodate two microphones, but has just the one 'thru' send, so you'll always be stuck with whatever relative mix the two singers settle on. In its favour, though, one of its channels can be set to instrument mode, making it a one‑stop solution for singing guitarists, and also an excellent contingency plan if you main PA system fails.
Some acoustic instrument amplifiers have more in common with PA systems than guitar amps. Fishman's Loudbox series, for example, feature multiple microphone inputs and built‑in effects, making them suitable for monitoring, or even as a standalone backup system.A third option for monitoring, and which will also do backup duties, is an acoustic instrument amp. Unlike normal guitar amps, these tend to have tweeters, meaning they can reproduce high frequencies effectively. They also usually have flexible input options and decent mixing functionality built in — typically a microphone input or two, at least one high‑impedance instrument input, a line input for backing tracks and the like, and even onboard reverb/delay. They also tend to have plenty of output options, like 'thru' outs for the individual inputs as well as a full mix output, making them easy to integrate into a 'main' system.
Good examples come from the likes of AER, Fishman, Roland, Fender, and indeed most of the major guitar/bass amp brands like Marshall and Ashdown.