Get A Decent Result Every Time!
Recording an instrument you've not encountered before can seem daunting. Here's a rule of thumb that guarantees a decent result every time.
You'll find countless how‑to guides which take you in detail through a whole raft of techniques for miking conventional instruments. But sometimes you'll encounter something a little out of the ordinary, and you won't have such a reliable body of advice to fall back on. At other times, you might simply find yourself on a session having to record something more 'normal' but which you've not recorded before, and have no time to research it.
In both cases, you need to be able to get a good sound down, so what do you do? Well, a simple rule of thumb has served me very well over the years, and in this article I'll take you through it. If you tuck this 'trick' away in your mental toolkit, along with a good understanding of mic polar pickup patterns (there's another article explaining more about that here), you need never be fazed by a new recording situation again!
The first thing to point out is that close‑miking unfamiliar sources with a single mic is rarely a good bet. Why? Well, if you place the mic too close you're unlikely to accurately capture the instrument's sonic character. Different parts of the instrument are likely to vibrate or resonate in different ways so, at best, you'll favour one part of the instrument over another. At worst, not only might there be variation in the levels of different notes, but you'll also fail to capture information that's crucial to the instrument's character.
Placing a single mic far away from the instrument will avoid those problems so will ensure that you capture the whole instrument, but it will also mean you capture lots of the room acoustic. Unless you're working in an acoustically sympathetic space — not always an option — that's not going to be desirable either, and even if it's a broadly pleasant‑sounding space, it might not always be one that's appropriate for the song/mix in question.
The human hearing system and microphones are not alike — so simply placing your mic where an instrument sounds good will often yield disappointing results.To find a good point between those two extremes, it might seem obvious that you could simply wander around the room and place the mic where you hear the instrument sounding good. For example, you might try pointing a mic over the player's shoulder, close to their ear, so as to capture something close to what the player can hear. Sometimes this approach can work reasonably well, especially if you have time to refine the mic position to find the sweet spot. But microphones don't 'hear' the world in the way that we do, which makes that approach unreliable. For starters, our mental processing helps us to ignore unwanted sonic elements, such as poor room acoustics, a player's breathing or the rustle of clothing, and mics just can't do that.
Furthermore, a mic can't successfully mimic the way sounds arriving from different directions are picked up with different frequency responses because of the shape of our ears. In fact, the directional response of a microphone is very different from that of the human ear (even if a 'dummy head' setup can get you close). Unidirectional (ie. cardioid and hypercardioid) mics tend to lose high‑end sensitivity as the sound source moves off axis, so although things might sound subjectively good to you at a particular point in space, the off‑axis room ambience won't be rendered accurately by the mic and you could well end up with something that sounds boxier and duller than you'd hoped for. Similarly, if using a cardioid with a reasonably tight focus to capture a large instrument/ensemble, you might find that notes on the extreme edges of the source are of a slightly different tonality than those emanating from the centre. You should hear that sort of thing when you listen back on headphones or monitors, but it's as well to know why it's happening and what action to take to improve it.
An omni mic doesn't suffer the same issues because it picks up sound in a consistent way, regardless of direction. But that means it is also unlike the human hearing system. Still, where the room acoustics are sympathetic to the instrument, an omni mic is likely to yield better results, even if you need to place it a little closer to the source to achieve the same ratio of direct to reflected sound as with a cardioid.
It might seem obvious that you could simply wander around the room and place the mic where you hear the instrument sounding good. But microphones don't 'hear' the world in the way we do...
If none of those mic choice and placement options guarantee a good recording, then, what can? My 'rule of thumb' miking method strikes a good compromise between excluding unwanted room ambience and picking up the sound from the instrument as accurately as possible. It isn't perfect, simply because many instruments radiate sound in different ways at different angles. But, on the whole, it works very well as a way of establishing an initial mic position. (Note that I said 'mic' rather than 'mics'? If in doubt, I strongly recommend starting with a single mic, since this helps you side‑step a number of potential pitfalls, which I've explored in the 'One Mic Or Two?' box.)
Essentially, my rule of thumb requires you to establish three things: first, from which part or parts of the instrument the most sound is projected; second, the primary direction in which it is projected; and, third, the influence of the reflections in the room.
Although while writing this article I have in mind miking unfamiliar sources, it's probably helpful if I run through a familiar example to explain the principles, so let's start by considering an acoustic guitar. Most of the guitar's sound emanates from its vibrating body top, with relatively little coming directly from the strings above the neck. But there's a different tonal balance at different positions on the body top. Consequently, if you move the mic too close, you'll only pick up part of the sound and some positions will be particularly problematic. For example, if you get too close to the guitar's soundhole you'll pick up a lot of boominess because the soundhole acts as a kind of bass port.
If you're to capture a fully integrated sound with one mic, then, you must move the mic far enough away that sounds from all over the body top are picked up more or less evenly. "How far?" I hear you ask. Just set your initial mic distance to match the longest dimension of the sound‑emitting part of the instrument.
In this case, that means placing the mic at a distance equal to the length of the guitar's body. That ensures the mic 'hears' the whole instrument, but what about its directionality? With an unfamiliar instrument, you'll need to listen carefully to determine that. If you do so with our acoustic guitar, you'll find that the main projection is broadly perpendicular to the top, but that the instrument also generates a considerable amount of off‑axis sound. Given these parameters, a mic distance of perhaps 30 to 35 cm from the guitar's body, with the mic aimed fairly centrally, should capture a reasonably accurate sound.
Finally, you'd consider the room reflections. The larger the instrument or ensemble, the further away the mic needs to be, and thus the greater the influence of the room will be on your recording. But you also need to consider the floor and ceiling reflections, which means the best height for the mic will be influenced by the room in which you're recording.
When you're focusing on a specific sound, your hearing system is truly exceptional at filtering all of this stuff out, so you must make a conscious effort to assess what you hear. But in a sympathetic‑sounding room, this balance between instrument and room is very much a matter of taste. Of course, we've already refined our mic techniques for the acoustic guitar (usually by favouring the neck end of the body in order to produce a musically satisfying sound, with no soundhole boom). But if you'd come across one for the first time, this simple method would ensure you captured something usable.
With that familiar example in the bag, let's consider some of the different instrument types you might encounter. There are obviously plenty of string instruments that will share some of the guitar's characteristics and might be approached in a similar way: it should give you a starting point for miking, say, an oud or a pipa.
Wind instruments come in all shapes and sizes! Start by figuring out if the sound comes from the mouthpiece, keys/finger holes, the bell or open end, or all of the above. For flute‑like instruments, you'll probably end up with the mic above the instrument and mid‑way along its length, as the sound comes from multiple places. For others, the mic might end up aiming at the bell from a bell's width away.
Now let's imagine that you've encountered an obscure ethnic wind instrument for the first time, and would like to record it. First, you'd listen, to discern where the sound actually comes from — and it might emanate from more parts of the instrument than you first imagine. With a flute‑like instrument or something that uses a reed, there'll be sound coming from the mouthpiece, from the open end, and from the fingering holes or valves when open. Thus, you'd use the full length of the instrument as your initial mic distance.
You'd then need to find the angle that gives you the optimum balance of those elements that contribute to the overall sound. While the room reflections will influence your mic placement, you'll probably find that you end up with the mic above the instrument and maybe mid‑way along its length, rather than just pointing at the open end. If the instrument seems highly directional at some frequencies you might want to experiment a bit more with how you angle the mic, or perhaps pull it back a bit further to capture a fuller image while increasing the contribution of the room.
For something more akin to a trumpet or trombone, which uses valves or slides to change the effective length of the tube, the same 'rules' would lead you to a different decision because, while some sound is emitted from the resonating metalwork, the vast majority of it comes from the open end. In such cases, with the mic aimed at the bell, you could reasonably use the diameter of the flare as your minimum mic distance.
Another good example is the tongue drum: one of those instruments that looks like a metal flying saucer with cut‑outs in the top surface to create a series of tongues, which play a series of tuned notes when struck with the fingers. If you adhere to the same process again, it's easy to establish that sound comes from all over the instrument's surface, and that makes the diameter of the drum a safe bet as your initial mic distance.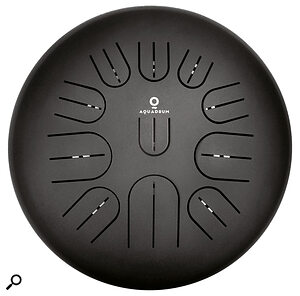 A tongue drum projects sound down as well as out from the top surface. With similar instruments, it's worth experimenting with placements above, to the side and below the instrument.These instruments and others like them radiate in all directions but you needn't let that confuse you: again, miking from above should capture a fairly accurate sound, and you can also experiment by moving off‑axis to see if there's a sweeter‑sounding spot. Tongue drums are also dipole‑like, though: they have a hole in the bottom half of the shell that allows some sound to be projected downwards. So it's also worth experimenting with miking underneath, from a similar distance.
It's trickier when you find that different parts of an instrument radiate in different directions. To take another familiar example, if miking an acoustic drum kit with a single mic, you'll notice that the kick drum is aimed so that, primarily, it projects horizontally. The tom and snare heads, meanwhile, project vertically. Using the width of the whole kit at its widest point as your mic distance, a good approach is to make some test recordings with the mic at various heights, starting at mid‑kick‑drum height and going up to maybe two metres (assuming you have the room height to allow that without reflections becoming problematic). Make some test recordings, and listen back to see at which height the mic delivers the most desirable sound and the best balance.
As with the guitar, we have many established approaches that work for traditional drum kits, but the principles apply to many more obscure instruments that present the same challenges.
This universal technique for establishing a mic's distance from the source is a great way to get usable results from pretty much any instrument, but there are always ways to improve on the initial results.
If you start with the minimum placement and find that the room acoustic isn't fighting you, try pulling the mic a little further back from the source and compare the results. Moving the mic closer is likely to change the tonal balance for the worse but if several instruments are playing together and spill is a concern, it's worth experimenting: listen carefully for tonal balance changes and mechanical noises from the instrument, and if there's an imbalance with instruments that produce different notes from a different part of their anatomy (like acoustic keyboard instruments), try shifting the microphone to favour the notes that are too quiet. Moving the mic off‑axis can also sweeten the sound if the instrument comes across as too brash‑sounding. But if the sound stays the way you want it when you move the mic, the distance is fine.
You don't need to use a tape measure, but you do need to figure out the longest axis of the part of the instrument from which sound emanates. For this West African balafon, that's the full length of the instrument.There's a world of stereo and multi‑mic techniques to explore and, in time, you should. But I strongly recommend starting your recording experiments with a single mic, as this neatly side‑steps several potential pitfalls, not least that with spaced microphones there's always a risk of phase‑cancellation problems.
For instruments that are played in a fixed position (for example a xylophone or one of its ethnic counterparts, such as the West African balafon) you're usually on safe ground using a coincident stereo technique, such as X‑Y and Mid‑Sides, as these don't create phase‑cancellation problems. Handheld instruments, though, often move around during a performance, so you can still end up with unwanted image shifts. That said, there's little risk in setting up your mono mic, as described in the main article, and then adding a side‑facing figure‑8 to create a Mid‑Sides array. Even if you decide the ambience isn't desirable or find that the instrument moves across the stereo field, you can jettison the Sides signal and still be left with a decent mono recording. (You can find out more about M‑S recording in SOS March 2020: https://sosm.ag/mid-sides-intro.)
You might occasionally find that a second mic can helpfully reinforce your main mono mic. For example, where an instrument projects different frequencies in different directions and an undesirable room sound means you need to get in closer than you'd like, I'd start by getting the best possible balance using one mic and only then adding a second if there's genuinely something important missing. Again, you must be careful here about the phase relationship between the mics, and it's important that you listen to their signals combined as you place the second mic. You're on safer ground adding a more distant 'room' mic. Being further away, this will capture a good balance of the instrument and will be different enough that phase isn't an issue.
Which microphone should you use to capture an unfamiliar source? If you only have one mic then the choice has already been made for you, but while your options may be limited my guiding principles will still lead you to a decent result.
If you have more than one mic available, though, there are some factors to weigh up when making your choice. I've explored the pros and cons of the different microphone polar pickup patterns in this article, but it's worth reiterating here that omni mics have a much more even off‑axis frequency response than their cardioid pattern equivalents, so they should generally provide a more even tonality across the width of an instrument such as, say, a vibraphone or glockenspiel. An omni mic placed at the same position will pick up more room ambience but if the room acoustic isn't sympathetic to the instrument, you can put an absorber such as a duvet, vocal shield, acoustic foam or gobo behind the microphone to improve the balance of direct to reflected sound.
While a dynamic mic can often deliver a perfectly acceptable result, instruments that project a lot of high‑frequency detail or fast transients might be better served by a capacitor mic — these tend to have a better high‑frequency reach than typical dynamic models. That said, if you want to deliberately dull or smooth the top end, a ribbon or moving‑coil dynamic mic might work better.
If you have a choice between large or small‑diaphragm mics, then you'll generally find that small‑diaphragm models will be voiced to give a flatter, more accurate response, whereas large‑diaphragm models will often have some kind of presence lift built in. Also, small‑diaphragm mics tend to be slightly kinder to high‑frequency sounds that arrive off axis. With large diaphragms, off‑axis sounds arrive at one edge of the diaphragm very slightly earlier than at the other, and this 'time smearing' manifests itself as a filtering effect that's detrimental to very high frequencies. Conventional small‑diaphragm 'pencil' mics are inherently slightly noisier than large‑diaphragm mics, but for most single‑mic instrument recordings that's unlikely to be a factor that will sway your decision.