Secrets Of The Mix Engineers: Jonathan Low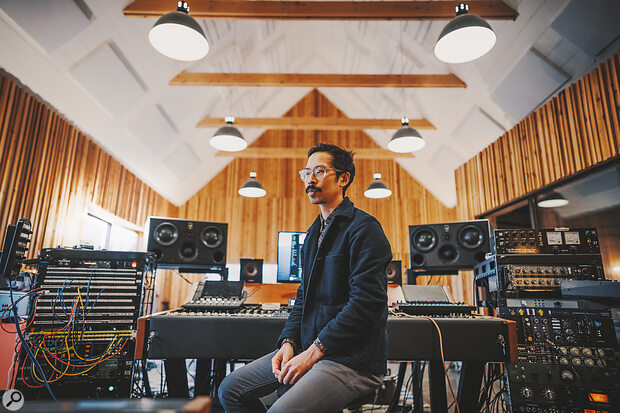 Jonathan Low at Long Pond Studios.Photo: Josh Goleman
From sketches to final mixes, engineer Jonathan Low spent 2020 overseeing Taylor Swift's hit lockdown albums folklore and evermore.
"I think the theme of a lot of my work nowadays, and especially with these two records, is that everything is getting mixed all the time. I always try to get the songs to sound as finalised as they can be. Obviously that's hard when you're not sure yet what all the elements will be. Tracks morph all the time, and yet everything is always moving forwards towards completion in some way. Everything should sound fun and inspiring to listen to all the time."
Speaking is Jonathan Low, and the two records he refers to are, of course, Taylor Swift's 2020 albums folklore and evermore, both of which reached number one in the UK and the US. Swift's main producer and co‑writer on the two albums was the National's Aaron Dessner, also interviewed in this issue. Low is the engineer, mixer and general right‑hand man at Long Pond Studios in upstate New York, where he and Dessner spent most of 2020 working on folklore and evermore, with Swift in Los Angeles for much of the time.
"In the beginning it did not feel real," recalls Low. "There was this brand‑new collaboration, and it was amazing how quickly Aaron made these instrumental sketches and Taylor wrote lyrics and melodies to them, which she initially sent to us as iPhone voice memos. During our nightly family dinners in lockdown, Aaron would regularly pull up his phone and say, 'Listen to this!' and there would be another voice memo from Taylor with this beautiful song that she had written over a sketch of Aaron's in a matter of hours. The rate at which it was happening was mind‑blowing. There was constant elevation, inspiration and just wanting to continue the momentum.
"We put her voice memos straight into Pro Tools. They had tons of character, because of the weird phone compression and cutting midrange quality you just would not get when you put someone in front of a pristine recording chain. Plus there was all this bleed. It's interesting how that dictates the attitude of the vocal and of the song. Even though none of the original voice memos ended up on the albums, they often gave us unexpected hints. These voice memos were such on‑a‑whim things, they were really telling. Taylor had certain phrasings and inflections that we often returned to later on. They became our reference points."
The making of the National's 2017 album Sleep Well Beast and the setup at Long Pond were covered in SOS October 2017; today the studio remains pretty much the same, with the exception of a new desk. "The main space is really big, and the console sits in the middle," says Low. "In 2019, I installed a 1965 WSW/Siemens, which has 24 line‑in and microphone channels and another 24 line channels. WSW is the Austrian branch of Siemens usually built for broadcast. It's loaded with 811510B channels. The build quality is insane, the switches and pots feel like they were made yesterday. To me it hints at the warm haze of a Class‑A Neve channel but sits further forward in the speakers. The midrange band on the passive EQ is a huge part of its charm, it really does feel like you're changing the tone of the actual source rather than the recording. Most microphones go through the desk on their way into Pro Tools, though we sometimes use outboard Neve 1064 mic pres. Occasionally I use the Siemens to sum a mix.
"We have a pair of ATC SCM45 monitors, which sound very clear in the large room. The ceiling is very high, and the front wall is about 25 feet behind the monitors. There are diffusers on the sidewalls and the back walls are absorbing, so there are very few reflections. Aaron and I will be listening in tons of different ways. I'll listen in my home studio with similar ATC SCM20 monitors or on my '70s Marantz hi‑fi setup. Aaron is always checking things in his car, and if there's something that is bugging him, I'll join him in his car to find out what he hears."
The WSW/Siemens console takes pride of place at Long Pond. The outboard rack to the right includes the Lisson Grove compressor (the green unit in the middle) that was used for Taylor Swift's vocals.Photo: Jonathan Low
Low works at Long Pond and with Dessner most of the time, though he does find time to do other projects, among them this last year the War On Drugs, Waxahatchee and Nap Eyes. When lockdown started in Spring 2020, Low stacked up on supplies and "had a bunch of mixes lined up". Meanwhile, on the West Coast, Swift had seen her Lover Fest tour cancelled. With help from engineer Laura Sisk, she set up a makeshift studio which she dubbed Kitty Committee in a bedroom in her Los Angeles home, and began working with long‑term producer and co‑writer Jack Antonoff. At the end of April, however, Swift also started working with Dessner, which took the project in a different direction. The impressionistic, atmospheric, electro‑folk instrumentals Dessner sent her were mostly composed and recorded by him at Long Pond, assisted by Low.
"The instrumental sketches Aaron makes come into being in different ways," elaborates Low. "Sometimes they are more fleshed‑out ideas, sometimes they are less formed. But normally Aaron will set himself up in the studio, surrounded by instruments and synths, and he'll construct a track. Once he feels it makes some kind of sense I'll come in and take a listen and then we together develop what's there.
"I don't call his sketches demos, because while many instruments are added and replaced later on, most of the original parts end up in the final version of the song. We try to get the sketches to a place where they are already very engaging as instrumental tracks. Aaron and I are always obsessively listening, because we constantly want to hear things that feel inspiring and musical, not just a bed of music in the background. It takes longer to create, but in this case also gave Taylor more to latch onto, both emotionally and in terms of musical inspiration. Hearing melodies woven in the music triggered new melodies."
Not long after Dessner and Low sent each sketch to Swift, they would receive her voice memos in return, and they'd load them into the Pro Tools session of the sketch in question. Dessner and Low then continued to develop the songs, in close collaboration with Swift. "Taylor's voice memos often came with suggestions for how to edit the sketches: maybe throw in a bridge somewhere, shorten a section, change the chords or arrangement somewhere, and so on. Aaron would have similar ideas, and he then developed the arrangements, often with his brother Bryce, adding or replacing instruments. This happened fast, and became very interactive between us and Taylor, even though we were working remotely. When we added instruments, we were reacting to the way my rough mixes felt at the very beginning. Of course, it was also dictated by how Taylor wrote and sang to the tracks."
Dessner supplied sketches for nine and produced 10 of folklore's 16 songs, playing many different types of guitars, keyboards and synths as well as percusion and programmed drums. Instruments that were added later include live strings, drums, trombone, accordion, clarinet, harpsichord and more, with his brother Bryce doing many of the orchestrations. Most overdubs by other musicians were done remotely as well. Throughout, Low was keeping an overview of everything that was going on and mixing the material, so it was as presentable and inspiring as possible.
Although Dessner has called folklore an "anti‑pop album", the world's number‑one pop mixer Serban Ghenea was drafted in to mix seven tracks, while Low did the remainder.
"It was exciting to have Serban involved," explains Low, "because he did things I'd never do or be able to do. The way the vocal sits always at the forefront, along with the clarity he gets in his mixes, is remarkable. A great example of this is on the song 'epiphany'. There is so much beautiful space and the vocal feels effortlessly placed. It was really interesting to hear where he took things, because we were so close to the entire process in every way. Hearing a totally new perspective was eye‑opening and refreshing.
"Throughout the entire process we were trying to maintain the original feel. Sometimes this was hard, because that initial rawness would get lost in large arrangements and additional layering. With revisions of folklore in particular we sometimes were losing the emotional weight from earlier more casual mixes. Because I was always mixing, there was also always the danger of over‑mixing.
"We were trying to get the best of each mix version, and sometimes that meant stepping backwards, and grabbing a piano chain from an earlier mix, or going three versions back to before we added orchestration. There were definitely moments of thinking, 'Is this going to compete sonically? Is this loud enough?' We knew we loved the way the songs sounded as we were building them, so we stuck with what we knew. There were times where I tried to keep pushing a mix forward but it didn't improve the song — 'cardigan' is an example of a song where we ended up choosing a very early mix."
folklore was finished and released in July 2020. In a normal world everyone might have gone on to do other things, but without the option of touring, they simply continued writing songs, with Low holding the fort. In September, many of the musicians who played on the album gathered at Long Pond for the shooting of a making‑of documentary, folklore: the long pond studio sessions, which is streamed on Disney+.
The temporary presence of Swift at Long Pond changed the working methods somewhat, as she could work with Dessner in the room, and Low was able record her vocals. After Swift left again, sessions continued until December, when evermore was released, with Dessner producing or co‑producing all tracks, apart from 'gold rush' which was co‑written and co‑produced by Swift and Antonoff. Low recorded many of Swift's vocals for evermore, and mixed the entire album. The lead single 'willow' became the biggest hit from the album, reaching number one in the US and number three in the UK.
"Before Taylor came to Long Pond," remembers Low, "she had always recorded her vocals for folklore remotely in Los Angeles or Nashville. When I recorded, I used a modern Telefunken U47, which is our go‑to vocal mic — we record all the National stuff with that — going straight into the Siemens desk, and then into a Lisson Grove AR‑1 tube compressor, and via a Burl A‑D converter into Pro Tools. Taylor creates and lays down her vocal arrangements very quickly, and it sounds like a finished record in very few takes."
In his mixes, Low wanted listeners to share his own initial response to these vocal performances. "The element that draws me in is always Taylor's vocals. The first time I received files with her properly recorded but premixed vocals I was just floored. They sounded great, even with minimal EQ and compression. They were not the way I'm used to hearing her voice in her pop songs, with the vocal soaring and sitting at the very front edge of the soundscape. In these raw performances, I heard so much more intimacy and interaction with the music. It was wonderful to hear her voice with tons of detail and nuances in place: her phrasing, her tonality, her pitch, all very deliberate. We wanted to maintain that. It's more emotional, and it sounds so much more personal to me. Then there was the music..."
The arrangements on evermore are even more 'chamber pop' than on folklore, with instruments like glockenspiel, crotales, flute, French horn, celeste and harmonium in evidence. "As listeners of the National may know, Aaron's and Bryce's arrangements can be quite dense. They love lush orchestration, all sorts of percusion, synths and other electronic sounds. The challenge was trying to get them to speak, without getting in the way of the vocals. I want a casual listener to be drawn in by the vocal, but sense that something special is happening in the music as well. At the same time, someone who really is digging in can fully immerse themselves and take in all the beauty deeper in the details of the sound and arrangement. Finding the balance between presenting all the musical elements that were happening in the arrangement and this really beautiful, upfront, real‑sounding vocal was the ticket.
"A particular challenge is that a lot of the detail that Aaron gravitates towards happens in the low mids, which is a very warm part of our hearing spectrum that can quickly become too muddy or too woolly. A lot of the tonal and musical information lives in the low mids, and then the vocal sits more in the midrange and high mids. There's not too much in the higher frequency range, except the top of the guitars, and some elements like a shaker and the higher buzzy parts of the synths. Maintaining clarity and separation in those often complex arrangements was a major challenge."
Jonathan Low: I will use hardware when mixing in the box, though mainly just two units: the Eventide H3000, because I have not found any plug‑ins that do the same thing, and the [Thermionic] Culture Vulture, for its very broad tone shaping and distortion properties.
According to Low, the final mix stage for evermore was "very short. There was a moment in the final week or so leading up to the release where the songs were developed far enough for me to sit down and try to make something very cohesive and final, finalising vocal volume, overall volume, and the vibe. There's a point in every mix where the moves get really small. When a volume ride of 0.1dB makes a difference, you're really close to being done. Earlier on, those little adjustments don't really matter.
"I often try to mix at the console, with some outboard on the two‑bus, but folklore was mixed all in the box, because we were working so fast, plus initially the plan was for the mixes to be done elsewhere. I ran a couple of mixes for evermore through the console, and 'closure' was the only one that stuck. It was summed through the Siemens, with an API 2500 compressor and a Thermionic Culture Phoenix and then back into Pro Tools via the Burl A‑D. I will use hardware when mixing in the box, though mainly just two units: the Eventide H3000, because I have not found any plug‑ins that do the same thing, and the [Thermionic] Culture Vulture, for its very broad tone shaping and distortion properties.
"The writing and the production happened closely in conjunction with the engineering and mixing, and the arrangements were dense, making many of the sessions super hefty and actually quite messy. Sounds would constantly change roles in the arrangement and sometimes plug‑ins would just stack up. So final mixing involved cleaning up the sessions and stemming large groups down."
Download the detailed view Pro Tools session screenshot:


insidetrack0321taylorswiftprotoolssession.jpg.zip
This composite screen capture shows the entire Pro Tools Edit window for 'willow'.The Pro Tools mix session of 'willow' has close to 100 tracks, though there's none of the elaborate busing that's the hallmark of some modern sessions. At the top are six drum machine tracks in green from the Teenage Engineering OP‑1, an instrument that was used extensively on the album. Below that are five live percusion tracks (blue), three bass tracks (pink), and an 'AUX Drums' programming track. There's a 'rubber bridge' guitar folder and aux, OP‑1 synth tracks, piano tracks, 'Dream Machine' (Josh Kaufman's guitar) and E‑bow tracks, Yamaha, Sequential Prophet X, Moog and Roland Juno synth tracks, and Strings and Horns aux stem tracks.
"Most of the drum tracks were performed on the OP‑1 by Aaron. These are not programmed tracks. Bryan Devendorf, drummer of the National, programmed some beats on a Roland TR‑8S. I ran those though the Fender Rumble bass amp, which adds some woofiness, like an acoustic kit room mic. There's an acoustic shaker, and there's an OP‑1 backbeat that's subtle in the beginning, and then gets stronger towards the end of the song. I grouped all the drum elements and the bass, and sent those out to a hardware insert with the Culture Vulture, for saturation, so it got louder and more and more harmonically rich. There is this subtle growing and crescendo of intensity of the rhythm section by the end.
"The 'rubber bridge' guitars were the main anchor in the instruments. These guitars have a wooden bridge wrapped in rubber, and sound a bit like a nylon‑string guitar, or a light palm mute. They're very percusive and sound best when recorded on our Neumann U47 and a DI. On many of those DI tracks I have a [SPL] Transient Designer to lower the sustain and keep them punchy, especially in the low end. There's a folder with five takes of 'rubber bridge' guitar in this session, creating this wall of unique guitar sound.
This lengthy chain of plug‑ins was used to process the 'rubber bridge' guitars.
"I treated the 'rubber bridge' guitars quite extensively. There's a FabFilter Pro‑Q3 cutting some midrange frequencies and some air around 10kHz. These guitars can splash out in the high end and have a boominess that's in the same range as the low end of Taylor's vocal, so I had to keep these things under control. Then I used a SoundToys Tremolator, with a quarter‑note tremolo that makes the accents in the playing a bit more apparent. I like to get the acoustic guitars a little bit out of the way for the less important beats, so I have the Massey CT5 compressor side‑chained to the kick drum. I also used the UAD Precision K‑Stereo to make the guitars a bit wider. The iZotope Ozone Exciter adds some high mids and high‑end harmonic saturation sparkly stuff, and the SoundToys EchoBoy delay is automated, with it only coming on in the bridge, where I wanted more ambience."
"Once we had figured out how to sit the 'rubber bridge' guitars in the mix, the next challenge was to work out the end of the song, after the bridge. Taylor actually goes down an octave with her voice in the last chorus, and at the same time the music continues to push and grow. That meant using a lot of automation and Clip Gain adjustment to make sure the vocal always stayed on top. There also are ambient pianos playing counter‑melodies, and balancing the vocals, guitars and pianos was the main focus on this song. We spent a lot of time balancing this, particularly as the track grows towards the end.
"The vocal tracks share many of the same plug‑ins and settings. On the main lead vocal track I added the UAD Pultec EQP‑1A, with a little bit of a cut in the low end at 30Hz, and a boost at 8kHz, which adds some modern air. The second plug‑in is the Oeksound Soothe, which is just touching the vocal, and it helps with any harsh resonance stuff in the high mids, and a little in the lower mids. Next is the UAD 1176AE, and then the FabFilter Pro‑Q3, doing some notches at 200Hz, 1kHz, 4kHz and close to 10kHz. I tend to do subtractive EQ on the Q3, and use more analogue‑sounding plug‑ins, like the Pultec or the Maag, to boost. After that is the FabFilter Pro‑DS [de‑esser], taking off a couple of decibels, followed by the FabFilter Saturn 2 [saturation processor], on a warm tape setting.
Taylor Swift's vocal went through a number of plug‑ins, though most were not making radical changes to the sound.
"Below the vocal tracks are three aux effects tracks, for the vocals. 'Long Delay' has a stereo EchoBoy going into an Altiverb with a spring reverb, for effect throws in the choruses. 'Chamber' is the UAD Capitol Chamber, which gives the vocal a nice density and size, without it being a long reverb. The 'Plate' aux is the UAD EMT140, for the longer tail. These two reverbs work in conjunction, with the chamber for the upfront space determining where the vocal sits in the mix, and the plate more for the depth behind that.
"At the bottom of the session is a two‑bus aux, which mimics the way I do the two‑bus on the desk. The plug‑ins are the UAD Massive Passive EQ, UAD API 2500 compressor, and the UAD Ampex ATR102. Depending on the song, I will choose 15ips or 30ips. In this case it was set to 15ips, half‑inch GP9. That has a nice, aggressive, midrange push, and the GP9 bottom end goes that little bit lower. There's also a PSP Vintage Warmer, a Sonnox Oxford Inflator, plus a FabFilter Pro‑L2 [limiter]. None of these things are doing very much on their own, but in conjunction give me the interaction I expect from an analogue mix chain."
"I'm originally from Philadelphia," says Jonathan Low, "and played piano, alto saxophone and guitar when growing up. My dad is an electrical engineer and audiophile hobbyist, and I learned a lot about circuit design and how to repair things. I then started building guitar pedals and guitar amps, and recorded bands at my high school using a minidisc player and some binaural microphones. After that I did a music industry programme at Drexel University, and spent a lot of time working at the recording facilities there.
"This led to me meeting Brian McTear, a producer and owner of Miner Street Studios, which became my home base from 2009 to 2014. I learned a lot from him, from developing an interest in creating sounds in untraditional ways, to how to see a record through to completion. The studio has a two‑inch 16‑track Ampex MM1200 tape machine and a beautiful MCI 400 console which very quickly shaped the way I think about routing and signal flow. I'm lucky to have learned this way, because a computer environment is like the Wild West: there are no rules in terms of how to get from point A to point B. This flexibility is incredible, but sometimes there are simply too many options.
"I met Aaron [Dessner] because singer‑songwriter Sharon van Etten recorded her second album, Epic [2010] at Miner Street, with Brian producing. Her third album, Tramp [2012] was produced by Aaron. They came to Philly to record drums and I ended up mixing a bunch of that record. After that I would occasionally go to work in Aaron's garage studio in Brooklyn, and this became more and more a regular collaboration. I then moved from Philly up to the Hudson Valley to help Aaron build Long Pond. We first used the studio in the spring of 2016, when beginning to record the National's album Sleep Well Beast."