Secrets Of The Mix Engineers: Jonathan Low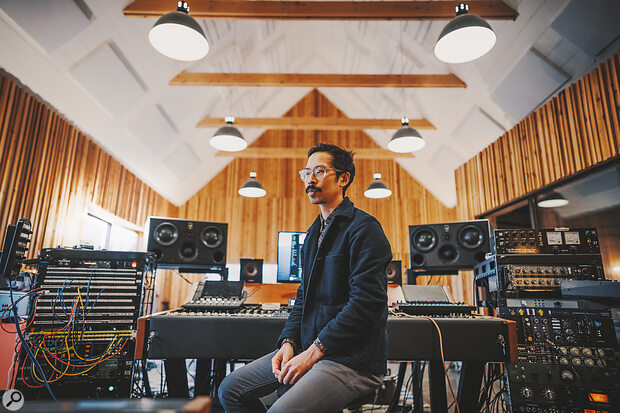 Jonathan Low at Long Pond Studios.Photo: Josh Goleman
From sketches to final mixes, engineer Jonathan Low spent 2020 overseeing Taylor Swift's hit lockdown albums folklore and evermore.
"I think the theme of a lot of my work nowadays, and especially with these two records, is that everything is getting mixed all the time. I always try to get the songs to sound as finalised as they can be. Obviously that's hard when you're not sure yet what all the elements will be. Tracks morph all the time, and yet everything is always moving forwards towards completion in some way. Everything should sound fun and inspiring to listen to all the time."
Speaking is Jonathan Low, and the two records he refers to are, of course, Taylor Swift's 2020 albums folklore and evermore, both of which reached number one in the UK and the US. Swift's main producer and co‑writer on the two albums was the National's Aaron Dessner, also interviewed in this issue. Low is the engineer, mixer and general right‑hand man at Long Pond Studios in upstate New York, where he and Dessner spent most of 2020 working on folklore and evermore, with Swift in Los Angeles for much of the time.
"In the beginning it did not feel real," recalls Low. "There was this brand‑new collaboration, and it was amazing how quickly Aaron made these instrumental sketches and Taylor wrote lyrics and melodies to them, which she initially sent to us as iPhone voice memos. During our nightly family dinners in lockdown, Aaron would regularly pull up his phone and say, 'Listen to this!' and there would be another voice memo from Taylor with this beautiful song that she had written over a sketch of Aaron's in a matter of hours. The rate at which it was happening was mind‑blowing. There was constant elevation, inspiration and just wanting to continue the momentum.
"We put her voice memos straight into Pro Tools. They had tons of character, because of the weird phone compression and cutting midrange quality you just would not get when you put someone in front of a pristine recording chain. Plus there was all this bleed. It's interesting how that dictates the attitude of the vocal and of the song. Even though none of the original voice memos ended up on the albums, they often gave us unexpected hints. These voice memos were such on‑a‑whim things, they were really telling. Taylor had certain phrasings and inflections that we often returned to later on. They became our reference points."
The making of the National's 2017 album Sleep Well Beast and the setup at Long Pond were covered in SOS October 2017; today the studio remains pretty much the same, with the exception of a new desk. "The main space is really big, and the console sits in the middle," says Low. "In 2019, I installed a 1965 WSW/Siemens, which has 24 line‑in and microphone channels and another 24 line channels. WSW is the Austrian branch of Siemens usually built for broadcast. It's loaded with 811510B channels. The build quality is insane, the switches and pots feel like they were made yesterday. To me it hints at the warm haze of a Class‑A Neve channel but sits further forward in the speakers. The midrange band on the passive EQ is a huge part of its charm, it really does feel like you're changing the tone of the actual source rather than the recording. Most microphones go through the desk on their way into Pro Tools, though we sometimes use outboard Neve 1064 mic pres. Occasionally I use the Siemens to sum a mix.
"We have a pair of ATC SCM45 monitors, which sound very clear in the large room. The ceiling is very high, and the front wall is about 25 feet behind the monitors. There are diffusers on the sidewalls and the back walls are absorbing, so there are very few reflections. Aaron and I will be listening in tons of different ways. I'll listen in my home studio with similar ATC SCM20 monitors or on my '70s Marantz hi‑fi setup. Aaron is always checking things in his car, and if there's something that is bugging him, I'll join him in his car to find out what he hears."
The WSW/Siemens console takes pride of place at Long Pond. The outboard rack to the right includes the Lisson Grove compressor (the green unit in the middle) that was used for Taylor Swift's vocals.Photo: Jonathan Low
Low works at Long Pond and with Dessner most of the time, though he does find time to do other projects, among them this last year the War On Drugs, Waxahatchee and Nap Eyes. When lockdown started in Spring 2020, Low stacked up on supplies and "had a bunch of mixes lined...
You are reading one of the locked Subscriber-only articles from our latest 5 issues.
You've read 20% of this article for free, so to continue reading...
Buy & Download this Single Article in PDF format

£1.00 GBP

$1.49 USD


For less than the price of a coffee, buy now and immediately download to your computer or smartphone.

Buy & Download the Full Issue PDF
Our 'full SOS magazine' for smartphone/tablet/computer. More info...