Cakewalk Tips & Techniques
We continue our exploration of Cakewalk's oft–overlooked Sonitus plug-in suite.
In our previous Cakewalk workshop [see SOS July 2019 issue] we covered the Sonitus EQ, Compressor and Delay. In case you missed it, the premise is that the Sonitus plug-ins shouldn't be dismissed just because they were born over two decades ago. They were ahead of their time then — and in many respects they still are.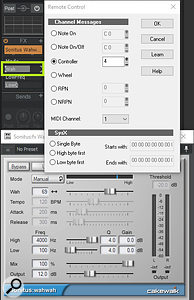 Screen 1: You can set the Sonitus Wahwah plug-in to respond to a hardware controller such as a pedal.If you have amp simulators with wahs, you might think the Wahwah plug-in is redundant — but it's not just a wah! It can also act as an envelope-controlled filter in Triggered mode, or be LFO-controlled in Auto Wah mode. (Note, though, that the LFO doesn't sync to tempo — you need to set the tempo in the plug-in manually.) It has four really useful features that help it stand out. First, you can change the frequency, Q and gain for the toe-down and toe–up positions. This offers significant tonal flexibility. Furthermore, the toe-down and toe–up parameters cover the same range, so in Triggered mode, the wah can sweep up or sweep down. There's a mix control for parallel processing, making the effect viable for bass, funky drums, and other applications without needing a separate effects bus. FinalIy, it's really easy to control the wah frequency with a pedal. Here's how:
1. In the Console view, choose Options / FX / Show Assignable Controls to display four of the Wahwah parameters under the effects rack. You can reassign these, but the default includes the Wah parameter that varies the frequency.
2. Right-click on the Wah parameter in the Assignable Controls section (not on the plug-in itself), and choose Remote Control.
3. Click on the Controller...
You are reading one of the locked Subscriber-only articles from our latest 5 issues.
You've read 20% of this article for free, so to continue reading...
Option 1: Buy and download this single SOS article in Adobe PDF format
For less than the price of a coffee shop drink, buy this article now and immediately download the PDF file to your computer or smartphone.
Single article PDFs look identical to the printed magazine layouts (but exclude advertisements).
Note: Some shorter articles don't always have a PDF version.
Option 2: Buy a great value DIGITAL subscription (or Print+Digital) and open ALL web articles & Full Issue PDFs instantly!
It opens ALL premium web articles, plus our Tablet edition App, and now includes your monthly FREE Full Issue PDF download (worth

£3.99

$5.99

each).
Or contact our Subs staff to discuss an upgrade price to add Digital access to your existing Print subscription.
Option 3: Buy & Download TODAY the Full Issue PDF
From January 2018 edition, we began selling a FULL ISSUE PDF 'replica magazine' for the cost of a handful of single PDF articles. More info...
Try these FREE sample FULL ISSUE PDFs on us!