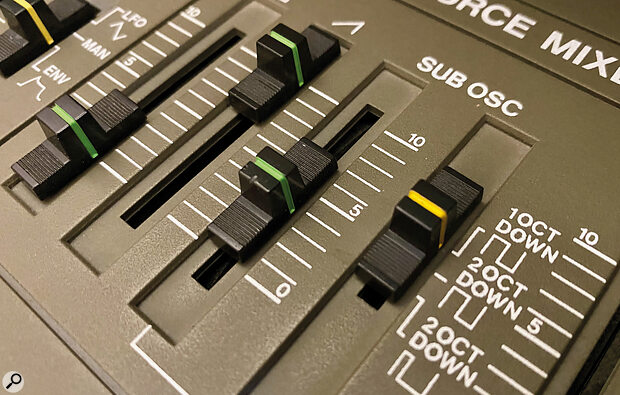 Make your mixes easier by getting the bass right from the start.
When it comes to contemporary production, it's safe to say that one of the most troublesome areas to get absolutely right is the bass. This bizarrely simple, yet seemingly complicated, instrument can cause no end of trouble for many producers, so we're going to look at useful ways to utilise the power of the synth bass, by navigating those choppy deep‑bass waters!
Speaking traditionally, basses tend to come in two shapes or sizes; it all started with the double bass, which is a purely acoustic instrument, hosting four strings stretched along the length of a large wooden, hollow body. Double basses are normally associated with orchestral or soundtrack music, where a massed section of basses will create acoustic volume. The double bass is also heavily associated with jazz, where the use of a mic or pickup for amplification purposes assists in keeping the volume of a double bass in‑line with other instruments within a jazz combo, such as drum kit or electric pianos and guitars.
It's partly the desire for greater volume that resulted in the development of the electric bass guitar; this instrument normally adopts a solid wood body, with inbuilt pickups, much like a regular electric guitar. In line with their guitar brethren, electric basses also require amplification, making them perfect for band work.
However, the undeniable rise of the synth bass as a viable alternative to its string‑based cousins, extends back to its increase in popularity in the early '70s, spurred on by diverse jazz‑fusion pioneers such as Herbie Hancock and Stevie Wonder, and the electronic pioneers from Europe. The synth bass is more prevalent than ever in contemporary production, but in something of a shape‑shifting form.
Before we get on to styling our own synth bass sounds, it's important to consider the role of the bass, in production terms. This will most likely be informed by the style of music you are making, but there is one undeniable point, which is pivotal, yet easily overlooked.
The primary role of the bass part, in just about all mainstream music, is to shore‑up and solidify the harmony found within your song, track or composition. Thinking of your bass as the foundation to your track's harmonic content will create a far more coherent construct, and from this the production elements will...
You are reading one of the locked Subscriber-only articles from our latest 5 issues.
You've read 20% of this article for free, so to continue reading...
Buy & Download this Single Article in PDF format

£1.00 GBP

$1.49 USD


For less than the price of a coffee, buy now and immediately download to your computer or smartphone.

Buy & Download the Full Issue PDF
Our 'full SOS magazine' for smartphone/tablet/computer. More info...