Steinberg Cubase Tips & Techniques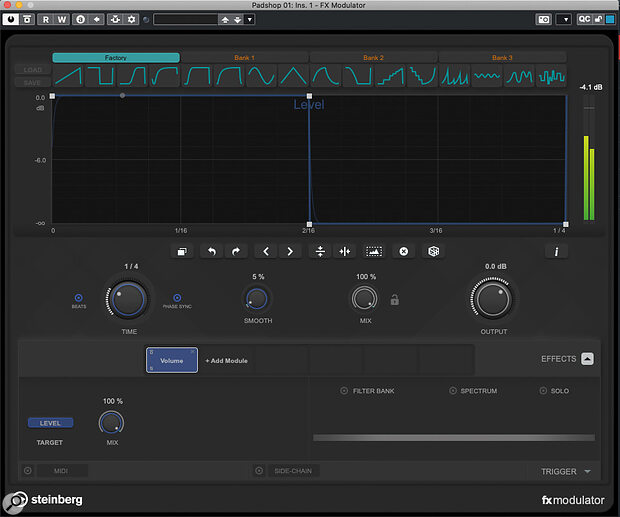 Screen 1: A simple step on/off modulation curve to control Level within FX Modulator's Volume module, made using the second Factory curve preset in the top row.
FX Modulator brings powerful new creative processing options to Cubase 12
Included with the Pro and Artist versions of Cubase 12, Steinberg's FX Modulator is a multi‑effects plug‑in which takes an approach that's reminiscent of Output's Movement and Cable Guys' ShaperBox. It comes with plenty of cool presets and these are well worth exploring if you want to find out what it can do, but it's also a very approachable plug‑in that makes it pretty easy to design your own effects from scratch. This article will take you through some examples, and on the SOS website (https://sosm.ag/cubase-0822) you can find some audio clips that should bring them to life.
FX Modulator has lots of potential uses but first we'll look at creating rhythmic effects from a sustained sound. As my starting point, I've used Padshop's somewhat anonymous‑sounding Mellow preset with the in‑built delay turned off — but the same principles could be applied to any source sound.
Screen 1 shows an instance of FX Modulator inserted on my Padshop track. Any combination of FX Modulator's 14 individual effects modules could be modulated to create rhythmic effects, but I've picked the simple Volume module for this example. This module offers a single parameter for modulation: Level, as shown bottom‑left of the UI. We can create a modulation curve to control this parameter in the upper panel. Some modules offer multiple parameters: for example, the Filter module allows you to modulate both Frequency and Q (resonance), and you can create independent modulation curves for each parameter.
FX Modulator ships with a bank of Factory curve presets which you can't overwrite, as well as three banks of empty curve preset slots for your own creations. In this example, I've simply selected the second Factory preset curve, which steps the Level between maximum and zero once over the timebase of the envelope. This timebase can be changed with the Time control and, in this case, I've selected 1/4 so, when I trigger a sound in Padshop, I get a (very!) simple quarter‑note rhythm, as FX Modulator follows the modulation curve over the selected timebase. Yay: job done!

Screen 2: More complex rhythmic patterns can easily be created by combining the Factory preset curves. In this case, the curve's vertical range has also been compressed using the editing tools.
You are reading one of the locked Subscriber-only articles from our latest 5 issues.
You've read some of this article for free, so to continue reading...
Log in - if you have a Subscription you bought from SOS.

Buy & Download this Single Article in PDF format

£1.00 GBP

$1.49 USD


For less than the price of a coffee, buy now and immediately download to your computer or smartphone.

Buy & Download the Full Issue PDF
Our 'full SOS magazine' for smartphone/tablet/computer. More info...

RECORDING TECHNOLOGY: Basics & Beyond
Claim your FREE 170-page digital publication
from the makers of Sound On Sound — CLICK HERE