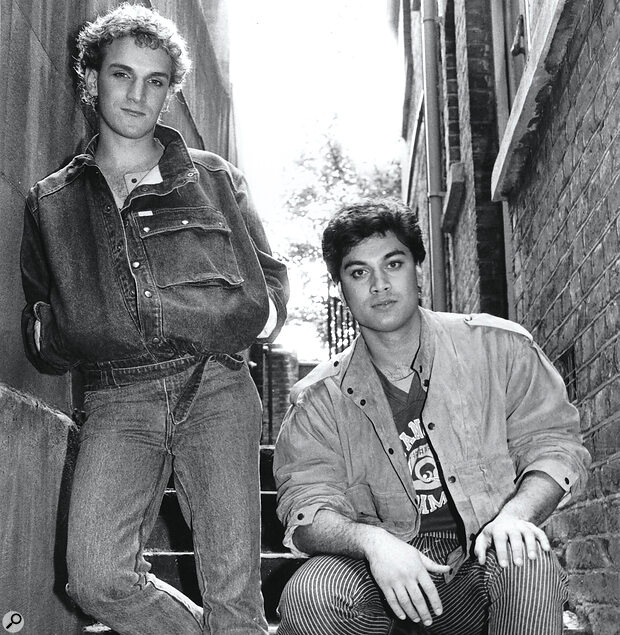 John Rocca and Peter Maas of Freeez.Photo: Beggars Arkive
The result of an extraordinary collaboration between Arthur Baker and London band Freeez, 'IOU' was a pioneering hit of the electro genre.
The soundtrack to the summer of 1983, 'IOU' by London band Freeez was one of the first electro tracks to make the international charts, reaching number two in the UK and number one in the Billboard Club Play chart in America. Driven by a Roland TR‑808 beat, Micromoog bass line and featuring a then‑futuristic‑sounding sampled vocal 'solo' using the E‑mu Emulator, 'IOU' was recorded in New York the previous year, written and produced by Arthur Baker and sung by Freeez's frontman, John Rocca.
Looking back nearly 40 years, Rocca now credits the success of 'IOU' to its hooky melody and, for the era, cutting‑edge production. "I think there was a mixture of groundbreaking sounds," he tells SOS, "and a style that hadn't really been done before. So, it was new at the time. And it was fleeting, as well... that particular sound came and went, which means it sort of stands out. There's a lot of stuff like it, but not so much that was particularly successful."
Only months before the making of 'IOU', Arthur Baker had produced the landmark 1982 hip‑hop track 'Planet Rock' for Afrika Bambaataa & The Soulsonic Force. Baker had an unusual attitude towards production at the time — in that he actually hated producing and much preferred becoming a temporary member of the band during the recording process.
"Unless I was involved in writing, I'd get bored," he says now. "Back then, I really thought I wanted to be like a member of the group and be involved in the writing. I mean, with the Soulsonic stuff, they weren't really musical. So, we created the tracks for them, to the extent I'd come up with the title of the song, 'Looking For The Perfect Beat', or 'Renegades Of Funk'. I came up with the song titles and hooks, so it was really a collaboration."
In 2022, the genre‑defining characteristics of 'IOU' are underlined by the release of a new John Rocca compilation album, Once Upon A Time In NYC, featuring its near‑eight‑minute long dance mix, 'I Dub U'. The original 'IOU' previously featured on Freeez's second, '83‑released long‑player, Gonna Get You, which was in fact the first full album that Arthur Baker ever produced.
"I didn't like doing albums," he admits. "Just because it would mean that you'd have to stay interested in, like, 10 or 12 tracks. At that time in my career, it really wasn't what I wanted to do."
But then, one day in the summer of 1982, the four members of Freeez simply turned up uninvited at Arthur Baker's office in New York and forced his hand. "They just showed up and I felt bad for them," Baker laughs. "And we just went in, and we did the album."
Back in 1980, in the UK, Freeez had been at the forefront of the Brit funk movement, alongside other bands such as Hi‑Tension and Light Of The World. John Rocca was at the time working for a record wholesaler, driving a van and delivering imported US jazz, funk and soul records to shops around London's West End. The year before, he had also joined North London's Freeez as percussionist, the band at the time comprising future Incognito guitarist Jean‑Paul 'Bluey' Maunick, bassist Peter Maas and drummer Peter Morgan.
Rocca recognised that the organic funk grooves the band were creating could easily fit in with the records he was selling from his van, and so decided to finance the making of a single, 'Keep In Touch', recorded in a West End studio (the name of which no one involved can remember).
"I do remember the smell of the studio and I don't mean that in a bad way," Rocca laughs. "It's a smell of electronic circuits in a room that's not really got an awful lot of ventilation. This place was near to Tottenham Court Road. I only had enough money to pay for the graveyard shift. So, it was something like 10 o'clock at night to eight in the morning. It was sunny when I came out there and I was buzzing, and I had a quarter‑inch tape in a box."
Upon its release, 'Keep In Touch' made it to number 49 in the UK chart. Emboldened, Rocca went on to finance the making of the debut Freeez album. Released on Beggars Banquet Records in 1981, the title track of Southern Freeez (featuring guest singer Ingrid Mansfield Allman) provided the band with a number eight hit.
While he admits he was a non‑musician at the time, Rocca assumed the role of producer of Southern Freeez, made at Vineyard Studios in Borough, South‑East London. "I knew where I was coming from with my ears, as it were, even if I had no technical skill to make music, I had no musical training, and I couldn't even play an instrument.
"Although I was working with guys who knew their instruments," Rocca adds, "I was sort of voicing what I wanted from them. We were trying to recreate this sort of American sound. But, of course, y'know, we were kids. I wasn't a professional and we didn't really know what we were doing. So, what we came up with was a British version, done by novices, of what we were trying to achieve. And it came out in a new sound."
By then the band comprised Rocca, Maas, Morgan and keyboard player Andy Stennett. But with success came discontent within the ranks of the group — some members believed that Rocca was being domineering, and that they should equally guide the band. As a result, Freeez fell apart. Then, a compromise was reached, with all agreeing that if they were to ever make a second album, an outside producer should be brought in.
NYC 1982. Left to right: Andy Stennett, Arthur Baker, John Rocca, Peter Maas.
And so, in the summer of '82, the band, including new drummer Everton McCalla, flew to New York, having written an alphabetical list of the names of potential producers. At the top of it was Arthur Baker.
"It was very much a list of sort of jazz, funk and soul producers," Rocca remembers. "But the other ones' names didn't begin with A, B, or whatever. So, they were further down the list. Arthur had done the Soulsonic Force track, which was just so different. On the basis of that alone, his name went on the list. But his sound was completely out of whack with what we were doing as a band."
For his part, Arthur Baker owned a copy of the Southern Freeez album but hadn't ever listened to it. Equally, he wasn't particularly interested in hearing the band's new demos. Instead, he suggested that together they should write and record a new album from the ground up.
The first step was to install Freeez in the Brooklyn studio of Baker's friend, Fred Zarr (who would go on to work with Madonna and Whitney Houston). "You could do writing sessions there because Fred had all the keyboards and stuff," says Baker. "They were into going the electro route, but they were trying to find a lead singer. They wanted a Black American girl to join the group, but we were never able to find anyone."
To Baker's mind, it was clear that John Rocca should step up as the singer of Freeez. Rocca was initially reluctant but agreed to give it a go when the sessions proper kicked off at Unique Studios near Times Square in Manhattan. In 1982, Unique was a 48‑track facility built around two MCI JH‑24 two‑inch tape machines and an MCI JH‑600 console. Rocca remembers of Unique: "It had a piano, it had Moog synths, it had 808 drum machines and the Emulator. And the [Sequential Circuits] Prophet‑5, of course... an absolutely fantastic synth."
Arthur Baker had recently bought his own Roland TR‑808, after having used the drum machine to memorable effect on 'Planet Rock'.
"It had a really cool, unique sound," he enthuses now. "It sounded like nothing else. And the thing is, if you wanted a drum machine that sounded like drums, you would use an Oberheim, or a Linn or something like that. They had more organic sounds. The 808 didn't have an organic sound, it had an 808 sound.
"Once we started using it, it was something that we would really use on certain songs. So, it was really down to which song and what vibe you wanted to have. And obviously the electro thing was really happening at the time. It was starting to blow up."
Rocca recalls that Baker would further process the 808 with outboard compression: "So, say an 808 snare, which is quite a light sort of sound. When they put it into this chain that we used, it put some amazing guts into it."
It was late into the sessions for Freeez's Gonna Get You album that Arthur Baker came up with the melody and hook line for what was to become 'IOU'.
"I had the idea going to the studio," he remembers. "I was driving in a cab, going across town on 57th Street, from east to west. I just had a cassette player always with me, and I somehow came up with the chorus. I remember going into the studio and going, 'Oh, I got this idea.'"
Drummer Everton McCalla programmed the beat for 'IOU' into the 808 and then overdubbed synth drum fills using sounds from the Prophet‑5. Over the top, keyboardist Andy Stennett then added the bass line, playing the fast‑fingered, staccato part on the Micromoog. "This was all really early days with sequencers," Baker points out. "So, it was played live by Andy, who was a really good keyboard player. What we would do is slow the tape down, get it in tune and then play the part."
Baker had recently run into sequencing problems when recording Rockers Revenge's electro/disco hit 'Walking On Sunshine'. He'd solved the issues by using a mixture of live and programmed parts — an approach he carried over into 'IOU'.
"The sequencing at the time wasn't all that good," he says. "I did 'Walking On Sunshine' with Fred Zarr, and we had the drums and some keyboards sync'ed together on the Oberheim [pre‑MIDI bus] system, but things sort of went out of time. So, what kept that feeling that it was in time was putting a live bass and percussionist over it. It made it feel more like a natural swing."
To give 'IOU' a similar acoustic/electronic blend of instruments, Baker had Stennett play the chords on Unique's in‑house piano. "My thing at the time was I really loved having acoustic instruments over electronic sounds," Baker says. "So, now we had this track with a great bass line, the Roland drums and an acoustic piano." The distinctive, stop‑start synth hook of 'IOU' was then played on a Prophet‑5. "The synth line was the other big deal," Baker points out.
The Freeez sessions then moved to downtown Manhattan and the studio on 23rd Street owned by legendary jazz, folk and blues label Vanguard Records. "This enormous, cavernous, grubby place," Rocca recalls. "It needed bloody decorating."
Approaching the vocal for 'IOU', Arthur Baker directed Rocca by asking him to sing in full‑voice in a key that was higher than his natural range. "I mean, it was fucking high," laughs Rocca. "I tried to sing it in my normal voice. And Arthur said, 'I don't want that. I want you to sing high. I want you to really belt it out there.' And then I sang it in falsetto, like a choir boy. And he said, 'No, I don't want falsetto, I want your normal voice up an octave.' And I'm like, 'Bleeding hell, how do I do that?' So anyway, I just did it. But when you sing in full voice like that, it also does something to the sound."
In addition, Baker once again used his tape‑slowing trick: this time, to aid Rocca's performance. "This was a standard approach to doing vocals in those days, for a number of reasons," says Rocca. "It gives it a different sound. It squeezes it a bit and makes it a bit more pokey when it comes out of the speakers. It also helps to smooth out pitching here and there because obviously it's played back faster."
"Yeah, we had to slow down the tape, cause of the key," Baker remembers. "And then when we sped it back up, John wasn't happy. So, I had to convince him... also about doing the spoken word part. I remember him not being into that at all."
"He wanted me to rap on it," says Rocca. "Y'know, I said some words, like 'Girl, I know I owe you so much.' I was thinking, 'Oh my God, I'm gonna vomit, it's just so awful. I shouldn't be doing this.'
"But then I'd put my heart and soul into trusting in the producer. I don't think I was a fabulous singer being overproduced. I was a crap singer being forced down a path that I had no idea where I was going.
"I was just hoping to God that Arthur knew what he was talking about. I just sort of did my best."
Finally, at the 11th hour, Baker asked Rocca to overdub some vocal ad‑libs onto 'IOU'. Outside the studio, there was a cab parked up waiting to take the singer to the airport to fly home to London. "My case was in the Vanguard control room," says Rocca. "I was packed and ready to go back to London. I said to Arthur, 'If you want me to sing it, I'm singing it now.' My passport with my ticket was in my pocket while I was standing at the mic."
At the close of the track — as can be heard at 3:29 in the seven‑inch version of 'IOU' — Rocca's improvisations led to him singing a long, falsetto note. "I just thought, 'That's like the Bee Gees, that is. I can't bear it. What am I doing?' But I sang it and at the end of it, I actually went, 'Oh fucking hell!'
"Arthur went ballistic. He pushed the button and said, 'You muthafucker! That was the only good bit of singing you've done today.' I was like, 'Oh, did you like it then?' But you had the vocal and me going 'aah‑aah‑aah... fuck!'"
In the end, Baker dropped Rocca in to finish the note — a slightly trickier business on a 24‑track tape machine than it is today in a DAW. "There was a delay between when you hit that button and the analogue circuits sort of leapt into action and started to erase the bit of magnetic tape," Rocca points out. "So, not only that, but there was a delay when you stopped. You had to jump out again before you lost the next bit. And so this was terrifying."
"Yeah, we did punch in, but it worked," says Baker. "I just thought, 'Oh, this is amazing, and we've got a hit.' Once we had it down, I was like, 'Fuck, this is gonna be a huge hit.' I knew it. It was undeniable that it was going to be a hit."
With John Rocca and the rest of Freeez now back in London, Arthur Baker, engineers John Robie and Andy Wallace, and DJ John 'Jellybean' Benitez booked into EARS (Eastern Artists Recording Studio) in New Jersey to mix 'IOU'. It was here that Benitez suggested the sampled vocal keyboard part that was to make the track so distinctive.
"Jellybean played at the Fun House [club in New York]," says Rocca. "Being as he was a DJ in a club of the time, you wanted to get him in the studio to tell you how to mix the track. That was the start of the power of the DJ, really, back in those days."
"We started sort of sampling," Baker recalls, "and Jellybean Benitez said, 'Oh, y'know, why don't we sample the vowels A‑E‑I‑O‑U?' That was definitely his idea. I won't take any credit for that."
These were, of course, the very early days of sampling technology. Previously, Baker and others had explored rudimentary sampling techniques using the Loop Editing system within the AMS DMX 15‑80S stereo delay unit.
"You could put a drum sound through it for a delay," Baker explains, "and push a hold button. You'd save it so you'd have this snare that you could truncate, and then you could trigger it off something on tape. But it was very basic."
The other option for sampling was the still‑prohibitively‑expensive Fairlight. But with the arrival of the E‑mu Emulator in 1981, affordable sampling technology had arrived. "The Emulator was fairly easy to use," says Baker. "Not that I did the sampling. I was pretty useless with that. But we sampled each letter and basically Robie played the solo and it was like, 'Yeah, that's fucking great.'"
Arthur Baker and John Robie, 1982.Mixing 'IOU', with all its various elements, proved difficult at first. Andy Wallace (later to become renowned for his work with Nirvana and Jeff Buckley) was the in‑house engineer at EARS and began mixing the track before, as Baker remembers, John Robie took over.
"Robie was like, 'No, I know how to get it.' And with 'IOU', I have to say, there's not much low end on the drums. That was all down to Robie. By that point, Robie was making everything really bright, which was great for the radio. But I was never really happy with the low end on that record and also on 'Looking For The Perfect Beat', where we had an 808 and it didn't have the boomy sound. But, I mean all the high end stuff was amazing... really bright and cut through."
As well as mixing the seven‑inch version of 'IOU', Baker, Robie and Benitez also created two additional mixes of the track — an eight‑minute‑long 12‑inch mix and the extended dub mix, 'I Dub U', which now appears on Once Upon A Time In NYC. All of the edits were done on half‑inch two‑track tape.
"We weren't using a computerised board," Baker stresses. "We did the edits as we went, so we arranged it as we went. So it'd be, 'OK, the intro is 16 bars,' and then we'd bring this in, and we'd stop. You'd change things, take another piece, do multiple edits and cut them together. If you were to look at the tape, you'd see there's lots of slices in it.
"And the same with the dub too," he adds, "because the dub is like a whole other thing. It was a separate arrangement and mix. But when you'd leave the studio, you'd have the record done. That was how we used to do it."
In the years immediately to follow, as these tape edit mixes grew more complex, Baker would often leave doing the edits until a later session, which he now realises was a bad move. "I couldn't really focus on finalising anything," he laughs. "So, we would just take lots of reels, and be like, 'Ah well, we'll do it later,' which obviously was a fucking nightmare."
Back in the UK, John Rocca heard the finished 'IOU' for the first time outside of the studio environment when he visited the specialist dance music record shop City Sounds in Holborn.
"It was one of the ones I used to deliver records to," he recalls. "For some reason or other, I went there and put my head around the corner when 'IOU' was first on vinyl. Everyone was completely raving about it, and I knew why. To me, it was the Emulator and the 808.
"Then the song itself crossed it over to pop charts globally. I understand that because it was really, really poppy. I would liken it to 'YMCA' as a song. The chorus is pure 'YMCA'."
"'IOU' did really well in America," Baker adds. "It was such a big record in New York. I mean, in New York, man, that shit was like the national anthem. You'd hear it everywhere."
John Rocca: "I'd put my heart and soul into trusting in the producer. I don't think I was a fabulous singer being overproduced. I was a crap singer being forced down a path that I had no idea where I was going."
'IOU' was a huge hit, but the experience of making both the track and the Gonna Get You album in New York in fact caused the still‑shaky foundations of Freeez as a band to finally crumble. In 1984, John Rocca launched a solo career with the single 'I Want It To Be Real'.
Rocca started programming 'I Want It To Be Real' alone, back in his council flat in London, using his Sequential Circuits Pro‑One, and completed it with overdubbing contributions from Freeez keyboardist Andy Stennett.
"Having got our hands on these synthesizers, these drum machines and come back to England," Rocca says, "we made 'I Want It To Be Real' ourselves without anyone else's help. We really got to grips with the technology and really understood what we were doing, because we'd had our baptism and we'd had our experimentation. Now we knew how to use it.
"I'd also learned a lot from Arthur's approach, his confidence. How to assert yourself and do things. I got some of that assertiveness, some of that confidence and then I could tell Andy what I wanted. Andy was a consummate professional. I was starting to create music and I never looked back once I'd got the tools."
Back in New York, Arthur Baker mixed 'I Want It To Be Real', which was set to become a hugely influential track in club culture, with Chicago's house music pioneer Farley 'Jackmaster' Funk, and DJ/producers Louie Vega and David Morales all citing it as a major influence.
"After 'IOU', John did 'I Want It To Be Real", which to me is one of the greatest sort of electro/birth‑of‑house tracks," says Baker.
"It's one of the great records of that genre, and he did that. Y'know, I mixed it, but really, all I had to do was bring the faders up and not fuck it up, because it was such a great production."
In the 39 years since its release, 'IOU' has been widely sampled by such diverse producers as Cutfather & Joe (for their remix of Brandy's 'Full Moon' in 2002) and will.i.am (in his production of Cheryl Cole's 'Let's Get Down' in 2010). Both lifted the track's percussive Prophet‑5 synth line. Then, in 2015, Jamie xx sampled John Rocca's "I want your love" vocal hook and treated it with pitch‑shifting and filtering in 'Girl' from his album, In Colour.
"Because of how we did the arrangement, it made it easy to sample," Arthur Baker reckons. "We'd break it down to the bass line, break it down to just the synth. So, you could actually do a remix. There was so many different elements that we left open."
John Rocca says that when he listens to 'IOU' now, he feels that "it's just pure pop. I could never have made that. I couldn't have done that without being in New York with Arthur. I mean, I did contribute towards it. But it was his baby."
Further to that, Rocca adds that his preferred version of the track is now the dub version, hence its inclusion on the new Once Upon A Time In NYC compilation. "I really love 'I Dub U', because there's very little of me singing in it. I've never projected myself as a singer, even if I've ended up doing it. So, I was happy to have me gone."
Arthur Baker, meanwhile, is in no doubt whatsoever as to why 'IOU' ended up becoming a classic track. "There's so many things going for it," he states. "It's a great pop record because it has four different hooks. I mean, it has the solo with the vocal, it has the drop down with the spoken word, it has a great chorus, it has a great synth part. I mean, it just had everything for that time.
"I think those elements are what keep it being fresh and being a classic because all those elements are lasting. And the mix arrangement was really good for the clubs. There's not one wrong step in it and it really all worked. 'IOU' had all the gimmicks, man."  
Once Upon A Time In NYC is out now on Beggars Banquet Arkive.