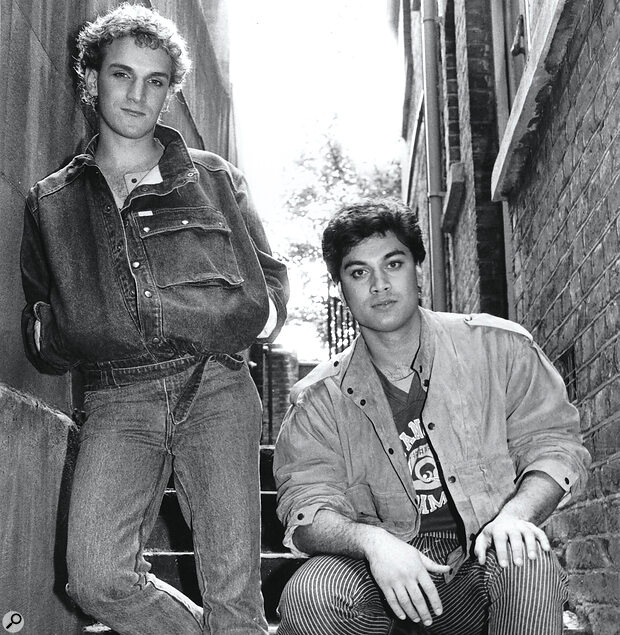 John Rocca and Peter Maas of Freeez.Photo: Beggars Arkive
The result of an extraordinary collaboration between Arthur Baker and London band Freeez, 'IOU' was a pioneering hit of the electro genre.
The soundtrack to the summer of 1983, 'IOU' by London band Freeez was one of the first electro tracks to make the international charts, reaching number two in the UK and number one in the Billboard Club Play chart in America. Driven by a Roland TR‑808 beat, Micromoog bass line and featuring a then‑futuristic‑sounding sampled vocal 'solo' using the E‑mu Emulator, 'IOU' was recorded in New York the previous year, written and produced by Arthur Baker and sung by Freeez's frontman, John Rocca.
Looking back nearly 40 years, Rocca now credits the success of 'IOU' to its hooky melody and, for the era, cutting‑edge production. "I think there was a mixture of groundbreaking sounds," he tells SOS, "and a style that hadn't really been done before. So, it was new at the time. And it was fleeting, as well... that particular sound came and went, which means it sort of stands out. There's a lot of stuff like it, but not so much that was particularly successful."
Only months before the making of 'IOU', Arthur Baker had produced the landmark 1982 hip‑hop track 'Planet Rock' for Afrika Bambaataa & The Soulsonic Force. Baker had an unusual attitude towards production at the time — in that he actually hated producing and much preferred becoming a temporary member of the band during the recording process.
"Unless I was involved in writing, I'd get bored," he says now. "Back then, I really thought I wanted to be like a member of the group and be involved in the writing. I mean, with the Soulsonic stuff, they weren't really musical. So, we created the tracks for them, to the extent I'd come up with the title of the song, 'Looking For The Perfect Beat', or 'Renegades Of Funk'. I came up with the song titles and hooks, so it was really a collaboration."
In 2022, the genre‑defining characteristics of 'IOU' are underlined by the release of a new John Rocca compilation album, Once Upon A Time In NYC, featuring its near‑eight‑minute long dance mix, 'I Dub U'. The original 'IOU' previously featured on Freeez's second, '83‑released long‑player, Gonna Get You, which was in fact the first full album that Arthur Baker ever produced.
"I didn't like doing albums," he admits. "Just because it would mean that you'd have to stay interested in, like, 10 or 12 tracks. At that time in my career, it really wasn't what I wanted to do."
But then, one day in the summer of 1982, the four members of Freeez simply turned up uninvited at Arthur Baker's office in New York and forced his hand. "They just showed up and I felt bad for them," Baker laughs. "And we just went in, and we did the album."
Back in 1980, in the UK, Freeez had been at the forefront of the Brit funk movement, alongside other bands such as Hi‑Tension and Light Of The World. John Rocca was at the time working for a record wholesaler, driving a van and delivering imported US jazz, funk and soul records to shops around London's West End. The year before, he had also joined North London's Freeez as percussionist, the band at the time comprising future Incognito guitarist Jean‑Paul 'Bluey' Maunick, bassist Peter Maas and drummer Peter Morgan.
Rocca recognised that the organic funk grooves the band were creating could easily fit in with the records he was selling from his van, and so decided to finance the making of a single, 'Keep In Touch', recorded in a West End studio (the name of which no one involved can remember).
"I do remember the smell of the studio and I don't mean that in a bad way," Rocca laughs. "It's a smell of electronic circuits in a room that's not really got an awful lot of ventilation. This place was near to Tottenham Court Road. I only had enough money to pay for the graveyard shift. So, it was something like 10 o'clock at night to eight in the morning. It was sunny when I came out there and I was buzzing, and I had a quarter‑inch tape in a box."
Upon its release, 'Keep In Touch' made it to number 49 in the UK chart. Emboldened, Rocca went on to finance the making of the debut Freeez album. Released on Beggars Banquet Records in 1981, the title track of Southern Freeez (featuring guest singer Ingrid Mansfield Allman) provided the band with a number eight hit.
While he admits he was a non‑musician at the time, Rocca assumed the role of producer of Southern Freeez, made at Vineyard Studios in Borough, South‑East London. "I knew where I was coming from with my ears, as it were, even if I had no technical skill to make music, I had no musical training, and I couldn't even play an instrument.
"Although I was working with guys who knew their instruments," Rocca adds, "I was sort of voicing what I wanted from them. We were trying to recreate this sort of American sound. But, of course, y'know, we were kids. I wasn't a professional and we didn't really know what we were doing. So, what we came up with was a British version, done by novices, of what we were trying to achieve. And it came out in a new sound."
By then the band comprised Rocca, Maas, Morgan and keyboard player Andy Stennett. But with success came discontent within the ranks of the group — some members believed that Rocca was being domineering, and that they should equally guide the band. As a result, Freeez fell apart. Then, a compromise was reached, with all agreeing that if they were to ever make a second album, an outside producer should be brought in.
NYC 1982. Left to right: Andy Stennett, Arthur Baker, John Rocca, Peter Maas.
And so, in the summer of '82, the band, including new drummer Everton McCalla, flew to New York, having written an alphabetical list of the names of potential producers. At the top of it was Arthur Baker.
"It was very much a list of sort of jazz, funk and soul producers," Rocca remembers. "But the other ones' names didn't begin with A, B, or whatever. So, they were further down the list. Arthur had done the Soulsonic Force track, which was just so different. On the basis of that alone, his name went on the list. But his sound was completely out of whack with what we were doing as a band."
For his part, Arthur Baker owned a copy of the Southern Freeez album but hadn't ever listened to it. Equally, he wasn't particularly interested in hearing the band's new demos. Instead, he suggested that together they should write and record a new album from the ground up.
The first step was to install Freeez in the Brooklyn studio of Baker's friend, Fred Zarr (who would go on to work with Madonna and Whitney Houston). "You could do writing sessions there because Fred had all the keyboards and stuff," says Baker. "They were into going the electro route, but they were trying to find a lead...
You are reading one of the locked Subscriber-only articles from our latest 5 issues.
You've read some of this article for free, so to continue reading...
Log in - if you have a Subscription you bought from SOS.

Buy & Download this Single Article in PDF format

£1.00 GBP

$1.49 USD


For less than the price of a coffee, buy now and immediately download to your computer or smartphone.

Buy & Download the Full Issue PDF
Our 'full SOS magazine' for smartphone/tablet/computer. More info...

RECORDING TECHNOLOGY: Basics & Beyond
Claim your FREE 170-page digital publication
from the makers of Sound On Sound — CLICK HERE