Producer: Sam Williams | Engineer: John Cornfield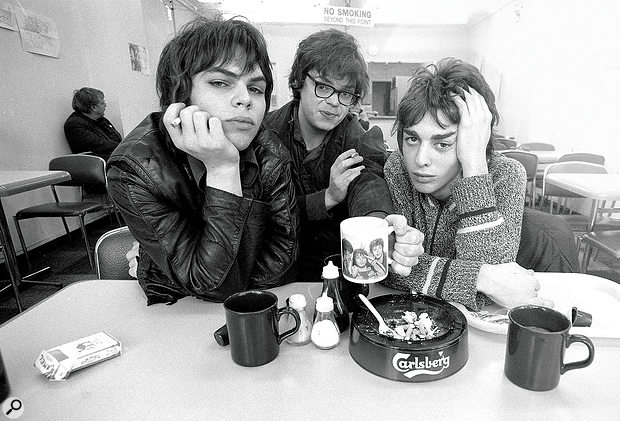 Supergrass. Left to right: Gaz Coombes, Mick Quinn and Danny Goffey.
When producer Sam Williams discovered Supergrass, he knew he had to capture the band's infectious energy on tape.
In the crowded field of mid-'90s Britpop bands, Supergrass stood out. For a start, they were surprisingly young — singer Gaz Coombes was only 18 when they released their 1994 debut single, 'Caught By The Fuzz'. They were also in possession of a strong, boyish retro rock–band look and a different set of influences from their peers: Ziggy Stardust–era Bowie, Lou Reed, Iggy Pop.
But it's for their UK number two single of 1995, the irrepressibly bouncy 'Alright', that Supergrass are best remembered. In the song's video, their image was frozen forever as a Monkees-styled trio capering around on bikes and in a bed on wheels rolling along a beach, as Coombes sang a cheeky lyric about peak teenage delinquency: smoking fags, sleeping around, crashing a car in a field.
However, at the time, the success of 'Alright' was both a blessing and a curse for the band — Gaz Coombes (vocals/guitar), Mick Quinn (bass/vocals) and Danny Goffey (drums). It made their singer in particular a reluctant household face in that summer of 1995. "When 'Alright' went mental, we were in America," Coombes remembered in an interview with this writer four years later. "We got back and suddenly every fucker was recognising you. I never wanted to be a rock star. I just wanted to be in a band."
Almost 10 years after they split — and in the wake of Gaz Coombes enjoying a successful and critically-acclaimed solo career — Supergrass have re–formed. 2020 will see them back on tour, in support of a new career retrospective box set, The Strange Ones. Producer Sam Williams, who discovered the band and oversaw the making of their debut album I Should Coco, clearly remembers the day that he first encountered the trio in the street in Oxford in 1993.
"I was in a music shop and I came out and saw the boys standing on the pavement," he says. "It was one of those classic, surreal moments. I'd grown up with strong references to early Beatles and the Monkees and the cartoon kind of culture of larger-than-life '60s-looking bands. They didn't look like anything that you'd seen in real life for a long, long time. Danny was wearing a blue velvet suit with red Bowie hair and Gaz had the kind of Neil Young sideburns.
"The feeling was that it was just an immediate, magnetic attraction. Something in me just went, 'I don't know who that is. But I know that's a band and I know I'm going to produce them.'"
As a musician and producer, Sam Williams shared many reference points with the young members of Supergrass, but by this stage in his career, he had gained much more experience in the music industry. As the son of Len Williams, founder of the London Guitar School, and the brother of guitarist John Williams — a member of classical rock band Sky and also a soloist, whose rendition of 'Cavatina' famously became the theme from The Deer Hunter and a worldwide hit in 1978 — Sam Williams had been in and out of recording studios since he was a teenager.
Growing up playing bass, sax, clarinet, piano, drums and then becoming a singer, Williams had joined his first band at 11 and, by 16, had played bass on 'International Language', the debut single by Richard Strange, formerly of proto-punk band Doctors Of Madness. "They were interviewing him on Radio 1 when the single came out," Williams remembers, "and he was saying, 'Oh yeah, I got this schoolboy called Sam Williams to play bass.' And I was thinking, 'Well, look, if this is possible, then anything is possible.'"
Living in Cornwall by this point (where his father had relocated to found a monkey sanctuary), Sam Williams began to visit his local recording studio, Sawmills. At 18, driven to become a producer, arranger and artist, he was employed by Sawmills as an assistant and moved into the remote, residential facility.
"It's in a place called Fowey on the southwest coast of Cornwall," he explains, "and only accessible by boat or by walking down a railway line. I moved into one of the cabins that was part of the residential thing. Sawmills was just a stunningly beautiful place. A complete sanctuary as well, because obviously it was quite remote. It was like my rock and roll university."
At Sawmills, Williams was trained in old school analogue engineering and to-tape recording. "The guy that owned Sawmills at that point, Simon Fraser, was a fantastic mentor and teacher of a lot of recording techniques," he says. "I quickly got a feel for mixing and rigging up a lot of tape delays. I also got...
You are reading one of the locked Subscriber-only articles from our latest 5 issues.
You've read 20% of this article for free, so to continue reading...
Buy & Download this single article in PDF format

£1.00 GBP

$1.49 USD


For less than the price of a coffee, buy now and immediately download to your computer or smartphone.

Buy & Download the Full Issue PDF
Our 'replica SOS magazine' for smartphone/tablet/desktop. More info...