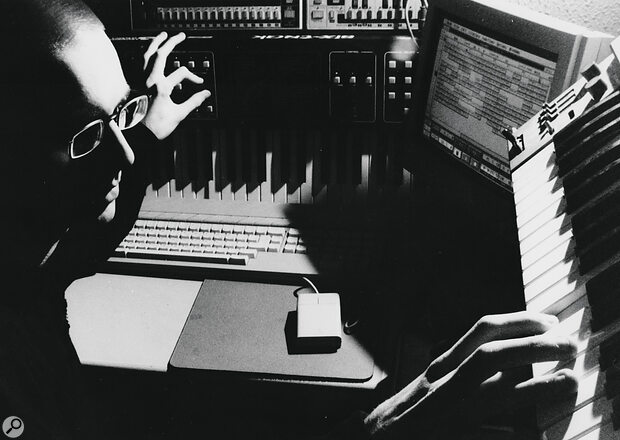 Richie Hawtin takes us through a seminal Plastikman album — and its unexpected sequel.
As a world‑renowned electronic music producer and DJ operating for more than three decades, Richie Hawtin has assumed various identities for his releases down the years, including F.U.S.E., Circuit Breaker and Concept 1. But he is perhaps best known for being a pioneer of minimal techno under the most famous of his trading names, Plastikman.
Hawtin's debut album using that pseudonym was the stripped‑back acid electro of Sheet One, released in 1993. But it was with his third Plastikman album, 1998's Consumed, that as a producer he perfected a spacious, ambient and hypnotic dance music style that was entirely his own — not least with the polyrhythmic analogue pulsing of its near‑12‑minute‑long title track, 'Consumed'. As Hawtin tells SOS today, this groundbreaking techno sound arrived as a result of his desire to move away from records made purely for the dancefloor.
"I was kind of bored of DJ'ing," he admits. "Around '97 to '99, there were so many derivative techno records coming out. I was feeling, like, 'It's all the same. When's something going to sound different?'"
For his sleek arrangements on Consumed, Hawtin was inspired by the Kraftwerk, Pink Floyd and Tangerine Dream albums that his electronics‑obsessed father had played around the house as he was growing up, rather than the Detroit techno that fuelled his creativity as a teenager. "Those echoes are 100 percent there in the composition of my albums," Hawtin says. "The beauty of having an hour‑long listening experience."
More recently, Hawtin has returned to 'Consumed', and its parent album, with 2022's Consumed In Key, a collaboration with Canadian musician/producer Chilly Gonzales that is described as more of a "reimagining" than a remix record, since it features the latter improvising piano parts over the original tracks. Gonzales has said that the shuffling techno grooves of the original Consumed sounded to him "like some science fiction version of jazz" and so he reacted to that idea in his playing, beginning work on the project before Hawtin was even made aware of it.
"Of course, Consumed is the inspiration for the project," says Hawtin, "because that's what Chilly decided to sit down and listen to and play the piano to. But I think somehow it's morphed into really its own unique space, which perhaps is a planet in the Consumed universe. But it's definitely not the planet where it first came to fruition."
British‑born Richie Hawtin grew up in Banbury, Oxfordshire and emigrated in 1979, aged nine, with his family to Canada when his father got a job working as a robotics engineer for General Motors. Living in Windsor, Ontario, just a few miles across the river from Detroit, he was in the right place at the right time to witness as a teenager the birth of techno in the US city in the mid‑1980s.
Having been given an 8‑bit Commodore VIC‑20 computer as a kid, using it to initially program games before beginning to experiment with rudimentary sounds, he was comfortable with technology from an early age. As a teenager he began to listen to alternative and industrial music, his portal to dance music being the radio shows of Detroit DJ/musician Jeff Mills, who would mix records by European electronic acts such as Yello and Front 242 in with proto‑house tracks.
Inspired, Hawtin began DJ'ing at clubs in Windsor, even booking Jeff Mills for one event, and meeting other older Detroit techno DJs and producers along the way, including Scott Gordon and Derrick May. His first experience of making dance music himself came when he hooked up with fellow DJ John Acquaviva and began messing around in the latter's home studio, which featured an Akai S1000 sampler and — set to become a constant piece of kit in Hawtin's setups — the Roland TR‑909 Rhythm Composer.
Funding a label, Plus 8 Records, from credit cards, the pair scored a European underground dance hit in 1990, 'Technarchy', as Cybersonik. At this point, Hawtin set up his own studio in his parents' home, naming it Under The Kitchen, and filling it with whatever gear he could afford.
"I was a victim of economics," he laughs. "I bought what I could find cheap. 303s. Of course, people don't think they were cheap, but they were 50 bucks. 808s, a Dave Smith Sequential Circuits [Pro One]. I didn't have Moogs, they were too expensive. I didn't have ARPs, they were too expensive. But I did have a [Korg] Wavestation keyboard, also a Dave Smith co‑design, which gave me a kind of beautiful digital ambience."
Among the effects units that Hawtin managed to buy at the time were an ART Multiverb and a Yamaha SPX90. "The SPX had a dirty, great flange," he recalls, "and the ART had the gated reverb that nearly every clap that I ever used back then had on it."
From here, Richie Hawtin began releasing other records as F.U.S.E. and Circuit Breaker. These tracks, such as 'Substance Abuse' and 'Overkill', were made by him running sequences from various synths and drum machines chained together and driven by an Atari ST, while he live‑manipulated and effected their sounds. He recorded the jams to DAT, before editing them digitally.
"My dad had an IBM computer," he remembers, "and there was this great software by Minnetonka called Fast Edit. It was really basic... you recorded it in, and you could just cut and throw away. It was complete destructive editing. But it was very, very fast.
"But I remember when I made the Circuit Breaker stuff, 'Overkill' was, like, two DATs long [laughs]. It took you longer to find the good part to edit."
Around this time, Hawtin was earning a reputation for his own warehouse‑staged club nights in Detroit. But, even with his growing status as a DJ, he felt that his own records were becoming too conventional. "Like F.U.S.E. 'Substance Abuse'," he says, "it's a banger. But it's like, eight bars in, bring the clap and the acid line in. Okay, take a break, drop the kick, bring it back. Like, it's a bit more formulaic."
This led Hawtin towards the more angular and artful sound of Plastikman. "If you look at even the kind of thumping Plastikman tracks from the beginning, like 'Elektrostatik' or 'Krakpot', I think these are all pretty out‑there tracks. They took a long time to develop."
The Plastikman setup circa 1993.
In 1995, Richie Hawtin set up a new studio, The Building, and began to update his gear. He remembers having typical teething problems with the upgrade. "I moved in there and did what we all do... stupid shit," he laughs. "I sold my Allen & Heath mixer, a GS[3000] that I'd used to record all my stuff. I bought a Mackie mixer because it was kind of the cool hype thing, and everybody loved it. And I rewired everything to it, made one song, Plastikman 'Are Friends Electrik?', which I love, one of my favourite songs ever. But it was the only song that I recorded that sounded good. Everything else sounded shit. And it was just something to do with the bass undertones on that mixer.
"So, '95 was kind of me figuring out that new studio, selling my stuff,...
You are reading one of the locked Subscribers-only articles from our latest 5 issues.
You've read 30% of this article for free, so to continue reading...
✅ Log in - if you have a Subscription you bought from SOS.
Buy & Download this Single Article in PDF format

£1.00 GBP

$1.49 USD


For less than the price of a coffee, buy now and immediately download to your computer or smartphone.

Buy & Download the FULL ISSUE PDF
Our 'full SOS magazine' for smartphone/tablet/computer. More info...

RECORDING TECHNOLOGY: Basics & Beyond
Claim your FREE 170-page digital publication
from the makers of Sound On Sound — CLICK HERE