Producer: Stephen Street • Studio: Windmill 2
After a record label bidding war the success of the Cranberries' first single was vital. Fans of the Smiths, they called in producer Stephen Street...
Following in the creative footsteps of the Cocteau Twins and the Sundays, Limerick four-piece the Cranberries quickly gained a reputation in the early 1990s for their evocative dream pop. None of their stylistic predecessors, however, matched the commercial success of the Irish band, whose multi-platinum-selling career was kickstarted in 1993 with the release of their second single, 'Linger', a track that managed to balance being both ethereal and anthemic, and which reached number 14 in the UK and number eight in America.
A deluxe 25th anniversary reissue of the hit's parent album, Everybody Else Is Doing It, So Why Can't We? was delayed last year, though, due to the tragic death, aged 46, of singer Dolores O'Riordan, in an alcohol‑related, accidental bathtub drowning in a London hotel in January 2018. "I guess the hard part," says Cranberries guitarist and 'Linger' co-writer Noel Hogan, "was as the months went by after Dolores passed away, you were looking at photos that we had forgotten about. That was emotional because you do tend to remember those times very fondly."
"I feel very protective of them, knowing what they've gone through," says 'Linger' producer Stephen Street. "Obviously with Dolores gone, it's been a very sad time."
Looking back on 'Linger', both the guitarist and the producer stress that the track's success came at the end of a vexing period. After the band had signed to Island Records in 1992, the initial releases of the song and its predecessor single 'Dreams' had both resulted in flops.
"It was very frustrating," says Street, "because the first single we put out was 'Dreams', which everyone now thinks of as a pop classic. But at the time it was completely ignored. So 'Linger' came out and because 'Dreams' had been ignored, no one wanted to take much notice of it. So there's the first two songs from the album, which have gone on to become absolute huge, kind of classic hits. But at the time no one really wanted to take any notice."
"Yeah, it really was a kick, to be honest," laughs Hogan. "It was like, 'Oh, they're the next big thing.' And when you're 18 or 19 and you start a band, you get swept away in all that. Then, when the album came out, it basically bombed. It didn't do anything like anyone expected. You really, really feel deflated. You think, Oh, this is it, the writing's on the wall here. 'Cause we'd heard all the horror stories of bands that get all this money spent on them, and they're dropped in the blink of an eye. We thought that was the direction we were going in.
"Then out of the blue, without any of us knowing, we got a call from America to say that college radio had picked up on 'Linger' and it had really taken off over there, and that we needed to get over there the next day. And that was it, y'know. Everything changed from that moment."
In 1989, Noel Hogan — along with his bassist brother Mike, drummer Fergal Lawler and original vocalist Niall Quinn — had formed the band that initially took the punning name The Cranberry Saw Us. When Quinn quit in 1990, O'Riordan responded to an advert the others had placed, looking specifically for a female singer.
Remarkably, O'Riordan's trial period actually involved the writing of 'Linger', when the singer added the song's lyric and melody to one of Hogan's rough cassette demos. "I'd had that for a long time before I met Dolores," he says. "She came in, the very first day, and we played a couple of songs for her, 'Linger' being one of them. I said, 'Look, here's a cassette of that song.' It wasn't even a week later that she came back with the lyric and melody. The version everyone knows is the version that was written from the beginning. It never changed."
In the studio during the recording of Everybody Else Is Doing It...
Soon after O'Riordan joined the band, the Cranberries stepped into the recording studio for the first time: namely, Xeric Studios in Limerick, a facility owned by their soon-to-become manager Pearse Gilmore. "He had an old Soundcraft desk in there," Hogan remembers, "and a 16-track. There wasn't a whole of lot of outboard gear. I remember there was a [Yamaha] REV-7, 'cause that was where I discovered reverb and what you could do with that. We became obsessed. We used every track that was available, to the point of sometimes even bouncing tracks. Dolores tended to layer a lot of harmonies, a lot of soprano stuff. We definitely took advantage of this in those early days, because the studio was a new toy in many ways to us."
Hogan remembers that, if compared to the later hit version, the demo of 'Linger' was "very, very close. Even that intro where it's almost off-time, where the guitar and the strings fade in with Dolores's humming and then that fades out, and the rest of the track comes in underneath that... that was even on the demo. Dolores played the string line on a keyboard. Timing-wise, the whole thing was probably all over the place and even the tempo might have been different. But it was very close."
When the Cranberries signed to Island Records, preliminary sessions were carried out with manager Pearse Gilmore acting as producer. It soon became apparent to Hogan, though, that this arrangement wasn't working out. "His vision was completely different," says the guitarist. "At the time there were a lot of these kind of shoegazing bands. The trend was to have the guitars incredibly loud, washed with so much reverb that you couldn't really kind of distinguish the notes, and then bury the vocal in there somewhere. And it wasn't really what we were about at all.
"But I think Pearse had the vision of, 'This is the kind of sound at the moment, let's go with that.' We gave it a go for a while. We must have spent about three weeks recording, but we had done very little. I think we'd barely got two songs recorded in that time. We knew things were wrong because we were able to go in and get four demos done in a day. I know they're demos, but there's a big difference between four songs in one day and three weeks to get two songs done. So we realised that we had a different vision than he did, and we kinda pulled the plug on it quickly. Because we were getting one shot at this. This is the way we looked at it."
Enter Stephen Street, who the band put at the top of their dream list of producers. "We were all massive Smiths fans," says Hogan. "We took a chance, thinking it would never happen. But he was the one producer that we all agreed on. So we said, 'Any chance Stephen Street might do it?' Thinking not. And he agreed, which we were more surprised by than anybody else."
"Basically, Island Records called me in to hear a demo cassette of the band," Street recalls. "I remember listening through to a few tracks and expressing an interest. At that time obviously I was known for working with guitar-based bands, so it was the kind of thing I was really into.
"I agreed that I would go over and do a test session with them, to record two or three songs and see how it went. We met in Dublin, which was neutral ground for both of us really. Despite the fact they were Irish, they didn't really know Dublin that well. We got down to work and recorded a couple of songs, which fortunately worked out really well."
The location for the initial recordings involving the Cranberries and Stephen Street was Dublin's Windmill 2. "It wasn't the Windmill Lane that everyone knew, where U2 used to record, which was down near the docks," Street points out. "This was a smaller studio just off of St Stephen's Green. I think at the time it was occupied mostly by Def Leppard. They took a year out of the UK and based themselves in Dublin at this studio. But, for whatever reason, they weren't working there at that time, so we managed to get the studio for a price that fitted into the budget.
"I mean, obviously this was a new band and it was a very kind of unproven thing, so Island Records were being a bit careful with the budget. I remember Windmill 2 being fairly small, but pretty well equipped. I think the desk might have been an Amek. But a good selection of mics, and a decent-sounding room to operate in and record in."
"The control room was tiny," Hogan remembers. "The live room... we got the kit in there and the bass rig, and that kind of filled it. But we were a very basic setup back then. We had drums, bass, guitar and vocal, so it worked perfectly for us. Every day, we just treated it like a job. We were there for 9 or 10 in the morning and then finished at whatever time at night we were done. We were young and we realised how lucky we were as well, to be with Stephen."
The Cranberries in their hometown of Limerick, 1993.When Island Records gave the producer and band the go-ahead following their test sessions, Street returned to Dublin to begin work on the album proper, with 'Linger' being recorded in this period. Not a fan of the ubiquitous Yamaha NS10 monitors, however, the producer took his own pair of AR speakers over to Dublin with him.
"Sometimes I would force myself to work on the NS10s," he states. "Because I thought, if everyone else is doing it, perhaps I should try and fit in. But I could never really judge the bottom end on them. And they were very dependent on the amplifier. There were a couple of studios that I went to where you could get away with the NS10s because they had really good amps driving them. But most of the time I found them pretty difficult to work with."
In approaching the tracking, the key thing for both Street and the Cranberries was to get the bass and drums down first, as part of the whole band playing together to achieve a live feel. "Noel would be playing guitar, sometimes Dolores would be strumming a guitar," says Street. "For 'Linger', it would've just been Noel and Mikey and Ferg playing together. At that point I wouldn't be so fussed about whether Noel's performance or guitar sound was perfect. The main thing I'd be focusing on initially was to make sure that the rhythm track, the bass and drums, was right.
"Drums and bass always," says Hogan of the tracking priorities. "It being tape, we all just had to play until we found a take that we all thought worked. Particularly Ferg, because the pressure was on him more than anybody during those takes. The slightest little thing and then he'd go, 'Oh, I want to redo it.' Some songs were trickier than others and you could spend a whole day just trying to get it right."
Both Hogan and Street remember that 'Linger' ended up being a particularly tricky drum part to nail down. "'Linger' was an interesting one," says the producer, "because it's a slow song, but it's got a drum pattern that's pit-pattering away throughout, like a drum‑roll type thing. So it was quite unusual in a certain respect. We wanted it to be pretty consistent, so this was one of the tracks where we did record to a click track.
"The main thing, first of all, that we really wanted to focus on was getting the tempo right. Because it's one of those songs that if it's too fast, because of that drum pattern, it can really sound like it's kind of tripping over itself. Or if it's too slow, it can sound like it's walking through treacle. So we really played around with tempos until it felt like it was the right tempo for the feel."
Hogan recalls, "I remember Stephen saying the problem he had with it was whether the kick drum should be on the beat, or pushed a little bit ahead of it. In the end, we went with the push on it. You always kind of feel like at the beginning of the bar that it's about to go a little bit ahead of itself. But it's not, it's the way it is."
"It was one of those things," adds Street, "that where the bass drum and the bass line meet on the track, we ended up with a certain swing and syncopation to it that's slightly soulful in a way. We tried a different pattern with the bass drum where it was more straight and square and more kind of indie. We tried a different couple of ways of playing it, actually after we'd done a few overdubs to the original drums. 'Cause we weren't totally convinced whether we'd got it right the first time around.
"So there was a few little changes done along the way to make sure that it really did fit. And because we had done the drums to a click and because Noel had supplied by this point some really nice‑feeling guitar parts, we could then go back and revisit the drums and know exactly where the bass notes were gonna fall in the bar."
In regard to drum miking, Stephen Street's approach was fairly standard for early '90s recording. "Yeah, pretty traditional in a sense," he says. "I might have used a [Neumann] U47 FET inside the bass drum. The usual kinds of Shure dynamic mics on top of the snare and under. Sennheiser [MD] 421s on the toms, KM84 on the hi‑hat, and the overheads would have been two U87s. That tended to be my go-to set-up back in those days."
Similarly, Mike Hogan's bass rig was very much of its era. "He was using a Wal bass at the time," Noel remembers. "He had bought it from a guy here in Ireland who'd got all the parts from Wal and built it himself. He had an Ampeg [SVT] cab at the time. That was pretty standard for the '90s. If you got a bit of money, it was a no‑brainer."
"We definitely would've taken a DI," says Street. "But then it would've also been an [Electro-Voice] RE-20 and U47 on the cab and then play around until it felt right in terms of the phase and so on. But relatively close to the cab."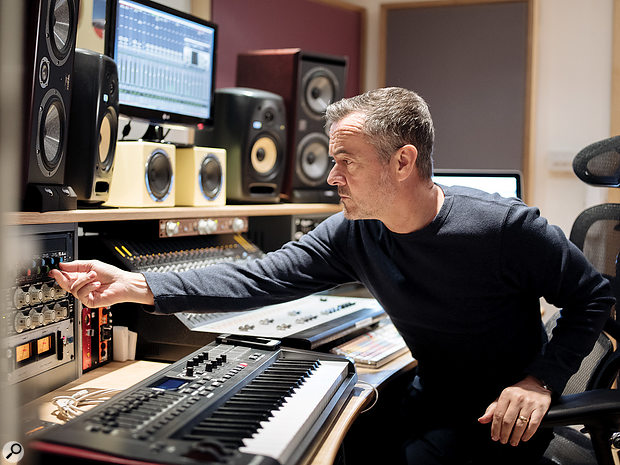 Stephen Street today.
More complex were Noel Hogan's guitar layers, for which Stephen Street relied upon his experience of producing the Smiths. "What I learnt really from working with Johnny Marr was layering parts for power," he says. "Rather than just playing every single beat in the bar and making it very, very loud and pummelling through. Also, Noel at this point, he wasn't completely sure of every part he was going to play. So I was always saying to him, 'Look, I know it doesn't sound very full at the moment with just this one guitar part. But if we look at a different way of playing the chords, either by putting a capo on, or just working out a different inversion, with a different sound, and you perhaps not play on every single beat where the other part was, we might start getting a little bit of layered texture.'
"I was just basically trying to play every trick in the book that I'd learnt up to that point by working with Johnny. Again, at the desk, you can give someone a very wet reverb'ed or delayed sound to try and make them play less. Because obviously if you want to hear that reverb or hear that repeated note, you need to leave some space in what you're playing."
Guitar-wise, Noel Hogan used Telecasters all the way — either his own or Street's 1967 Tele — in combination with Vox AC30 and Fender Twin Reverb amps. "We used the Vox tremolo most of the time," he says. "I had a DOD Chorus pedal that I still use to this day. It was the very first pedal I bought and it's still in my rig because it has a setting on it that is very much the Cranberries' sound."
Even though signed to Island, the Cranberries were still working with a limited budget on the album sessions, meaning that the acoustic guitar part on 'Linger' was recorded with the nearest instrument to hand: namely a cheap Yamaha acoustic owned by O'Riordan. "Sometimes when I was working with alternative or indie bands," says Street, "you just had to work with what you had. If there was a budget to hire more guitars, great. But I don't think we had that at that point. Especially being over in Dublin at the time, we did just work with the guitars they owned.
"I would put a Neumann U87 in front of the guitar, between the 12th fret and the hole. And sometimes I might have something like a KM84 further up towards the neck, just to see if it put a little bit of extra 'air' into it. Sometimes I would split those separate tracks a little bit in the mix, so although it was just one guitar, it gave it a little bit of spread across the stereo image."
When recording Dolores O'Riordan's distinctive and expressive vocals, Hogan and Street say that spontaneity was the key. "She would like to do maybe three or four takes," recalls the guitarist. "The BVs she would go through very quickly, 'cause she had an amazing ear for tuning. Then finally the last thing was her kind of soprano vocal that she would do. She would ad-lib that as she went along and she'd just say, 'Look, pick the best... just kind of chop and change it around.'"
"The trusty old workhorse most of the time was the U87," Street remembers. "Dolores was a very shy girl at this point. I was just beginning to win her confidence. I remember when we did the very, very first vocal sessions together on this record, she was wanting her boyfriend at the time to be there in the control room (laughs). I said, 'Look, it's not really how it works. Y'know, when you're working with me as a producer, you've got to trust my judgement, not your boyfriend's judgement as to whether the take is good or bad.'
"But, bit by bit, I managed to win her confidence. By 'Linger', because we were I guess about four or five songs into the album, I had won her confidence. The magic happens then. You start doing the layering of a few bits and her doing her slightly operatic warbling in the background. You start building this picture of the sounds that you want to come from the vocal."
For the string arrangement on 'Linger', meanwhile, Street called in his friend John Metcalfe and the Duke Quartet to develop up the part that O'Riordan had originally written. "She had this line, but it was played on a very cheap little string synth that she had," says the producer. "I just said to John, 'Look, here's the line, can you arrange it properly for a string quartet?' But we actually ended up blending a little bit of the original line that Dolores played, and put lots of reverb on that, so it's just kind of there in the background. What you hear in the foreground more is the actual real strings."
The mixing of 'Linger' was done at the now-defunct Maison Rouge Studios in Fulham, South West London, a favourite studio at the time for Stephen Street. "The SSL in there would have been an E Series," he remembers. "Maison Rouge was very well-equipped. The mainstays of any studio at that point, especially when it came to mixing, were to have a Lexicon reverb unit, an AMS reverb and an AMS delay line. They were used on pretty much every song. There was also a decent EMT plate, which was always nice to have."
"'Linger' was the hardest track to mix," says Hogan. "The reason being that there was a great expectation of this song before it was ever released. We were playing it live and the demo was out and, with the record companies, a lot of the bidding war that began came off the back of that song. So there was this kind of feeling of, 'Oh, this is gonna be a hit, so it has to be done right.' It was mixed and then it was remixed and then a few other people were brought in to mix because different A&R guys were going, 'I think it can be better.' But we used the first mix that Stephen did. That's the mix that everybody knows."
The surviving members of the Cranberries and Stephen Street were brought back together recently, to oversee the completion of the band's final, forthcoming album In The End. The tracks began life as Logic files swapped online in 2017 between Noel Hogan in France and Dolores O'Riordan in New York.
"We've worked with what she left us," says Street. "Y'know, obviously in a perfect world, Dolores would still be with us and we could've finished off everything with her. But we took everything and just recorded with the band. As soon as those guys play together, it sounds like the Cranberries. We did all the tracking at Kore Studios in Acton and then it was mixed in my room. I've got a studio in the same building as Damon Albarn's Studio 13 where I mix on an Audient Zen desk."
"It's as close to the first two albums as we could've gotten," says Hogan. "Dolores had a lot going on in her life and the only upside of that, of when you've got a bit of turmoil in your life, is that an artist tends to write really, really well through those times. That's very much reflected lyrically in it. Musically, there's a good mix of your 'Linger'-type of songs and your 'Zombie'-type of songs. A lot of our early influences are on there, I think. It's like a classic Cranberries album."
As to why 'Linger' itself is now regarded as a classic track, both Noel Hogan and Stephen Street similarly point to the song's honesty.
"It's a very honest song that a lot of people could relate to," says the guitarist. "Dolores wrote it about a guy she met one night in Limerick and that was it... it kind of moved on. It was very much a teenage kind of thing where you obsess slightly about somebody for a while, even though there was never really a relationship to begin with. People got that. I think if songs speak to people on a certain level, they tend to be the songs that last with people. It reminds them of a time, and I think that's why 'Linger' clicked."
"The song is a great song, with a great melody," says Street. "It's quite straightforward and simple, but it touches at the heartstrings pretty quickly. And the performances feel right. We managed to capture something where there's a delicacy to it that just kind of draws you in, without being too syrupy and sweet. There's a sadness to it too.
"I still hear it every now and then on the radio and it's aged well," he concludes. "Not everything does. You can hear some songs that were done in the '80s and '90s and they sound very much of their time. But I think 'Linger' seems to be quite ageless."