Producers: Paul Oakenfold & Steve Osborne
Much vaunted as a fusion of indie and dance music, Happy Mondays' joyous version of 'Step On' is greater than the sum of its parts.
From the opening bars of its housey piano riff, loping beat and Shaun Ryder's bizarre but rousing cry of "You're twisting my melon, man... call the cops!", 'Step On' by Happy Mondays is still one of the most distinctive tracks of the '90s. The Manchester band's biggest-selling single and a number five hit in the spring of 1990, it was the result of a highly unusual creative arrangement which saw Paul Oakenfold and Steve Osborne — previously responsible for groundbreaking and influential remixes for the group — being invited to take full charge of their production.
Osborne remembers the February 1990 sessions for 'Step On', at Eden Studios in West London, as having a suitably party-like atmosphere. "That session is still my favourite," he says. "It's unbeatable. Things were happening all the time. Most of the time there was just a line of blokes at the back of the wall dancing and getting into it. That's never happened to me since then. It was a really exciting three days. An amazing time."
How Oakenfold and Osborne came to produce Happy Mondays was via a circuitous route through previously uncharted territory. The famously unruly and drug-fuelled band had already made two albums — Squirrel & G-Man... (1987) with John Cale and Bummed (1988) with Martin Hannett — and had a well-deserved reputation for operating on the edge.
Back in 2006, talking to Sound On Sound, Cale described the sessions for Squirrel & G-Man... as being "very rickety. Really hilarious. It was like holding onto a bar of soap in the bathtub." The legendary Martin Hannett (Joy Division, Magazine), with his tech-exploring, enveloping-pushing methods and warped and mischievous ways of directing bands in the studio, proved more than a match for Happy Mondays on Bummed. "He was as mad as we was, Martin," Shaun Ryder told this writer in 2016. "He was still a kid, y'know. He didn't mind getting off his face."
Post-Bummed, though, the UK indie rock scene was rapidly changing and by 1989, the influence of dance music and particularly acid house was creeping in. Happy Mondays and their Factory Records boss Tony Wilson were ahead of the curve in this respect, commissioning remixes of the band's tracks that would take their music out on to the dancefloor.
Paul Oakenfold.As a DJ, Paul Oakenfold had been instrumental in bringing more eclectic sounds to British clubs. Following a trip to Ibiza in 1987, he'd returned to the UK with a plan to launch a club night based on the diverse mix of styles he'd heard on the Balearic island, where DJs blended house music with surprise selections from the likes of the Waterboys and Peter Gabriel.
By 1988, Oakenfold was running the Spectrum night at Heaven in London and moving into remixes, most notably the Latin funk-influenced 'Jibaro', as a member of the band Electra. It was a record regularly played at the Hacienda in Manchester and consequently a favourite of the members of Happy Mondays.
"'Jibaro' was inspired by my visit to Ibiza," Oakenfold remembers today. "It was a true Balearic track. It was so influential because it was kind of the first true Balearic track." Soon, Oakenfold was receiving numerous commissions for remixes. "The move from DJ'ing to producing was an easy transition," he says, "as my father was a musician and I was very much around making music all my life."
Before long, Oakenfold was looking for a co-producing partner to team up with in the studio, and met Steve Osborne through a mutual friend. "Steve Osborne is a great producer in his own right," Oakenfold enthuses. "Our collaboration worked so well."
By 1988, Steve Osborne was already a highly experienced engineer, who'd started out by dabbling in recording bands on Portastudio and then eight-track, after dropping out of university in Kent where he'd been studying electronics. "I thought I might learn how to build an amp or a synth," he laughs. "I always wanted to do music really, so I was there for the wrong reasons."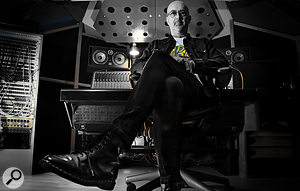 Steve Osborne.After five years on the dole, he managed to get a trial as a tape-op at Trident Studios in London's Soho, where he learned how to operate an SSL. After Trident was sold, he began engineering for Jolley/Harris/Jolley, a team of producers calling themselves Reproduction and specialising in pop and soul remixes for the likes of Mica Paris and Chic.
The subsequent teaming up of Osborne and Oakenfold was a perfect arrangement for both, the former being not just an engineer, but also a producer,...
You are reading one of the locked Subscriber-only articles from our latest 5 issues.
You've read 20% of this article for free, so to continue reading...
Buy & Download this Single Article in PDF format

£1.00 GBP

$1.49 USD


For less than the price of a coffee, buy now and immediately download to your computer or smartphone.

Buy & Download the Full Issue PDF
Our 'full SOS magazine' for smartphone/tablet/computer. More info...

Published April 2020