Engineers: Neill King & Gerry Kitchingham
'Take On Me' was a huge hit, but its birth was a difficult one, taking three years, three versions and a pioneering video to finally give A-ha their first chart success.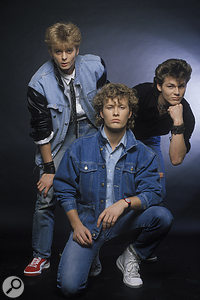 A‑ha, 1985. From left to right: Pål Waaktaar Magne Furuholmen and Morten Harket.Photo: Retna
If at first you don't succeed...' That was the credo for 'Take On Me', the synth‑pop classic by the Norwegian trio A‑ha that topped the Billboard Hot 100 and reached number two in the UK in the autumn of 1985. You see, this only happened after three different versions had been recorded, two of those versions had been released (the second of them twice in the UK) and two completely different videos had been filmed to promote them.
Rewind to September 1982, when guitarist Pål Waaktaar and keyboardist Magne ('Mags') Furuholmen, who had previously played together in a four‑piece band called Bridges, recruited singer Morten Harket from an outfit named Souldier Blue to form A‑ha. The first number the two played Harket was 'The Juicy Fruit Song', which they themselves had composed, and with Harket's input this then evolved into 'Lesson One' after the trio relocated to the UK in early 1983. That April, they began recording demos of other original material at Rendezvous Studios, a facility in Sydenham, South-East London, that belonged to musician and producer John Ratcliff. (Furuholmen initially booked time there because he read it had a Space Invaders machine.) In turn, Ratcliff introduced A‑ha to music publisher Terry Slater, and the two men subsequently signed the group to their specially formed company, TJ Management, and, in December 1983, secured a record deal with Warner Brothers.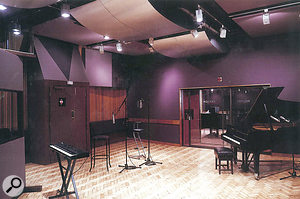 The live room at RG Jones from the 1985 brochure.
The following April, techno buff and synth expert Tony Mansfield was hired to produce what would be A‑ha's debut album, Hunting High & Low, but after six weeks of sessions at Pete Townshend's Eel Pie Recording Studios in Twickenham, South London, the Warner Bros execs weren't happy with the results. To their mind, the magic of the Rendezvous demos had disappeared and, with it, A‑ha's prominently featured vocal sound. So producer‑engineer Neill King was then called in to largely re‑record the material.
"I had worked many times at Eel Pie, and it was after A‑ha had been recording there with Tony Mansfield for a good few weeks that I received a call from the studio manager, telling me Tony was leaving the project," King recalls. "I wasn't told why, but they wanted to know if I would come in. They had done all of the programmed drums and some synths, and since I had engineered there and knew the room, they wanted me to work on the bed tracks, overdubbing guitars, vocals, backing vocals and some extra synths, and then do the mix."
While John Ratcliff supervised the sessions by way of periodic appearances, he basically let the group work with King, who sat behind an SSL E-series console while using a Studer A800 to record the album's songs to two‑inch tape. By now, 'Lesson One' was titled 'Take On Me'.
"All of the tapes I worked on for 'Take On Me' were from Eel Pie," King continues, "and they kept a lot of the synth bits from Tony Mansfield's work, but nearly everything else was re‑cut from scratch. I'd say Pål was the main technology guy, and we worked long hours, cranking out the overdubs. You get a feel for when a band has something special going for it — A‑ha knew they were really hot, so it was just a matter of getting their music across. The melody, the lyrics, the whole sound of the thing just gelled.
"The songs were really interesting and Morten's voice was so different in terms of his delivery. The way he sang was pretty dynamic. I miked him with a Beyer 201 and a [Neumann] FET 47 placed directly next to each other. Pål, meanwhile, was mainly playing a Gibson 335, but his guitar wasn't really to the fore, and then there was the Synclavier from which everything was sequenced. This was used as the drum machine; a mixture of synthesized and live samples courtesy of Tony Mansfield. The Synclavier was the first synth that grooved a little more following the first generation of drum machines. In terms of effects, there was a lot of reverb going around and we slammed the hell out of a Lexicon 224X and AMS RMX16. There was also an RMX15 for stereo delay. Classic '80s stuff..."
As recorded by Neill King, 'Take On Me' was eventually released as a single in October 1984, and, promoted by a straightforward, relatively unimaginative video of the band performing the number against a blue background, sold just 300 copies worldwide while peaking at number 137 on the UK chart. Still, Warner Brothers' head office in the US believed in both the band and the song, and so, in early 1985, proven hit‑maker Alan Tarney was called in to revamp the track.
The control room at RG Jones, again from the 1985 studio brochure. In the foreground is the SSL E‑series console and, behind the glass doors at the back, the Studer tape recorders used on 'Take On Me'.
"More than a year earlier, I had actually been approached by Warner Brothers and A‑ha's manager Terry Slater to do the whole album," Tarney says. "At that time, the band were still working at John Ratcliff's studio in Sydenham, so I went to see them there and they did a live performance in front of us all. They were fresh into the country and they were using the down‑time in that studio, working through the night, as other people were using it during the day. That's where I heard the original version of 'Take On Me'.
"For some reason, after it had been agreed that I would produce the album, it turned out I couldn't do it. So I told Terry Slater this and, at that point, he brought in Tony Mansfield. Then, nine months to a year later, Warner Brothers Records contacted me to say they weren't totally happy with 'Take On Me' and asked if I would consider going into the studio to cut that one single with the band. They had reached the limit of their budget, but Warners wanted the song to sound the best it possibly could, and they were willing to go over‑budget to get it right. I was actually involved with David Cassidy's Romance album at that time, so I took a day off and the boys came down to RG Jones in Wimbledon, which is where I was working, and we recorded and mixed the entire song there."
"To my mind, the original version of 'Take On Me' that the boys themselves had recorded in Sydenham with John Ratcliff was the hit version, and they appeared to have then gone around the houses a bit with Tony Mansfield and Neill King," Tarney now asserts. "The Tony Mansfield version employed a Fairlight and it just didn't sound like A‑ha at all. So all I did was recreate the original demo, the one from Sydenham. That was the one that had all the charm. Its ingredients were good — nothing was really wrong, other than it just didn't quite sound like a finished record. It wasn't polished enough and there was no finesse to it."
Producer Alan Tarney during the recording of 'Take On Me'."I remember thinking the demo sounded really, really good, whereas that and the Tony Mansfield recording were worlds apart," adds Gerry Kitchingham, who engineered the RG Jones sessions. "I'd actually worked with Tony on another project, so I knew what to expect even before I pressed the 'play' button. At that time, he was totally a Fairlight man, and I can imagine why Warners felt his version wasn't quite right compared to the original demo that had all the charm."
Kitchingham spent his entire career at RG Jones, joining the South London facility shortly after he left school at age 15 in 1965 when it was still a small demo studio, and staying there through its halcyon era of the 1980s until it closed in 2002. By then, as the chief (and, for a long time, only) in‑house engineer, his recording credits included projects with Pulp, George Michael, the Moody Blues, Alvin Stardust, Iggy Pop and — in conjunction with Alan Tarney — David Cassidy, Cliff Richard and A‑ha.
"For all their teenybopper image, A‑ha were three fantastic musicians," Kitchingham says. "Normally, when it came to his productions Alan was a bit of a one‑man band and he would program his own drums, but Pål was amazing. The fine details of his drum programming were brilliant."
"When they came to RG Jones, my equipment was already there," adds Tarney. "This included a [Roland] Juno 60 that provided the song's main theme and which I still use, as well as a UMI computer system that a friend of mine put together, and which Vince Clark also used. That's what I used to drive the instruments, and there was a LinnDrum that Pål programmed. He was absolutely brilliant at doing that — I've never seen anyone as good as him at programming a Linn."
This is somewhat ironic in light of Neill King's aforementioned statement that, since the Linn was already outdated, he and the band had opted to use the Synclavier.
"I was still using the Linn in conjunction with my UMI," Tarney continues. "It worked for the boys and they loved that idea. It gave Pål the freedom to write these Linn Drum parts and he was brilliant at that. So, all of their musical ideas went through my equipment, and that meant I could then control the sounds that were being used and put them together exactly as I wanted them to be. There's a fine line between a demo and a record, but it's a crucial difference.
"Both Pål and Mags were very good instrumentalists — Mags was an excellent keyboard player. I remember them in the control room playing their [PPG] Wave keyboards and it was fantastic hearing them play at the same time. They were so energetic. A lot of the stuff that I needed to control came through the Juno and a [Yamaha] DX7, but then they played the Waves together and that's where the magic seemed to come from. It was a very atmospheric, live recording."
This was in marked contrast to the piecemeal approach taken at Eel Pie. Still, as at that studio, the console at RG Jones was a 48‑input E-series SSL, while the tape machine was a 24‑track Studer A80. Alan Tarney loved the fact that this equipment was housed within a fairly compact Eastlake room.
"As a musician, it was just fabulous to play in that control room," he says. "Not so much the studio itself. The control room was the main attraction, and so that's where Pål and Mags recorded their parts direct."
Engineer Gerry Kitchingham today.
The 3:46 end result was far closer in terms of feel to the 3:19 Mansfield‑produced version of 'Take On Me' than the 3:10 King‑engineered version. Yet there are still some significant differences between the latter two and the version produced by Alan Tarney: namely, both Mansfield's and King's versions feature synth stabs and an assortment of incongruent sounds during the first part of the instrumental break; these two also have a much more abrupt ending than the synthesized fade‑out on Tarney's production; King's version has the most pop‑oriented synths; Tarney's has Harket's most hard‑edged vocal.
"In line with their original demo, Pål and Mags had everything pretty much worked out," Tarney says. "So it was just a matter of recording it right and putting it together in the best way possible."
"Alan really had it fairly easy producing that record," adds Gerry Kitchingham. "If anything, Tony Mansfield and Neill King had the harder job because they completely changed it, but all Alan had to do was duplicate the demo, remove the rough edges and tart up the sounds a bit. That's why it was quite a pleasure to record 'Take On Me' and it went like a dream. The boys were still fairly new to the studio, so we didn't get any prima donna behaviour — we liked them, they liked us, and they got on with the job and worked quite fast.
"Being that RG Jones was still 24‑track (soon after, we got a digital Mitsubishi 32‑track), we normally had to start by getting some sort of drum track down. Provided the tempo and the feel were right, that guide drum track would be fairly simple — not that 'Take On Me' required anything particularly complex — and I'd mix it on two tracks. The tape machine was run by SMPTE code, so it was locked to the programming instruments, and when it came to the mix Alan dialled up the drums live to save on tracks.
"After laying down the stereo guide drums, other guides were recorded, including Morten's vocal, and then we started to look at everything a little bit closer. Of course, because a lot of the track was programmed, there were times when Alan was busy creating a bass part or whatever with the boys and I'd be waiting for them to build things up from there. One of the things they did almost right away was to get the main riff sound with the Juno 60. He and the boys would experiment and go through sounds until they liked something, and then it would be a case of programming it, sometimes combining more than one sound by way of the MIDI'd synthesizers.
"As the albums went on and A‑ha's sound became more heavy, we'd start feeding synths into amplifiers and things like that. But in this case, because 'Take On Me' was relatively lightweight, all of the instruments were DI'd, and then we had a few effects of various kinds to go through, whether these were produced by my outboard gear or Alan's. This included a Lexicon 224 [reverb] for the vocal, as well as an AMS [delay] that enabled us to sample snare sounds and combine them with the Linn Drum sounds for more realism. You could get different quality chips for the Linn, and Alan would sometimes lift the lid, pull out the chips and put in some better ones that he could afford to buy. 'Take On Me' had a fairly standard Linn snare sound and I just remember compressing it quite heavily to get a very slappy feel. At the same time, while the quality of the Linn's snare, toms and kick drum was quite good, its cymbal sounds were a bit crappy — no high end. So Pål overdubbed real cymbals and possibly some hi‑hat in the studio, to add some clarity and get more of a live feel.
"Anyway, that's how we built up the track until it was time to do the vocals. We had quite a large studio area at RG Jones, and to cosy it up a bit for Morten we set up three large screens behind him; one directly behind, the other two angled in slightly. If I'd been using my microphone, it would have been a Neumann U87, but Alan had a valve Neumann U47 which we used on 'Take On Me', as well as a Neve microphone preamp and Neve equaliser. That valve 47 had a lovely sound, and I remember that when I heard Morten sing through that for the first time, the purity of his voice was amazing.
"As you can tell from the record, he had this incredibly strong falsetto and almost choir‑boyish clarity. In fact, as soon as I put up the mic and started pottering around I knew I wasn't going to have a problem getting a good sound on his voice. I was really impressed straight away. He's an excellent singer and, being fairly new to recording in professional studios, he wasn't too precious about the whole process. He just sang the song and accepted what we considered to be the master. Two or three albums later it would be a different story, with us spending so much longer recording his vocals and keeping everything. In this instance, he just sang through 'Take On Me' about four times, Alan and I told all three boys to take a break while we pieced the whole thing together, and we then got Morten back in to drop in a few small parts. He already knew the song and had such a great voice that it really didn't take long to record. I just added some reverb from the Lexicon 224, as well as repeat echo for the high falsetto bits and that was it."
"Morten had an exceptional voice with a quite amazing range," Tarney agrees. "He was very expressive in terms of how he sang, and he really did go for it. We didn't have to compile from many takes, but he was capable of doing so many different things that I did have to decide which was the right vocal to use. For the backing vocals, I sang with all three guys into the same mic, and all in all we spent maybe a day recording the song and then another day mixing it. Thanks to the David Cassidy project, we couldn't afford to give it any more time."
Time was also a factor with the sessions for 'The Sun Always Shines On TV', A‑ha's follow‑up single to 'Take On Me' which would top the UK chart, en route to selling over five million copies worldwide.
"That was a lovely bonus," Gerry Kitchingham says. "It was because everything went so well with 'Take On Me' that we then almost immediately worked on 'The Sun Always Shines On TV'. I'm pretty sure it was within the same week."
This all took place while Tarney and Kitchingham were working on 'The Last Kiss', the hit single that Tarney co‑composed with David Cassidy and which he then mixed with John Hudson at Mayfair Studios in northwest London.
"John and I mixed 'The Last Kiss' on the Saturday, and on the Sunday we mixed 'The Sun Always Shines On TV'," Tarney recalls. "In those days, I'd always record with Gerry Kitchingham at RG Jones and then I would usually go to Mayfair to mix with John Hudson. I just thought Mayfair had better monitoring for mixing. What's more, if I was at RG Jones I'd still be thinking of musical things to add. So it was nice to go somewhere else and just finish it. John did the mix of 'The Sun Always Shines', whereas Gerry did the mix of 'Take On Me', and that's because we were in the middle of recording 'The Last Kiss' at RG Jones when A‑ha came in to record 'Take On Me'. Since the boys were happy there, we decided to finish it at the same place. More than anything, it was a matter of time."
Indeed, in April 1985 Warner Brothers' head office in LA rushed to release the new version of 'Take On Me'. However, a half‑hearted campaign by the label's UK office ensured that the single still did nothing. And so it was that, courtesy of WEA exec Jeff Ayeroft, the head office demonstrated its impressive faith by shelling out $100,000 on a ground‑breaking new promo video that ended up taking four months to complete. Produced by Simon Fields of Limelight Productions, directed by Steve Barron, and animated by Michael Patterson and Candace Reckinger, utilising the combination of pencil‑sketch animation and live action known as rotoscoping, this romantic fantasy featured Morten Harket as a motorcycle‑racing hero who draws a girl (portrayed by Bunty Bailey) into his comic‑book world before finally joining her in real life.
Originally, another track from the Hunting High & Low album, 'Train Of Thought', had been designated to receive the rotoscope treatment. Reassigned to promote 'Take On Me', the video projected the single into the stratosphere following the album's release in June 1985. ('Train Of Thought' would subsequently be paired with Michael Patterson's art cartoon Commuter.) That September, as 'Take On Me' and the accompanying video climbed their respective charts in the US, the song was re‑released yet again in the UK, where it eventually peaked at number two for three weeks. In America, where the video had cannily been issued to dance clubs and MTV a full month before the single was made available to record stores and radio stations, it went all the way to number one and remained on the Billboard Hot 100 for 23 weeks. It was the same in Europe, where it topped the charts in Austria, Belgium, Germany, Holland, Italy, Sweden and Switzerland.
"We learned the massive difference between a [record] company that was completely together and had a focus and a company where that was not the case," singer Morten Harket commented in a 2009 TV interview. "We very quickly saw how important it is to have a record company behind you. You can be a great artist, but if you don't have good people around you, nothing is ever going to happen, really."
"When we were recording 'Take On Me', I had no idea it was going to be the hit it turned out to be," Gerry Kitchingham now admits. "Maybe that's because I was making records every day, but it didn't really jump out at me. Only later on did I really get to appreciate it."
"'Take On Me' incorporates all the best components of A‑ha," concludes Alan Tarney, who still writes songs in his home studio that, once equipped with a Harrison desk and Studer A80, was the site of recordings such as the Norwegian trio's 1987 'Manhattan Skyline' single. Today it houses an Otari console, RADAR and Logic. "That song really sparkles because of the great vocal by Morten, and it also has those quirky little keyboard and synth parts that were just so lovely to hear when they were being performed in the studio. It really is a wonderful record..."  
Born in the North-Western English town of Workington in November 1945, Alan Tarney grew up in Adelaide, Australia, where he befriended a Mancunian ex‑pat named Terry Britten, who would later enjoy success as a songwriter for, among others, Tina Turner, Cliff Richard, Olivia Newton‑John, Status Quo and Michael Jackson. During their teen years, Tarney and Britten played guitar in separate bands, and after each returned to the UK in the late '60s, they met up in London and formed a band named Quartet.
"Thanks to knowing an Australian producer called Dave Mackay — who worked with Cliff, the New Seekers and Bonnie Tyler — we ended up doing recording sessions as a rhythm unit," says Tarney, whose own credits as a songwriter and producer include chart successes for Cliff Richard, Leo Sayer and David Cassidy, as well as seven top 10 singles with A‑ha, for whom he produced the first three albums. "Consequently, we got to meet a lot of artists and, if I wrote songs, I could play these to them."
Doing session work for anyone from Bonnie Tyler and Bow Wow Wow to Squeeze and the Drifters, Tarney played with the Shadows from 1973 to 1977, during which time he also comprised one half of the Spencer‑Tarney Band alongside another former Quartet colleague, Australian songwriter/producer/drummer Trevor Spencer. This preceded Tarney's own compositional and production successes.
"While I started off as a session musician, I also had a publishing contract with ATV Music," he explains, "and in those days the publisher would give you £150 to go and record the demo. That budget was supposed to pay for the musicians, but I found a studio that would give me a whole day for £150 and, being self‑taught, I played all the instruments myself. I did that every day and I eventually became very adept at making records. As a result, on the records that I subsequently produced I played all the instruments. You don't have to be great, you just have to know the right things to do."
It was after Tarney co‑produced singer‑songwriter Charlie Dore's hit single 'Pilot Of The Airwaves', with the Shadows' Bruce Welch that he began working with Cliff Richard.
"I played 'We Don't Talk Anymore' in the studio, Bruce heard it and he said, 'That would be a good song for Cliff'," Tarney recalls. "So, we finished our work on Charlie Dore's album on the Friday and the next day we recorded 'We Don't Talk Anymore' with Cliff."
Recorded at RG Jones in April 1979, that single became Cliff's first UK chart‑topper in more than a decade as well as his biggest worldwide hit, reaching number seven on the Billboard Hot 100 and enjoying global sales in excess of five million copies. Not surprisingly, Cliff Richard's management then asked Alan Tarney to write more material, and in the course of producing Cliff's next few albums Tarney came to the attention of the people investing time and money in A‑ha, which would eventually land him the job of producer on the Hunting High & Low album.