Producer: Steve Lillywhite • Engineers: Chris Dickie, Steve Lillywhite
A Christmas song was an unexpected move from a group like the Pogues, but the story of heartbreak and pain that is 'Fairytale Of New York' eventually became the band's biggest commercial success.
"You scum bag, you maggot, you cheap lousy faggot, happy Christmas your arse, I pray God it's our last"
These are not exactly the kind of lyrics normally associated with whipping up festive fun. But then, if the Pogues were going to record a song about Christmas, it was bound to draw on the politically laced, punk-infused brand of Irish folk music that had garnered this edgy, radical, Anglo–Irish band so many critical plaudits since their formation in London in 1982. Forget about sleighbells, snowflakes or roasting chestnuts on an open fire; as written by Jem Finer and Shane MacGowan, and as sung by MacGowan with Kirsty MacColl, 'Fairytale Of New York' features the drunken, dream-based recollections of a man who has boozed his way behind bars for the night, as well as a spat between a pair of alcohol–and–drug–riddled ex–lovers.
OK, so it isn't a particularly happy or inspiring story. Yet, as set to an infectious, upbeat musical arrangement, the song boasts a uniqueness, a charm and a perverse humour that have helped established it as a bona fide Christmas classic in both the UK and Ireland over the past two decades. And it came about during a period when, having undergone a number of changes following the release of their first two albums — 1984's Red Roses For Me and 1985's Rum, Sodomy & The Lash — the Pogues took a musical left-turn on If I Should Fall From Grace With God, the 1987 Steve Lillywhite-produced record that included 'Fairytale Of New York'.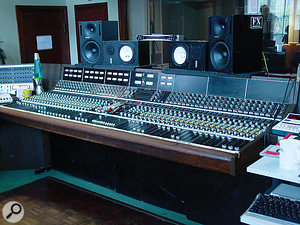 The 48-channel API desk used to record If I Should Fall From Grace With God is still in situ in RAK's Studio One, one of very few original API desks still in service in a commercial UK studio.Elvis Costello had produced Rum, Sodomy & The Lash, but after he married bassist Cait O'Riordan in 1986 she had quit the band. Darryl Hunt had subsequently replaced her, while former Steeleye Span multi-instrumentalist Terry Woods had also been recruited to augment the line–up that consisted of Shane MacGowan (vocals), Jem Finer (banjo), Peter 'Spider' Stacy (tin whistle), James Fearnley (accordion), Phil Chevron (guitar) and Andrew Ranken (drums). Stiff Records, the label that had signed the Pogues back in 1984, went bankrupt in 1987, and the band — whose original name, Pogue Mahone, was an Anglicisation of the Irish words for 'kiss my arse' — had hooked up with Island Records by the time they released If I Should Fall From Grace With God.
This album added jazz as well as Spanish and Middle Eastern folk to the musical mix, and for the first time it also featured a full drum kit. Yet, what it had most in its favour was a superior batch of songs, courtesy of a two-year layoff from recording that had been caused by Stiff's worsening situation. This had enabled MacGowan and, to a lesser extent, Finer, Woods and Chevron, ample time to write new material and routine it with the rest of the band, and once Steve Lillywhite came on board — having already compiled a resumé that included projects with U2, Peter Gabriel, the Rolling Stones, Ultravox and Simple Minds — he provided the impetus that was necessary to achieve the very best results.
"Steve has this knack of getting everyone involved with a project to perform at a higher level than they normally would," says Chris Dickie, who engineered the record with assistance from Nick Lacey and Roy Spong. "The Pogues did, I did, A&R did, management did and the studio team did, too. I worked on a few records with Steve and he achieved this with anyone who was involved."
Still going strong: the Studer A800 24-track used by the Pogues remains in use in RAK's Studio One.At the time of the If I Should Fall From Grace With God project, Dickie was an in-house engineer at Mickie Most's multi-room RAK Studios facility in St. John's Wood, Northwest London, where Studio One — in which the album was recorded — housed a 48-input API console, a 32-channel sidecar which was used for all of the headphone balances, a Studer A800 MkII two-inch 24-track machine and Tannoy 'Big Red' monitors. Outboard gear included a Scamp rack containing several Scamp compressors, an auto-panner and a couple of noise gates, along with two Pultec EQs, two Urei 1176s, an AMS delay and reverb, EMT 140 echo plates and a stereo Fairchild limiter. The studio's impressive array of mics included Shure SM57s and SM58s, Neumann valve U47s, FET 47s, KM84s, U87s, an M49 and a TLM 170, AKG C414s, C451s and D12s, Sennheiser MD421s and three RCA ribbons.
"The Fairchild limiter was prone to motorboating," Dickie recalls. "In the manual it said that, to fix the problem, one should rotate the four valves. You can't do that with your plug-ins!"
A native of Coventry who has been living in Australia since 1994, Chris Dickie was heavily influenced by punk and Two-Tone during his mid-to-late teens, and after playing bass in a punk outfit and getting to see various facets of the music industry, he decided that recording and the studio were the aspects that fascinated him most. Cue the job at RAK, which he now describes as having been "a fantastic place" in which to start his career back in 1983.
"Everything there was done live," he says, "everything was manual mixing and Mickie Most was always pushing mixes into the red, as you can tell by the little edge of distortion that you hear on the Hot Chocolate records. Then again, aside from the in-house projects, there were also plenty of record companies using the studio for their own top acts, and this brought us producers such as Steve Lillywhite, Alex Sadkin and Stewart Levine. It really was an old-school British recording studio environment — Hugh Tennant, the manager, had worked at Olympic when Jimi Hendrix was there, and he had such an incredible technical knowledge that, if you ever got into any trouble with the gear, you just had to poke your head around the corner and he would come in and sort it out. Dave 'Smudger' Fromberg did the same with the RAK mobile truck that we used for concert and TV work.
"Will Gosling was the engineer who took me under his wing when I first joined RAK. He had recorded Big Country there with Steve Lillywhite and Boom Crash Opera with Alex Sadkin. Then there was Greg Jackman, who taught me most about orchestral recording. He was an in-house engineer at RAK before I started there, and he went on to record the Moody Blues and Enya, as well as hit records by many other artists. Between these people, Mickie Most and the various other producers who kept coming in, there was a combined brain power that really helped me in terms of learning, bouncing ideas off them and finding out how different guys worked. These days, I don't know anywhere that offers all of this in the same place. Most people just sit in front of Pro Tools and have to rely on their own experience and plug-ins."
Kirsty MacColl, whose voice provided a striking counterpoint to Shane MacGowan's on 'Fairytale Of New York'.Photo: Paul Slattery/RETNA UKFor Chris Dickie, the If I Should Fall From Grace With God assignment took place fairly early during a career that has seen him engineer records by the Thompson Twins, Kirsty MacColl, Rickie Lee Jones, Simply Red, Sinéad O'Connor, Depeche Mode, Morrissey (who he has also produced), Wet Wet Wet, the Waifs, Augie March and the Dave Matthews Band.
"Steve Lillywhite had helped routine the Pogues' material before I became involved," he recalls. "Then, when they came to the studio, I set up everything for the album sessions with the brief that the power had to be kept in the acoustic instruments. I mean, a lot of people would set up an acoustic guitar so that it was nice and bright, but there wouldn't be much body to it. We wanted lots of mid-range body from the acoustic instruments. And I had also been told that, since Andrew the drummer could get intimidated by being in the studio, we should set up his kit so that he'd sit with his back to the glass, looking into the recording area rather than towards the control room.
"The Studio One live area had a beautiful wooden floor and a floor–to–ceiling, windowed partition screen that divided it into two rooms, providing good separation between the front and back. In fact, the back room had a higher roof and an optional carpeted floor, and that's where, for the backing tracks, we set up James Fearnley on accordion, Terry Woods usually playing the cittern or mandola, Shane doing guide vocals and Jem Finer playing the banjo, while in the front room we had Andrew Ranken on drums, Phil Chevron playing either acoustic or electric guitar and Darryl Hunt playing bass while standing in a screened-off section with a carpeted concrete floor that ensured it didn't resonate so much. We could choose between big, moveable partition screens with windows and smaller baffles with lids made out of guitar cases, carpet or piano covers for the cubby-houses surrounding the amps. This meant the separation was good, as were the lines of vision that were really important because quite often there were visual cues for the timing."
Chris Dickie today."At that time, I would use either a D12 or a FET 47 on the kick drum; never two mics, only one, and I would usually create some sort of cover over the front of the bass drum to keep other noise out of it. That would then be processed using a little graphic EQ that was in the desk — either an API graphic or an Angus graphic, because we had both in there. Then, for the snare drum — a piccolo, which was really lovely and had a really good crack to it — the top mic would be a 57 and the bottom mic would be a 421; the hi-hat was probably a KM84; toms were either 421s or 57s; overheads were 414s; and for room mics on the kit I was using PZMs, with one on the glass window behind the drummer and one on a flight case in front of him, both getting quite a lot of treatment from a Urei 1178 or 1176 going to tape.
"There wasn't much going on in the way of EQ, aside from maybe a little bit of top end on the snare drum. In fact, if there was much EQ going on, it was usually on the kick drum. The hi-hat would be on track one; track two would be the kick drum; track three would be the snare; and toms would be combined on track four.
"In the screened-off, carpeted section to the right of the front room, Darryl's bass went through a lovely-sounding Ampeg STV rig that was recorded with a combination of a 421, a FET 47 and a DI. We used the 421 for the tone and the 47 for the body, and they'd both be tracked with a little compression, Pultec over the DI to warm it up. At the same time, in terms of Phil's guitar amps, I have a vague recollection that he used both a Fender Twin and a Roland Jazz Chorus, baffled off at the far left of the room and miked with just a 57 on the front of the cabinet.
"Moving into the back room, James Fearnley was on the other side of the floor–to-ceiling glass partition from where the bass was set up, and we had to make sure there was enough space in the screened-off booth for him to move around with his accordion. There's quite a lot of action when he's playing — he's fairly dynamic — and on the bass-end of his keys I had an RCA ribbon mic, while above his left shoulder, at a 45-degree angle, I had a KM84 facing down towards the left-hand side of the keyboard and another one pointing upwards in a stereo configuration, providing the highs and the lows: a lot of dynamics.
"Next to James, Jem Finer played the banjo in the centre of the back room, miked with a 57 directly on the strings as well as a DI, while to his left Terry Woods played the cittern. That is a powerful instrument, and boy, could he play! The guys all referred to Terry as the master musician, and he really was so good. He would play the most intricate parts and the most beautiful melodies, and I've never heard anybody play as fast as he could. I always tried to record him with a valve M49, whereas I'd record Shane's guide vocal with a valve U47 positioned on the left-hand side of the room. That was the same mic I'd use for his lead vocal, and although it let in a bit more spill from the room than I really wanted, if necessary I could at least combine parts of the guide vocal with the lead vocal."
"We actually placed the instruments that were prone to spillage in the back room where there were big isolation booths, while those that didn't have much gain on their mics, such as the guitar and the bass, were in the front room with the drums. The thing with spill is, if you end up keeping all the parts, then it really doesn't matter because it's all part of the same performance. It's only when you start stripping things out and replacing them that spill becomes an issue, but for the most part the Pogues' playing was fantastic and the tracking of each song was an absolute joy to behold. Once we started layering other parts, there usually wasn't much to fix on the backing track apart from a couple of notes here and there.
"In addition to some great songs, the Pogues were all about great players interacting. There was no pitch correction and no editing in the modern sense — The essence of Steve's production work was to collect great performances, whereas these days the opportunity to tweak things is so tempting that I wonder if we are too quick to take the fix-it option over the let's–get–a–great–performance option."
"During the first week of the Fall From Grace sessions, we recorded 10 backing tracks," Dickie recalls. "On the Saturday night, management, friends and road crew all showed up at the studio and we had a bigger party than any end-of-album bash we'd ever had there... and that was just the end of the first week!"
James Fearnley had quite a lot of input in terms of ideas for overdubs, be they related to him playing a hammer dulcimer with teaspoons or creatively embellishing a melody line with a mandolin. Ditto Terry Woods with instruments such as the cittern and the concertina. Most of the overdubs took place with one person sitting alone in the studio and playing an acoustic instrument that was recorded with either a Neumann U47 or M49. Such was the case with Spider Stacy's tin whistle part on 'Fairytale Of New York', as well as the harp played by Siobhan Sheahan, yet not so the vocal of Kirsty MacColl.
Originally, her part was supposed to have been sung by Pogues bassist, Cait O'Riordan, but after she left the group Steve Lillywhite turned to MacColl, who at that time just happened to be his wife, and asked her to record a guide vocal for the demo. This she did at their home studio, and when the band members liked her performance so much that they asked her to appear on the actual recording, she once again obliged.
In the meantime, strings were always in the song's future, and after James Fearnley had exchanged ideas about this with arranger Fiachra Trench, Fearnley mocked up a part on the keyboard, Trench wrote the arrangement and, on the final day of work on the album, the project relocated to London's SSL-equipped Townhouse Studios. There, a string session took place in the morning, followed by a three-hour French horn session in the afternoon, and the result was a total transformation for 'Fairytale Of New York'.
"We went to 48-track after making a two–inch slave for the strings recording," Dickie explains. "Still, we often had to create tracks on the first 24-track tape so that we had enough for Shane to sing a few takes of the lead vocal. Normally, he'd give between four to six performances, so I would need up to six tracks to record to, as well as one to bounce down to. I didn't want the lead vocal on an edge track or too close to track 24 because of timecode bleed, and since Shane's headphones were so loud I also had to be aware of spill onto his vocal track, especially if he was listening to tracks that were to be replaced later.
"There were occasions when we would mono the tom tracks and erase the hi-hats in order to create tracks, and sometimes we would fly things across to a second 24-track machine. However, we didn't want to have 48 tracks running when recording the vocal as the time it would take to sync up and get the machines wowing up to speed would have done everybody's head in while stuffing our ears for pitch. Steve would therefore spend time comping the lead vocals — he had a system and he was really good at it. And we would also always try to keep a live vocal even after the lead one had been comped. Sometimes, the live vocal together with the band performance creates a magic that you can never recapture.
"If you listen to the playout of 'Fairytale' you can hear the drum sound kick up a little after the lead vocal ends. That was the room spill of the live band track going down on Shane's guide vocal track, as on that occasion we had comped the lead vocal into the old guide vocal track."
When it came to the mix, Dickie would set up the console, apply EQ and compression to individual intruments, add reverbs and delays, and get a working balance.
"Then Steve would come in and weave his magic," Dickie recalls, "pushing faders and going about the work like one of the very few true masters of the art of manual mixing. At Townhouse we were on an SSL, so after we had a good live take we were able to trim a few faders and stuff, and I remember doing a lot of the mix in Play Cuts Only [the SSL mode where only mutes are automated, not fader movements]."
Voted the best Christmas song of all time in 2004, 2005 and 2006 in polls conducted by VH1 UK, 'Fairytale Of New York' topped the Irish pop chart following its release in December 1987, peaked at number two in the UK, and has since made the Top 10 on three further occasions: number three in December 2005, number six in December 2006 and number four in December 2007, even after BBC Radio 1 briefly slapped a ban on the words 'faggot' and 'slut' and played an edited version of the song with these words bleeped out.
Chris Dickie's one regret regarding the track is how, upon its initial release, the Pet Shop Boys' cover version of 'Always On My Mind' kept it from the number one spot. "That was a pity," he says. Shane MacGowan, meanwhile, put it more succinctly: "We were beaten by two queens and a drum machine."
According to Chris Dickie, when recording the band tracks, the Pogues' headphone balances were crucial. Generally, the drums, bass, guitar and, sometimes, the banjo would have a mix; there would be a mix for Terry Woods and James Fearnley; and Shane MacGowan would have his own mix, described by Chris Dickie as "the loudest of anyone I've recorded, consisting of the bass drum, bass guitar and his vocal cranked way up. There was very little of anything else.
"I was able to monitor all these sends, tweak the balances and, if I heard a player drifting, I could check his headphone balance and tweak it to get him back in," Dickie continues. "I was amazed at how the changes I made would affect the performances, and for acoustic instruments and vocals I would always recommend that the musician have a headphone fully on one ear and half off the other so that he could still hear the dynamics naturally. Even a seasoned recording artist's ears are more highly tuned to the natural sound of an instrument than to the sound that comes back through a pair of studio headphones.
"Partly for this reason, when overdubbing we would often bring the player into the control room so that he didn't need headphones. These days, however, I don't find this so easy to do, because the modern studio gives musicians more control — with submixes going out to a small headphone mixer, they can adjust the balances themselves, and although this can work individually, as a whole the performance of a group sometimes suffers."
"With most of the songs, there was a two-inch edit involved somewhere," explains Chris Dickie. "Since Steve always wanted to do takes through the peak of the band's performance, we would often use bits from several takes as the final master. At the same time, although we used clicks when they worked, we wouldn't do so if playing to them sounded bad. In some cases, we might have a tempo to start with, lose the click at the chorus and then tap it back in for the second verse. It wasn't a very sophisticated procedure, but it was good because it kept the spontaneity and kept things live."
In the case of 'Fairytale Of New York', the approach was slightly different to that employed for the other tracks since the first thing to be recorded was the intro, a vocal/piano duet that Shane MacGowan and James Fearnley performed at a much slower tempo than the rest of the song.
"Steve's brief on his way out of the room to play table tennis was that we needed to get an old-fashioned piano sound. We had a large Yamaha grand in Studio One, and I miked it with a pair of D12s on the high and the low strings, as well as a valve M49 on the mid-section strings. It sounded great, and at the same time Shane was tracking through a valve 47 with a bit of Urei compression."
After a morning was spent recording the intro on a couple of tracks to two-inch tape, the band then picked things up from the transition that same afternoon and recorded the rest of the song at a faster tempo, before the two parts were edited together later that evening. This was achieved by copying the piano to half-inch before cutting the tape, flying it back into the two-inch tracks and then dropping in a decaying piano note to cover the edit."