Jerry Lee Lewis's raucous piano playing is the stuff of rock & roll legend, but his discovery and signing to Sun Records was the result of a series of lucky chances. Engineer Jack Clement tells us the story...
Jerry Lee Lewis performing in the 1957 film Jamboree. Photo: Redferns
There is nothing conceptually better than rock & roll," John Lennon told Jann Wenner in an interview for Rolling Stone magazine. "No group, be it Beatles, Dylan or Stones, have ever improved on 'Whole Lotta Shakin'' for my money."
Lennon was 16 when, sometime in 1957, he first heard Jerry Lee Lewis's ground‑breaking rendition of the number that had originally been recorded by rhythm and blues belter Big Maybelle a couple of years earlier. Rockabilly pianist Roy Hall — who, under the pseudonym of Sunny David, wrote 'Whole Lotta Shakin' Goin' On' with black musician Dave Williams — also recorded his own version, before Lewis inspired a generation of teens by injecting the song with his inimitable brand of boogie‑woogie, country, gospel and R&B‑infused hellfire.
Released in May 1957, the single rose to number eight in the UK, reached number three on what was then known as the Billboard Top 100, and became an R&B and country chart‑topper. In the process, it launched the career of the piano‑pounding, rocket‑fuelled wildman whose manic, overtly sexual live performances provoked parental nightmares. As it happens, the self‑described "Killer" only enjoyed four Top 20 hits before the scandal of his marriage to a 13‑year‑old cousin brought the successes to a screeching halt. Yet, courtesy of a wide‑ranging career that has now spanned seven decades and comprised an impressive body of work, Lewis's legend has remained intact, and the tale of how he first came to prominence is, like the man himself, quite unique.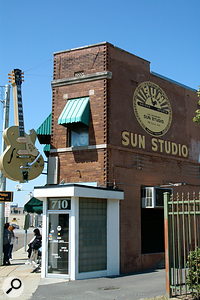 Sun Studio, originally known as Memphis Recording Service, is now a tourist attraction and, once again, a recording studio.
Born in Ferriday, Louisiana, on September 29th, 1935, Jerry Lee Lewis displayed musical talent from a young age. After his parents mortgaged their farm to buy him a Stark upright piano, he developed his style by watching the boogie‑woogie playing of his older cousin Carl McVoy, and listening to the sounds of the black artists who performed at a local juke joint named Haney's Big House, owned by his uncle Lee Calhoun. When Jerry Lee's mother enrolled him in the Texas‑based Southwest Bible Institute, so that he could dedicate his talents to the Lord, the flamboyantly dexterous yet uncontrollable kid was immediately expelled for ripping his way through a boogie‑woogie rendition of 'My God Is Real', and thereafter he plied his trade in clubs around Ferriday, as well as in Natchez, Mississippi, and Nashville, Tennessee.
In 1955, at around the same time that Lewis failed an audition to perform at the Grand Ole Opry, he was told by unimpressed Nashville record company execs that he should switch to the guitar. As usual, he didn't listen. Instead, impressed by the output of the tiny Memphis Recording Service that was owned and operated by Sam Phillips — the man who had already discovered Howlin' Wolf, Elvis Presley, Johnny Cash and Carl Perkins — Lewis decided to see if he, too, could benefit from the production skills and career guidance of the Sun Records label owner. As luck would have it, Phillips wasn't in town when Jerry Lee and his father, Elmo, travelled to Memphis in November 1956, yet the story surrounding their trip has become part of rock & roll folklore.
"I took possibly the first vacation that I'd ever had in my life when I, my wife and our two young sons went to Daytona, Florida, for a week," Sam Phillips recalled when I interviewed him in 1998. "Jerry Lee Lewis had been trying to see me, and while I was away, he and his father had apparently sold eggs to buy gasoline to come up here. You might think, 'Man, was anybody that poor in the '50s?' Well, they were."
Indeed, the Lewises funded their Memphis visit by selling 13 dozen eggs to Nelson's supermarket in Ferriday.
"At that time, to earn a living, Jerry Lee was performing in a nightclub and playing the piano with his right hand and the drums with his left," confirms Phillips' then‑assistant Jack Clement who, after Lewis first walked into the building at 706 Union Avenue, was informed by office assistant Sally Wilbourn, "There's a guy here who says he plays the piano like Chet Atkins."
This was quite a boast, since Atkins' claim to fame was on the guitar.
"I said, 'Really?'" Clement recalls. "'I've got to hear that.' So Jerry Lee came into the studio and played 'Wildwood Flower' on this little spinet, and he sounded like Chet Atkins playing the piano! When I asked him, 'Do you sing?' he said, 'Yeah,' so I said, 'Well, sing something,' and as soon as he did, I made a tape of it. He was singing these country songs by George Jones — 'Seasons of My Heart' and 'Window Up Above' — and I really liked what he was doing. The tape I made had four or five songs, and there wasn't any rock & roll, so I told him, 'We don't do much country around here. We're in the rock & roll business. You ought to go home and work up some rock & roll numbers...'"
The live room at Sun Studio today.Photo: Sun Studio
Born in Whitehaven, Tennessee, on April 5th, 1931, Jack Henderson Clement was, like Jerry Lee Lewis, musically active from an early age; in his case, as a singer and, eventually, a songwriter and guitarist. After earning good money performing in hillbilly clubs around Washington DC during his 1948‑'52 stint in the United States Marine Corps, Clement pursued a part‑time career as a musician while earning extra cash as a dance instructor and driving a laundry truck. Then, in 1955, while attending Memphis State University, he performed a Christmas Eve gig at a friend's club in Arkansas. That same friend, Slim Wallace, drove him home, accompanied by Mrs Wallace and another woman who, deemed to be drunk and disorderly during a stop at a diner, ended up being arrested and thrown in jail, along with her sober defender, Mr Clement. Still, this would have a fortunate outcome.
"Slim and I wanted to form our own label, Fernwood Records, and during my spare time I was building a studio in his garage," Clement recalls. "Anyway, he hung around to get me out of jail on Christmas Day, and since there wasn't much public transportation we decided to hitchhike. Out on the highway, we were picked up by this guy named Billy Lee Riley. He was a rockabilly artist, and after I told him that Slim and I were getting into the record business, we rehearsed some of Billy's songs in Slim's garage. It didn't have good enough equipment to make a proper record, so I wound up producing 'Trouble Bound' and 'Think Before You Go' at the studio of the WMPS radio station."
Clement subsequently took the tape of this session to the Memphis Recording Service for mastering, and when he returned a few days later, he ran into Sam Phillips who, impressed by what he had heard, told him he'd like to release Riley's tracks on Sun Records and that he'd also like to offer Clement a job. Hardly enamoured with his current part‑time work at a local hardware store, Clement accepted, and on June 15th, 1956, he became Sam Phillips' assistant.
"If the Arkansas cops hadn't put me in jail on Christmas Eve, I would have never met Billy Riley and landed a job with Sun Records," says Clement, while adding, "Fate sometimes has a wonderful way of intervening."
One of Sun Studio's Ampex tape recorders.
After Phillips requested something more upbeat to pair with 'Trouble Bound', Clement recorded Riley's 'Rock With Me Baby' for the B‑side of the single released that September. Then he worked with another new discovery by the name of Roy Orbison.
"Sam was burned out on this engineering stuff," Clement remarks. "He had been doing it for years, so he hired me as his assistant and pretty soon he was letting me work with Carl Perkins, Johnny Cash and all the rest of them."
Nevertheless, when Clement played Phillips the tape of Jerry Lee Lewis performing country standards, following the studio owner's return from his Florida vacation, it piqued his interest.
"I really was looking for an artist who could be a lead piano player and hopefully a vocalist, too, and damn if Jerry Lee Lewis wasn't like that," Phillips recalled. "I really do think that the guitar is the greatest instrument on the planet, but there were so many guitarists by that time that I wanted a piano. So, when I heard this demo of Jerry Lee Lewis, I said, 'Where is that cat? Get ahold of him and get him in here! I want to talk to him.'"
Jack Clement picks up the story: "Jerry Lee's phone number was on the back of the box of tape, but one day he just walked in with his daddy and I said, 'Well, I've been meaning to call you.' This was on a Monday, and I told him that if he could come back on Thursday we'd cut some tracks. When Thursday arrived, Sam Phillips had gone to the annual Disc Jockey Convention in Nashville, so I took charge of the session. Jerry Lee played me this song he had written called 'End Of The Road', and I liked it. Then he had a rocking version of the old Gene Autry country song 'You're The Only Star In My Blue Heaven', and he sat down at the piano and played the heck out of that in a whole different way. I said, 'That's great.' So, we cut 'End Of The Road', and just as we were about to quit I asked him, 'Do you know 'Crazy Arms'?' That song had been out for quite a while."
Recorded by Ray Price and released in May 1956, 'Crazy Arms' had topped the Billboard country music chart the following month and remained there for 20 weeks.
"Jerry Lee said, 'I know a little of it,'" Clement continues, "so I said, 'Well, let's do it.' I'd been messing with that little old spinet piano, putting thumb tacks on the hammers that made it sound a whole lot different, especially the way Jerry Lee Lewis played it. I wasn't the first one to do that, but I found out that if I pulled off the piano's panel down below and stuck a mic under there instead of miking it from the top, it sounded really good. That's the sound you hear on all of his big hits. It was a big day when he finally got a small concert piano, but most of the stuff was done on the little old spinet. He could play the heck out of that thing."
Clement can't recall the microphone that he used to record the piano, but he says "we had some Shure and ElectroVoice mics; nothing fancy. One day, we got three new RCA 77s, and for us that was a big deal."
Jack Clement (left) and Sam Phillips in the 1990s.
By 1956, the Memphis Recording Service control room housed an RCA 76D radio console, with inputs and outputs coupled through transformers to provide the Sun label's trademark warm sound. And then there were the two Ampex 350 tape decks — one the master, the other rack‑mounted — via which the famous slapback echo was achieved by bouncing the signal from one machine to the other, with a split‑second delay.
"The board had rotary pots and allowed us to use six mics at once," says Jack Clement. "If we wanted echo, we'd have to use another pot with another mic on it. Well, next to the console I had a little side panel with six knobs on it, and that meant I could get echo on all six microphones with just that one mic. We could run the tape at 7.5 inches per second or 15; I usually ran it at 15 so there wasn't such a long delay."
According to Sam Phillips, the 'Sun Sound' was as much about sparse instrumentation as it was about his pioneering use of slapback echo.
"The human ear doesn't like hearing something that is aurally so different to the point of being strange," he explained. "It likes something different so far as the total confluence of the sound and the song and how it's done. I knew that people had heard records on jukeboxes in live little restaurants and dives, and what I tried to do with that type of echo and the sparse instrumentation was to make the sound not too foreign to the average ear. The acoustics of the room were good, but miking has an awful lot to do with the finished product. Of course, everything at that time was monaural, and I'm big on miking and I'm big on using the right mic, although I couldn't buy real expensive microphones."
These remarks tie in with Jack Clement's own observations about the audio qualities of the studio.
"Sam used to say, 'This room's got a sound,' and I thought he was full of you‑know‑what, but I later realised this was true," Clement says. "It has leakage, but it's good leakage. It doesn't sound off‑mic; it just fills up the sound, and the room isn't big enough for there to be too much echo. It was a very simple setup and it worked. We were always talking about constructing an echo chamber out back, but Sam didn't own that building, he was renting it. So, even though he knew how to build one, we never did do it.
"One time, Sam accidentally put a Carl Perkins album on the echo machine that we would leave running every time we'd record. Well, I came in there to record something, turned the machine on and erased the entire album! Sam didn't complain, because he knew it was his fault — that album, consisting of singles and B‑sides, had taken several months to produce and we didn't have any safety copies, but I don't think it was that good anyway..."
The 'Million Dollar' quartet. From left to right: Jerry Lee Lewis, Carl Perkins, Elvis Presley and Johnny Cash.Photo: Michael Ochs Archives
For the 'Crazy Arms' session, guitarist Roland Janes was recruited, along with drummer JM Van Eaton. At one point, while Janes was in the bathroom, Billy Lee Riley walked in and picked up Janes' guitar, so Janes then played an upright bass. However, since Riley only played a chord at the very end of the song and Janes wasn't near a microphone, the only instruments that can really be heard on the finished record are the piano and drums. JW Brown was Jerry Lee's bass player on the road, but Lewis's solid left hand on the keyboard made the bass superfluous in the studio.
"Sam came back over the weekend and on the Monday I played him 'Crazy Arms'," Clement continues. "Well, before we even got to the singing, he told me to stop the machine and he said, 'Now, I can sell that!' as if to say, 'You young whippersnapper, you've finally done something I like!'"
"I was just blown away," Phillips recalled in 1998. "The guy was different... The expression, the way he played that piano and how you could just feel that evangelical thing about him — man, was I looking for that, and there it was!"
"Sam made a disc in the control room and took it down to [local radio DJ] Dewey Phillips that night," Clement adds. "Dewey played it and people responded to it, they loved it. By the following Thursday, it was in the stores, and it did very well for a record by a new artist."
'Crazy Arms' was released on December 1st, 1956. It wasn't a hit, but it sold respectably and for several weeks after its release Jerry Lee Lewis took work wherever he could find it, both on the road and in the studio. This often consisted of backing Carl Perkins and Johnny Cash, while developing the onstage persona for which he would become famous/infamous — unable to dance around with a guitar, he would kick away his piano bench, slam the keys with his feet and, when said piano was big enough to support him, burn off more unbridled energy by standing on its lid and gyrating to the music. He made damned sure he was a tough act to follow. (Just ask Chuck Berry, who once had to walk onstage after Jerry Lee finished his set by setting his piano on fire.)
In Nashville back in 1955, Lewis had played at the Musicians' Hideaway bar owned by Roy Hall, and it was after hearing Hall perform 'Whole Lotta Shakin' Goin' On' that The Killer adapted and incorporated the number into his own live act. Now fast‑forward to February 1957, and a Sun session that commenced with Jerry Lee and the boys working on one of Jack Clement's own compositions, 'It'll Be Me'.
"It just wasn't jiving at that time," Clement recalls, "so I went into the studio and said, 'Why don't we get off this for a while and do something else?' That's when Jerry's bass player [JW Brown], who was also his first cousin and would soon become his father‑in‑law, said, 'Hey, Jerry, do that thing we've been doing on the road which everybody likes so much.' Jerry said, 'OK,' so I turned the tape machine on and he did 'Whole Lotta Shakin' Goin' On' in one take. No dry run, nothing. That was the first time I ever heard it."
During an era when most studios' modus operandi was to record three or four tracks in as many hours, no such time constraints were enforced at Sam Phillips' facility.
"The musicians weren't quick enough to work that way," Clement says. "These were often guys who hadn't made records before. But they were good. The thing about Jerry Lee is that you could give him a piano and an audience of one or more people and he would give you the whole show. That's what was so great about him."
As performed by Lewis, a catchy but fairly standard R&B number was transformed into just under three minutes of rock & roll magic. OK, so he only sang a small portion of the 'Whole Lotta Shakin'' lyrics, but the power of his playing and suggestiveness of his vocal delivery were nothing short of transformative, culminating in the sedate yet leering spoken passage — "shake it, baby, shake it, all you gotta do honey is kinda stand in one spot, wiggle around just a little bit..." — that is followed by the rousing finale and closing glissando.
"I knew it was a hit when I cut it," Lewis would later say. "Sam Phillips thought it was going to be too risqué, it couldn't make it. If that's risqué, well, I'm sorry."
Evidently, Phillips quickly warmed up to the number and, certain of its sales potential, poured all of his resources into its marketing. He wasn't disappointed, especially when, in October 1957, Jerry Lee Lewis followed 'Whole Lotta Shakin'' with an even bigger — and more lascivious — hit. 'Great Balls Of Fire', which he performed in the rock & roll film Jamboree, went all the way to number one in the UK while reaching number two in the US. Again, Jack Clement was sitting behind the console, as he was for Lewis's other major successes, 'Breathless' and 'High School Confidential'.
"He performed 'Great Balls Of Fire' on the new piano and it took several sessions to get it right," Clement recalls. "We knew it was a hit, so we kept messing with it until we got what we wanted. Still, it was pretty straightforward and working with Jerry was usually fun. He had a good sense of humour and I loved his playing. It was unique."
During his three years producing and engineering songs for Sun Records, Jack Clement also loved working with Johnny Cash, who recorded several of Clement's songs, including the hits 'Ballad Of A Teenage Queen', 'Guess Things Happen That Way' and 'The One On The Right Is On The Left'.
"He liked my songs and he liked my guitar playing," says Clement, who arranged the horns on Cash's 1964 hit 'Ring Of Fire'. "I played rhythm guitar on a lot of his stuff, and on 'Big River' I played guitar and a bass drum at the same time... I worked with him right up until he died, playing guitar and Dobro. He was always my favourite and we became dear friends."
After leaving the Sun studio in 1959, Jack Clement worked alongside Chet Atkins as a producer for RCA in Nashville and became a major figure on that city's music scene, launching — at various times — his own publishing company, record label and its first 16‑track studio. Nicknamed 'Cowboy' Jack while working with country artists Allen Reynolds and Dickey Lee — "We were clowning around, calling each other 'Cowboy', and for some reason my name stuck. I suppose everybody needs a title and 'Colonel' was already taken" — Clement has produced greats such as Louis Armstrong, Waylon Jennings, Charlie Rich, George Jones and Charley Pride, and written songs recorded by anyone from Garth Brooks, Cliff Richard, Gram Parsons and Tom Jones to Ramblin' Jack Elliot, Emmylou Harris, Dolly Parton and John Prine.
Clement's list of credits goes on and on, and he is still working today, sometimes at the commercial facility that he once owned and also in his 24‑track, Pro Tools‑equipped home studio. Nevertheless, his discovery of Jerry Lee Lewis is still one of his greatest achievements, and this includes his production of 'Whole Lotta Shakin' Goin' On' which, in 2005, was selected by the United States' Library of Congress for its National Recording Registry.
"My favourite years were the ones working at Sun," Jack Clement concludes. "It was just a bunch of crazy people getting in there and doing crazy stuff and selling millions of records."  
Three days after recording 'Crazy Arms', Jerry Lee Lewis was back in the studio, earning extra money playing piano on a Carl Perkins session that produced the classics 'Matchbox' and 'Your True Love'. As the session was winding down, who should drop by but Elvis Presley, who had departed Sun for RCA just over a year earlier and was, by now, the biggest star on the planet. After listening to that day's recordings, Elvis started jamming with Carl and Jerry Lee; quick off the mark, Sam Phillips immediately contacted Memphis Press Scimitar reporter Robert Johnson so that he could photograph and write about the impromptu session, and he also called and invited Johnny Cash to join the proceedings. Cash would leave soon after the photos of the 'Million Dollar Quartet' had been taken, but the other three stuck around and spent the next couple of hours indulging their love of country, gospel, and then‑contemporary pop songs.
"Sam had been running the board for the Carl Perkins session, but he left after the photos were taken," Jack Clement recalls. "So I sat at the board and turned up a couple of knobs, and I could hear them all gossiping and jamming in there. I remember standing up and saying, 'I'd be remiss if I didn't record this,' so I stuck a tape on, moved around a few mics that were already on stands in the studio, and captured everything for the next hour‑and‑a‑half to two hours. We had 30‑minute tapes, and every time I'd get close to the end I would put another one on and just let it roll. No one complained about this — they could see it running — and although I'd get the tapes out every once in a while, I don't think Sam listened to them all the way through. No one thought they were important, but later on they somehow got bootlegged and then they were turned into a legitimate record which is now the basis of a Broadway show! On at least one or two occasions, Sam said something along the lines of 'There's gonna come a time when a lot of these songs we're working with nowadays will be in Broadway plays and movies,' and he was right."
In 1987, Jack Clement was asked if he would like to record "a major rock & roll group" at the recently reopened Sun Studio in Memphis. As he recalls the conversation:
"I said, 'Are we going to use the 12‑track Akai?' and the guy told me, 'Yeah, that's what is there now.' I said, 'Well, I don't think you can afford me.' Of course, the Akai was OK, but it wasn't as good as using a 24‑track machine. Anyway, I hadn't been told who the group was, and when the guy said it was U2, I still hadn't heard of them. I don't listen to the radio all that much — all I listen to now is satellite radio. So, I said, 'I'll think about it,' and walked out of my office down the hall, where I ran into a guy who worked there and asked, 'You ever heard of a band called U2?' He said, 'Oh yeah, they're the biggest rock & roll group in the world!' When I told him they wanted me to work with them, he said, 'Do it!' So, I did, and it was a lot of fun."
The result was part of the 1988 Rattle & Hum album: 'Angel Of Harlem', "When Love Comes to Town" with BB King, and 'Love Rescue Me' with backing vocals by Bob Dylan, in addition to the Woody Guthrie song 'Jesus Christ' which appeared on a tribute album to the late, great folk artist. The sessions comprised Clement's first time at the Sun facility in many years, and it was then that he finally appreciated its acoustics.
"By then, I had built several studios, and so I understood what makes it sound real good," he says. "All that good leakage makes it sound live. The room is just the right size; about 18 feet wide by 24 feet long, with a fairly high, arched and v‑shaped ceiling, and acoustic‑tiled walls. Here was a full‑out, modern‑day rock band and they loved working there. So did I."