Producers: Trent Reznor, Mark 'Flood' Ellis • Engineer: Sean Beavan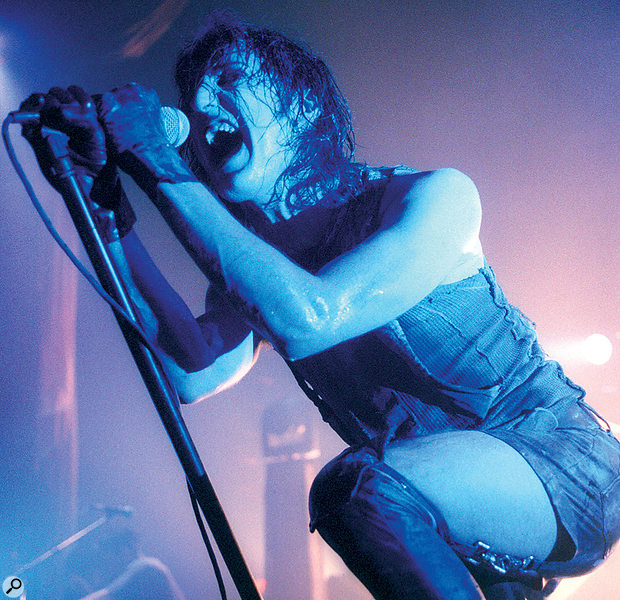 Photo: Ian Dickson/Redferns
Although the shock value of its lyrics and ensuing censorship earned it notoriety, 'Closer' perfectly exemplifies Trent Reznor's radical use of sampling and singularly focused musical vision.
A song about sexual obsession and frustration, Nine Inch Nails' 'Closer' was culled as a single from a concept album about a man's drug-laced decline and attempted suicide; recorded in the house where actress Sharon Tate and four of her friends were brutally murdered by members of the Manson Family; and promoted by a video depicting a severed pig's head, a monkey tied to a cross, a naked bald woman and a guy in S&M gear singing, "I wanna fuck you like an animal."
An industrial rock classic, 'Closer' — titled 'Closer to God' on the labels of most releases, echoing a line in the song — was the second single released from The Downward Spiral, the sophomore effort by NIN's sole official member, Trent Reznor, who was responsible for composing the album's material, performing the vocals, playing nearly all of the instruments and co-producing with Mark 'Flood' Ellis. It all took place inside a home studio set up at 10050 Cielo Drive in the LA neighbourhood of Benedict Canyon, which Reznor named Le Pig after renting the property and only then finding out about its notorious past: one that had seen the word 'pig' written in Tate's blood on the front door that he subsequently installed at his new Nothing Studios complex in New Orleans.
The aforementioned city was where Reznor initially intended to record The Downward Spiral, influenced by David Bowie's Low (1977), as well as Pink Floyd's The Wall (1979), and conceived after he'd ended a series of tours in support of NIN's 1989 debut album, the more dance-oriented Pretty Hate Machine. However, financial responsibilities resulted in him choosing to work in LA, and after looking at numerous houses, he decided to rent the one on Cielo Drive for a modest $11,000 per month. In mid-1992, Reznor commenced an 18-month stay there, during which time he purchased instruments, acquired recording equipment and collaborated with Flood on several of the tracks on The Downward Spiral, including 'Closer'.
"Trent and I were working at South Beach Studios in Miami when he got the contract for renting the house and it came with a legal notification about what had happened there," says Sean Beavan, who engineered the album. "Until then, he had no idea it was the site of the Tate murders — he just thought it was a great place to install a studio — and so we were blown away when we learned the truth."
Sean Beavan during a soundcheck for a Nine Inch Nails show in 1995.
A native of Cleveland, Ohio, Beavan played bass and sang in assorted local bands during his teens, while harbouring a desire to become a musician-producer in the mould of Todd Rundgren. A stint as a session bassist during the first half of the '80s familiarised him with his hometown's studios and saw him appear on records such as Eric Carmen's 'Hungry Eyes', which was a US top five single from the 1987 Dirty Dancing soundtrack. Meanwhile, engineering live sound for bands led to a job at Cleveland's Great Tracks Recording and then at The Right Track, where Sean Beavan first met in-house programmer Trent Reznor.
At that time, playing bass in one of the city's hottest bands, Nation Of One, Beavan was also doing live mixing for most of the other local outfits, including his group's chief rival, Exotic Birds, featuring Reznor on keyboards. Beavan was subsequently recruited to mix some demos Reznor had recorded for the project that would become Nine Inch Nails' Pretty Hate Machine, and which earned him a deal with TVT Records.
"At one point, I told him, 'Dude, anything you ever need from me, just let me know,'" recalls Beavan, who spent eight years as part of the NIN team, before mixing front-of house sound on Marilyn Manson's 1996-97 'Dead To The World Tour', in support of the Antichrist Superstar album that he mixed and co-produced with Manson, Trent Reznor and Dave Ogilvie. "I said, 'I'm with you. I love this music,' and so after Trent finished Pretty Hate Machine, he asked me to go on the road with him and take care of the live mixes. That's all I needed to hear in order to pack my things and join him."
While mixing the sound for Nine Inch Nails' concert performances, Beavan eventually became an unofficial member of the touring line-up, contributing backing vocals while sitting behind the console.
"We didn't hide it from the audience," he explains. "I think Trent liked the idea of an Adrian Sherwood-type dub mixer/producer, where I was part of the show. So, being a ham, I'd thrash around and dive off the console. The shows were just crazy, and when the people sitting at the front-of-house console saw me pick up the mic and start singing, they'd go, 'Holy shit!'
"We'd always open each show with 'Terrible Lie' [from Pretty Hate Machine], starting with the background vocalists [guitarist] Rich Patrick, [keyboard player] James Woolley and me all screaming 'terrible lie'. Well, one time, when we were playing in Germany, Trent got busy beforehand and put Limburger cheese in our microphones. Then, when we began to sing 'terrible lie', we all went, 'Oh, my God!' Throughout the first verse, Trent was laughing his head off — the smell was gross... We had a lot of fun, but I also have to say that everyone who worked with Trent was totally into the music and felt honoured to be around him."
Accordingly, when Reznor fell out with TVT Records, switched to Interscope and asked Beavan if he would engineer the Downward Spiral project, the latter jumped at the opportunity. By then, Le Pig had already been set up in the Cielo Drive home's living room, where the mutilated bodies of Sharon Tate and her hair-stylist friend Jay Sebring had once been found, and work was underway before Beavan became involved.
"Trent and Chris Vrenna had already been sampling things to create these crazy soundscapes, and most of the songs had basic structures with various ideas in place," he recalls. "Chris would rent movies, listen to them and record sounds with his DAT machine. You'd never think a lot of those effects were any kind of music, but he and Trent would take a sound, do a couple of things, and all of a sudden it would become this great keyboard hook or a bass part or a big drone. It was all extremely clever, and so when Flood and I came in, we mainly had to figure out the format for how we were going to record all the different parts."
This photo of Le Pig in 1994 was taken by Trent Reznor during the recording of The Downward Spiral. To the left is the Amek Mozart console.
The studio was equipped with a 56-input Amek Mozart console with Rupert Neve modules, two Studer A800 Mk3 multitrack machines, Mac-based Pro Tools and a host of outboard gear, in addition to Akai S1100 and Kurzweil K2000 samplers; Prophet VS, Digidesign Turbosynth, ARP Odyssey, Oberheim Expander, Oberheim OBMx, Roland MKS80 and Minimoog synthesizers; Doepfer and Oberheim sequencers; a Mellotron MKIV polyphonic tape replay keyboard; a Roland R70 drum machine; and assorted Jackson and Gibson guitars.
"We loved the Amek Mozart console, because if you EQ'ed a Minimoog it would make it sound kind of cooler," says Beavan, who has earned a superlative reputation during the past couple of decades for his hard-edged, guitar-dominated work with not only Nine Inch Nails and Marilyn Manson, but also Guns 'N' Roses, Slayer, No Doubt and System Of A Down. "Normally, you hit the EQ button and go, 'That sucks,' whereas in this case it actually made the Minimoog sound fatter. Meanwhile, a really cool piece of gear was John Lennon's Mellotron that [producer, engineer and Interscope Records founder] Jimmy Iovine had loaned Trent. That's what you hear being played at the start of 'Strawberry Fields Forever' and it still had the Beatles' tape loops in there."
While the living room served as the Le Pig control room, it was also the venue for most of the Downward Spiral recording sessions, since a lot of the material consisted of samples. One such track was 'Closer', whose demo was "pretty damned good," according to Beavan. "The song's structure and basic beat were pretty close to what ended up on the record. It had the great hook with 'I wanna fuck you like an animal' and 'you get me closer to God', and I immediately knew it would get radio play and could be a hit. Trent was actually worried that 'I wanna fuck you like an animal' sounded too trite, even though it was the thing that everyone would relate to. He was always so concerned about making 'real art' that he'd wrestle with the people-friendly aspects. Still, he obviously reconciled himself to that line, because we kept it."
This Timeline Micro Lynx was the unwitting victim of Trent Reznor's sometimes brutal vocal recording technique.
Setting the tone for the rest of the track, 'Closer' kicks off with a basic beat whose kick drum was sampled from Iggy Pop's Krautrock-influenced 'Nightclubbing', co-written with David Bowie for Pop's 1977 solo debut, The Idiot.
"It was like a Roland 808 with all of this noise and hiss," Beavan says. "I removed the noise but retained the grit. The snare drum was a sample that Flood ran through an SSL console for some distortion and a Zoom 9030 [Advanced Instrument Effects Processor] for a little bit of ring modulation. Whenever he would take samples and run them through processing gear, we would say, 'Uh-oh, Flood's putting on the lab coat.' The bass part was an Akai sample that he had, while his super synth licks were straight out of the Prophet VS and Akai stuff that we stacked together.
"While creating the drum pattern by running different parts out of the samplers, tweaking them with outboard gear and recording them, and then doing the same for the bass track, having four outputs meant we could only dump four audio tracks at once. We therefore had all the samplers lined up, running through the console, so we could listen to practically the whole song and tweak things while knowing what the vocal lines were going to be. This is because Trent recorded his vocals fairly early on.
"As usual, it wasn't hard to lay these down — he would get into the mood to sing and, if you didn't have a mic up in a minute-and-a-half, he'd be out the door! We guys who were engineering would refer to it as 'Vietnam' — you had to make sure that one or two mics were always available for him to sing at any given moment. You captured the moment with him. It might seem that there wasn't a lot of thought behind what he was doing, yet he'd obviously been thinking about it for a long, long time and he would lay down maybe three tracks of the vocal without ever repeating himself. He'd always ad-lib stuff, and after you picked one of the takes he would never allow you to punch in anything less than an entire verse.
"That's the way Trent was: anti-chorus and anti-pitch-shifting on the voice, he was always looking for a real emotional performance. So for nearly all of his vocals we'd have one solid take. We'd pick the one that was most emotional, and even if he only messed up a single word, we'd still pretty much grab a whole verse. He wanted it all to flow together, because everything else was so piecemeal. To his way of thinking, whereas the rhythm should be perfect, the emotion should come from the voice and the guitar. So those things were largely performed in a single take. That is, unless the guitar part was a riff that he'd loop over and over again, in which case he'd play along to a drum machine for, like, 20 minutes and come up with an entire record of great rock riffs. I'd then pick the greatest one, loop two or four bars of it and throw out the rest.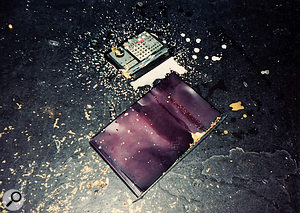 "The music just flows out of Trent like no one else I've ever known, even though he'll burn brilliantly and then have to play video games for the next eight hours. As with any great artist, there's a lot of procrastination, but while he's playing one of those games his brain is still working and at any moment he could come up with something fantastic. That's why we'd always have to be ready to roll. If he suddenly said, 'I want to sing,' I'd hand him a [Shure] Beta 58 and run it through a Neve and [Universal Audio] LA2A. I had it set up so he could grab a mic, I'd hit two buttons and off we'd go. Most of the time he'd hand-hold a 58, but every once in a while we'd record his vocal with [an AKG] 414 because it captured the natural sound of him in a room, which he really liked.
"He recorded 'Closer' with a Beta 58, and for some tracks he'd have it on a mic stand and perform right there in front of the console. In fact, when he did the vocal for 'Ruiner', he was lifting the mic stand, slamming its base into the wood floor and chipping it, while on another occasion he got so carried away that he sheared the knobs off some [Lexicon] PCM42s. There were three PCM42s in a row and he took the feedback and modulation knobs off every one of them. I was thinking, 'Fuck!' However, when he performed, the emotion came out, and in the case of 'Piggy' he was under the console singing into the Beta 58."
That's probably where Sean Beavan would have chosen to hide if he hadn't been ready with a mic when Reznor wanted to record, or if he'd failed to capture an excellent take and ruined the moment. Fortunately, that wasn't the case.
"We were always, always prepared to record," Beavan confirms. "We'd record the vocals right into Pro Tools, not onto one of the tape machines, so Trent could take them and do whatever he wanted. Most of the processing he did was external, but he did some internally too."
As Reznor himself has stated, "Ninety-nine percent of the stuff we do — even vocals — is recorded into the computer first. We get an arrangement together and then dump it to tape."
"Yeah, that's pretty much what we'd do," Beavan agrees, "and so the arrangement would constantly change. We'd move four bars here and three bars there and then put it all together. It was like an idea that kept evolving. Things only went to tape if, for example, we were recording 24 tracks of guitar and the tape machine was slowed down to achieve a particular effect. The processing in the computer was interesting, even though it was kind of rudimentary at that time — always on the cutting edge, we'd do things that no one else had done before.
Sean Beavan today in the control room of his Blue Room studios in Laurel Canyon, Los Angeles.
"Our effects were created mostly from the ground up on the Kurzweil K2000 — which we even used to distort vocals — and on the Eventide H3500. We also used the Zoom 9030 pedal a lot to create vocal effects with ring modulation and distortion, and of course we'd crank the shit out of Neve preamps to get massive distortion like that on 'Ruiner'. One of my favourite mixing tricks was to run the vocal from the computer into the mic input of an SSL channel and turn up the gain until it distorted just right. It gives the vocal a really in-your-face intensity without it sounding 'amped', and it also works great on sampled snares when you add fast-attack compression. That's the snare sound on 'Closer'.
"Thanks to a technique learned from Al Jourgenson when he had Trent sing 'Supernaut' for [Ministry side project] 1000 Homo DJs, some of the distorted vocals were created by taking a Neve 1073, running it into [a Urei] LA3, going through a gate into another LA3, and sometimes using four LA3s, all the way up. That would be Trent's distortion sound, which we'd record into the computer.
"We didn't record a dry signal, because the distorted sound is what would shape his performance. In fact, a lot of times the parts were totally determined by the sound. He wouldn't know what he was going to play until we got a cool sound up and then it would happen. Like with guitars, we'd set up a whole bunch of pedals and then, when he started playing, we'd be patching in the pedals and turning knobs, and he'd go, 'That's cool!' All of a sudden, he'd be making up this cool guitar part because of how we'd fashioned the sound.
"Funnily enough, during all of those takes I don't remember Trent ever tuning his guitar. He's one of those guys who, whenever he plays, it's almost always in tune. And if it isn't, he just bends it into tune. Most of the time I recorded his guitars direct through the Zoom 9030. He didn't use his Peavey 5150 amplifier very often — he always preferred the sound of the direct guitars, because to him they had more brightness; they were hard and more immediate. That's why he used his Marshall JMP1 a lot — it had a speaker simulator output that we would use direct. However, the Zoom 9030 was used the most."
Working in a non-linear fashion, Trent Reznor, Flood and Sean Beavan assembled all of the Downward Spiral tracks according to Reznor's own improvisational style, constantly experimenting and refining things as he saw fit, and also redoing them when Le Pig experienced electrical problems. One of these was related to grounding issues; another resulted from Reznor's dog somehow switching off a bank of noise reduction units. 'Closer' wasn't among the affected tracks, and thus presented less of a challenge during the creative night-time sessions when, free from music business distractions and relaxed by several hours of playing video games, Reznor could focus on the job at hand.
"From a commercial standpoint, we were aware that the song lasted over six minutes and that there's virtually no singing for the last three-and-a-half minutes," says Beavan. "However, Trent always operated on the basis that if you make something beautiful, people will follow you. Radio was never a big concern. He just focused on doing the same as bands like Kiss and Depeche Mode, attracting people by putting on an amazing show. He not only wanted to make great music; he also wanted to make cool and unique music. So we'd try to make sure there was always something new and interesting happening to keep every part of the song fresh; adding different elements every four bars to keep it flowing. That was the mantra.
"Alan Moulder and I spent almost as much time mixing the track at the Record Plant (West) as recording it, and things were constantly being added. In fact, it was during the mix that Trent added the ending keyboard line — that sampled piano with all of the distortion on it. He added that and the backwards music towards the end of the mix after insisting 'It needs just one more thing'. That one more thing turned out to be brilliant and the signature to the song.
"At this point, Trent was super-busy getting the tour together, meeting with lighting designers, set designers and on and on. So when he wasn't around, I would be the one to tell Alan what we were looking for and how to put everything together, and Alan was terrific, telling me, 'Grab a fader and do what you think there.' He's an incredibly generous person, and I have to say that half of what I know about mixing I learned from Alan Moulder. Just watching the way he listened was an eye opener. He got the rough mixes and, after listening to each one on headphones and in the studio, he'd say, ''Damn, it's always beat the demos!'
"Thanks to Flood's help, the roughs were pretty freaking awesome, and so for Alan, the huge challenge was to make them that much greater. Which is what he did, even though every mix took at least five days, due to Trent being so meticulous and wanting us to come up with vocal effects that had never been used before. That often meant getting out the Eventide H3500 to achieve things like the crazy, almost ring-modish vocal at the end of 'Closer'. It must have taken two-and-a-half hours just to get that sound, which was supposed to evoke alienation and decay in the form of an insect-like buzz. This was a recurring theme throughout the record. Insects seem almost alien in a human-centric world and they're ever-present in naturally decaying matter. The drone of buzzing automatically sets people on edge because they know that, beneath the surface, death and decay are waiting. I'm telling you, a lot of thought went into Trent's songs."
It was in the middle of mixing The Downward Spiral with Alan Moulder that Sean Beavan was also asked to mix several songs on Marilyn Manson's debut album, Portrait Of An American Family, which Trent Reznor was co-producing with the featured artist. "I would spend part of the day working with Alan on The Downward Spiral," Beavan says, "and then mix the Manson record at night, enabling me to get about four hours of sleep."
Released on 8th March 1994, the highly acclaimed Nine Inch Nails album was most successful in the US, peaking at number two on the Billboard 200, en route to amassing more than four million sales there. It also reached number nine in the UK, establishing NIN as a significant force on the Transatlantic '90s music scene. In addition to the obligatory remixes, 'Closer' was available in three different versions: the 6:13 album track that segues into 'Ruiner'; the 6:26 single that features more piano at the end; and the heavily edited radio-friendly single that, with silent passages in place of any perceived obscenities, was deemed fit for airplay by the broadcasters.
"That was never popular," Beavan comments, "but after reversing the 'fucks' didn't work, I cut them out and left blank spaces as a way of silently saying, 'fuck you'."
Promoted on television by the aforementioned and equally censored Mark Romanek-directed video, 'Closer' proved to be Nine Inch Nails' mainstream breakthrough record. It peaked at 41 on the Billboard Hot 100 and at 25 in the UK, and went Top Five in Canada and Australia, projecting Trent Reznor into the industrial rock stratosphere.
"The rarest of things occurred," he subsequently remarked about the track's success, "where the song sounded better to me seeing it with the video. And it's my song."
Meanwhile, Sean Beavan — currently a member of his own trip-hop/pop-rock LA band, 8mm, alongside wife/frontwoman Juliette and drummer Jon Nicholson — looks back on the Downward Spiral project as "probably one of the greatest times in my life. Every day after a session, at around six or seven in the morning, Flood and I would sit on a bench outside the Cielo Drive house, looking at the beautiful, 270-degree vista of Los Angeles, Santa Monica and the Pacific Ocean, and he would tell me how to be a producer. Here I was, working with an amazing artist in Trent Reznor and going to producer school with Flood, who was imparting the secrets of the universe. For me, it was a dream."