Producer: John Lennon • Engineers: Roy Cicala, Shelly Yakus
Engineer Roy Cicala worked on all of John Lennon's albums from Imagine onwards, and in Whatever Gets You Thru The Night, recorded this solo number one hit single.
John Lennon on stage at Madison Square Garden, November 1974, after losing a bet to Elton John about the success of 'Whatever Gets You Thru The Night'.Photo: Steve Morley/Redferns
In June 1974, John Lennon's life was in disarray. Not only was he battling a deportation order by the US government on the grounds of a 1968 UK drug bust, and embroiled in litigation over the legal dissolution of the Beatles, but publisher Morris Levy was alleging copyright infringement of the Chuck Berry song 'You Can't Catch Me' on the Beatles' 'Come Together'. In his personal life, meanwhile, he was separated from wife Yoko Ono — who had, bizarrely, orchestrated his affair with her personal assistant, May Pang — and making tabloid headlines due to booze‑and‑drugs‑fuelled excesses with fellow revellers Keith Moon, Harry Nilsson and Ringo Starr, which had disrupted sessions for a Phil Spector‑produced album of rock & roll oldies. Lennon was in the midst of what he'd later describe as his 15‑month 'Lost Weekend'. Nevertheless, he was also about to turn things around.
The previous December, following three months of star‑studded craziness at A&M and, after they'd been kicked out of there, the Record Plant (West) — characterised by Spector once showing up in a surgeon's uniform and, on another occasion, firing a gun into the control room ceiling — the maniacal producer had disappeared with the master tapes, which eventually had to be retrieved at a cost of $90,000 to Capitol Records. Having renewed his friendship with Paul McCartney and forged stronger ties with his estranged son, Julian, Lennon decided to get his career back on track by placing the Rock 'n' Roll project on hold so that he could record a new album of original material.
Eventually titled Walls & Bridges, this transported John Lennon to the top of the US charts, courtesy of songs that variously documented how he missed Ono ('Bless You', 'What You Got', 'Going Down On Love'), his love for Pang ('Surprise, Surprise (Sweet Bird of Paradox)'), his emnity towards former Beatles manager Allen Klein ('Steel & Glass'), and his ongoing struggles with insecurity and depression ('Nobody Loves You (When You're Down and Out)', 'Scared'). What's more, it also provided him with a pair of hits in the form of '#9 Dream' and 'Whatever Gets You Thru The Night', the latter featuring a harmony vocal and piano contribution by Elton John that helped secure John Lennon his only chart‑topping solo single during his lifetime.
Recorded at New York's Record Plant (East) in June and July of 1974, Walls & Bridges dispensed with the many luminaries recruited by Phil Spector for the Rock 'n' Roll sessions and instead utilised a core group of Lennon‑enlisted session players. A rhythm section comprising drummer Jim Keltner and bass player Klaus Voormann was joined by guitarists Jesse Ed Davis and Eddie Mottau, keyboard player Nicky Hopkins, saxophonist Bobby Keys and percussionist Arthur Jenkins. The final piece of the puzzle was Ken Ascher who, as well as playing electric piano, Clavinet and Mellotron on Walls & Bridges, arranged and conducted the string and brass musicians from what Lennon listed in the liner notes as New York's "Philharmonic Orchestrange".
It was a stellar line‑up, led by John Winston Ono Lennon's own contributions as a vocalist, guitarist, pianist and percussionist — each role attributed to an assortment of self‑penned pseudonyms. Behind the console were engineers Roy 'I only like singles' Cicala and Shelly 'I can't take the pressure' Yakus, not to mention studio assistant Jim 'What it is' Iovine.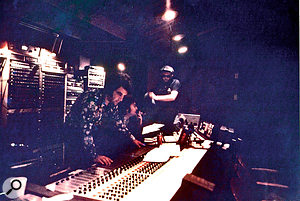 Roy Cicala with John Lennon and Harry Nilsson at the Record Plant, 1974.
"He became like a brother and a friend to me," says Cicala, who served as an engineer on all of Lennon's albums from Imagine in 1971 to Double Fantasy just before his death in 1980. Cicala also produced and engineered many of the world's biggest stars during two decades of running the Record Plant in New York, including Jimi Hendrix, Aretha Franklin, Madonna, Elton John, Sting, Frank Sinatra, Dire Straits, David Bowie, Harry Nilsson, Miles Davis, Queen, Aerosmith, Bon Jovi, Liza Minnelli, Roberta Flack, the Who, Frank Zappa, Lou Reed, Prince, Santana, Charlie Mingus... It's a list that has garnered him 10 platinum discs over the course of a career that commenced back in the early '60s.
Born and raised in New Haven, Connecticut, Roy Joel Cicala initially helped install the church organs that his father designed, before marrying singer‑songwriter Lori Burton and running his own small demo studio. Then, having landed a job as an assistant maintenance man under the guidance of Tom Hidley at the four‑track A&R Recording facility of Phil Ramone — whom Cicala watched, on his very first session in 1963, record Stan Getz and Astrud Gilberto's 'The Girl From Ipanema'. There, he "learned how to make phasing machines out of tape machines, keeping old‑fashioned tape machines within half a second from reel to reel". Soon, Cicala began engineering there himself and, in late 1965 and early 1966, sat behind the board alongside producer Tom Dowd for the classic, eponymous debut album by soul‑rock outfit the Young Rascals.
"When we moved into 799 7th Avenue, that, to me, was one of the best rooms in the world," Cicala recalls. "It was amazing, and I recorded people there every weekend. I was a workaholic — or an experimentaholic. I tried everything, and I loved it. One time, I put a Shure mic underwater on a record by the Four Seasons, and although it didn't work, I at least tried. Besides, it was a cheap mic! Then again, when I recorded the Rascals, I put the drum kit in the stairway."
In 1969, Roy Cicala moved to the Record Plant. Chris Stone, a national sales rep for Revlon, had persuaded the cosmetics giant to fund the studio at 321 West 44th Street which, as designed by Gary Kellgren, provided its clients with not only comfort but inspiration.
"He single‑handedly was responsible for changing studios from what they were — fluorescent lights, white walls and hardwood floors — to the living rooms that they are today," Stone would later remark about Kellgren. "His feeling, more than anyone else's, was that a studio should be a comfortable place to record. He was the first one who thought of the diversions, like the jacuzzi he built... The day we opened, we were booked for three months."
Indeed, the very first album to be recorded at the Record Plant was Jimi Hendrix's Electric Ladyland. "Other people have taken credit for the record," Chris Stone would assert a decade later, "but about 90 percent of it was done in Studio A in New York with Gary and Jimi."
By 1972, there were three Record Plant facilities — in New York, Los Angeles and Sausalito, California — and Roy Cicala would end up purchasing the Manhattan studio from Warner Communications.
"In the beginning we built our own boards," he says, "and although they weren't Neve quality, they were rock & roll quality. By the mid‑'70s, everything was API, and then we went to Neve, but right from the start we were one of the top 10 studios in the world, and that's where we remained throughout the entire decade."
Roy Cicala and partner Apollo 9 in his new SA Plant studio in Sao Paulo.
In July 1971, having already done some of the recording on Yoko Ono's avant garde double album Fly — including the stereo sound of a toilet flushing, as captured with a pair of Neumann U87s — Cicala, together with Shelly Yakus, recorded the string overdubs for John Lennon's Imagine LP at the Record Plant after the basic tracks had already been taken care of at Lennon's home studio in Ascot, England. Then, in late '71 and early '72, with the Ono‑Lennons now living in the Big Apple, Cicala engineered their joint opus, Some Time In New York City, as well as the following year's Mind Games, the first of Lennon's post‑Beatles albums not co‑produced by Phil Spector. Indeed, this record was released after the ex‑Beatle had already split from his wife and left for LA with her assistant.
All of which brings us to the Rock 'n' Roll sessions...
"I was on a bottle of Dewers a day," Cicala quips as soon as we reach the part of the story where Lennon, Starr, Nilsson and Moon were sharing a house while he was staying at the Beverly Hills Hotel. "I really didn't want to go, because I knew it was going to be chaos and I might end up never going back home to New York. So, I told John that and he said, 'Well, bring your family.' I said, 'I'm not going to charge you for bringing my family,' and he said, 'No, I don't pay for it. EMI does.' That's how it was with the biggest artists, and so EMI rented me a bungalow at the Beverly Hills Hotel with four or five bedrooms.
"At A&M they gave us Studio B, which only had 18 musicians on the board, whereas we had 25, and so the keyboards went straight into the Scully tape machine which had microphone inputs. As always, my attitude was 'Let's do it. Nothing's impossible.' I mean, when those musicians cooked, man, it didn't make any difference if the sound was Class A. It was all about the feel."
The problem was, the musicians' cooking in this case was flavoured with plenty of alcohol.
"The drinking started right away," Cicala confirms, "or, at least, an hour into it. I myself took it a little bit easy sometimes, because I was the designated driver. But then again, if you didn't indulge you couldn't get with it in that company. So, I would partake, too."
Mayhem ensued, with Phil Spector at the helm of a listing ship and, as revealed on the session tapes that have either been officially released or bootlegged, barking orders in true dictator fashion: "Cut... Cut!"
"He had a Napoleon complex, and pretty much everything you've read or heard about him is true," Cicala asserts. "I remember, when we were recording all of the violins for the Imagine album, he'd want to stop the tape and stop the musicians to make a change, even though he didn't even know what the change should be. So, as he'd go to push the talkback button with his right hand, he'd grab that wrist with his left hand and pull it back!" — echoes of Dr Strangelove.
"Phil could often be the biggest challenge in the control room," Cicala continues. "He'd just carry on talking while we were cutting tape, from one take to another, so I'd ask him to leave and he'd do so. We had a mutual respect... Thank God!"
Roy Cicala with John and Yoko outside the Record Plant, November 1980.
At the same time, there could be no denying Phil Spector's talent, which Roy Cicala first witnessed at Mirasound Studios in New York.
"The engineer was Brooks Arthur and they were working with four channels, a big orchestra, room reverb and guitar springs," Cicala recalls. "That was Phil's sound. How do you do that when you separate all of the channels? You don't. Live recording was his thing, and he tried to do the same with John."
To hear a Beatle backed — or, rather, enveloped — by Spector's Wall of Sound, listen to George Harrison's 'What Is Life' on his 1970 album All Things Must Pass. It can easily pass as yet another of what the producer himself once described as "little symphonies for the kids". In Lennon's case, this was never properly achieved, even though he gave Spector free rein to produce him for the Rock 'n' Roll album — "I'll be Ronnie," Lennon told Spector beforehand, referring to Spector's former wife, the lead singer with the Ronettes. And while Lennon eventually used only four of the Spector‑produced tracks on the album that he himself completed at the Record Plant (East), one recording that he considered unfit for release, a superb, sub‑six‑minute rendition of 'Be My Baby', actually came closest to recreating the producer's trademark sound. (Yoko Ono included it in the 1998 John Lennon Anthology box set, but in a remixed, edited‑down version that fails to capture the true feel.)
"John's vocal reverb was on a separate track all the time, and we did that live," says Cicala. "He used to sing to the repeat and make it work, and I'd have a noise gate on it so it would shut off and not go into infinity. Well, they lost that when they did the remixes, and it's a shame. They tried to make it too perfect, and it wasn't a perfect record. It wasn't an audiophile‑type record."
Nevertheless, it was a record that, following its release in February 1975, provided John Lennon with a number six chart placing in both the US and the UK, as well as a Stateside Top 20 single in the form of 'Stand By Me'. Furthermore, Rock 'n' Roll's Lennon‑produced completion at the Record Plant (East) between October 21st and 25th, 1974, took place just four weeks after the US release — and three after the UK release — of Walls & Bridges, which had been recorded in that same facility's Studios A and B; the former equipped with an old 24‑input Spectrasonics console that had been built by Auditronics, and the latter housing a 32‑input API. Both had Tom Hidley‑designed Westlake monitoring systems comprising a horn, tweeter and two woofers on each side, as well as Ampex tape machines.
"In the beginning, we had MCI machines which were modified because the tape path was terrible, and then we went to Ampex because we had two trucks and the Studers were too big," Cicala explains. "The Ampex were more compact, like Otari, and although they could be a problem, too, we kept them running because we had a great maintenance guy. To me, that's as important as a mechanic is to a racing driver.
"Back then, we did most of our basic recordings on 16‑track and then sort of pre‑mixed and bounced them over to 24. We liked that format. Of course, there wasn't a lot of outboard gear: we had four EMT 140 plates in each room along with three [Fairchild] 670 compressors, [Teletronix] LA2As, black Urei LA4s, Publisons, Eventides and Pultecs up the gazunga. My problem was that I got away from using anything except the Pultecs, because I couldn't get them. Whenever I worked, somebody else wanted them, and me being the boss meant I had to hand them over. So, I got into modifying a thing called the CBS Limiter, and I used it from the Rock 'n' Roll album onward. I still have it and I was going to donate it to the Hall of Fame, but I don't know anyone there."
Two days were spent rehearsing Lennon's new compositions and arranging the entire Walls & Bridges album, before the recording process commenced on day three with him in the dual role of producer and artist. Still, Lennon continued to develop and fine‑tune some of the material.
"He knew what worked when he heard it," says Cicala, who once co‑wrote a song with Lennon, 'Incantation', that was recorded by an outfit named Dog Soldier. "You know, John wasn't a Bach musician, and when he played the piano his chords might be simple, but the feel? Forget about it! He was incredible. What's more, when he'd go in front of the microphone and start singing, all of a sudden the melody might change. It was amazing. He was like a genius with the words and the melody. Even after rehearsing with the musicians, he'd change everything in the studio. And if his vocals were a little flat, I'd just say, 'Let's do another take,' and he'd be fine with that. Still, I remember one time when something he sang was out of tune and it was ready to be mixed — He said, 'I'm not going to do this vocal again. Let's just make it a little louder.' So, that's what we did; we just pushed it up and brought it back down. That's where he was great.
"Another thing I really admired about John was how he loved, while he and the band were in the mood of a particular song, to do everything necessary for it. Maybe not background vocals or horns, but everything to do with the rhythm section and possibly his vocal if he wasn't too tired. Only then would he move on to the next number. I used to love to do that even if it left us exhausted — the only problem was that we'd have to come in the following day for the next session."
TV shows, radio broadcasts, books, magazine articles, newspaper headlines — all were rich sources of lyrical inspiration for John Lennon throughout his songwriting career, and among the works in progress on Walls & Bridges was a number whose title and theme were presented to him by someone he saw on late‑night television.
"At night, he loved to channel‑surf," May Pang told the Radio Times in December 2005, "and he would pick up phrases from all the shows. One time, he was watching Reverend Ike, a famous black evangelist, who was saying, 'Let me tell you guys, it doesn't matter, it's whatever gets you through the night.' John loved it and said, 'I've got to write it down or I'll forget it.' He always kept a pad and pen by the bed. That was the beginning of 'Whatever Gets You Thru The Night'."
In New York while preparing to record his album Captain Fantastic & The Dirt Brown Cowboy, Elton John was added to the Walls & Bridges line‑up when he dropped into the Record Plant with his label manager, Tony King, to contribute backing vocals to 'Whatever Gets You Thru The Night'. As Lennon himself recalled a few months later, "I was fiddling about one night and Elton John walked in with Tony King of Apple — you know, we're all good friends — and the next minute Elton said, 'Say, can I put a bit of piano on that?' I said, 'Sure, love it!' He zapped in. I was amazed at his ability: I knew him, but I'd never seen him play. A fine musician, great piano player. I was really pleasantly surprised at the way he could get in on such a loose track and add to it and keep up with the rhythm changes — obviously, 'cause it doesn't keep the same rhythm... And then he sang with me. We had a great time."
Elton, who also played organ on the track, later commented, "Me playing organ on someone's record? I mean, really. That's disgusting because I'm the worst organist. But we put that on and it was over and done with in five minutes."
Just as straightforward was the harmony vocal that he and Lennon performed around a single microphone, even though Elton's manager, John Reed, subsequently complained to Roy Cicala that, while Lennon's voice was prominent in the mix, not enough could be heard of his client's piano.
"I said, 'Well, who's the main artist here?'" Cicala remembers. "He said, 'John,' and I said, 'Right. I know Elton is the artist, too, but if we bring that piano up, that's all you're going to hear on the radio.' He wasn't happy, but the rest is history. The record was a hit and you could hear Elton very well on the radio."
For his part, Elton John was less than ecstatic about his efforts to record a harmony vocal on a second track, 'Surprise, Surprise (Sweet Bird Of Paradox)'. Unable to match Lennon's idiosyncratic phrasing, he struggled for over three hours to achieve the desired result, and a few months later he recalled that "People were leaving the room. Razor blades were being passed out!"
In return for his efforts, Elton secured a promise from Lennon that, should 'Whatever Gets You Thru The Night' top the singles chart, the ex‑Beatle would join him on stage during his forthcoming US concert tour. Lennon was sceptical that this would ever happen, but after the song did reach the top spot he was good to his word, performing three songs with Elton at Madison Square Garden on Thanksgiving night, November 28th, 1974: the aforementioned hit number together with 'Lucy In The Sky With Diamonds' — Elton's then‑current single, on which Lennon performed a harmony vocal — and the Beatles' 'I Saw Her Standing There', which Lennon credited to "an old, estranged fiancé of mine named Paul."
Meanwhile, the follow‑up single to 'Whatever Gets You Thru The Night' began life with the working title of 'So Long Ago' and took its initial melody from the orchestral arrangement to Harry Nilsson's version of 'Many Rivers To Cross', the opening track on his Pussy Cats album which Lennon had produced earlier in the year. This was then embellished by words that came to John in a dream, involving a couple of women echoing his name. Hence the eventual title, '#9 Dream', which continued Lennon's fascination with the number that followed him from birth to the grave. Born on October 9th, 1940, his first home was at 9 Newcastle Road in Liverpool; Beatles manager Brian Epstein first saw the group play on November 9th, 1961; John met Yoko on November 9th, 1966; in 1968, he constructed the sound collage 'Revolution 9' for the Beatles' 'White Album'; in New York, he and Yoko lived in the Dakota building on West 72nd Street (seven and two is nine); in 1975, their son, Sean, was born on John's birthday, October 9th; and when John was shot and killed just after 11pm on December 8th, 1980, it was December 9th back in England.
Of course, following its January 1975 release, '#9 Dream' peaked at... yes, number nine on the US singles chart, although not before Roy Cicala's wife, Lori Burton — who also contributed backing vocals along with May Pang and Joey Dambra — tweaked the nonsense phrase "Ah! bowakawa puss‑ee, puss‑ee" that had also been a part of Lennon's dream.
"Al Coury, the promotion man for Capitol, said, 'They're not going to play this record,'" recalls Cicala, who yelled "take nine" with Lennon every time tape was about to roll for the song. "When John asked Al, 'Why?' he was told, 'Because you're saying 'pussy' on it!' So, Lori changed it to 'Ah! böwakawa poussé, poussé,' kinda like French, and it worked. John listened to us. In fact, he listened to just about everything. He never used to come to the mix sessions until we called him. After all, there was no automation, so why have a breakdown over it? Just come in when you're ready and then tweak it a little bit.
"One time, I gave John the tape after finishing a mix and he took it upstairs for Greg Calbi to master. Then John called me: 'There's been a problem up here.' 'OK, what?' 'I don't know. Come and help us.' So, I went upstairs and I walked into the cutting room, and the mastering machine had tape maybe 12 inches high spilled all over the place. 'The machine went bananas,' John said. I did an about‑face, walked out, and they caught me down on the first floor as I was leaving the building. 'Ha‑ha‑ha‑ha‑ha!' They were joking... We really had a lot of fun doing those records."  
Track: 'Whatever Gets You Thru The Night'
Label: Apple/EMI/Capitol
Released: 1974
Producer: John Lennon
Engineers: Roy Cicala, Shelly Yakus
Studio: The Record Plant (East)
For the Walls & Bridges sessions, Jim Keltner's drums, positioned inside an open booth at the back of the live area, were miked with a Shure SM57 suspended inside the kick with surgical tubing and both heads closed; an Altec 633A on the snare; another SM57 on the hi‑hat; Sennheiser 441s on the floor tom and two rack toms; and a pair of Neumann U87s as overheads.
"I never miked the snare from underneath," says Cicala. "I still don't. The 'salt shaker' [Altec]went through a Pultec, wide open at 10k, because it had no top end but it did have a larger capsule that produced a better drum sound. As for the 57 inside the kick drum, I took an aluminium insert from a reel of one‑inch tape, drilled it three times in a triangle shape, threaded it, put eye screws in it, and then the eye screws would attach the surgical tubing to the drum, with the wiring coming out of the little breather hole. Then again, if there was too much attack I would take it apart, position the 57 facing the front of the drum — on the other side to the pedal — and then cover the front with a blanket so there'd be more thump.
"I tried it with tom‑toms, too, and I made my own dampers for them. You know, sometimes they ring out too much, and then, if you dampen them with tape on the outside, it changes the characteristic of the drums. So, I would take a piece of the black sponge that microphones are sometimes packed in, cut it into a one‑ or two‑inch square, about half an inch thick, and use gaffer tape to attach it to the head. As a result, every time you hit the drum, that would ring out and automatically close or go down against the head and dampen it.
"A lot of times we had too many cymbals, and I guess everybody has that problem, especially with rock & roll, but I'd do something that others, I guess, wouldn't do — I would use de‑essers that they use on vocals. Isn't that logical? I actually used to make Keltner crazy. If we wanted that real slap tom‑tom sound, I would take his cymbals away. He'd say, 'You can't do that!' I'd say, 'Yes, we can. Here, have a drink.' It was very free‑and‑easy: 'You do your thing, I'll do my thing,' and it was great. The musicians did anything we wanted and vice versa."
In front of Keltner, Klaus Voormann's bass, going through an Ampeg B15N Portaflex amp, was both DI'd and recorded with an Electro‑Voice RE20, while Eddie Mottau's rhythm guitar was miked with a Sony C37, Jesse Ed Davis's lead guitar was recorded with a U87 — with a combination of that and an SM57 employed for overdubs, making use of the room's natural ambience when it wasn't filled with musicians — and three mics were employed on the acoustic piano: a pair of U87s near the holes on the Steinway, as well as another SM57 down below, with 5dB of limiting. Percussionist Arthur Jenkins was also miked with 57s, while, in terms of overdubs, the three trumpets were captured with a single 57 inside a pyramid formation, the tenor and baritone saxes were recorded with a C37, and the backing vocals were alternately performed in front of either a U47 or U87.
"For John's lead vocals we used a tube U47 and an SM57," Cicala says. "I would treat the 57 and do whatever I had to do to make him present, whereas the 47 was for quality. And although we had repeat on his voice, I never used it like everybody else — they all used it in tempo, but I used it like a hiccup. It was more noticeable and it made the effect better. If you used it in sync, for me something was wrong with it, it was too audiophile. Then again, John always wanted his vocals buried in the mix. He was insecure about his voice and I'd have to talk to him about that — unless he felt it was a great performance."
In December 2005, Roy Cicala relocated to Sao Paulo, Brazil, and within a couple of years he had built a new five‑room studio named SA Plant (as in South American Plant) that is equipped with a 32‑input Neve V3 in the main control area, Studer and Lyrec tape machines, original Record Plant, Tom Hidley‑designed JBL LSR 4328 monitors with TAD woofers, Pro Tools and Logic, and a host of new and vintage outboard gear and microphones. The other rooms are used for overdubs, computer‑based work and commercials.
"The room that I have is really New York‑style, modelled on the Record Plant," he says. "I did the acoustics and people are very, very happy with it. The booth, which is about 18 x 8 feet, is just for vocals, and what I did was run high‑level wires from this studio down to a basement room and also to a studio that's downstairs. So, we can see the drums up here, put the bass player and two guitar players in the control room with the heads of their amps, and the speakers will be downstairs with mics on them. The only thing you can't do is get that feedback from playing a guitar in front of an amp."
Apparently, it doesn't matter. For, not only is the studio solidly booked with artists old and new who are familiar with Roy Cicala, but also many from the US and Europe who are looking to save money.
"We can do things for a third of the price and they have a tax shelter," Cicala explains. "If it's recorded in Brazil, they don't have to pay American or European taxes. So, between the low outlay, the layout, the equipment, our great engineers and even my own ears, people are finding plenty of reasons to come here."