Producer: Mike Chapman • Engineers: David Tickle, Pete Coleman
Photo: Ebet Roberts
In 1979, at the end of a 13-way bidding war, the Knack went into the studio to record their debut single — one that would go gold in seven days and sell six million copies worldwide.
Today, Sharona Alperin is an upmarket real estate agent in Los Angeles, but in 1978 she was the 16-year-old inspiration behind the hit song that now serves as the intro to her web site — naturally called www.mysharona.com. The song bestowed lasting fame on a Beatles/Brit Invasion-inspired LA band who took their name from the title of a 1965 Swinging London film by Fab Four director Richard Lester: The Knack... And How To Get It.
Comprising singer/guitarist Doug Fieger, lead guitarist Berton Averre, Prescott Niles on bass and Bruce Gary on drums, the Knack embarked on their date with destiny when 26-year-old Fieger got the hots for Alperin after being introduced to her by his unwitting girlfriend. Indeed, he and Averre penned the number at the apartment that Fieger and said girlfriend shared.
"Berton had this basic guitar and drum riff lying around for a long time, even before the Knack got together," Fieger would later recall. "He played it for me and I really liked it. I said we would do it someday, but I didn't know how we could use it at the time. Then, at the same time the Knack started, I met a little girl named Sharona, whom I fell in love with. When I would think about Sharona, Berton's riff came to mind. So, Berton and I got together and worked out a structure and a melody, and the words."
Yeah, those words, in which Fieger admits to having 'Such a dirty mind / Always get it up for the touch of the younger kind'. Many critics were not amused, but Sharona was evidently wooed, and within a year she was in the studio when the song was committed to tape.
"I thought she looked about 14," remarks David Tickle, who engineered the session that Sharona attended. "She was there when we tracked the backing vocals."
Tickle has worked with Prince, Blondie, U2, Rod Stewart, Joe Cocker, Joan Armatrading, Toni Childs, Split Enz and 4 Non Blondes during a 30-year career that has taken him from Guildford, Surrey (southwest of London), to the Hawaiian island of Kauai by way of Los Angeles. However, the route that bridged the three-year gap between his first work assignment and that with the Knack was a fairly circuitous one, involving a cruel setback, some lucky breaks and a pretty weird coincidence.
A keyboard player in his school covers band, Tickle was just 16 when he began as a tape-op on May 31st, 1976, at Central London's Zodiac Studios (later acquired by producer Tony Visconti and renamed Good Earth). Hired by an engineer named Mike Cooper, Tickle took over his job behind the MCI console when Cooper departed three months later, and he was soon recording material by the likes of Liverpool Express and the Swinging Blue Jeans. However, within just six weeks of his appointment as a fully fledged engineer, David Tickle was the next employee to part company with Zodiac.
The Knack in 1979 at the time of 'My Sharona'.Photo: Ebet Roberts"I met this guy who was out of work, an engineer called Colin Thurston, and I felt kind of bad for him so I got him a job as our studio manager," he recalls. "Then we got this fabulous booking with Tony Visconti and David Bowie — they were working on Bowie's Low album — and Colin told me 'You're not engineering any more. You're gonna have to tape-op.' I said 'Why?' and he said 'I'm demoting you.' I couldn't believe it. I'd got the guy a job and now he was demoting me. Well, I lasted about a day. He just snagged the whole project from underneath me, and while he ended up working on that record I left the studio and felt totally despondent and confused. I didn't know what to do, so I went to the studio where Colin had last worked, where he'd been fired, TPA (Tin Pan Alley) on Denmark Street, and as they still hadn't filled his position I ended up getting his old job."
How's that for a spot of opportunism? Intent on taking the fast track to becoming a producer, Tickle immediately set about finding bands in the Guildford area and sneaking them into TPA on weekends and in the wee small hours of the morning to record demos. The problem was that the studio clock was rigged to the power supply, so when Tickle turned this off the clock would stop, and it wasn't long before the owner figured out that surreptitious sessions were regularly taking place until five or six in the morning. The result: Tickle and TPA went their separate ways. Next, he turned down an engineering post at a small facility in Oxford, named Acorn, that couldn't open until it had finished constructing its own console — instead of operating as a studio the place would eventually become known as SSL.
Short stints followed at Indigo Studios in Manchester and Ringo Starr's home setup at Tittenhurst Park in Ascot, formerly owned by John Lennon. It was there that, among various assignments, Tickle honed his production skills on some demos by a New Zealand band, and thought no more about it, before landing a job as an engineer and trainee producer for the glam-pop songwriting team of Nicky Chinn and Mike Chapman. Nevertheless, when Chapman heard the aforementioned demos, he vowed to sign the band once he and Chinn had launched their new American-based record label, with the intention of assigning the group to Tickle as his first full-scale production.
That would never happen — Chinn and Chapman subsequently changed their minds about the New Zealand band, named Split Enz, whereupon Tickle quit his job. He hired an attorney who, by sheer chance, introduced him to Michael Gudinski of Mushroom Records in Australia. Gudinski duly informed Tickle that Mushroom had released his demo production of Split Enz's 'I See Red' and that it had climbed to number nine on the Australian singles chart. Accordingly, having just left Chinn and Chapman because they wouldn't sign the band, he was asked to produce Split Enz's next album, and this in turn launched his production career. Things had worked out for the best, and in the meantime, Tickle had engineered several Chapman-produced albums, including Blondie's Eat To The Beat, Pat Benatar's In The Heat Of The Night and the Knack's Get The Knack.
It was partly on the strength of his then-recent US chart-topping singles with Blondie, Nick Gilder and Exile that Chapman was chosen by the Knack to produce their debut record. He'd already heard all about the band — after having been turned down by every major label, Fieger, Averre, Gary and Niles had quickly built a following on the LA club scene and caused a buzz that prompted offers from no fewer than 13 labels and a $500,000, two-album deal with Capitol.
The first of these records helped revive power pop in the wake of the punk explosion, melding catchy Beatles-type hooks and Who-tinged vitality with New Wave sensibilities, its dozen tracks being recorded in just one or two takes, with overdubs limited to a few guitar parts and backing vocals. These sessions took place at MCA Whitney in the Glendale suburb of Los Angeles, where the large room used for tracking housed a 36-input Neve console, an MCI 24-track tape machine and Altec Lansing speakers.
Doug Fieger, Mike Chapman and Berton Averre celebrating Chapman's birthday at MCA Whitney at the end of the mix.Photo: Ebet Roberts"The control room was maybe 20 feet by 18 feet, fairly compact, but the studio was big, capable of taking a decent-sized orchestra," recalls David Tickle, whose home setup in Hawaii has an SSL desk and a Pro Tools rig, along with Westlake monitors.
"The entire back wall — which had a warehouse on the other side — was a pipe organ; one of those organs that had all kinds of trumpets and drums and everything mechanical inside of it. It would actually play the real instruments. The kit was probably about 15 feet from that back wall, and the room's size accounted for the drum sound that you hear on tracks like 'My Sharona'. It was actually so big that the whole back half of the studio was where we created that drum sound, with the front of the kit gobo'd off.
"To the left and right of the drum kit, about 25 feet away on each side and about 12 feet high, were two Neumann KM84 microphones, while there was another KM84 on the snare. However, the big trick was the compression — the Urei 1176s that we used on the room mics — while Mike Chapman's other engineer, Pete Coleman, had the idea of putting one more mic about 10 feet above the drummer's head, right above the snare drum. That microphone, again with plenty of compression, had a lot to do with the drum sound, and so did the room, where the ceiling must have been 30 foot high.
"The night before the album sessions started, Mike Chapman said 'Tomorrow I want the biggest drum sound ever recorded.' That was his MO to get the thing going. Still, it's one thing to use room mics and quite another to have one directly above the snare. To this day I've never seen anyone else do that, but it does work, helping to capture as much as possible of the room sound around the drums by way of keying the compressors off the snare. Every time the snare was hit, the room mics would compress along with it and suck in the sound of the room."
Tickle and Coleman tag-teamed as engineers throughout the project, with Tickle taking care of most of the recording and Coleman doing the mix.
"It was all so quick," Tickle remarks. "Seven days were spent recording the album and four days to mix it... After Chapman said he wanted the biggest drum sound ever, I was so nervous I could barely sleep. I kept thinking 'How am I going to do this? This is it!' Anyway, I started dreaming and I thought 'Oh yes, use this microphone over here and the room mics out here to the left and the right,' and then I started to see the EQ on the console and thought 'Huh, let's put these room mics through the 1176s.' There I was, using the compressors in my dream!
"The next morning, when I went to the studio, my hands were all clammy, aware that I was working on a big record and wondering 'Oh shit, what should I do?' Well, I started setting up everything the way I'd seen it in my dream, with the mics out to the side, and I set up the console as well as the compressors, and then Pete Coleman arrived about an hour later and he said 'Oh, good idea, I like what you're doing here. Let's set up this one extra mic above the snare drum.' Well, within a couple of hours we had the sound we wanted. The whole thing was there, with Neumann FET 47s on the kick and tom-toms, and KM84s on the cymbals. It was a great thick-sounding maple Gretsch kit.
"You have to remember, back then people weren't using room mics. Drummers were placed inside shag-carpet booths. I'd actually experimented with the room mics and compression on the Split Enz song 'I See Red', and then, when I worked with Mike and he heard that, he loved it. As a result, I used that same technique for Blondie's Eat To The Beat at the Power Station. However, the Knack album was particularly special because of the keying of the compressors with the snare drum. That's what kind of brought it all together."
The engineer now freely admits that when he first heard 'My Sharona', during week-long pre-production sessions at SIR in Hollywood, it wasn't his favourite among Knack songs that included 'Lucinda' and 'Oh Tara'.
"Chapman was all over 'My Sharona'," says Tickle, "He thought it was great. However, the structure of the cassette demo wasn't very good, and that's what Mike specialised in: coming up with the right parts where there weren't any, working out the solos. He taught me a lot about songwriting. He did most of it and I observed the process as he really knocked the songs into shape, determining where the solo came and the impact of the verse-chorus-bridge. He's a very, very good songsmith, and he basically worked out most of those structures so that they had some emotional impact.
"In the case of 'My Sharona', the demo consisted of the same drum pattern and the same riff as on the finished record, but it meandered more. And as far as I remember, in its original form it didn't have the guitar solo, or certainly not the one that's on the actual song, where it's in two layers. The original may have only had the one layer. I know that Mike worked on that quite a bit. The fact is, you would have recognised the song, but it just wasn't as tight and as cleaned-up structurally as Mike then made it.
"Most of the songs were captured first take, maybe second take once we got all of the tones together, and then it was like 'Oh, we should put an overdub on this.' We'd do that, record the vocal and then move on. That's how it was with 'My Sharona'. Everything had been worked out in pre-production and it was polished, so what you hear is the real thing, a complete take. Practically all the songs were done that way — there may have been a little bit of editing on the album, but they were getting everything down within a couple of takes, and that was due to the band's proficiency and the straightforward structures of the songs. The band was very, very tight. That was a part of their trademark."
The rest of the band was recorded in the same large room as the drums, with guitarists Berton Averre and Doug Fieger standing next to each other to the right of Bruce Gary, and about 30 to 40 feet in front of him. True to their Beatles influence, they were equipped with Vox amps, each miked with a Neumann U67 about a foot away and a Shure SM57 up close.
"The Beatles' spirit was invoked in terms of their fondness for the guitar sounds, with the Vox amps and so on, but not so much with the singing and drumming," Tickle comments. "I preferred the U67 over the 87 because of its tubey quality and the bite that you get. At the same time, the 57 gives you a more direct punch out of the guitar, and since it was going to be a record with very few overdubs we wanted to make sure that each sound really stood out in a three-dimensional way. By using a couple of different characteristic microphones we were able to get that to pump out."
Prescott Niles, standing in front of the control room window, about 60 feet away from the drummer, had a little booth constructed around him to contain his bass guitar's low end, while a tube 47 was employed on his Ampeg BA115 bass amp combo.
"We also had a mic set up for Doug's vocals, although these were done separately because of the leakage," Tickle states. "Again, we used a 47."
While the 'My Sharona' guitar solo was layered in two parts, Doug Fieger insisted on recording his vocal completely dry.
"There were no effects on anything," Tickle confirms. "That's what they wanted. To get the voice thicker we would double Doug's vocal, and then when it came to the mix the latest technology available was the EMT 250 reverb. It looked like R2D2, like a little robot, and it was extremely expensive — back then it cost around $32,000 — but Chapman bought one of these things and we used it on the snare drum and the vocals. Basically, it was a very, very short reverb — you could barely hear it, but it was just enough to lift the voice and the snare.
"The guys made a point about not using any effects in the mix. To a certain degree they were in control of their own destiny, and while Chapman really put the sound together he would have done more if it hadn't been for Fieger's input. That kind of tension between Chapman and Fieger was a healthy tension, and it helped cause the sound to turn out the way it did."
It was after five days of recording all the basic tracks that the sessions switched to an adjacent Neve-equipped room at MCA Whitney for the mix, as well as for the preceding addition of backing vocals. And this is where David Tickle did a star turn... well, kind of.
"When we were finishing 'My Sharona', they wanted to have a group of people sing it, so Chapman said 'Get in there, David, with the band,'" he explains. "That's when Sharona herself was there. Anyway, we did the background vocals, and what you can't quite hear is that they go 'Fuck-a-me, fuck-a-me too much, my Sharona'. That's actually what was being sung by all of us grouped around one mic. It wasn't super-loud, but it definitely lifted the song."
And clearly, what with all of the anticipation surrounding the band, the overall sense of optimism was lifting everyone's spirits.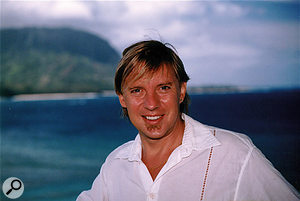 David Tickle, engineer on 'My Sharona' session.
"I was arriving at nine, 10 in the morning and leaving at midnight, and even the mix was like a party. We were mixing two or three songs per day. Pete Coleman was manning the board and I was just setting the compressors or doing whatever was needed. Four days was all it took, and that was really the band's call — 'They used to make records this way. Why can't we do it now?'"
Well, they did; not in the 17 hours that it took the Beatles to record their first album, but in 11 days and for a total outlay of less than $18,000. Certified gold within 13 days of its release on June 11th, 1979, Get the Knack went platinum on August 3rd and eventually sold over five million copies. Meanwhile, 'My Sharona' went gold within eight weeks of its June 18th release and topped the Billboard chart for six weeks through August and September. 'Good Girls Don't' subsequently peaked at number 11.
However, the much-hyped 'Big Knack Attack' headed downhill in the wake of resentment over the band's Fab Fourish references and refusal to do interviews, as well as the perceived sleaziness of their undeniably catchy songs.
"The ugly sexism of these corrupt creeps is an affront to women," carped one critic, while San Francisco artist Hugh Brown invented a 'Knuke the Knack Kit', complete with a "Just When You Thought it was Safe to Listen to the Radio" Jaws-style T-shirt and "Honk If You've Slept with Sharona" bumper sticker.
Not that Sharona Alperin has any complaints. Indeed, according to the statement on her web site, the song that bears her name and craves her body has been of immeasurable assistance in her daily quest to help celebs find their dream homes over the past 14 years.
"'My Sharona' has had an impact on my ability to understand the entertainer's mind," she asserts. "There's something simpatico. You've got to care to the nth degree... I sell the most emotional product on the market, because a star's home is their only safe haven."
To quote Doug Fieger, 'My, my, my, aye-aye, whoa!'