Producers: Ray Minshull, Michael Woolcock • Engineers: James Lock, Kenneth Wilkinson
Recording opera requires a completely different approach, environment and technique to pop or rock music - a fact that has seldom been better demonstrated than in Pavarotti's 1972 recording of 'Nessun Dorma'.
Photo: Ron Scherl/Redferns"I am not a musician," Luciano Pavarotti once asserted. "I don't go into the technicalities... If I have the music in mind and sing with my body, then it's fine."
It was more than fine. During an operatic career that spanned over four decades, Pavarotti established himself as not only one of the greatest tenors of all time — the 'King of the High C's', whose beautifully rich, Italianate voice boasted an exhilarating upper register — but also one of the most successful, embellishing critical plaudits with a mass popularity normally only reserved for rock superstars. In the process, he helped classical music to cross over to the mainstream.
Born just outside Modena in central Italy on October 12th, 1935, the son of Fernando Pavarotti, a baker and amateur tenor, Luciano was initially influenced by everyone from Enrico Caruso to Mario Lanza, but he didn't begin studying music seriously until his late teens. It was then that he learned he had perfect pitch. Still, he didn't make his professional debut until April 1961, performing as Rodolfo in Puccini's La Bohème in the northern town of Reggio Emilia, and repeating this role at the Vienna State Opera in February 1963. That same year, again playing Rodolfo, he made his Royal Opera House debut, and then came a career-changing connection when the famed Australian soprano, Joan Sutherland, recruited him to partner her on a concert tour of her home country.
Photo: Ron Scherl/RedfernsPavarotti, reprising his role as Calaf in Puccini's Turandot in San Francisco, 1977.
Pavarotti would later credit Sutherland for developing his all-important breathing technique, and it was also thanks to her that he made his American debut in February 1965, singing opposite her in Donizetti's Lucia di Lammermoor with the Greater Miami Opera. His La Scala debut, performing in La Bohème with childhood friend Mirella Freni, came three months later at the request of conductor Herbert von Karajan, and on June 2nd Pavarotti then garnered widespread attention at the Royal Opera House in Covent Garden, courtesy of an effortless delivery of nine high C's during the 'Pour Mon Âme' aria of Donizetti's La Fille Du Régiment. When he repeated that feat before an ecstatic audience at New York City's Metropolitan Opera on February 17th, 1972, he earned a record 17 curtain calls and, in the process, rocket-launched the adulation that would see him evolve from an operatic luminary into a household name.
Nevertheless, while Pavarotti's live appearances established his reputation among the all-time vocal greats, it was his August 1972 recording of a role that he hadn't yet performed on stage that would yield his 'signature tune'. As Calaf, the 'unknown prince', opposite Joan Sutherland in the title role of Giacomo Puccini's Turandot, he falls in love with the beautiful but heartless Chinese princess. However, having answered three riddles that qualify him to marry her, he is rebuffed and issues a challenge of his own: either figure out his name by dawn and have him executed or fail and be forced to wed. (No-one said this was like real life.)
Turandot responds by passing the buck — none of Peking's subjects can sleep that night until the unknown prince's name is discovered, and if their mission isn't accomplished then they'll all be executed. Cue 'Nessun Dorma' ('None Shall Sleep'), Calaf's aria in the final act, in which he pledges, "But my secret is hidden within me; none will know my name," and a female chorus echoes this sentiment: "No one will know his name... and we will have to, alas, die, die!"
Building to a climax, Calaf forecasts his own success with the famous last line: "Dilegua, o notte! Tramontate, stelle! Tramontate, stelle! All'alba vincerò! Vincerò! Vincerò!" ("Vanish, o night! Set, stars! Set, stars! At daybreak I shall win! I shall win! I shall win!") The final 'Vincerò' requires a sustained B3, one of the highest and technically most difficult notes in the tenor range, yet one that Pavarotti emitted in bravura fashion. So much so that, after BBC TV selected his 1972 recording of 'Nessum Dorma' as the theme song for their coverage of the 1990 World Cup in Italy, the aria entered the British public's consciousness and reached number two in the UK singles chart — the highest ever classical placing in that regard. In bringing glory to football and opera to the masses, singer and song had become synonymous with one another.
One the eve of the 1990 World Cup Final between Germany and Argentina, Pavarotti joined the two other most celebrated tenors of his generation, Plácido Domingo and José Carreras, for a groundbreaking Rome performance billed simply as The Three Tenors In Concert. The climax featured the trio sparring vocally on 'Nessun Dorma', yet for all of the combined talent there was still no competing with Pavarotti's solo recitals of the aria. Indeed, he sang it for his last ever live appearance, the finale of the opening ceremony at the 2006 Winter Olympics in Turin. And, following his death in September 2007, the 1972 recording was played during the Italian Air Force's flypast at his hometown funeral.
Yet, just as the general public may be largely in the dark about the legendary interpretations of 'Nessun Dorma' delivered by Pavarotti's operatic predecessors — including (but by no means limited to) fellow Italian Beniamino Gigli and Swedish tenor Jussi Björling — so there isn't all that much knowledge outside the opera world of the aforementioned, exquisite Turandot recording that took place at London's King Hall between August 10th and 25th of 1972. Featuring Pavarotti and Sutherland alongside such other top names as Spanish soprano Montserrat Caballé, Bulgarian bass singer Nicolai Ghiaurov, Finnish bass baritone Tom Krause and English tenor Peter Pears, backed by the London Philharmonic Orchestra, John Alldis Choir and Wandsworth School Boys' Choir, this also boasted famed Indian conductor Zubin Mehta at the helm and was produced by Ray Minshull and Michael Woolcock, with Kenneth Wilkinson and James Lock engineering.
Minshull, Woolcock, Wilkinson and Lock were all heavily involved with Pavarotti's career from the time he first recorded for Decca in 1964, and in Lock's case this lasted through to him quitting the label at age 63 in 1999, to concentrate on live sound. A native of London, James Lock acquired his basic training at the independent IBC (International Broadcasting Corporation) Studio in Portland Place between 1955 and 1958, working on pop and jazz sessions with artists ranging from Petula Clark and Shirley Bassey to Chris Barber, Humphrey Lyttleton and Lonnie Donegan, while sitting alongside another engineer by the name of Joe Meek.
"Even back then, he was bloody brilliant," Lock recalls. "Inventive, innovative, doing all of his own things. He was very sought after. In fact, IBC was a very busy place and it was very formative, because the clients there would ask for engineers by name, and that meant you had to be good at your job. It wasn't like Decca or EMI, where the work was just dished out. We even used to do live radio programmes, so things were extremely varied. There were two studios. One of them was used for big orchestral sessions, and anything classical was always handled by the manager, Alan Stagge, who later moved to EMI."
In 1959, Lock joined the classically oriented Saga Records as Chief Engineer, and the company's subsequent collapse coincided with his 1961 call-up for military service. In November 1962, he returned to civvy street, and it was on New Year's Day, 1963, that he joined Decca, en route to becoming a two-time Grammy Award winner while working with most of the classical world's major talents during the second half of the 20th century.
"It wasn't until I joined Decca that I knew what a really good classical sound was," explains Lock. "Kenneth Wilkinson was my mentor, and we worked very closely together throughout my career there. You had to show respect, but you also had your individuality, and so while we were collaborating on certain opera projects I'd also be doing my own things. Very early on, I was given the Victoria Hall in Geneva, Switzerland, as my own location, and that was fantastic and a very nice compliment from Arthur Haddy, who was then boss of Decca.
"Although IBC had been a mono studio when I worked there, stereo had been common to classical recordings since the mid-'50s, and by the time I joined Decca it already had a fantastic system that we then perfected, with everything going straight to two-track, utilising all home-built equipment. Then again, if it was a big opera we'd also have a two-track backup, which in later years became four-track, eight-track, 16-track and so on.
"Most of the label's classical recordings were done on location — the Victoria Hall in Geneva, the Sofiensaal in Vienna, Austria — and in London we had the Kingsway Hall, as well as the Walthamstow and Watford Town Halls. Decca never, never compromised on venues during the time I worked for the company. If the hall wasn't good enough, we didn't do the recording, or we'd find another hall. Whatever the city, we'd always have our dedicated hall that we would use and turn into a recording venue. Preparation was very important, and in America I was responsible for creating extension stages in Chicago, Cleveland, San Francisco and Los Angeles. You see, in many halls, when orchestras are recorded onstage it's not a good sound — located at one end, it gets congested and it doesn't carry, so I would have a 30- or 40-foot extension stage erected out to the middle of the hall and the musicians would play on that. Each one of those stages cost a quarter of a million dollars, but it worked.
"In the case of Kingsway Hall, the stage was in the middle anyway, and since Decca's own studio [on Broadhurst Gardens in West Hampstead] wasn't big enough for those sessions, Kingsway Hall was the best place to work. It was a Methodist church, and our equipment was left there. However, thanks to the services each Sunday, anything we were doing on Friday would have to be reset on Monday. Dismantling and assembling was all part of the job, and we accepted that, although I always found the dismantling to be the saddest part. We'd be involved with a recording for two or three weeks and then have to pull everything down. Still, at least the results of our work have survived.
"Kingsway Hall had perfect acoustics — up to about two and a half seconds in the bass and then tailing off to 1.2 or 1.3 at the top end. The classic curve. Basically, it was a church with a horseshoe balcony and a sloping floor which wasn't really ideal, put people put up with it because the sound in there would build up without saturating. It would just breathe. The air space was quite enormous — the place had a very high ceiling, and the sound would go up and stay there and subsequently enrich itself.
"In some studios and venues, the sound goes up, rings around and is all high-frequency stuff, and that isn't good. But the Kingsway Hall had an extraordinarily good low end that gave you great richness, so when you played a low chord the whole place absorbed it and it didn't flutter around. What's more, when people sang, they could hear themselves, thanks to the acoustics."
And at times they could also hear the 'Kingsway rumble', courtesy of the London Underground's Piccadilly Line trains, which ran directly underneath the venue and are evident on numerous recordings, along with outside road-construction and traffic noises.
Kingsway Hall was the place in England for orchestral sessions during the 1950s and '60s, with the London Symphony Orchestra making 421 recordings there between 1926 and the building's demolition in 1984, and the London Philharmonic making 280 recordings. As James Lock says, "It was one of those halls where you couldn't really make a bad recording even if you tried. And you could certainly make superb recordings there if you handled it right."
These included the first one to capture the voice of Luciano Pavarotti, a 1964 EP entitled Favourite Italian Arias that contained two by Puccini and three by Verdi, including the highly popular 'La Donna È Mobile'.
Pavarotti warming up for a take at Kingsway Hall.Photo: Ron Scherl/Redferns"I worked on that record," recalls Lock, for whom Norma, featuring Joan Sutherland, Marilyn Horne and John Alexander that same year, was the first opera recording on which he was the main engineer. "There weren't all that many engineers around, and there was a lot of work, so I got a lovely chance to do the best jobs and moved up in rank very quickly. That's why I never thought about doing pop music again. With pop, my career would have been limited to the artists, whereas with classical, the world was my oyster and there was a tremendous opportunity to be creative if I knew how.
"Pop music you create from scratch. With classical music there are defined rules according to the specific work, but you can use those rules to your advantage, to emphasise effects and things like that. The important thing is knowing the sound that you want. You know what the opera is about and all of the effects that are involved — heavenly effects, dungeon effects in a work like Salomé — as well as people's distances onstage and offstage, whereas with out-and-out pop all you've got is what the arranger has written down on a piece of paper, with the voices usually very much up front.
"My belief is that if you want a good sound in classical music, there has to be a natural ambience. Clarity is the most important thing, and by that I mean hearing everything in the right perspective instead of jutting out like shooting stars. It's not about copying a concert hall sound, but about trying to make the sound consistent so that you don't get jarred by things suddenly sticking out. The whole thing has to blend together and have a lot of clarity to the dynamics.
"Unlike pop music, with classical you don't need to use a lot of EQ, because if you use the right mics they've got all of the dynamics and frequency response you need. You have to use a microphone like a camera, focusing on the sound as much as you want, with the presence relating to how close you are. Getting the distance right between closeness and ambience is the secret, yet there's still plenty of room for experimentation. That having been said, in classical music things develop slowly. If you listen to an early stereo Decca recording from the late 1950s and then play something that was done in 1970, there's not an awful lot of difference. There may be more clarity, but the overall sound is basically the same."
During the mid-'60s, Luciano Pavarotti's voice was a relatively lean and light lyric tenor that made up in sweetness of tone what it still lacked in volume. Staying within a repertoire that matched his abilities, Pavarotti rarely employed the vibrato resorted to by other singers in order to achieve better projection, and the result was a voice that remained in great shape throughout the 1960s and early 1970s.
"Right from the start, the voice was bloody exciting," Lock confirms. "It was a thinner voice until he actually managed to get the chest part out, and that's why, when you listen to those early recordings, it sometimes sounds a bit nasal. It's when he went to the chest that this wonderfully rich voice came out, and that sound was unbelievable. He always was a high tenor, but the late-'60s and early-'70s was when the voice really changed. Working with Sutherland, she taught him how to use the diaphragm, and if you listen to the 1972 recording of La Bohème with Mirella Freni, conducted by Herbert von Karajan, you hear the voice at its very, very best, in my opinion. That was just one-take stuff. Puccini, Pavarotti and von Karajan — you couldn't go wrong, and the same applied to the recording of Turandot.
"For me, a successful recording comes down to the work, the performance and the sound, and Turandot was one of those occasions where everything was right. We had Pavarotti, Sutherland, Caballé, Ghiaurov, Mehta and the London Philharmonic Orchestra, and Mehta worked fantastically well. To my mind, it was one of his greatest achievements. Of course, it's a fantastic opera, and we made damn sure that instead of being all dry and in your face, it had a tremendous atmosphere.
"Puccini is very colourful with his little orchestral jingles and jangles and gongs, and there's plenty of percussion to help create a Chinese mood. But again, handled correctly and balanced right, you hear practically every single thing that's been written. This is where Mehta's arrangement came in, and the tempi worked beautifully. What's more, instead of breaking up the recording into little bits, having a go at this and having a go at that, we did long takes, practically of entire acts. To achieve this, Mehta would first of all speak to the chorus before they began rehearsing and tell them the story and what they were singing about. That way, when they came to a certain part, they knew exactly where they were and what they were supposed to be doing. It enthused everybody to get so into it, and that's why it was worth taking the time. These days that's no longer the case."
Given the church setting of Kingsway Hall for the Turandot recording, Zubin Mehta faced the onstage altar, behind which the choir was positioned, as per the venue's religious services. "Sometimes, if we wanted an offstage choir, we'd have to move the chorus to the public balcony to get that effect," says Lock.
Five omnidirectional Neumann M50s were used as the basic orchestral mics, picking up everything from the voices to the instruments. These were placed about five feet in front of the orchestra, 11 feet in the air, with the main three-mic 'tree' arranged above the conductor's head — half-left, centre, half-right — and the other two positioned to pick up the outside of the orchestra.
"The choir was recorded with various directional mics," adds Lock. "We only used those mics for focus, and then the same with the soloists. There'd be a relationship between pickup directional and pickup on the main orchestral mics, and if we had a conductor who could balance all that together it would make our life a lot easier. After all, he had to listen to the voices, and when conducting he'd hear what they were singing about, so he'd control the orchestra to that extent and it would help everybody.
"For the various colours of the orchestra, there would be spot mics that we'd use with discretion; Neumann KM56s, KM64s, KM84s. We'd cover the woodwind section with two mics, and the same for horns and percussion. It depends on what you want to pick up. You don't put a mic on every single thing the percussion section plays. You just place some in that area. For instance, if there's a gong coming up in the score, you'll have a mic in that vicinity. It's all a question of balance. If it's balanced well in the studio, it'll come out well on the recording, and that's down to the conductor and the dispersion of microphones. It's a reciprocal way of working.
"When the conductor comes into the control room, he's going to hear something that's more or less what he's hearing out in the main hall, although the greater clarity that you get from the recording means he can actually hear things in more detail. He can hear all the nuances of the voices, for example. You just don't sacrifice the orchestra for that."
For the Turandot recording, the vocal soloists were positioned about six to seven feet apart and six to seven feet behind the woodwind section, with a similar amount of space behind each singer, enabling them to move forward and back as required. A KM64 was positioned about eight feet in front of each singer. As for bleed, that was never a problem.
"There's nothing wrong with it," explains Lock. "You don't go for separation. What you go for is clarity, and sometimes you get the clarity by way of the bleeding. Even with pop music you don't need to have loads of separation, in my opinion. After all, once you separate everything you've got to put it back together again, haven't you? There's no logic in that. It's a question of using, with discretion, the spot mic in relation to the main pickup mics. In other words, if you raise the spot mic more than necessary, it will stick out. Instead, you should raise it to the point where there's clarity but it still retains the distance and perspective. It's a technique you have to learn."
As previously mentioned, detailed rehearsals and long takes were a feature of the Zubin Mehta Turandot sessions, and on a good day as much as 40 minutes of the overall performance might be captured on tape.
"We'd have to make sure all the required artists and instrumentation were there for a specific session," says Lock, "and then we could concentrate on that 20- or 40-minute block of music. Of course, if people called in sick we'd have to re-schedule or bring them back later to overdub, but that didn't happen in the case of Turandot. Most of it was done completely live, including all the vocals, and if there needed to be another take this meant everyone had to perform again. I mean, there were mistakes and mistakes — if something didn't stick out as a mistake to the singers, the chorus master or conductor during playback, we wouldn't fix it, and with Turandot everybody was on top form. For once, it was a perfectly chosen cast.
James Lock today.Photo: Ron Scherl/Redferns"The most important thing was that everyone had to relax and get on with the job in hand. There's no place for egos in a recording. Once you start getting that, it's downhill all the way. Everybody should be there for the opera and for the recording, nothing else. I mean, if there are five mics on the soloists and microphone one is on position two on the left, while mics two, three and four are on the four, six and eight positions in the middle, and mic five is on the 10 position to the right, you'd think that coming out of two loudspeakers in the middle sounds better than coming out of the 'two' or 'eight' positions. In a way, that's true, so you don't keep your stars on those outside positions for very long. Maybe just for a part where they're coming in, but then they should go to the four, six or eight position, where they've got mics on either side of them which help to capture the richness of the voice. The voice is all about a body of sound, and the closer you get to a mic, the less body of voice you hear.
"It's a very, very complex, concentrated, dedicated span of time when you're recording. It's all the time you've got, so you have to make damn sure everything's there. This is where the whole production of the session comes to the fore. In this case, Michael Woolcock was out in the hall, making sure the singers did their moves, and Ray Minshull was the overall producer. He was one of the great producers of Decca and he did a fantastic job, co-ordinating all of the sessions, co-ordinating all of the artists, taking responsibility for what was being recorded, giving cues and monitoring each performance so that he could tell the conductor immediately afterwards if anything was wrong.
"Meanwhile, Kenneth Wilkinson and I complemented one another in terms of the engineering, with him balancing the orchestra and me nursing the voices and chorus, sitting side by side at the mixer. That was unique to Decca. It meant we could balance two-track directly, which was great, because it would be almost impossible for one engineer to do the whole thing on his own. We were mixing live but totally in harmony, and if we couldn't get it right, we shouldn't be doing it in the first place. The faders would move four or five dB depending on what we were looking for, but really it was just finessing, because if the mics are in the right place, at the right height and distance, they do an awful lot of work for you."
For 'Nessun Dorma', Pavarotti was recorded on stage, standing about eight feet behind a KM64 that was focused on him, while those for the singers on either side provided width by way of his voice bleeding into them, too. At that distance, there was no need for pop shields, no threat of capsules succumbing to the sheer force of the vocals.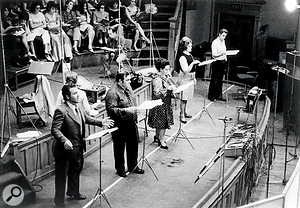 Photo: Ron Scherl/RedfernsMuch of the cast of Turandot being recorded at Kingsway Hall, August 1972, with the choir behind. Left to right: Nicolai Ghiauro, Luciano Pavarotti, Montserrat Caballé, Joan Sutherland, Tom Krause.
"That would only be a problem if the singers tried to get too close," says James Lock. "However, we used to place the mics away from the front of the stage, so if they did move too far forward they'd fall over the edge. That meant they couldn't steal on each other! The thing is, if they trust you while they're out there singing, there won't be a problem. They might fight about the balance being wrong between the voices and orchestra, but basically they never used to argue about the sound quality. And if Luciano did, it was usually because he was annoyed with himself. You have to take all of that into consideration with singers and be sympathetic towards them. If they feel they're being looked after, they'll give twice as good a performance."
In light of which Pavarotti must have been feeling extremely well cared for during the solitary take of 'Nessun Dorma'.
"When Luciano switched on like that you could feel the tension," Lock recalls. "Never in my life did I feel anything else like it. It came through my fingers, through the mixer, through the loudspeakers, telling me this was something great. I'd dread anything going wrong, because this was it. He didn't mess around with stabbing at things, making a certain note longer or making another one sharper. He just got it.
"Luciano always found it difficult to rehearse in order to learn the material. He was instinctive. And in this case, having never performed as Calaf, but working with Zubin Mehta who could follow anybody, anywhere, the two of them got it totally right. Zubin knew exactly how long he would sing a certain note, Luciano just kept going, and what resulted has never been beaten, as far as I'm concerned. Then again, having done all of his concert tours, I don't think he ever gave a bad performance. Yes, he could be difficult, but the difficulty was him grinding himself up. He always gave his best, and in that regard he sometimes needed a lot of help. He would never deliberately sabotage a production or give a bad performance.
"A tenor's a tenor's a tenor, but phrasing's the thing, and someone like Jussi Björling was extraordinary when he was on form. However, he was also up and down, whereas Luciano never was up and down. He was always up, up, up, up, up. And he also had a very quick mind, which is why he could perform 'Nessun Dorma' so effortlessly, yet so magnificently. At other times, he would kick himself and everyone else around him if he wasn't getting it right."
In James Lock's opinion, Pavarotti's finest recordings were Turandot and La Bohème, both in 1972, along with Donizetti's L'Elisir D'Amore in 1970 and Lucia Di Lammermoor in 1971, both opposite Joan Sutherland, Puccini's Madama Butterfly in 1974, opposite Mirella Freni, and a live 1976 performance of Verdi's Otello at the Teatro Regio in Parma, Italy.
"Those recordings, for me, are his big ones, and that's big enough," says Lock, who currently holds the position of chief engineer at the state-of-the-art O Ganho Do Som post-production studio in Lisbon, Portugal — a facility that he describes as having "the most incredible sound I've ever heard in my life. When I listen to my recordings there I hear them in a new light. It's like a painter seeing his pictures for the first time."
And what pictures they are, comprising an unsurpassable half-century of work that will continue to entertain and inspire for generations to come.
"When I recorded Luciano, I wanted to bring out the full richness and quality of his voice so that everyone could appreciate how big it was, what a wonderful timbre it had, and also his incredible diction," Lock remarks. "Again, it was about the right mic placement and knowing exactly within a hall where the singer should be standing, but after that I just had to feel it. You can't specify the why, what, where and how.
"The wealth of talent in classical music — in opera, symphonic, choral, oratorio — is absolutely enormous, and once you get into it, once you start to feel it, the differences you can make in terms of quality are unbelievable. Sound is all about intelligibility, quality and richness, and in that regard the 1970s was such a rich decade; a time that has passed and unfortunately will never return. What with all the computers and different means of listening nowadays, there are no longer the same sums of money being spent on productions. That is why we're now into live recordings, taken off the air, wth radio's and opera houses' shared responsibilities. It all comes down to a paperbook industry. Still, these definitive recordings can also never be taken away. They will always be there, and hopefully more and more people will appreciate them.
"If the record companies will still commit to doing five such recordings a year, two a year, one a year, I think it's worth doing. If they assemble the right forces, the right conditions and the right venue, they can still turn out fantastic recordings. What we've lost is the individuality of superstars like Pavarotti and Sutherland, around whom casts can be formed. In the old days, if you assembled the right cast members when they weren't under contract to other companies, you could get some fantastic results. It really was a wonderful era."