Producers: Jazzie B • Nellee Hooper
Photo: Catherine McGann/Getty Images
Soul II Soul's 'Back To Life' was a hit record with a sound all of its own.
A UK number 1 hit in 1989, Soul II Soul's 'Back To Life (However Do You Want Me)' was the sound of London's funk and rare groove '80s club scene emerging from the underground and scaling its way to the top of the charts, while at the same time creating an entirely new sound. Built around shuffling beats, a sub bass line, string stabs and its super‑catchy Caron Wheeler‑sung chant hookline, it was — and remains — a groundbreaking, uniquely stylistic record.
The foundations of Soul II Soul, a loose collective of musicians, DJs, producers and singers, were first laid in 1985 by the group's leader, Jazzie B, when he was running his legendary club night of the same name at the Africa Centre in London's Covent Garden. "The Africa Centre is so important in our journey," Jazzie tells SOS today. "It really was the platform that enabled the rest of the musical community to be involved. Our whole idea was to be inclusive, and the Africa Centre allowed us to do that."
Meanwhile, the sound of Soul II Soul the band grew from the original tracks that Jazzie B created to exclusively play at the club nights. Gota Yashiki, the Japanese‑born programmer who worked on 'Back To Life' and much of Soul II Soul's 1989 debut album, Club Classics Vol One, vividly remembers the first time he witnessed the funky goings‑on at the Africa Centre in 1988, the year he moved to London.
"In those days, hip‑hop and rare groove was happening," he says. "It was great to see Soul II Soul at the Africa Centre. The members, DJs and dancers were unbelievable."
It wasn't long before Yashiki received a call from his and Jazzie B's mutual friend Nellee Hooper, inviting him to work on a Soul II Soul studio session. At the time, Hooper was a DJ with the Bristol sound system The Wild Bunch (that spawned Massive Attack) and an up‑and‑coming producer (who would go on to work with Björk and U2).
"Nellee said, 'Oh Gota, you remember Soul II Soul?'" Yashiki recalls. "'We're making a record now. Come to the studio and help us.' Before I was involved, Soul II Soul had a rare groove, kind of funky groove. One big thing is they didn't know how to synchronise organic sound and digital sound together."
Yashiki was to aid Hooper and Jazzie B in their desire to create the signature Soul II Soul beats that mixed electronic and acoustic drum sounds and that were in stark contrast to the other dance music styles around at the time.
"Acid house was going on and everything was four‑to‑the‑floor and we got bored of it," Yashiki says. "We loved the more hip‑hop‑like groove [presented] in the most soulful way. Sonically, something like an 808 has massive bass, and breakbeats or even live drumming doesn't have that sound that only a machine can make. Mixed together, it made the strongest grooves that you'd ever heard before."
Jazzie B, real name Trevor Beresford Romeo, had grown up in Hornsey, North London, with brothers who ran sound systems and club nights. By the age of 14, in 1977, he was himself gigging with friends and their own sound system, Jah Rico. "As a teenager, you're sort of looking for your tribe, as it were, or your thing," he says. "Punk had a massive influence."
To keep his sound system serviced and running, Jazzie began frequenting electronics shops and learning about the DJ technology of the time. "Purchasing preamps and amplifiers," he remembers, "learning about the MOSFETs [transistors] and how to keep these things playing for longer. That was the entry into me becoming a sound engineer. My career took off from there."
In the early '80s, Jazzie managed to land himself a job as a tape op at Nova Studios near Marble Arch in London's West End, working on sessions with the then fast‑rising film composer Hans Zimmer and funk/soul producer Biddu Appaiah (Tina Charles, Carl Douglas).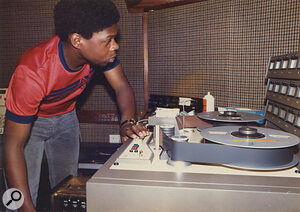 Jazzie B cut his recording teeth as a tape op at London's Nova Studios."I learned my craft making cups of tea, taking all the notes for the outboard equipment, lining up tape machines," Jazzie remembers. "I learned about frequency. So, the difference between making a record in the studio and how does that sound transpose to the sound system. In those days, the development of all of that world was pretty incredible.
"It's one of those things where when you're thrown into the deep end," he adds, "somehow, we survive. Plus, I had a genuine interest in that whole world."
From this point, back at home, Jazzie began to experiment with sound system post‑production, adding tape‑echo effects to records and making bespoke compilations of reproduced tracks on tape. "The idea with the reproductions was that every sound system made its own music," he says. "And in light of the technology that was released, or made accessible, I was able to string things together at home, which then encouraged me to learn more about music."
Jazzie invested in a Yamaha four‑track to further his musical experiments, and by the time Soul II Soul began running their weekly Sunday club night at the Africa Centre, the playlists were eclectic, featuring anyone from James Brown to Tears For Fears, Roy Ayers to Fun Boy Three.
"We were playing to a live audience with my quarter‑inch tapes," says Jazzie. "And then from the quarter‑inch tapes, it went to cassettes. With the quality of chrome cassettes, I was able to cut at such a high level, I didn't get any distortion. So, all those increments helped the sonics of what became Club Classics Vol One."
The next natural move was for Jazzie B to make his own Soul II Soul acetates — called 'specials' — to play at his sound system gigs. With the vocal contributions of singer Rose Windross, he came up with what would be the first Soul II Soul single, 'Fairplay', by jamming behind the decks.
"Every sound system is like a stage show," he points out. "So, Rose, who was one of the dancers and followers at the time, she also sung. The significance of 'Fairplay' in that surrounding was that the beat and the groove was used as the base. We used to play Martin Luther King's 'I Have A Dream' speech over that.
"Rose would often take the mic, and there'd be a section, y'know, maybe a 10‑minute bit where she would just voice, as it were, express herself. Then one evening, I took her into the studio, and we recorded it. And that is where the special came about of 'Fairplay', because Rose used to sing that on the groove.
"So, I've gone from making tapes in my house to going into the studio and recording these things. Y'know, laying out tracks using multitrack tapes, now taking my limited knowledge as a tape op into the real world. I released that dubplate because I was in a bidding war with the record companies to get a production deal, and to get a label deal."
While the popularity of the Soul II Soul club nights didn't ensure that 'Fairplay' was a hit upon its release in 1988 (it reached only number 63 in the British chart), the group's brilliant and beautifully melodic third single, 'Keep On Movin'', released on Virgin Records' subsidiary label 10 Records, provided their breakthrough, when it made number 5. It was written solely by Jazzie B.
"I'd learned about writing melodies from my music teacher," he says. "I always knew strong melodies were never forgotten. But because I come from a reggae background and the reggae school, it was more about us having our sound, like Studio One."
In a way, as Jazzie points out, 'Keep On Movin'' was a bittersweet song, since its words reflected the beginning of the end of the collective's time at the Africa Centre, which followed in 1989. "'Keep On Movin'', the song lyrically was spawned out of us being closed down at the Africa Centre," he explains. "Hence, lyrics like 'Yellow is the colour of sun rays / Keep on movin'' etc., which were embellished upon, moving out of what I would have called a club groove at the time."
Sessions for that track, and the work‑in‑progress Club Classics Vol One album, were conducted at various London studios, including Addis Ababa and Lillie Yard, before Soul II Soul found their spiritual recording home at Pink Floyd's Britannia Row Studios in Islington, which at the time featured the SSL G Series desk first manufactured in 1987.
"Leasing Brit Row for the first record, it just worked there," says Jazzie. "It was this amazing building, steeped in history. But singular. So, it wasn't like working in one of those places where they got 50 different rooms and loads of different people. You literally went in and took over the area.
"We made an exclusive studio inclusive," he adds with a laugh, "by my whole circus and tribe being in and out this place for months. All the things were just right about the place."
"As a facility it was very, very nice," Gota Yashiki remembers. "The SSL desk and three or four plate reverbs. It was kind of hard‑sounding, but there were nice live rooms there. It was comfortable.
"I think maybe Nellee or Jazzie got a good deal there [laughs]. I got a telephone call at a weekend saying, 'Oh, we're going into Britannia Row into the night.' So, we went there for Saturday afternoon or something, when Pink Floyd or some big band who were recording had finished. We jumped in there and we were still working on the Monday morning. Then it was, 'Leave, quick!'"
Anticipating the techniques that would become widespread with the appearance of Propellerhead Software's ReCycle in 1994, Yashiki chopped the breakbeat sample into each individual beat and reassembled it by MIDI‑triggering it with his keyboard and sequencer.
One of Yashiki's first sessions with Soul II Soul involved coming in when the team were finishing 'Keep On Movin''. Straight away, he was inspired to suggest adding a beat to the end section of the track.
"Nellee played me the rough mix," he remembers. "It was almost done then, and it blew me away. It was such a great song and groove and everything. It was a 909 from the beginning to almost the end, and near the end there was a breakbeat loop. I said, 'Why don't you mix the 909 and this loop together?' He said, 'Oh, we tried it, but it sounds a bit messy.' I thought, 'Oh, I know how to make it tight.' I play drums as well as program them, and I had my own sampler and sequencer, so I showed a couple of tricks to him."
Anticipating the techniques that would become widespread with the appearance of Propellerhead Software's ReCycle in 1994, Yashiki chopped the breakbeat sample into each individual beat and reassembled it by MIDI‑triggering it with his keyboard and sequencer. "But when you looped it, you heard these chopped, kind of gated sounds," he says. "I didn't like that because it wasn't fluid or, like, groovy. So what I did was I put it in a sequencer and then obviously for the beginning, beat one, it's adjusted to zero, right? But the second beat would be slightly ahead or behind. When you loop it, it sounds OK, but some bits were flamming or whatever. So, what I did was I put the pitch‑bend wheel to maximum, 24 semitones or something, and just before the snare hit, I put a pitch bend in. If it's late, make it a little bit faster, and so on. So, after the third beat, fourth beat, in between, to make it into time, I was just using all those pitch bends. That's how I was controlling it, with the pitch bend, to adjust it into time."
Gota Yashiki's programming setup in 1989 involved a Yamaha TX16W 12‑bit sampler and QX3 16‑track MIDI sequencer and was at odds at the time with the proliferation of Atari 1040 ST computers using Steinberg Pro24 or C‑Lab Creator MIDI software. "I was an alien then," Yashiki chuckles. "So, I didn't know about the Atari. Obviously in Japan, it was Yamaha and Roland and Korg. I was kind of a Yamaha kid back then."
'Back To Life' programmer Gota Yashiki today.Yashiki remembers that with one of the standout tracks on Club Classic Vol One, the loop‑heavy 'Jazzie's Groove', he had to use his pitch‑wheel programming techniques to full effect. "Jazzie brought in a set of breakbeats and said, 'I want to put these things together.' So, I did that and somehow made the loops and used the pitch bend to make it into one groove.
"I had eight outputs to give to the desk in a balance that I thought was good. I put my headphones away and said, 'OK, listen to this...' Boom. Then they'd be playing with mutes and whatever to make it into the track. I thought it was a new way of making music then. No one was doing that before."
The beginnings of 'Back To Life' meanwhile involved Jazzie B and Nellee Hooper visiting Gota Yashiki at his house to build up the track's distinctive beat, working over a drum groove which had been lifted — according to the website WhoSampled — by American funk band Graham Central Station's 1975 track 'The Jam'.
"Because of the little setup, I could work in my house," says Yashiki, "and it was kind of pre‑production to see what we could do. We made a kind of backing track. Just one groove, basically. Then we brought it into Britannia Row.
"We brought in a drum kit, used some DJ‑played breakbeats and an 808 and 909. I sampled it and mixed it, and then sampled it again. That's why it sounds messy really [laughs]. Can you create that thing again? I don't think you can. You never can do that."
Jazzie B credits the strength of his and Nellee Hooper's co‑production relationship to the fact that at the time they very much shared the same creative outlook. "We were into the same things at the same time, like music, fashion. I guess both of us were in pivotal areas within the scene.
"He had the ideology of what was going on with The Wild Bunch and coming from a punk background that had embraced hip‑hop, and then, y'know, he came to London, the shopping window of the rest of the world. And our energies collided. As we grew up in the industry, it just worked for both of us."
Yashiki explains that the creative process often involved Nellee Hooper translating Jazzie B's ideas to him as a programmer. Even if he admits that his English at the time was not great, there were never any communication problems in the control room.
"In the studio, it's always the international language," he stresses. "Like a delay is a delay, a reverb is a reverb, James Brown is James Brown. So what Jazzie wanted I could understand. Nellee was a really good translator, he could really explain well. The three of us, we had a good chemical reaction, talking with music instead of much language."
"It was like a free‑for‑all," says Jazzie. "Everybody was trying everything, y'know. Chucking it against the wall and seeing what stuck, in that communal sense."
When it came to laying down the bass line over the distinctively heavy beats of 'Back To Life', Gota Yashiki turned to his Yamaha TX802 FM Tone Generator module. "It was like a DX7 but in rackmount form," he says. "Eight voice, so you could change the sounds individually. For the bass sound, we used a Minimoog as well as the Yamaha 802 for that kind of FM sound. It was a couple of preset sounds mixed together — some DX7 kind of bass with marimba down an octave mixed in with the bass.
"With bass, in those days, it was always how low can you go, y'know. How much bottom end can you create and then if you play it in a club, how pumping would it be with the bass. So we added an 808 bass drum. I played the bass and most of the time we'd put it in the sequencer to quantise it, but because 'Back To Life' is kind of an organic groove, I didn't quantise it. We'd hear those kind of magical moments and our eyes would glow, and it was, 'Yeah, yeah, yeah'."
From here, 'Back To Life' was further constructed using the piano contributions of Simon Law, one of the song's co‑writers, alongside Jazzie B, Nellee Hooper, and vocalist Caron Wheeler. "Caron Wheeler came in and said, 'Give me a beat. I can sing anything you give me,' or something like that," Yashiki recalls. "Then she and Nellee and Jazzie and all of them kind of built up 'Back To Life', the melodies and the chorus and the amazing vocals."
Yet, upon the release of Soul Classics Vol One in April 1989, it was an acapella version of 'Back To Life' featuring Caron Wheeler's vocals alone that appeared on the album. "Nellee had said, 'Gota, I think I have to take out all the backing track because the chorus vocals are so amazingly great.' And I heard that sound and I said, 'Oh yeah, I agree.' So my work was gone [laughs]."
Following the release of the album, however, Soul II Soul realised that they needed a single to follow up 'Keep On Movin'' and that 'Back To Life' was the obvious contender. "Nellee and Jazzie talked to the record company, and they said to me, 'We're releasing 'Back To Life' as the next single, but not acapella. This time we'll be able to put the beats in.' So, we put back what we had and then we invited other musicians in, like a percussionist who played the hi‑hats."
The finishing touches to the track were supplied by the Reggae Philharmonic Orchestra (led by original Steel Pulse member Mykaell Riley), with their percussive string stabs working alongside the beats. "The Reggae Philharmonic played it, but Nellee wasn't happy because it wasn't exactly tight," says Yashiki. "So, I sampled the strings and made it tighter."
When it came to mixing, Yashiki remembers that the control room sessions would often turn into club nights of their own, adding to the dancefloor‑friendly vibes of Soul II Soul's records. "It was like a party. People dancing in the back of the studio. Massive Attack and so many different people were coming in and out. I remember I slept well under the desk."
Jazzie B.
Upon its release in May 1989, 'Back To Life' — aided by its memorable video in which Jazzie B, Caron Wheeler and the Soul II Soul collective performed on a night‑time stage setup in Epping Forest — was suddenly everywhere and raced up the British chart to its number 1 position. Equally, in America, the track made Soul II Soul stars when it reached number 4 in the Billboard chart and went on to win a Grammy.
"We turned the turntable into the lead guitar," says Jazzie B. "We turned the MC into the lead singer. We turned the average DJ into the superstar DJs we know today, because we were all using the technology to aid us.
"Ain't no rules, never been no rules," he insists. "We will never have any rules. It was unapologetic music and an attitude of the time which had never happened or existed before... not going shy over the fact that our timing was incredible. I'm very much, I believe, a product of the industry post the hedonistic days of the '70s and what we were able to develop as a musical community in the '80s."
Jazzie B: It was like a free‑for‑all. Everybody was trying everything, y'know. Chucking it against the wall and seeing what stuck, in that communal sense.
The success of Club Classics Vol One afforded Jazzie B and Soul II Soul the opportunity to set up their own programming and pre‑production suite in Camden in 1989, involving a technological upgrade that included two Akai S1000 samplers, a Fostex E16 half‑inch tape multitrack, a Soundtracs PC MIDI desk and various rackmount synth modules, including the Oberheim Matrix 1000 and Roland A110.
"We got to the point of having access to a lot of equipment," Jazzie recalls. "And when the MPC became involved, it was another level."
These days, Soul II Soul remain very much a going concern in the live arena. "That's transported me to another area in the game," Jazzie says. "Because I used to be going into the control room and staying there all day with no daylight. Now, I go into a rehearsal room, and tinker, literally, with everything sonically to help this sound. What I'm improving on now, again, is testament to being around these guys who are absolutely incredible musicians and allowing them the platform where they can really express themselves.
"So, I've now moved from using quantised instruments to actual musicians playing and recreating and embellishing. Because so many times, bands go on the road with a ton of different sequences to recreate what the audience wants to hear. And I'm proud to say, no two gigs of mine sound the same.
"Now I go to do a show, and just watching the whites of people's eyes and their reaction to things that they thought they knew, and how far we can take it, it's exciting. I love music, man. It's so in my soul."
In the end, more than 30 years on, the title of Club Classics Vol One has proven itself to be no hollow boast. As to why the album, and 'Back To Life', have become renowned as classic records, Jazzie B, of course, has his own theory.
"We were in our own little bubble, in our world, creating our own sound," he states with a grin. "All I can tell you is that when you listen to Soul II Soul from 1989, it sounds as fresh now as it did then.
"How did we manage to do that? It was a collection of all this creativity that came together at the right time, with a happy face, a thumping bass, for a loving race..."   
Soul II Soul are touring the UK throughout 2022. Dates can be found at soul2soul.co.uk