Producers: Jazzie B • Nellee Hooper
Photo: Catherine McGann/Getty Images
Soul II Soul's 'Back To Life' was a hit record with a sound all of its own.
A UK number 1 hit in 1989, Soul II Soul's 'Back To Life (However Do You Want Me)' was the sound of London's funk and rare groove '80s club scene emerging from the underground and scaling its way to the top of the charts, while at the same time creating an entirely new sound. Built around shuffling beats, a sub bass line, string stabs and its super‑catchy Caron Wheeler‑sung chant hookline, it was — and remains — a groundbreaking, uniquely stylistic record.
The foundations of Soul II Soul, a loose collective of musicians, DJs, producers and singers, were first laid in 1985 by the group's leader, Jazzie B, when he was running his legendary club night of the same name at the Africa Centre in London's Covent Garden. "The Africa Centre is so important in our journey," Jazzie tells SOS today. "It really was the platform that enabled the rest of the musical community to be involved. Our whole idea was to be inclusive, and the Africa Centre allowed us to do that."
Meanwhile, the sound of Soul II Soul the band grew from the original tracks that Jazzie B created to exclusively play at the club nights. Gota Yashiki, the Japanese‑born programmer who worked on 'Back To Life' and much of Soul II Soul's 1989 debut album, Club Classics Vol One, vividly remembers the first time he witnessed the funky goings‑on at the Africa Centre in 1988, the year he moved to London.
"In those days, hip‑hop and rare groove was happening," he says. "It was great to see Soul II Soul at the Africa Centre. The members, DJs and dancers were unbelievable."
It wasn't long before Yashiki received a call from his and Jazzie B's mutual friend Nellee Hooper, inviting him to work on a Soul II Soul studio session. At the time, Hooper was a DJ with the Bristol sound system The Wild Bunch (that spawned Massive Attack) and an up‑and‑coming producer (who would go on to work with Björk and U2).
"Nellee said, 'Oh Gota, you remember Soul II Soul?'" Yashiki recalls. "'We're making a record now. Come to the studio and help us.' Before I was involved, Soul II Soul had a rare groove, kind of funky groove. One big thing is they didn't know how to synchronise organic sound and digital sound together."
Yashiki was to aid Hooper and Jazzie B in their desire to create the signature Soul II Soul beats that mixed electronic and acoustic drum sounds and that were in stark contrast to the other dance music styles around at the time.
"Acid house was going on and everything was four‑to‑the‑floor and we got bored of it," Yashiki says. "We loved the more hip‑hop‑like groove [presented] in the most soulful way. Sonically, something like an 808 has massive bass, and breakbeats or even live drumming doesn't have that sound that only a machine can make. Mixed together, it made the strongest grooves that you'd ever heard before."
Jazzie B, real name Trevor Beresford Romeo, had grown up in Hornsey, North London, with brothers who ran sound systems and club nights. By the age of 14, in 1977, he was himself gigging with friends and their own sound system, Jah Rico. "As a teenager, you're sort of looking for your tribe, as it were, or your thing," he says. "Punk had a massive influence."
To keep his sound system serviced and running, Jazzie began frequenting electronics shops and learning about the DJ technology of the time. "Purchasing preamps and amplifiers," he remembers, "learning about the MOSFETs [transistors] and how to keep these things playing for longer. That was the entry into me becoming a sound engineer. My career took off from there."
In the early '80s, Jazzie managed to land himself a job as a tape op at Nova Studios near Marble Arch in London's West End, working on sessions with the then fast‑rising film composer Hans Zimmer and funk/soul producer Biddu Appaiah (Tina Charles, Carl Douglas).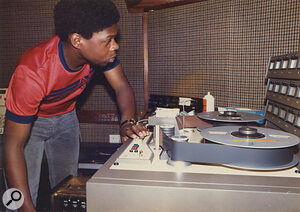 Jazzie B cut his recording teeth as a tape op at London's Nova Studios."I learned my craft making cups of tea, taking all the notes for the outboard equipment, lining up tape machines," Jazzie remembers. "I learned about frequency. So, the difference between making a record in the studio and how does that sound transpose to the sound system. In those days, the development of all of that world was pretty incredible.
"It's one of those things where when you're thrown into the deep end," he adds, "somehow, we survive. Plus, I had a genuine interest in that whole world."
From this point, back at home, Jazzie began to experiment with sound system post‑production, adding tape‑echo effects to records and making bespoke compilations of reproduced tracks on tape. "The idea with the reproductions was that every sound system made its own music," he says. "And in light of the technology that was released, or made accessible, I was able to string things together at home, which then encouraged me to learn more about music."
Jazzie invested in a Yamaha four‑track to further his musical experiments, and by the time Soul II Soul began running their weekly Sunday club night at the Africa Centre, the playlists were eclectic, featuring anyone from James Brown to Tears For Fears, Roy Ayers to Fun Boy Three.
"We were playing to a live audience with my quarter‑inch tapes," says Jazzie. "And then from the quarter‑inch tapes, it went to cassettes. With the quality of chrome cassettes, I was able to cut at such a high level, I didn't get any distortion. So, all those increments helped the sonics of what became Club Classics Vol One."
The next natural move was for Jazzie B to make his own Soul II Soul acetates — called 'specials' — to play at his sound system gigs. With the vocal contributions of singer Rose Windross, he came up with what would be the first Soul II Soul single, 'Fairplay', by jamming behind the decks.
"Every sound system is like a stage show," he points out. "So, Rose, who was one of the dancers and followers at the time, she also sung. The significance of 'Fairplay' in that surrounding was that the beat and the groove was used as the base. We used to play Martin Luther King's 'I Have A Dream' speech over that.
"Rose would often take the mic, and there'd be a section, y'know, maybe a 10‑minute bit where she would just voice, as it were, express herself. Then one evening, I took her into the...
You are reading one of the locked Subscriber-only articles from our latest 5 issues.
You've read some of this article for free, so to continue reading...
Log in - if you have a Subscription you bought from SOS.

Buy & Download this Single Article in PDF format

£1.00 GBP

$1.49 USD


For less than the price of a coffee, buy now and immediately download to your computer or smartphone.

Buy & Download the Full Issue PDF
Our 'full SOS magazine' for smartphone/tablet/computer. More info...

RECORDING TECHNOLOGY: Basics & Beyond
Claim your FREE 170-page digital publication
from the makers of Sound On Sound — CLICK HERE