Producers: Tom Dowd • Derek & The Dominos
Inspired by a Persian classical poet and a certain Mrs Harrison, 'Layla' went on to become Eric Clapton's most enduring hit.
OK, so you probably know the story: Eric Clapton and George Harrison were bosom buddies, playing guitar together and appearing on each other's records. However, Eric also had the hots for Mrs. H, former model Patti Boyd, and in a state of emotional turmoil he penned a musical love letter about his pain and his yearning.
Having read and identified with The Story Of Layla And Majnun by 12th-century Azerbaijani poet Nizami, in which a young man goes crazy over his unrequited love, Clapton put pen to paper and came up with his own 'Layla', one of rock's all-time classic love songs. In it, the audibly pained singer urges his elusive sweetheart: 'What'll you do when you get lonely and no one's waiting by your side? / You've been running and hiding much too long / You know it's just your foolish pride.'
What is less well known is the story of exactly how the song came to be recorded in three separate parts, featuring virtuoso guitar contributions by both Clapton and Duane Allman, and a piano coda written and performed by drummer Jim Gordon. In essence, its creation blended serendipity with artful improvisation, as concocted by the musicians and their behind-the-board team of executive producer Tom Dowd, sibling engineers Ron and Howard Albert, and to a lesser extent, Karl Richardson, Chuck Kirkpatrick and Mack Emerman.
Dowd, the legendary engineer and producer of countless rock, pop, jazz, soul and R&B artists, had first met Clapton when working on Cream's Disraeli Gears album in 1967. That same year, 14-year-old Ron Albert claimed he was 16 in order to land a job assisting at Mack Emerman's Criteria Studios in Miami, and soon thereafter he made the jump to engineering. Big brother Howard, a musician who'd previously used Ron to take care of his band's sound and lighting, joined him there in 1969 after returning from active duty in Vietnam.
Eric Clapton performing live at the time of 'Layla'."I got out of the Army in San Francisco and I flew to New York for a wedding before I came back to Miami," Howard recalls. "Well, Ron sent me a whole list of microphones to study on the way home, along with descriptions of what they looked like, and finally when I got to the studio some of the first things that I did prompted those around me to say 'I don't know why you're doing it like this.' Basically, I would do crazy stuff just because I didn't know any better, and that worked out to our advantage a little later on.
"At that time, engineers were just using one overhead and a bass drum mic and a snare drum mic, if they used that much, whereas I miked every cymbal, every drum, everything, because to me that's the way it should have been anyway. And so we did a lot of experimenting, even using microphones for drumsticks... That didn't work."
"We were fortunate at Criteria to have Mack, who was a bit of an equipment junkie," adds Ron. "He would travel to Austria and Germany and buy all these beautiful condenser microphones, and they were locked away for exclusive use on strings, horns and orchestra recordings. They were never used for our late night rock & roll recordings. However, when Howard came to the studio, he'd say 'Well, why don't we try this mic on that and this mic on that?' We were like 'Oh no, that's not allowed,' and he'd say 'Why not?' So, we started using condenser microphones on tom-toms and things like that, which was unheard-of back then, and we developed what came to be known as the Fat Albert Drum Sound. This really was based on having some wonderful, beautiful European condenser microphones, and lots of them as opposed to the usual two or three on the drums. Howard basically developed the whole multi-mic drum technique single-handedly."
It was in 1970 that Ron and Howard engineered together for the first time, recording the Everybody's Talkin' album by R&B tenor sax great, King Curtis, produced by Curtis, Jerry Wexler and Jimmy Douglass, with arrangements by Arif Mardin, and featuring the likes of Billy Preston and the Memphis Horns. It was an invaluable musical education, and one that would pave the way for the Alberts' joint production and/or engineering credits on records by, among many others, Aretha Franklin, Frank Zappa, the Rolling Stones, Jimi Hendrix, Joe Cocker, Jimmy Page, Johnny Winter, James Brown, Joe Walsh, Wishbone Ash, the Average White Band, Buddy Miles, Crosby, Stills & Nash and, of course, Clapton and the Allmans.
"Sometimes I would go out into the studio, woodshed with the band and arrange the song while Ron was getting the sound together," says Howard, explaining the brothers' unique collaboration. "Then, at other times, I'd be out there setting up the mics and Ron would be sitting at the board. We worked pretty much hand in hand, there was no set approach. When we were both at the console there were four hands on the board, and we worked so well together that, if something had to be done, Ron knew what had to be done before I could say 'Hey, do this,' and it was the same the other way around."
Derek & The Dominos (left to right): Eric Clapton, Bobby Whitlock, Jim Gordon and Carl Radle."We always felt we had an advantage," adds Ron. "When working with a lot of different groups, if the guitar player or the drummer had a personal connection with, say, Howard, and the singer or keyboard player connected with me, that enabled us to keep the group involved in the recording as opposed to 'Well, I'm working on the vocals now, the rest of you go get a burger.' That really worked in our favour. One of our early mentors, Tom Dowd, always said he had taught us that making records with a band is a little like being a lion tamer — you have to learn to keep the lions in a different cage to the tigers, and you have to learn to treat everyone with respect and dignity even if they're not the lead singer.
"Tom had a philosophy that he didn't push on us but which applied in his own studio, and also in one of the studios at Atlantic in New York. He believed that if you like something, you pull it closer to you, whereas if you don't like something you push it further away. You know, if you're sitting at the dinner table and you don't like the food, you push the plate away from you, you don't bring it closer. Well, he had his console faders set up that way — they were actually reversed, with louder closer to you. If we had to go and mix a record at Tom's house, it was very difficult, whereas I guess in audio terms he was ambidextrous — he was perfectly comfortable sitting at a regular console pushing the faders up or, in his own facility, pulling the faders down. The same at Atlantic — MCI had to build a console for him with the faders backwards. I've never seen this mentioned in writing, I've never heard anybody talk about it and I've never seen a studio like that, but that was a Tom Dowd original.
"We were fortunate to have a unique situation at Criteria back then concerning the studio's relationship with MCI [founder and designer] Jeep Harned, where we were the test site for all of the MCI equipment. As fate would have it, Howard is right-handed and I'm left-handed, and when we would sit at the board together, if the console was laid out with, say, the percussion on the left-hand side and the guitar overdubs on the right-hand side, it would be kind of awkward for me to reach over and get to the percussion, just as it would be awkward for Howard to reach over and get to the guitars. Up until that time, all of the sub-groups were on the right-hand side of the console. So, MCI actually came up with a prototype for us where we had the sub-groups in the center, and that became the 500-series console. With the faders in the center, it was easy for Howard with his right hand and me with my left hand to reach the middle sections. And while we thought that was unique for us, it became the format for the rest of the world. It really did make more sense to have the sub-groups in the sweet spot in the center of the console."
Meanwhile, trying to escape the supergroup rigours that he'd experienced with Cream and Blind Faith, Eric Clapton found a sweet spot in the spring of 1970 by hooking up with several of the sidemen (aka 'Friends') who, like him, had played with Delaney & Bonnie; keyboardist/singer Bobby Whitlock, bass player Carl Radle and drummer Jim Gordon. Calling themselves Derek & The Dominos — in line with an announcer's mispronunciation of their intended name, Eric & The Dynamos, at the band's first live appearance — they quickly undertook a summer tour of England and then flew to Miami, where they just as quickly recorded the superb Layla And Other Assorted Love Songs double album, at what the Alberts jokingly refer to as 'Bacteria'.
When I spoke with him in 1998, the late, great Tom Dowd described how this came about while he, Ron and Howard were working on the Allmans' Idlewild South: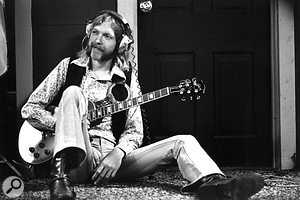 Duane Allman with his trademark groovy sideburns and 'tache."One day I was in a session and the band was doing a take, and the secretary came in and said 'There's a Robert Stigwood on the phone for you.' I couldn't deny Robert, so in the middle of the take I picked up the phone, and when the band finished and came into the control room I was still speaking to him. When I put the phone down I apologised and said 'Look, that was Robert Stigwood. He's Eric Clapton's manager, and I haven't spoken to Eric for some time, but he wants to record here,' and Duane said 'Do you mean the guy...' and he started playing these Cream licks. I said 'Yeah.' He said 'Oh man! Is he going to record here?' and I said 'Well, that's what we were talking about.' Duane said 'Man, I'm going to call you when we get back here, because when he's here do you think I could come by and watch him?' and I said 'Well, the two of you are so congenial that I'm sure it'll work out, not a problem,' and I just let it go at that.
"A couple of weeks later, Eric, Bobby Whitlock and the guys all showed up. They started running songs by me because they hadn't formulated the final concept on them, and so I was recording everything they were doing, and saying 'This should be the intro,' 'This doesn't belong in this song,' and we were just rapping. In the middle of doing this the phone rang and it was Duane saying 'Hey, we're going to be in town the day after tomorrow. We're doing a concert. Are they there?' Then he heard Derek & The Dominos in the background and he said 'They're there! Can I come by?' Eric was in the control room and I said 'Eric, I have Duane Allman on the phone and he's asked if he could come by and watch you record...' Eric looked at me and said 'You mean the chap who played...' and he played me the back end of 'Hey Jude' from the Wilson Pickett record. I said 'Yeah, that's him.' He said 'They're going to play a show here? Then we're going to see them play!'
"That's how that all materialised. That night I took Derek & The Dominos down to the Miami Beach Convention Center, where the Allman Brothers Band was playing outdoors, and when the concert was over everybody came back to the studio. They started jamming and trading licks, and Duane was holding Eric's guitar, Eric was showing Duane how he did this part, Duane was showing Eric the bottleneck [slide technique], and it was like they had known each other all their lives. Duane had to leave that night because the ABB had gigs, but two or three days later he came back when he was free of whatever obligations they had and the rest is history."
"Something that was unique to the 'Layla' sessions was our Fender guitar Leslie. Eric was enamoured with it and we used it a lot," says Ron Albert.
"We had a great big Variac speed control on it," adds Howard, "so we could actually change how fast it went."
Ron: "The way that Leslie was designed, it had two foot pedals. One enabled you to switch the cabinet on or off so that it was just guitar amp or guitar amp and Leslie amp, and the other pedal was the rotor on or off, making it spin or not. By clicking it on and off you could change the intensity or shut it down. However, that wasn't quite good enough for us, so we came up with this ability to control the speed on a constant basis with this big Variac that probably weighed about 30lbs. It controlled the voltage to the motor, so we could have it running at half-speed or any speed we wanted, and that was unique as up until then it couldn't be controlled. Howard being a B3 player, he was familiar with the slow spin of the B3 Leslie and turning it on and off with the left hand, making it spin and stop, spin and stop. Well, we tried to create that within the guitar sound by having it at a speed that was not too fast or slow, and therefore using the pedal to turn it on and off would produce the same kind of start and stop effect. Eric loved that."
Both the Fender Guitar Leslie and the Hammond B3 now reside in the Audio Vision Recording Studios facility that Ron and Howard co-own with partner Steve Alaimo in North Miami.
For his part, Howard Albert recalls the Allman Brothers' standard of living at that time.
"They were starving, poor musicians, living in an old Winnebago tour bus," he says. "It was quite literally parked outside the studio, and they lived in it even when they weren't making the record. Their home was the studio parking lot and they didn't have anywhere to go. That's why they were always in the studio and Duane was playing on everybody's sessions. They were young and hungry, they were very gracious about us doing whatever we wanted, and the opportunity to have them around us all the time led to some very creative moments. After all, there was no protocol at that point for recording a band with two lead guitarists, two drummers, a [Hammond] B3 and a magnificently melodic bass player. What's more, Duane Allman was the greatest slide guitarist of his day.
"The uniqueness of the situation was that not only did we have all this experimentation in us, but Tom Dowd was also wonderful in terms of trusting us and seeing in us what he had been in his early days as an engineer/producer. He'd had to be very inventive, and when he saw the same in us he let us run with it. It was a case of 'Anything you want to do is great so long as I check it,' and that arrangement led to some phenomenal opportunities for us, because 10, 11 o'clock at night — for sure by midnight — he was out the door. However, the session with the Allmans didn't end, because they didn't know where to go. We'd record through the night on many, many nights and then around noon Tom would come in, listen to what we'd done, and either give it his stamp of approval or redo it. That was the safety net that allowed us to be totally creative."
"In those days there was a lot of camaraderie," adds Ron, "and it wasn't unusual — especially on Atlantic sessions, because we all knew each other — for Karl Richardson to come in and work on a project that we were doing or for us to go in and work on a project that he was doing. Karl was certainly a big part of 'Layla', although he wasn't there 95 percent of the time, and the same applied to Chuck Kirkpatrick as well. Since the sessions would go on all night, it wasn't unusual for either of them to come in at some point and do an overdub.
"It was all hands on deck, because even if Duane went home and Eric wanted to play or Eric went home and Duane wanted to play, there had to be bodies to handle the recording. Mack Emerman also did a few things, I can't remember what — he probably did an overdub here, an overdub there, something like that, but primarily it was Howard and I on those sessions, with our fellow staff engineers Karl and Chuck also there for that historic recording. Everybody contributed. In fact, if you look at any of the box sets of the reissues of 'Layla' and they have those famous track sheets, the handwriting on there is Chuck's because his penmanship is beautiful. We would scribble on the track sheets and he would come in the next day and re-copy them all! It was kind of funny, but you know what, it was also great because it's documented forever. You can actually read those things!"
At the time of the 'Layla' sessions, the small Studio B control room at Criteria necessitated its 24-in, 16-out custom-built MCI console being positioned sideways to the window, while the Altec Lansing 9844 speakers, soffit-mounted to the cement wall, provided a lot of bass in a room that also housed a huge black 16-track MCI JH16 tape machine, affectionately known as 'Dumbo'.
"The MCI board was actually built as a remote and studio console," says Howard. "The centre section and meter bridge would slide out and could be used in a remote truck, and it was also one of the first boards to have push-button matrix switching."
"It was built in three sections," adds Ron. "An input section on the left; the centre section which was actually the mic inputs, track assignments and echo sends and returns; and then there was a very traditional mix section off to the right. It was a very, very forward-thinking design — that was the console that we not only recorded 'Layla' on, but also the Average White Band and Aretha Franklin in the studio as well as Jimi Hendrix, Joe Cocker, the Allman Brothers, Johnny Winter and Leon Russell when the centre section was in the remote truck.
"Years later [in 1976], when we were in England recording a band called the Sutherland Brothers & Quiver, the drummer introduced us to his best friend, a gentleman by the name of Dave Gilmour. Dave used to come over and play on the sessions, and one weekend we were invited to a barbeque at his farm, where he took us to the barn that housed his studio, and lo and behold when he opened the doors we saw the old Studio B console from Criteria sitting in his control room! He certainly didn't know that it was our old console and we didn't know that he had it — bizarre!"
The Albert brothers today, at their Audio Vision Studios facility in Florida.These days, the aforementioned Altec Lansing 9844s are utilised as TV speakers in Howard's living room, while the Studio B control room has been transformed into a lounge at what is now known as the Hit Factory.
"Acoustically that room was unique and it worked so well," says Ron. "It was phenomenal, one of the greatest acoustic spaces we've ever worked in at any of the studios all over the world."
When Duane Allman first became involved with The Dominos, they had already recorded three tracks: 'I Looked Away', 'Bell Bottom Blues' and 'Keep On Growing'. Allman debuted on 'Nobody Knows You When You're Down And Out', and thereafter he contributed some superb slide guitar to the rest of the album, inspiring Clapton's own playing, and even adapting a T-Bone Walker vocal riff to help contrive the classic guitar lick — one of the most famous in rock history — that kicks off 'Layla' and then underpins the track's entire first section.
With their backs to the nine-foot Baldwin piano, Clapton and Allman sat side by side during the session. And what with the three other band members and all of their equipment, conditions were pretty cramped inside Criteria's Studio B live room.
"If you looked through the control-room glass, the piano was to the left," Howard Albert recalls, "and on top of the piano, which had the lid closed, were our [Fender Tweed] Champ amps that Eric and Duane both used."
"We had to be inventive," adds Ron. "The room was not a large space, so what we had to do was figure out a way to get everybody in there. The piano took up most of the space along one wall, and cue systems in those days were pretty basic. We only had one stereo send and it was hard for everybody to hear themselves, so for acoustic purposes we used the little Champ amps because they wouldn't make a lot of sound in the room, enabling us to get isolation between the drums and the piano and the guitarists. However, since Duane and Eric couldn't hear themselves with the live drums, live piano, B3 and so on, Howard or I came up with the idea to place [AKG] 414 mics inside the piano on some foam, close the lid and then completely encase the piano with three layers of quilts and a roll of gaffer tape."
A combination of Shure SM57s and Electrovoice 635s were employed on the guitar amps, while on the other side of the room sat Bobby Whitlock's Hammond B3 and a sole Leslie speaker, miked with a couple of SM57s at the top and another at the bottom. In the far-left corner of the room was a round drum booth — likened by the Alberts to a space capsule — inside which Jimmy Gordon's kit was recorded with a telescopic Sony ECM51 on the hi-hat, a pair of Neumann U47s overhead, a Neumann KM84 on the snare, an Altec 633 'Salt Shaker' on the bass drum and Neumann U87s on the toms. Carl Radle was positioned next to the booth, his bass DI'd.
"There was a lot of controversy among engineers of that era about miking of the bass cabinets," says Ron. "Some people swore by it, but even if we appeased them by recording that way, we very rarely used this in the mix. In the mixes we'd just use the direct. It never really seemed to make any sense to have a miked cabinet unless it produced a unique or special sound."
"In those days we recorded everything," Ron continues. "It wasn't like 'OK, take one, play it once. Take two, play it again.' We recorded everything and always had tape rolling."
"We'd go out in the studio, someone would have a riff, someone would start playing something, and it would be a case of 'Try this here, try this there,'" adds Howard. "We were recording this all the time, and then finally we'd get to the point where everybody said 'That's it, that's great. That's the take,' and after that we'd just fix things here and there. Usually, we only went through a song three or four times, max, having previously played the thing for three or four hours."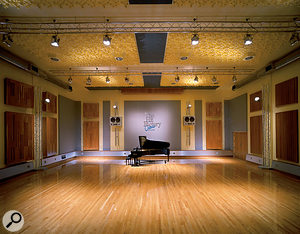 Criteria as it is today, after being bought by the Hit Factory and extensively refurbished. Studio B, where 'Layla' was recorded, is now a lounge for clients."Sometimes the only thing that remained from the chosen take was the rhythm guitar and the drums, whereas with other tracks nothing was redone or overdubbed," Ron says. "But with a band like the Stones or Derek & The Dominos there's so much interaction amongst the musicians playing live that, unless necessary, you don't want to go back and change a lot of things, because then you're almost defeating the purpose of having the band play together."
Conversely, Eric Clapton overdubbed his 'Layla' lead vocal over the course of several nights, standing in the live room and singing into a [Neumann] U87. This was then comped from numerous takes and treated to Urei 1176 compression.
"Tom [Dowd] was phenomenal at reading people's moods, and he would know pretty quick whether or not the vocal was going to come tonight," Ron Albert recalls. "He was magnificent as a producer at being able to allow the artists enough space to, even if they were not getting it, think they were getting it, and then come back another day and do it again. He would never put the artists in the position of 'You suck tonight, let's not record this,' even if he knew 'You suck tonight, we're not going to get it.' He was very, very good at getting them to come back in and try again another night.
"Eric is very underrated as a singer. The emotion with which he sang 'Layla' was, of course, very personal to him, but 30 years later it's still heart-wrenching, even though it took lots of takes to get what was wanted. We only had 16 tracks to play with, but we were pretty good at finding ways of having four or five tracks at any given time to overdub 20 or 30 vocals. So, we would always do comps, and we were very good, if I say so myself, at making those comps."
Aside from the aforementioned guitar Leslie, the only effects employed on 'Layla' were EMT echo and tape loops, with backwards cymbals overdubbed alongside Jim Gordon's percussion parts. "There weren't a lot effects you could have back then," says Ron Albert, "there weren't any plug-ins. And I tell you what, living in a world with plug-ins, living in a world with digital, I don't know how we did half the stuff we did, but we did it somehow. Just in terms of editing, Howard was incredibly good at splicing multitrack tape — of course, Tom invented it, and Howard was a latecomer in that regard, but Howard became very good at splicing tape and creating effects along those lines.
"The trick to that was the way we laid out the tracks when they were recorded to the tape. Typically, and even now today, on 95 percent of the sessions you will see track one is bass drum, track two is snare drum, whereas in the days of analogue with tape, Howard and I always put the bass guitar and bass drum — which would provide our downbeat to cut to — in the middle of the tape on tracks eight, nine or 10. That way, when you made the vertical slash at a 45-degree angle and then butted the two pieces together, the downbeat was still in the centre of the tape."
"The transients would carry over," Howard explains, "so if you had any kind of noise there it would cover that up."
"If you looked at the tape horizontally, things like piano would be on tracks one, two, three and four, and they would be there before the splice," Ron continues, "whereas things like guitars would be on the bottom of the tape after the splice, and the transients — the kick drum, snare drum, bass — would be in the centre of the tape where the splice was."
It was after 'Layla' had been completely recorded that drummer Jimmy Gordon began noodling around on the piano and came up with the song's exquisitely tender, loving and wistful coda, the perfect counterpoint to the intense blues-rock that precedes it.
"It sounded so good, everyone said 'Why don't we just stick that in there?'" Howard recalls. "There was no piano on what we now refer to as Part One of 'Layla'. Part Two commences with Jimmy playing the piano, and Part Three came about when everybody thought it sounded so cool that it would be a good idea to bring the entire band back in to play over the end of the piano solo, making the transition between Parts One and Two smoother."
After the Layla album took about three weeks to record, a week was spent on the mix, the Alberts and Dowd providing plenty of fingers to push the faders in the days before automation.
"The emotional and sexual tensions involved in the recording of that album made it kind of an interesting time, to say the least, and sprinkle that in with a good dose of drugs," says Ron. "There was some serious drugs going on during those sessions..."
"But at that time it didn't appear to hamper them," adds Howard.
It would later on, not only for Clapton but for bass player Carl Radle, who'd die of drugs and alcohol-related causes in May 1979. That was all in the future during the last quarter of 1970, when Derek & The Dominos toured England and America while the Layla album, 'Bell Bottom Blues' and an abbreviated version of the title track climbed the US charts. There was no such initial success in the UK, yet in March 1972, following The Dominos' dissolution, Clapton's temporary retirement due to his heroin addiction and Duane Allman's untimely death in a motorcycle accident, the History Of Eric Clapton compilation album gave rise to a re-release of 'Layla' in its full, seven-minute form, and that summer the single made the top 10 in both the US and the UK, where it would repeat the feat a decade later.
As for Eric and Patti, his persistence eventually paid off. She left her hubby and they finally tied the knot nine years after 'Layla' had been recorded. The marriage ended in 1988, but that paean to their once-illicit love would live on, its coda used to great effect in Martin Scorsese's classic 1990 gangster movie Goodfellas, and the main body of the song successfully reworked in acoustic form for Clapton's 1992 appearance on MTV's Unplugged. Still, it's the original version that endures, its agonised lead vocal, timeless guitar riff and engaging piano and slide-guitar outro marking it as a solid-gold classic.
In Clapton's own words, "To have ownership of something that powerful is something I'll never be able to get used to. It still knocks me out when I play it."