Producers: Paul Oakenfold & Steve Osborne
In the wake of those two landmark remixes, Factory's Tony Wilson invited Oakenfold/Osborne to work directly with Happy Mondays in the studio. The band's US label Elektra were celebrating their 40th anniversary with an album of cover versions of songs from the company's back catalogue. Happy Mondays chose to record a new version of South African singer-songwriter John Kongos's 1971 single 'He's Gonna Step On You Again'.
On day one at Eden Studios, the first time he met the band, Steve Osborne was faced with the intimidating sight of Happy Mondays and their entourage, who'd taken up messy residence in the studio's lounge. "Terrifying," he laughs. "It was just a roomful of blokes. I was like, 'Alright?' Said hello and then just swiftly went straight back into the control room. I'm used to being in the studio, so if I'm in the studio, I'm comfortable. I'm in charge. So, it was fine. I never ever had any problems. It was great."
The first step was to work with drummer Gary Whelan on the rhythm track. Osborne by this stage was using an Atari ST computer and an Akai S1000, which had the ability to sample in stereo. "I got Gaz to play the basic groove," he remembers. "Then recorded onto multitrack tape, bounced it down to stereo and stuck it in the S1000. I'd get him to do other bits as well and maybe loop other bits and stick them in the sampler as well and then program it. I added a 909 with it. If you listen to it, there's a 909 kick pushing against it. There are two grooves sort of pushing against each other.
Me and Paul just looked at each other and went, 'Fucking hell, this is in the bag.' It was a hit straight away.
"At that stage, my miking would've been pretty much standard stuff. The room at Eden was a very dry room, so there wouldn't have been a lot of room mics going on. The sound of the drums sort of becomes less important because you know you're gonna program on top. Your goal is to get the vibe of someone playing, as opposed to getting the full sonics of it."
Next was added Shaun Ryder's brother Paul's bouncy, elastic bass line, using both a DI and a miked Ampeg SVT rig. "I really enjoyed working with Paul," Osborne says, "because he's got this really dubby feel. He's always slightly behind, in the right way. Just sitting slightly behind the kick. The bass went down really easy."
Elsewhere, guitarist Mark Day had worked out the guitar line from Kongos's original track. Or at least, he figured he had. "It was completely different," Osborne points out. "But it was a great riff. He played it and I was like, 'Well, that's not the part. But you've written a better one.'" Day's setup was fairly standard for the time — various Fender guitars played through a Boss pedalboard into a Mesa Boogie 1x12 combo.
"They're quite versatile, those little guitar amps," says Osborne. "He'd never done feedback before. So, when we did the power chords, I said, 'We want it to sound really raw and get feedback.' He was like, 'How'd you do that?' So, we just cranked it up super loud to get that feedback on the end of all the power chords. So that was fun, cause it was something he'd not done before and he did it really well. It's got that sort of intensity."
Keyboards-wise, Osborne relied mainly on a Roland U-220 module, working with the Mondays' Paul Davis capturing his parts as MIDI in the Atari. "So, the piano riff on 'Step On', that would have been him jamming away and I'd just have gone, 'Oop, that's the bit there.' I would've grabbed that. So, it was very much, 'Let him jam and edit the bits that we want.'"
But it was when Shaun Ryder walked into the vocal booth at Eden that the real magic of 'Step On' was created. "We had no idea what he was gonna do," says Osborne. "I remember running the tape and he just did the whole 'twisting my melon', 'call the cops' thing, all the catchphrases, straight off. It seemed like he'd figured all that out. Me and Paul just looked at each other and went, 'Fucking hell, this is in the bag.' It was a hit straight away."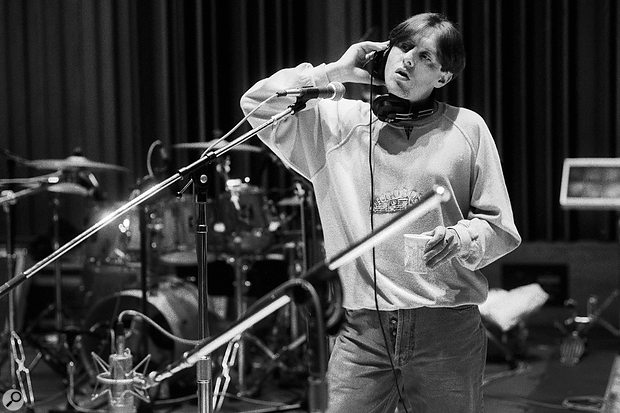 "With someone like Shaun, you don't want to stick up a valve mic... a [Shure] 58 is a great mic."Photo: Kevin Cummins
Osborne chose to record Ryder with the same mic he'd have used onstage with Happy Mondays. "It would've been done with a [Shure SM]58 in the booth. With someone like Shaun, you don't want to stick up a valve mic (laughs). A 58 is a great mic."
From here, Osborne and Oakenfold moved into Studio Two at Eden to mix 'Step On'. But not before there was a crucial addition to the track, namely the gutsy vocal contributions of Manchester soul singer Rowetta, who'd been recently discovered by the band's manager Nathan McGough.
"You're like, 'Oh no... is it someone he met in a club?'" says Osborne. "But she went in and we were like, 'Wow... ok, so she's a singer.' She smashed it in one or two takes. Then there's that sustained 'ooh' at the end. I got her to do the note and then I sampled that and looped it and stuck it back in, so it kind overlays on itself. A little bit of trickery went on in there."
Before it was completed, however, 'Step On' required a second mix. "I mixed it once," Osborne recalls. "Then, Nathan McGough came back and said, 'It sounds too nice.' We definitely mixed it twice."
'Step On' proved to be such a huge and instant hit that Steve Osborne and Paul Oakenfold were then brought in to produce Happy Mondays's next album, Pills 'N' Thrills And Bellyaches. The sessions were conducted in the fabled Capitol Studios in Los Angeles. "It was a big room," says Osborne, "and we had an engineer [Ray Blair] with us who was a bit older. I think he thought the whole thing was crazy."
"In terms of how we worked," says Oakenfold, "based on the demos the band gave us, me and Steve would figure out what would work and what wouldn't." In addition, Oakenfold would sometimes suggest grooves to the band by playing them records from his DJ box. "I did have decks set up in the studio," he says, "and everything would start with the rhythm upwards, which is a different way of producing. It was a unique way but worked for the band."
This time around, though, apart from the odd track such as 'God's Cop', where the groove was built around a loop, Osborne wanted to craft the album entirely from the band's performances. "I had this idea in my head that everything had to be done by the band," he says. "I hate the idea of producer records. So, everything is the band. I did a lot tape editing. All the drums. With Gary, I'd run the tape for, say, six minutes on the verse groove, and then I'd do the same for a chorus groove, and then I'd do another setup and he'd put fills in. And I literally chopped arrangements together on tape. No sampling, it's all drum edits.
"I suppose it's like when they used to do disco records, they'd have a drummer just play the groove all the way through and then they'd varispeed it up or down depending on which tune they were doing and what tempo they were using. It was sort of a similar technique, I guess.
Artist: Happy Mondays. Track: 'Step On'. Producers: Paul Oakenfold & Steve Osborne. Studio: Eden Studios. Label: Factory."So, it was hours of me sitting at the tape machine just editing. And if you listen to the album and certain songs, you'll find there's drum fills in the wrong place. Cause I'd get to the stage where I was like, 'I can't edit any more. Fuck it. The drum fill's in the wrong place, but I like it.' And, actually, I think that really adds something."
Similar to 'Step On', Paul Ryder's bass parts were committed to tape fairly quickly, whereas Mark Day's layered and inventive guitar tracks took much more time. "I'd get him to play the verse guitar part," Osborne explains, "and then I'd just drop him in where I wanted it. Then I'd get him to do something else and I'd drop that in where I wanted it. 'Cause he would just forget how the arrangement was going [laughs]. But it was brilliantly bonkers. It was just great."
Overall, Osborne remembers the Pills 'N' Thrills... sessions as being far less chaotic than Happy Mondays's reputation for mayhem might have suggested. "It was really organised," he says. "I think from their perspective, coming in and working in a slightly more structured way would've been quite nice. Capitol used to do this 24-hour thing — you could have night-time or daytime. We had 12pm til 12am, so we had to be quite structured. I had a thing with Shaun where he would come in at six o'clock every day, which meant he'd turn up about nine or 10. But it was pretty structured. It was less chaotic than you'd imagine."
Nonetheless, Osborne's approach to working with the erratic Shaun Ryder was to grab vocal performances whenever he could. "I just had this thing of trying to get him to sing every day. He'd come in at whatever time and he'd say he couldn't sing today — he didn't have anything to sing or his voice wasn't right. There would be a little discussion with me saying, 'Let's give it go.' I might just get a verse or he might try something out and get an idea for something else. He'd be jamming stuff, I guess. But that's how we did it. I was just constantly chipping away and then, in the morning, I'd comp. It was just a constant updating, putting stuff together."
Sometimes, as on the track 'Dennis And Lois', Osborne would enhance Shaun Ryder's inherent cartoonishness with a harmoniser. "Yeah, I'd usually use the phaser thing, and then it's a fifth, running an AMS [DMX 15‑80S]. That was one of those things where you go, 'Hmm, not sure about the vocal.' And I just came up with that, stuck it on and it was, 'Ooh, that's interesting.'"
One funny moment in the vocal sessions came when Osborne suggested that, for the song 'Harmony', Ryder could maybe — fittingly enough — try some harmony overdubs. "He looked at me in disgust and said, 'Steve, I don't do fucking harmonies. Alright... you go and do it and then I'll copy.' So, I went in the booth, sang it and he went, 'Yeah, fucking great, done.' So, I'm singing the harmony. He basically tricked me into it [laughs]."
Tracking done, Osborne and Oakenfold returned to London and Eden Studio Two to mix Pills 'N' Thrills And Bellyaches. Factory Records had given them a tight deadline, to capitalise on the success of 'Step On', which was of course to be included in the running order. "The whole album was recorded and mixed in 10 weeks cause Factory needed it quick," Osborne remembers. "I would've liked a little bit more time. To me, some of it feels a bit unfinished. But I think with everybody in music or any kind of creative process, you always think you could do more. So, having a strict limit's probably a good thing.
"I sort of struggled with the drums sometimes, cause the kick wasn't particularly strong. I was doing some really ridiculous EQ'ing on the kick to get it how I wanted. The thing is now you stick up Slate or whatever and it's easy. Gary's got a feel but he doesn't hit very hard. Sometimes, trying to get enough weight into the kick could be a tricky area. But I don't remember there being real problems with the mixing."
Upon release, Pills 'N' Thrills And Bellyaches followed 'Step On' in becoming a Top Five hit, reaching number four in the UK album chart, before going platinum. Subsequent sessions with Happy Mondays and Oakenfold/Osborne at Real World Studios near Bath were less pain-free, though, as they recorded a cover of the Bee Gees' 'Staying Alive' for Malcolm McLaren's 1991 film, The Ghosts Of Oxford Street.
"It was sort of a bad period with the band," says Osborne. "The vibe wasn't so good. And that was the stage when everyone was like, 'Let's do the next album.' Me and Paul really wanted to do the next album, but at that time they didn't have the material written and Shaun wasn't in such a great place. We said, 'Yeah, well we'd really like to do the next album. But don't do it now. 'Cause it's not gonna go well. It's not the right time.'"
The next instalment in the adventures of Happy Mondays was a less than thrilling one, as they travelled to Barbados to make 1992's disappointing Yes Please! album, produced by Tina Weymouth and Chris Frantz of Talking Heads/Tom Tom Club. Shaun Ryder was by then in the depths of crack addiction and sounded listless and flat (or angry) on the record.
Nevertheless, 30 years on from Pills 'N' Thrills And Bellyaches, Ryder is now drug-free and Happy Mondays remain an active touring unit. For Steve Osborne, the only time he hears the evergreen 'Step On' these days is when it's played on the radio. Which is often. "I might be driving," he says, "or I might be out somewhere and it comes on and I'm like [laughs], 'Yeah, I like that.'"
New vinyl editions of the first four Happy Mondays albums, including Pills 'N' Thrills And Bellyaches, are out now on London Records.