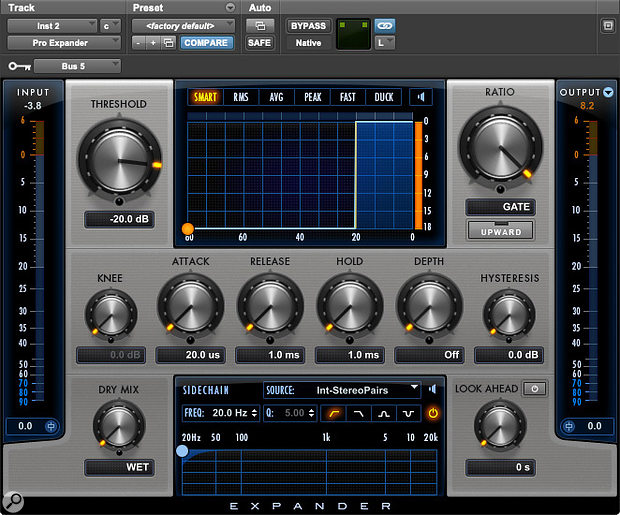 A good way to explore the effect of the Hysteresis control is to feed Pro Expander from the Boom! drum machine, using a kick-drum sound with a long tail.
There's more to Avid's Pro Expander plug-in than meets the ear...
In my November 2019 Pro Tools column I wrote at some length about Avid's Pro Compressor, highlighting it as the star of the Pro series of plug-ins. Now standard with active upgrade plans and subscriptions, these have become almost stock plug-ins, and they're very powerful. They might not have the charisma of hardware emulations but they have comprehensive features and well thought-out interfaces, and sound great. You can probably tell I'm a fan.
No plug-in from the Pro series better illustrates this depth of features than the Pro Expander. How interesting can a gate be? Well, turns out it can be more interesting than first impressions suggest.
A particularly useful control which is overlooked by many, possibly because is isn't well understood and probably also because it has an unfamiliar name, is Hysteresis. Pro Expander and Avid Channel Strip both have a Hysteresis control, and it enables the plug-in to respond differently to sounds crossing the threshold 'from above' compared to sounds crossing the threshold 'from below'. In other words, it offsets the threshold at which the expander or gate closes compared with the threshold at which it opens. This offset is set relative to the main (open) threshold.
To really understand hysteresis, try setting up a simple kick-drum track using a pattern from the Boom! virtual instrument, with an 808 kick on beats one and three at 120bpm and the decay set to its full length. Instantiate a Pro Expander plug-in after Boom!. If you set the kick on beat one at full velocity but the kick...
You are reading one of the locked Subscriber-only articles from our latest 5 issues.
You've read 20% of this article for free, so to continue reading...
Buy & Download this single article in PDF format

£1.00 GBP

$1.49 USD


For less than the price of a coffee, buy now and immediately download to your computer or smartphone.

Buy & Download the Full Issue PDF
Our 'replica SOS magazine' for smartphone/tablet/desktop. More info...