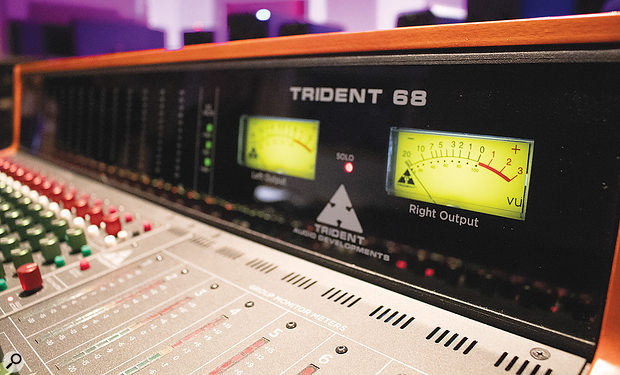 By changing their manufacturing approach, Trident aim to offer their big-console sound and facilities at a much lower price.
The Trident Audio Developments brand has a long and unusually complicated (and contentious) history, which has been detailed in many previous reviews in SOS, so I'll not dwell on it here. Suffice to say the original British brand dates back to the beginnings of multitrack recording in the early 1970s, and the name is now owned by the American pro-audio company PMI. Of course, despite the change in ownership, key features of the famous British consoles' unique circuit topologies have been incorporated in various current Trident outboard products, and they have also heavily influenced their large-format mixing consoles — indeed, the designer of the current family of Trident consoles was an engineer with the original Trident Audio Developments company back in the mid-'80s, and is intimately familiar with all that makes those early consoles special.
Sitting as the flagship model in this range is the Trident 88, which Paul White reviewed in SOS January 2016. I reviewed its more cost-effective sibling, the Trident 78, in December 2017, but now there is a third, even more affordable model: the new Trident 68. Launched at this year's Winter NAMM show, this latest console retains all of the style, the workflow, and most of the features of its larger siblings, but the cost-reducing techniques introduced in the Trident 78 console have been further extended and several other aspects re-imagined, so that the price of this new Trident 68 is about 30 percent lower than the equivalent sized Trident 78.
The 24-channel review model, installed in Cherry Tone Studios.
Available in two frame sizes, with either 16 or 24 input channels (each with main and monitor input paths, as in the sibling consoles), the Trident 68 retains the eight mono subgroups, eight mono monitor returns, and eight stereo effects returns, plus stereo master and monitor section of its siblings. All that I/O means that a 16-channel console can accommodate a total of 56 inputs for mix-down, while the 24-channel version manages a whopping 72 inputs.
The console's channel strip layout has been altered slightly in response to user feedback, and is much to the better, in my view, but the overall configuration and signal paths remain very similar to those in the other Trident consoles. Physically, the input channels and groups are now constructed with eight to a module, instead of four-channel modules of the Trident 78, or the single-channel approach of the Trident 88, and this obviously helps to lower the production costs. That said, each channel's electronics are still contained on individual circuit cards, suspended vertically beneath the panel's controls in the traditional way.
Compared with the more expensive consoles in Trident's current range, the EQ section (black knobs) has been brought within easier reach, and although there are now three bands compared with the other models' four, it's a very versatile design.The most obvious visual difference between the Trident 68 and the previous models is that the meter upstand features LED bar graphs instead of moving-coil VUs for the channel metering (mechanical VU meters are still used for the main stereo outputs). Less immediately obvious is that the bus routing buttons have moved — previously they were placed above the input section, whereas now they sit alongside the faders — and the channel strip aux and EQ sections have been swapped over too, making the EQ easier to reach.
These adaptations are largely in response to feedback from customers of the previous consoles. It makes good sense to me to have the EQ section closer to hand because it tends to be used all the time, whereas the auxes are often more 'set and forget'...
You are reading one of the locked Subscriber-only articles from our latest 5 issues.
You've read 20% of this article for free, so to continue reading...
Option 1: Buy and download this single SOS article in Adobe PDF format
For less than the price of a coffee shop drink, buy this article now and immediately download the PDF file to your computer or smartphone.
Single article PDFs look identical to the printed magazine layouts (but exclude advertisements).
Note: Some shorter articles don't always have a PDF version.
Option 2: Buy a great value DIGITAL subscription (or Print+Digital) and open ALL web articles & Full Issue PDFs instantly!
It opens ALL premium web articles, plus our Tablet edition App, and now includes your monthly FREE Full Issue PDF download (worth

£3.99

$5.99

each).
Or contact our Subs staff to discuss an upgrade price to add Digital access to your existing Print subscription.
Option 3: Buy & Download TODAY the Full Issue PDF
From January 2018 edition, we began selling a FULL ISSUE PDF 'replica magazine' for the cost of a handful of single PDF articles. More info...
Try these FREE sample FULL ISSUE PDFs on us!